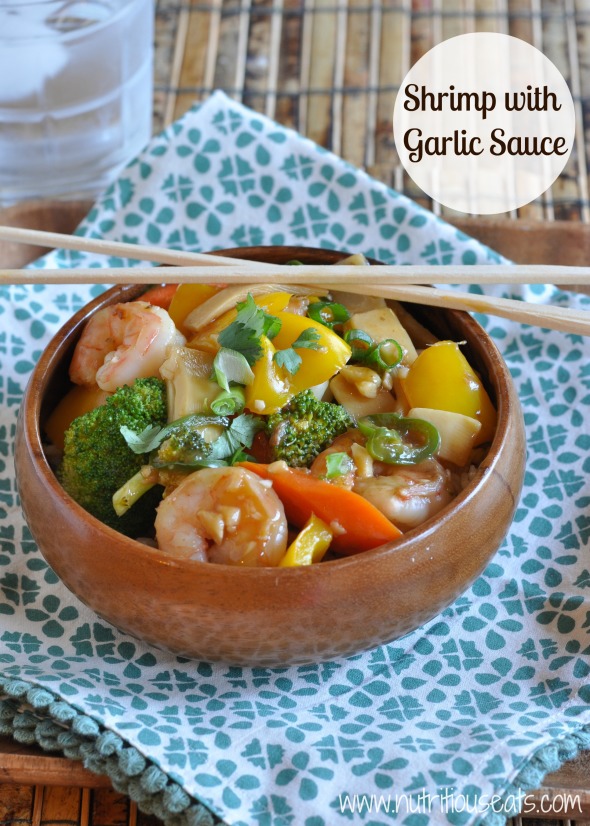 Why is it that when I think of Chinese food I can only picture take-out styrofoam or little boxed containers. Probably because the only Chinese restaurant I've eaten at in the last 10+ years is PF Changs (does that even count?), much different than the days of going to all-you-can-eat buffets with my family when I was a kid. Boy you can really pack in the fat and sodium at those places!
I can't remember the last time I had Chinese food. I think it's hard to find good quality restaurants and since we move often we are left with limited options. There is nothing worse than greasy, salty, shady Chinese food (like is that really chicken or something else??).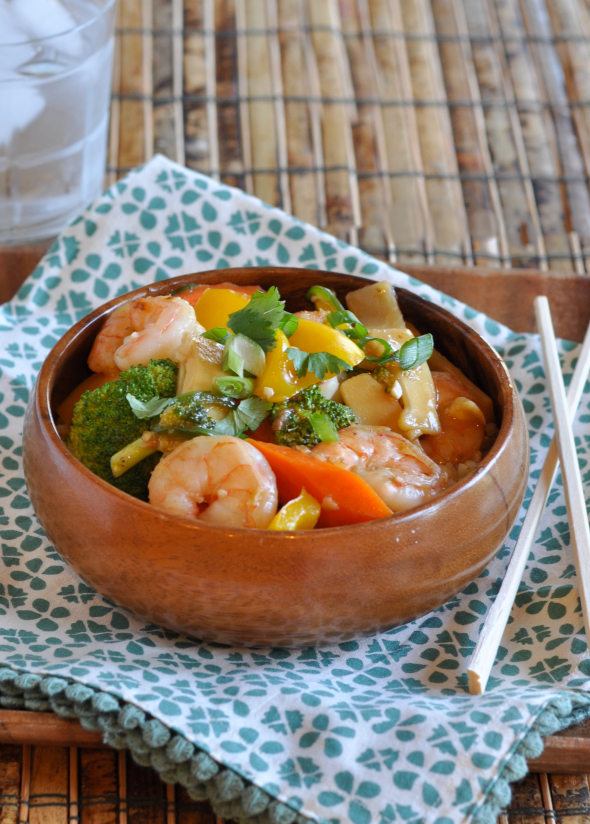 Anyway, it's not a cuisine that I eat very often but the other day I had a hankering for some and I wasn't about to pay $$$ for bad Chinese food that would leave me bloated and thirsty.
I had frozen shrimp on hand that I've been wanting to use plus a fridge full of veggies so I knew I would make shrimp with garlic sauce. Please note, do not rule out this recipe if you are not a fan of shrimp. You can easily substitute more vegetables, chicken or what ever you like in your stir-fries. It's really about the sauce anyway!
But back to this dish, anything with loads of garlic has to be good, right? It turned out to be an excellent at-home healthier Chinese dish. I served it over brown rice which paired with all the vegetables is really a great high fiber meal! I don't cook with shrimp very often, but in addition to only taking a couple minutes to cook-up, they are an great protein source. It's true shrimp are high in cholesterol (the Dietary Guidelines suggest consuming less than 300 milligrams of cholesterol per day and a 3 ounce serving of shrimp has ~150 milligrams of cholesterol), but they are also low in fat and saturated fat. Saturated fat and trans fat in food have a more significant effect on elevating blood cholesterol than dietary cholesterol. This means they can be enjoyed as part of a healthy life style.
My kids are not interested in Asian food in the slightest so that meant more for me. Yay! I will definitely be making this more often.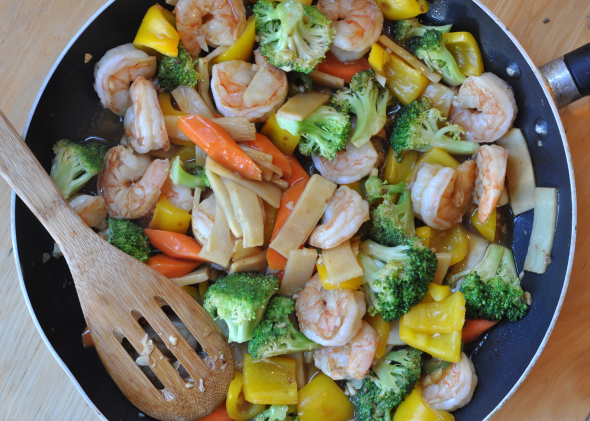 See there is some brown rice hidden under all that good stuff.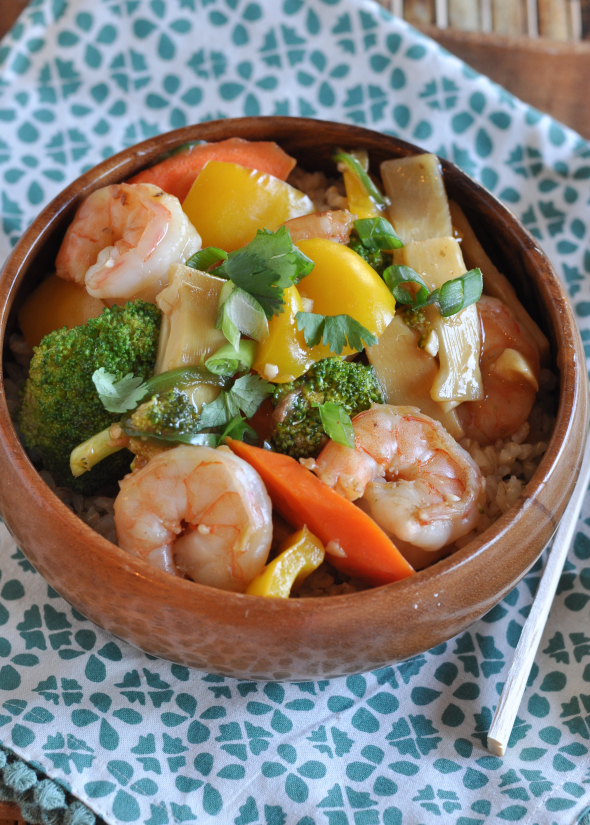 Do you have a good place to order Chinese food?
Here are two more recipes you can try at home!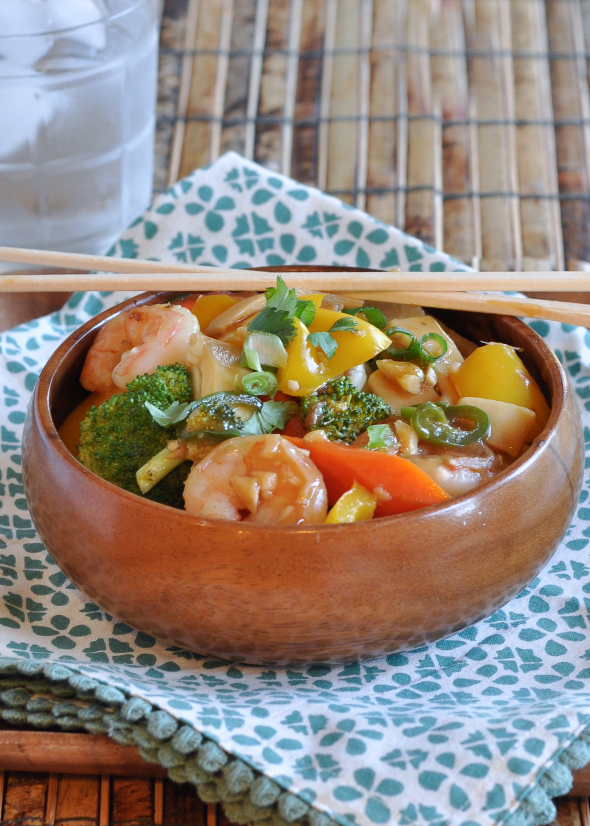 Shrimp with Garlic Sauce
Ingredients
1 lb shrimp, peeled and deveined
4 cups mixture of fresh cut broccoli, carrots, bell pepper
8 ounce can bamboo shoots, drained
½ jalapeno sliced (more to taste)
9 cloves garlic, minced
1 teaspoon fresh ginger
½ cup organic chicken broth
2 teaspoon rice wine vinegar
2 Tablespoons light soy sauce
1 teaspoon sesame oil
1 teaspoon sriracha or chili paste (Samal oelek)
1½ tablespoons vegetable oil
3 Tablespoons water
1 Tablespoon cornstarch
hot steamed rice
optional garnish: chopped cilantro and sliced green onions
Instructions
In a small bowl, mix together chicken broth, vinegar, soy sauce, sesame oil, chile paste; set aside
In another small bowl, stir together the tablespoon of cornstarch with 3 Tablespoons of water and set aside.
Heat half of the oil over medium-high heat in a non-stick skillet or wok; add vegetables, ginger and garlic and jalapeno (or can sub Thai chiles) and stir-fry for 5-6 minutes. Transfer vegetable mixture to a bowl.
Return skillet to the heat, add remaining vegetable oil and shrimp. Cook shrimp for 2 minutes or until it curls and turns opaque or pink.
Pour vegetable mixture back into pan with shrimp, add the sauce mixture and cook for 1 minute more; then stir in the cornstarch (thickener) mixture (briefly stir first) and stir-fry until mixture thickens, about 1 minute.
Serve with hot cooked rice. Garnish with chopped cilantro and/or green onions if desired.
Notes
This recipe can easily be made into a vegetarian dish by substituting more vegetables for the shrimp and swapping out vegetable broth for the chicken broth.
Adapted from
Food.com
Question: What is your favorite Chinese dish? Do you do Chinese take-out/delivery? Make it at home?