Spiced Sweet Potato Hash with Avocado and Eggs is naturally gluten free, high in fiber and protein and is a budget friendly meal that will nourish you inside and out!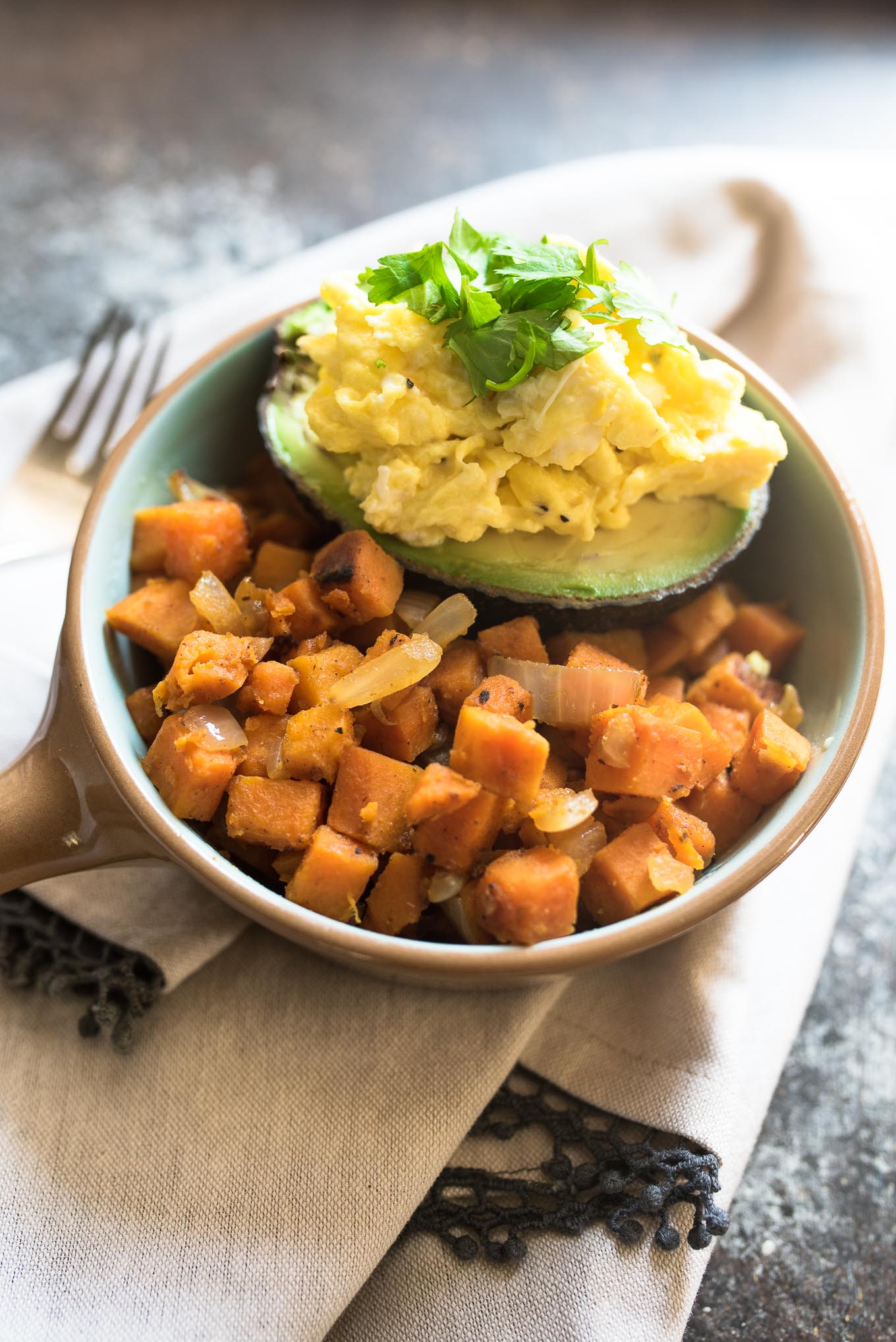 Spiced Sweet Potato Hash with Avocado and Eggs is just what you need to fuel your day. As you might have suspected, unpacking has taken over my life. This time, the 7th move in 10 years, it has surprisingly taken longer than usual. I am pretty sure that is because we moved during the Holidays and two of my children's birthdays as well as deciding to take our time with updates and minor renovations. We are currently obsessing over floors and a possible kitchen remodel.
However it's Recipe Redux week and I didn't want to miss this great theme for budget meals. The goal was to create a meal for less than $3.00 per serving.
I have actually been going over our allotted food budget due to the plethora of grocery stores in the area. They have made my previous Walmart grocery shopping a thing of the past and have actually made shopping fun again! I spent an hour and a half looking through one of our wonderful HEB market stores, along with Costco membership renewal and Trader Joes.
I don't feel too bad about going over budget when we eat all the food, which we have been doing. By the end of the week, I am totally empty which is always a good sign. By the way, if you don't currently have a food budget, I find it really helps not only with managing money but also what's going into your cart. You are less likely to buy the impulse purchases when you know that most importantly you have to buy food to make your meals with.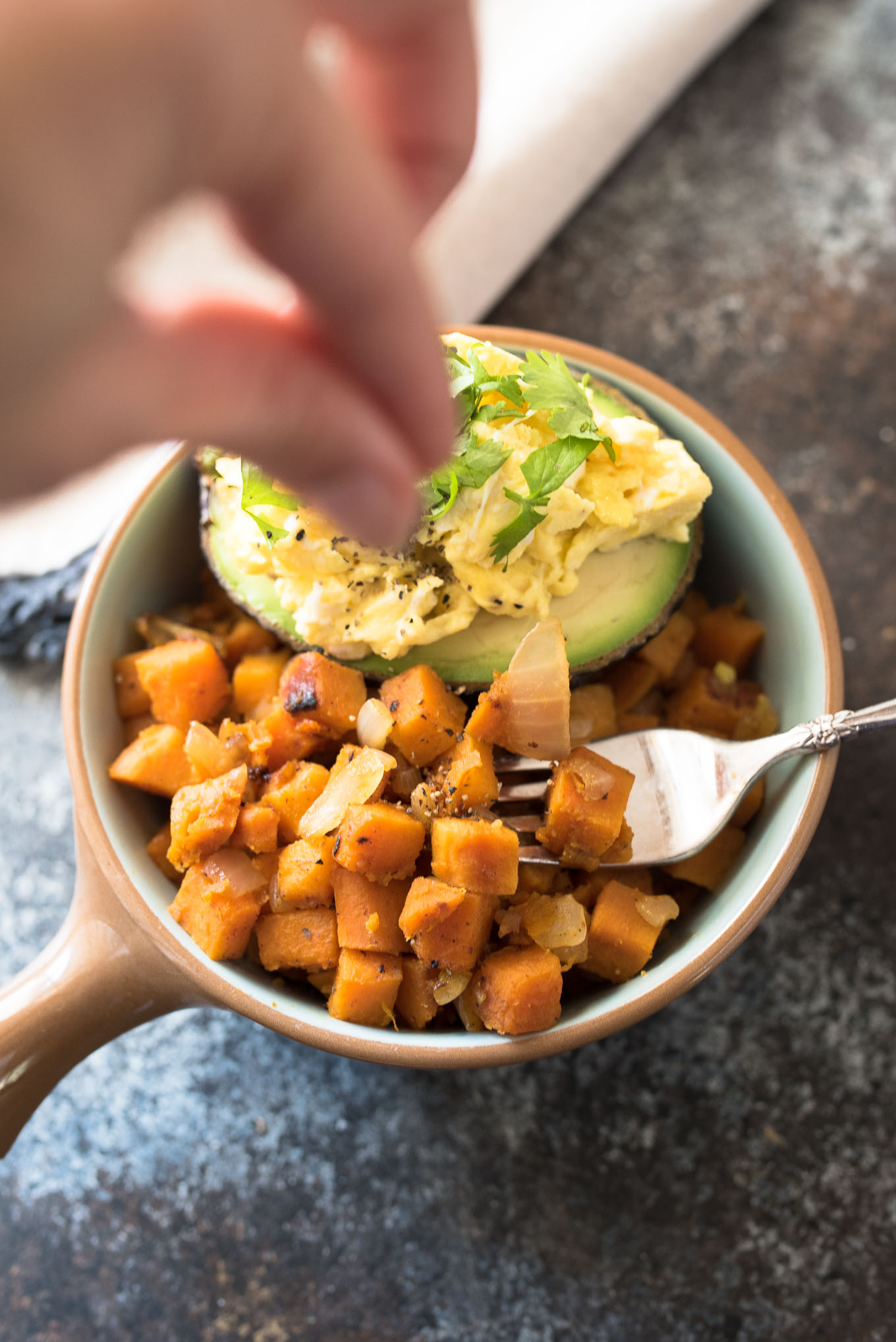 I like to keep inexpensive, but healthy whole foods around like sweet potatoes and eggs which allow me to whip up a super simple, filling and affordable meal which can work for breakfast, lunch or dinner.
Talk about tons of nutrition packed into one meal- protein, lots of potassium, Vitamins A and C and fiber, to name a few! If you are looking to eat a healthier, whole foods diet in 2017, this is a perfect and easy meal to try.
I seasoned the sweet potatoes with some nutmeg and cinnamon and it's quite tasty paired with the onions. The sweet/savory totally works. My 10 year walked in from school and said "what is that delicious smell I smell?" and I had to disappoint him with the news that it was only sweet potatoes (my kids are not a fan).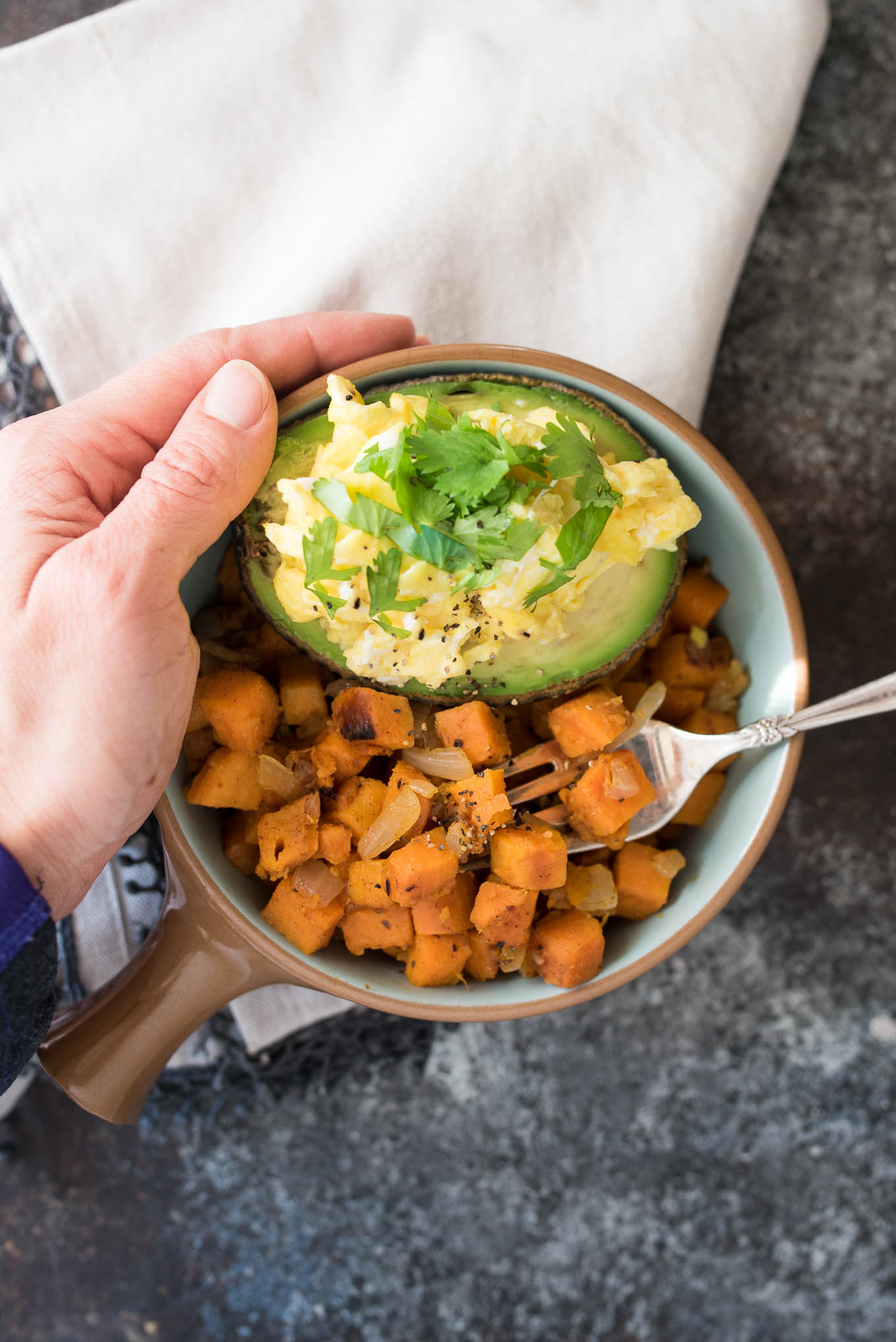 This meal which is very filling only cost me $2.21 and that is being generous (I even had an extra portion of the hash leftovers)- it was roughly one sweet potato, two eggs, 1/2 avocado (I paid .33 per egg, .15 for a portion of cilantro, $1.00 for a good sized avocado so per serving that is only .50 cents and roughly $1.00 for the potato, even though I still had some of that left over).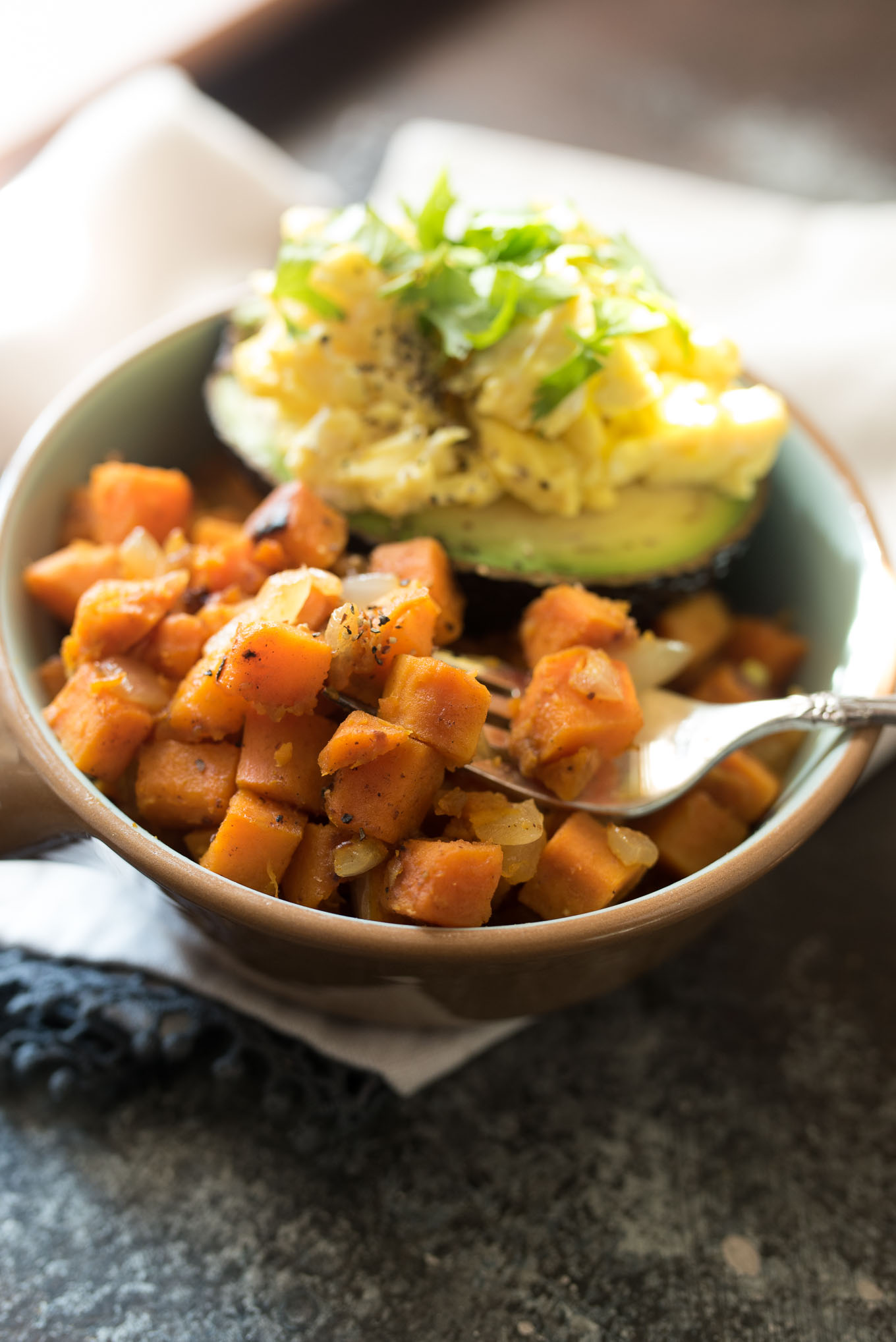 In addition to being very budget friendly, this is Paleo and Whole 30 approved but more importantly a nutritious whole foods meal for anyone!

Hearty Sweet Potato Hash with Scrambled Eggs and Avocado
Author:
Melanie F. | Nutritious Eats
Ingredients
1 tablespoon coconut oil
2 sweet potatoes, finely diced
½ onion, diced
⅛ teaspoon nutmeg
¼ teaspoon cinnamon
salt and pepper to taste
4 eggs, scrambled to desired doneness
1 avocado, sliced in half lengthwise
~2 tablespoons chopped fresh cilantro
Instructions
Heat large skillet on medium heat. Add coconut oil, sweet potatoes and onion. Sauté for a few minutes, use a wooden spoon to stir, then cover with lid for ~8 minutes (I remove lid to stir at least once during this time). After sweet potatoes have been steaming with the lid on, remove it and season potatoes/onions with nutmeg, cinnamon and a pinch or two of salt and pepper. Cook for a few more minutes, until tender (if cut small enough potatoes should take about 15-16 minutes total to cook through).
In a smaller skillet over medium low heat, add a spray of cooking oil and eggs. Stir slowly until scrambled. Stuff scrambled eggs in avocado halves. Season with a pinch of salt and pepper. Top with 1 tablespoon chopped cilantro. Serve with sweet potato hash.