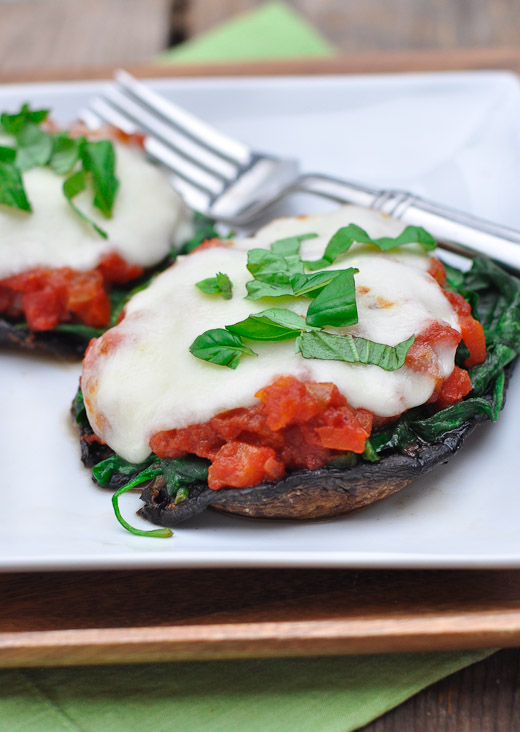 How was everyone's weekend? Two of the kids caught a cold last week and passed it along to me. Luckily I caught a mild case of it and with a good nights' sleep Friday was still able to run 8 miles with my running group. The only problem was that running for over an hour in the cold didn't exactly make me better. Sore throat, congestion and fatigue set in…probably not a good move. I'm going to crawl back in bed as soon as I can. Aside from being a little sick I did manage to get out of the house a few times. My husband takes the kids fishing quite a bit so I joined along on Saturday and got to watch them reel in a few rainbow trout. They caught four so I get to put fish tacos on the menu this week!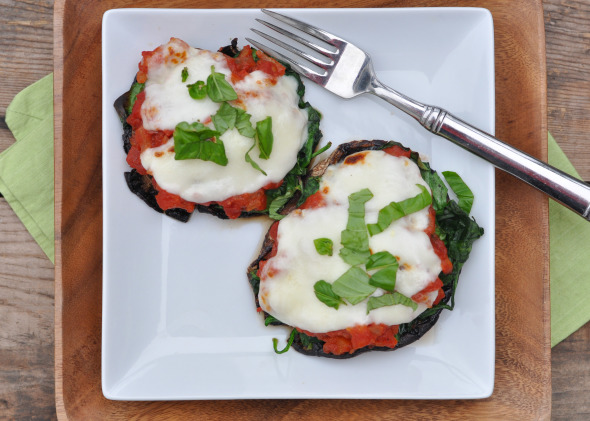 Today I am sharing a recipe for a dish I make frequently- yummy stuffed portobello mushrooms.  I always change up the filling depending on what I have on hand but this is one of my favorites. You could easily add ground sausage, pepperoni or use different vegetables.
I love making a big batch of tomato sauce to keep in the freezer. I really liked the last version I made for the Poached Eggs in Tomato Sauce so I made another batch of that and just portioned it out into smaller freezable containers, saving some for these delicious mushrooms. If you have the sauce on hand the rest comes together very easily. As the mushrooms cooked in the pan, I saute the spinach and sliced the cheese.
These make a wonderful main OR side dish. When I serve them as the main entree I usually pair it with a starch like pesto pasta or some sort of potato. They would be really great on a bed of garlic mashed potatoes. Mmmm. If you chose to serve them as a side just make as many as you need for each person to have 1 mushroom. These do not make you feel like you are eating vegetables. They are so good and really would be great without the cheese too. However I do love using fresh mozzarella because it's a bit lower in fat- the one slice I used to top each mushroom has about 5 grams. Not bad for cheese!
Make theses soon. They will make a vegetable lover out of anyone!
For meal planning this week, I had a about 15 minutes Friday night while the hubs was finishing up some work on the computer. I pulled out one of my Mexican cookbooks and I was basically inspired to make everything…and like that, meal planning was done. I am not even using all the recipes it just brought me some ideas so that is how easy meal planning can be! I made some crock pot black beans on Saturday which we will incorporate into a couple meals. Every time I meal plan I think that maybe we will get sick of pizza on Friday but we never do! You can always change up pizza with the toppings to make it exciting!
To my DietBetters, we have 1 more week until the game ends. You want your money back right? Stay on track. Plan your meals, don't go grocery shopping hungry and exercise! Speaking of exercise I am off to do one of my FitnessGlo workouts. Stay tuned for more about these awesome workouts that I've been doing from home! Let me know if you need anything!
Sunday 
Black Bean Vegetarian Nachos (never made these last week so had to make them for the Super Bowl), Assortment of Veggies & Dip
Monday
Migas, Fruit Salad
Tuesday
Lime Rice & Black Bean Burritos, Green Salad
Wednesday
Fish Tacos,  Kale & Cabbage Slaw with Poppy Seed Dressing
Thursday 
Spicy Broiled Salmon, Leftover Lime Rice, Roasted Carrots & Broccoli
Friday
Homemade Pizza
Spinach-Stuffed Portobello Mushrooms
Ingredients
4 teaspoons olive oil, divided (plus a little for sauteing the spinach)
4 portobello mushrooms
1⅓ cup tomato sauce (recipe below)
4 oz fresh mozzarella cheese, sliced
1 (10 ounce) bag spinach
1-2 garlic cloves, minced
dried oregano
dried basil
salt
pepper
For tomato sauce:
1 cup red bell pepper, finely diced
½ small onion, finely diced
½ teaspoon red pepper flakes
¼ cup minced garlic
1½ Tablespoons olive oil
1 can/box (28 ounce) crushed tomatoes
1 can/box (28 ounce) diced tomatoes in juice
½ teaspoon dried oregano
salt and pepper to taste
Instructions
To clean mushrooms: pop off stem and using a spoon scrape out black gills (best to do this over a sink or trash bag). The using a wet cloth, wipe the mushroom caps clean.
Add 2 teaspoons of olive oil to a nonstick skillet, add 2 mushrooms, cap side down.
Heat for 3-4 minutes, flip and cook additional 3-4 minutes or until tender. Repeat with remaining oil and mushrooms (or use large grill pan to do all four at once).
Remove to a small baking dish. Sprinkle each mushroom with a little salt, pepper and a couple shakes of oregano, basil and red pepper flakes (optional). Top with ¼ of the sauteed spinach, ⅓ cup of tomato sauce and 1 slice of mozzarella cheese.
Place under broiler for 2-3 minutes or until cheese is melted.
For sauteed spinach:
Heat a drizzle of olive oil in a large pot over medium-low heat, add minced garlic and cook for 30 seconds. Add spinach and toss with tongs until starting to wilt, 3-4 minutes. Season with salt, pepper and a squeeze of lemon juice (optional).
For Tomato Sauce:
Add olive oil to skillet over medium heat. Add onion, bell pepper, garlic and red pepper flakes, saute until soft, 4 to 5 minutes.
Add crushed tomatoes, diced tomatoes, dried oregano, sugar and bring to a boil then reduce heat to low and simmer for 10 minutes. Season to taste with salt and pepper. Makes ~7 cups of sauce. Freeze leftover sauce in small portions or cut recipe in half if desired.
 Have a great week!
Questions: How was your weekend? What are some of the things you are planning to make this week?