Hi friends! I promised you all a detailed review of my last Stitch Fix box so here it is. It's been a while since I've shared and I have been getting monthly boxes….mainly because I haven't been keeping much so I increased my frequency. I just wasn't loving what they were sending, but I knew there was hope because I was seeing cute stuff all over instagram. I knew that eventually the boxes would get good again.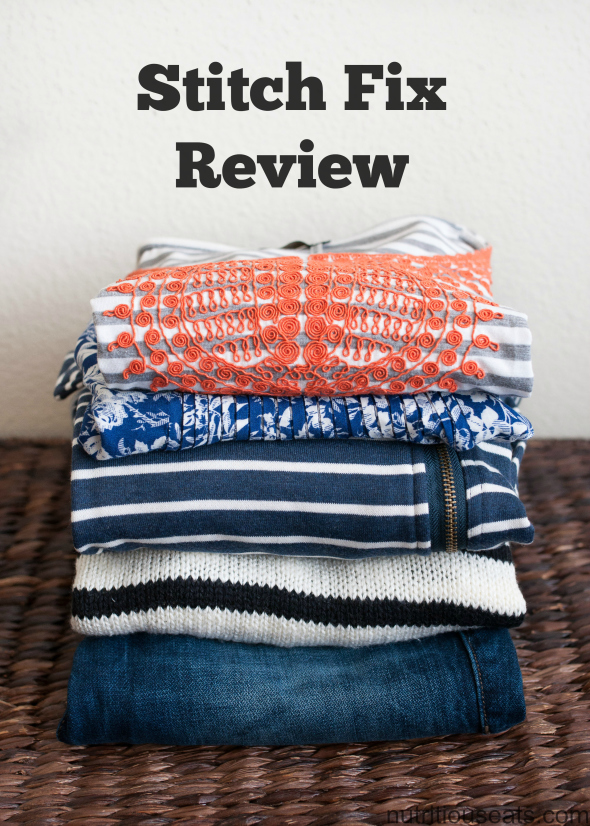 I'll start with last month's box….because I loved everything I was happy to take photos whereas 3 boxes prior to this were pretty crummy so I didn't even bother with the full review.
And if you have no idea what I am even talking about, here is the quick spiel- Stitch Fix is subscription box service where a personal stylist hand picks 5 items for you based on your style profile- check it out HERE. You get to try the clothes on in the comfort of your own home, without having to shop, order or think about it. Then you decide whether you want to purchase anything they send. You pay a $20 styling fee for the service, but it it applied to your purchase. If you don't like anything, you send the clothes back in the prepaid shipping bag they include but you will lose that styling fee. I have only lost the styling fee once in 13 boxes! Oh and make sure to read to the end to hear about a promo they are offering for March (which never happens by the way!).
Ok on to the fix …..
Stitch Fix 13
Sanctuary Tapanga Sweater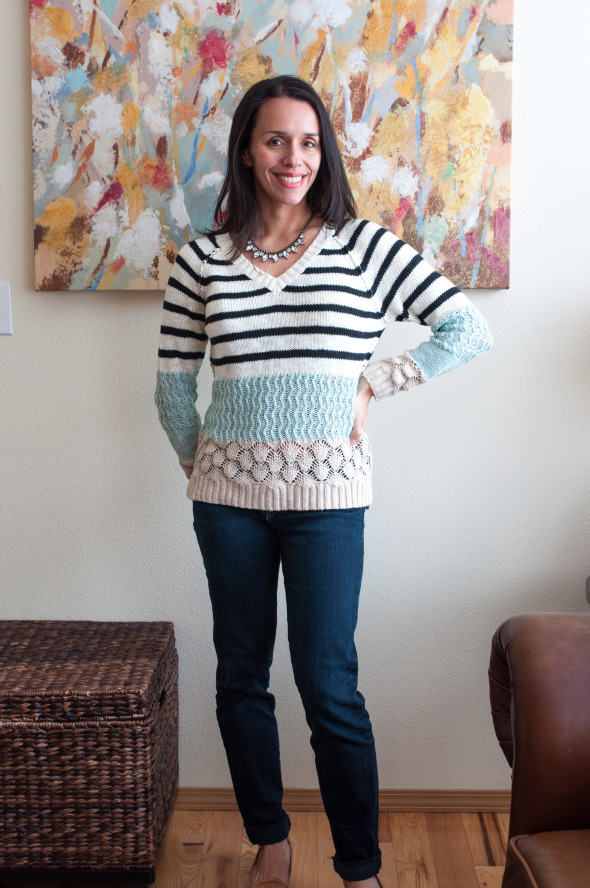 This. I just love. I wanted a sweater and I couldn't have asked for a prettier one. the stripes, the detail, the colors. Plus it's super cozy as a sweater should be!
Status: Kept
THML Kahlo Knit Top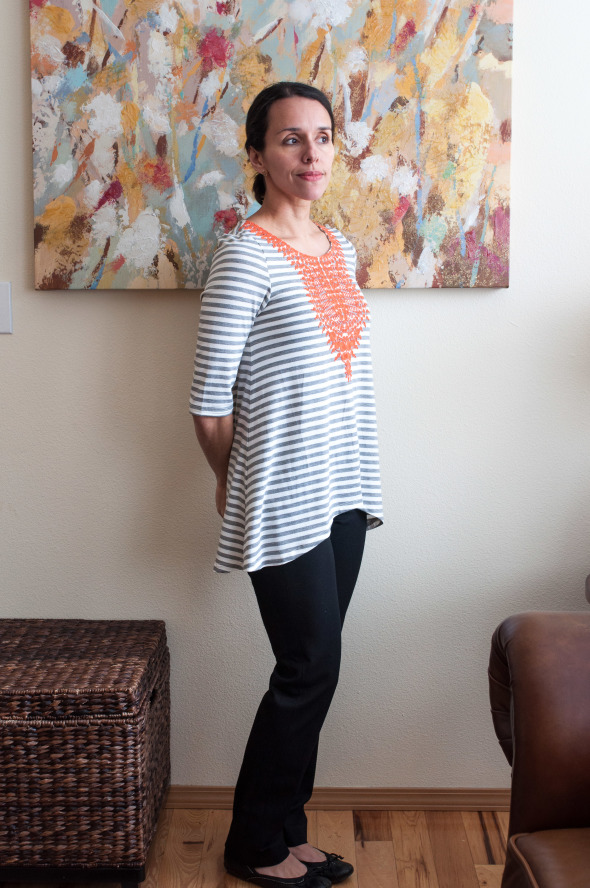 I think this one was overpriced at $68, but I got the big buy all discount so basically it was free (if you keep all 5 items you get 25% off the entire order). I do think it's cute to throw on for church or during the day when I want to look presentable. Because of the pretty detail on the shirt, it doesn't need much styling in my opinion. It does flair out a little causing it to look slightly maternity-ish, but not so much that I was worried. I mean I already have 4 kids. Who goes for a 5th these days?
Status: Kept
Skies are Blue Uruguay Pintuck Detail Top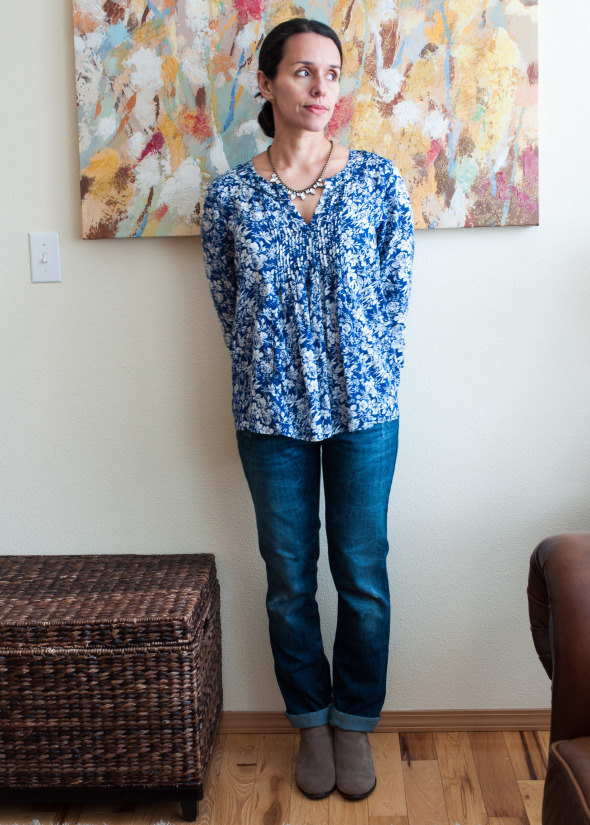 Clearly not a model. Please ignore that fact. Immediately upon trying this, I knew I would keep it. Comfortable, romantic, casual, dressy, all rolled up into one.
Status: Kept
Mystree Jackie Striped French Terry Asymmetrical Jacket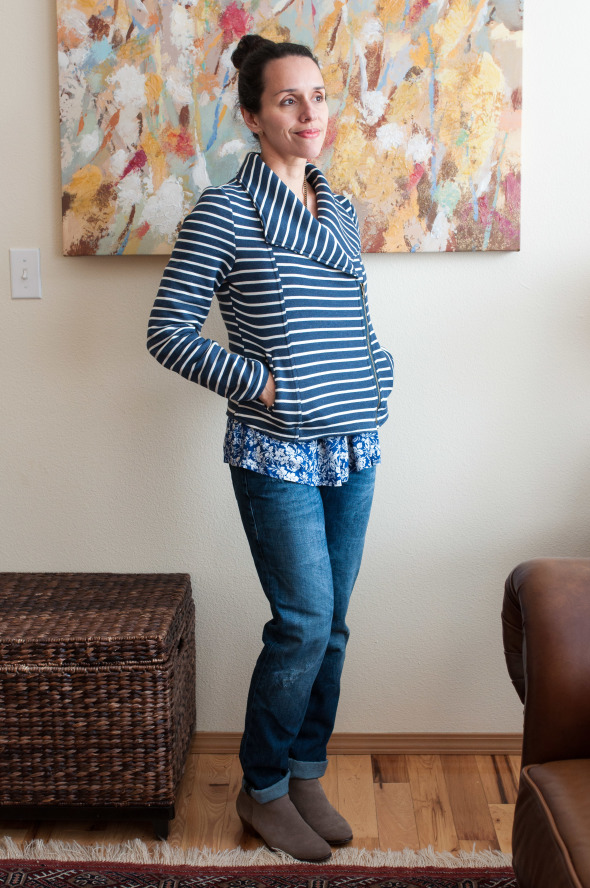 This jacket is totally adorable and cozy! The only thing I would change about this would be to make it a smidgin longer, but otherwise I just love it.
Status: Kept
Mavi Gold Ruxin Distressed Boyfriend Jean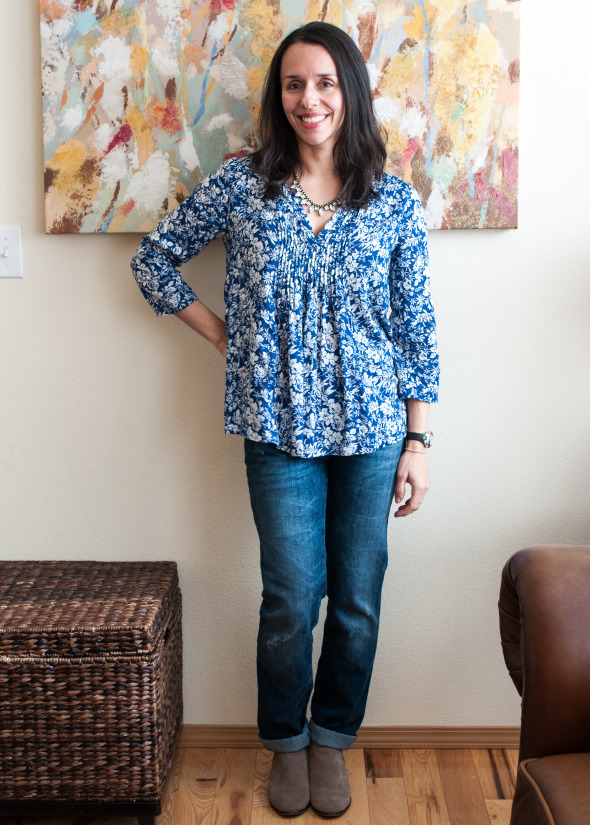 I asked for some lightly distressed jeans. These are perfect. No huge holes, and they fit great. They are a nice thick material and I think they will last a really long time.
Status: Kept
So after a few bad boxes, I finally hit a home run and kept 5/5! So excited for these pretty clothes.
I told you guys I got behind, mainly because I was not thrilled with my boxes so it was hard to find motivation to post about them. Also these were all during the busy Holiday season so I was always in a hurry to get the stuff sent back and didn't have extra time for modeling stuff I didn't keep. Here is a super quick recap of box 12:
This one literally came ring before Christmas so I had didn't have extra time for photo shoots. Plus I hated this box!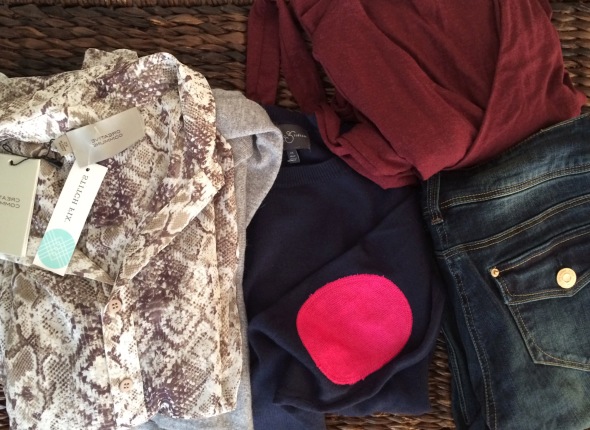 Nothing fit right and it wasn't even worth wasting time on photos. I wasn't very happy. So here are the names of the items in case you want to know.
Livie Snake Print Blouse– I specifically requested durable fabrics, and cozy neutrals and sweaters. This think polyester snake skin blouse did not fit any of those requirements. I guess it is a neutral color, but not a neutral pattern. Status: Returned
Fierro Elbow Patch Crew Neck Sweater– this was a very basic sort of pretty sweater that I almost kept if it were a tiny bit bigger. It's not that I absolutely loved it, I just didn't want to lose my styling fee and I would have worn this. However due to the fit, I had to say bye. Status: Returned
Elara Longsleeve Tie Waist Dress– This looked like it was made for a 10 year old. I have ordered XS in everything in the past 6 months and it's almost all fit, but this box everything seemed to run small. I thought about changing all my settings to small, but usually XS stuff from Stitch Fix works. It didn't matter though, I wasn't crazy about this so wouldn't have kept even if it did fit. Status: Returned
Malin Bootcut Jean– too long, not flattering, too big in the waist, not my style at all. Enough said. Status: Returned
Barrie Open Front Cardigan– this was also ok. It was a neutral so yay for that. I felt like it also needed to be a tiny bit bigger like a big cozy oversized sweater. Oh well. It really wasn't that special. Status: Returned
This was my first time losing my styling fee! Not a bad record though considering how many boxes I've received.
I need to find the style cards for boxes 10 and 11 and I will be caught up and trust me, it's super annoying to be if I skip some fixes since I have them all numbered, but I'll just have to come back in and edit this post. If I recall correctly I think I only kept one or two items combined from those 2 boxes,
New to Stitch Fix and want to try it? Use my referral code and I'll love ya forever. And make sure to read my Stitch Fix Tips– they are really important things to know if you are going to use this service. Oh and I heard they are offering this promo to new subscribers for the month of March. Sign up to receive your first box and they will waive the $20 styling fee! The code is "RISKFREEMARCH"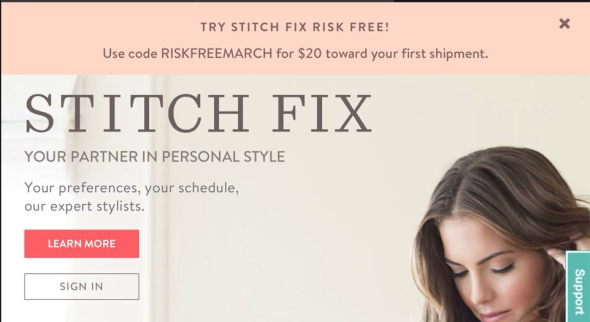 Have you tried Stitch Fix? Are you loving your boxes lately? Do you think I made the right choices?
This is not a sponsored post. I simply love the service and genuinely love the things I have bought from them. And sometimes I like taking a break from food.