Ok this post obviously has nothing to do with food, nutrition or fitness and although I usually try to stay on topic when I blog, but what girl doesn't like to talk about fashion?!
I can't tell you how excited I am! I finally ordered my first Stitch Fix and seriously opening the box was the highlight of my week! I signed up with them when I first learned about the company over a year ago, but never scheduled a fix. Then I got pregnant and definitely didn't want to order one so as soon as I had Evangeline I decided it was time!
I probably don't need to explain that finding time to go clothes shopping with 4 young children is pretty tough. Impossible actually. I tend to shop online but always struggle with how to style the items I buy. Those are just a few of the reasons why this service sounded absolutely perfect for me.
If you haven't heard of Stitch Fix, here is the lowdown…..a personal stylist hand-picks 5 items based on the style profile you fill out. You pay a $20 fee to have them do this and then they send you a box of the goods (you pick the week you want it delivered based on availability).
You get to try on the fun stuff they picked just for you, decide what you want to keep and whatever you don't goes back in the pre-paid shipping bag they include in your "fix". They pick your items based on your style profile which thoroughly questions everything about your size, likes, dislikes, price range, etc. You can also give them an idea of what you are looking for in the notes section. If you aren't looking for anything specific just sit back and wait to be surprised! It is SO fun.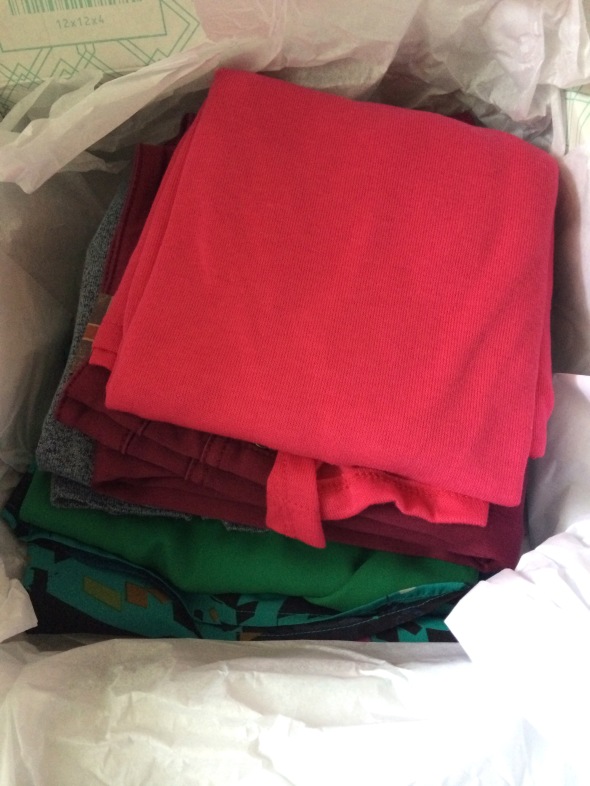 I love that their is no commitment, once you register with them you can schedule a fix whenever you want. If you decide to keep nothing, you lose the $20 styling fee, but what ever you do keep that fee is applied towards the purchase. I have yet to hear of anyone sending all 5 items back especially if you take the time to fill out the style profile correctly.
In my notes section I specified I'd like some flowy blouses with buttons that would be nursing-friendly. I also had them focus on casual pieces as well as date-night pieces. I was thrilled to see such pretty colors when I opened the box.
Here we go (please note I was just trying things on sans any styling or hairdo for that matter):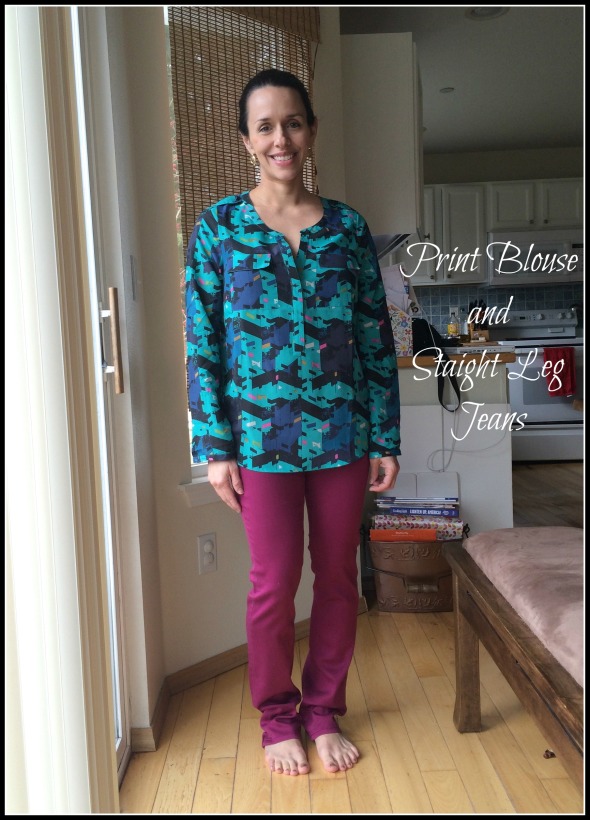 Pieces 1 and 2– print blouse with raspberry colored straight leg jeans. This print blouse is so comfortable- I was in love the minute I tried it on and knew it would pair great with all my jeans and tailored skirts as well as these fun ones they sent me!
Status: Keep and keep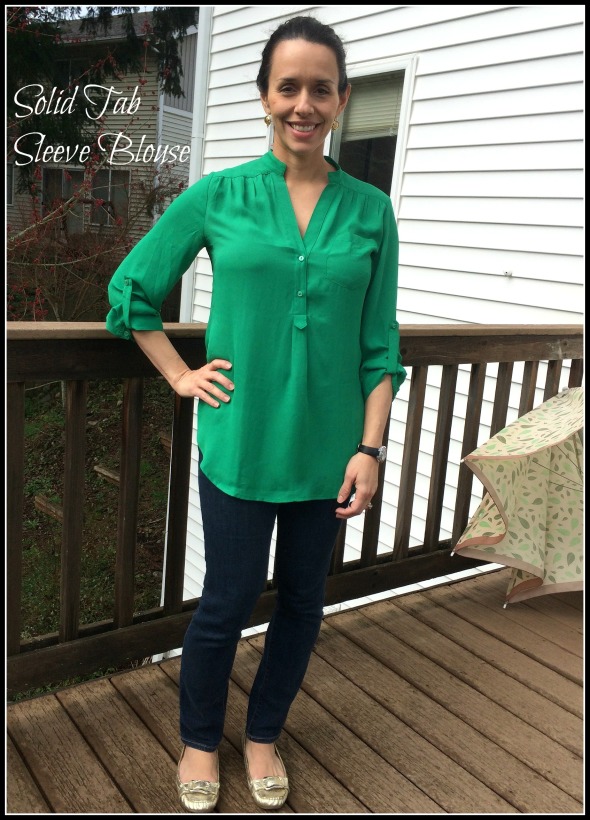 Piece 3– Green blouse. In love with this color. Perfect to wear casual with jeans, with a skirt and heels for a business meeting or my faux-leather leggings for date night.
Status: Keep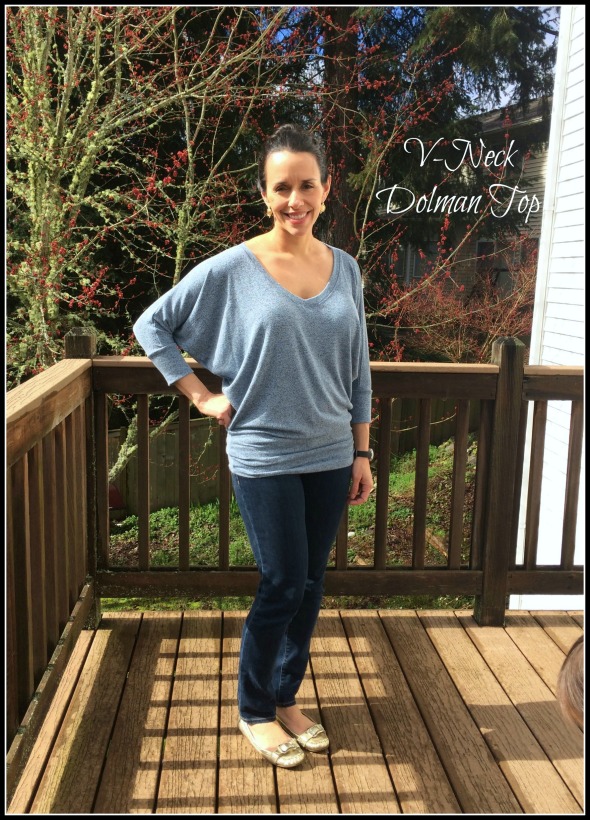 Piece 4– V-Neck Dolman Top- perfect to wear with jeans and flats or sneakers on a casual day. I thought this was going to be totally unflattering, but it wasn't! Plus it is super comfy.
Status: Keep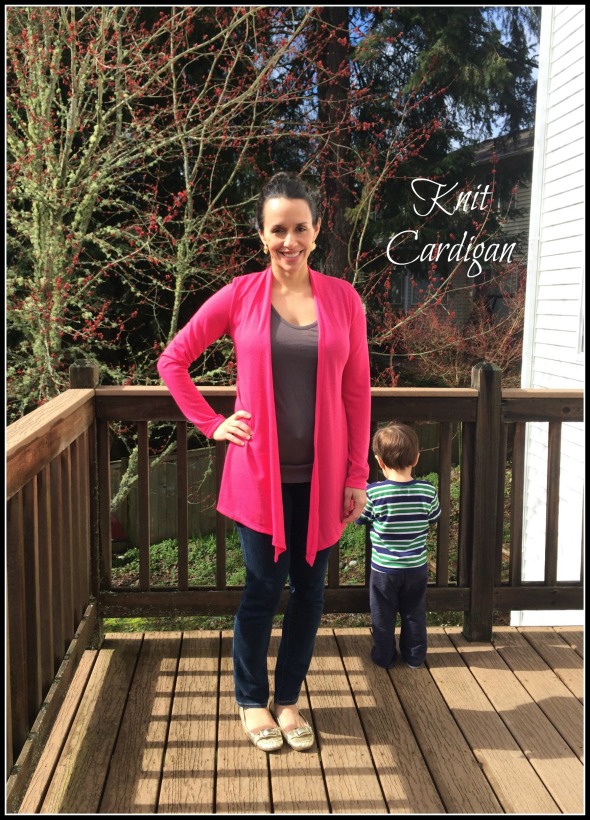 Piece 5– I am obsessed with cardigans and wear one practically every day. I don't own one in a fun bright color such as this hot pink! Love!
Status: Keep
At first I thought I wouldn't keep the jeans because they were a tad bit long and high waisted which is not my usual fit. I was also concerned I still have 10 pounds to lose and they might not fit properly when I get back to my pre-pregnancy weight, but then I saw if you buy your whole fix (i.e. all 5 pieces) then you get a 25% discount….so basically it was cheaper to order everything than to send back the jeans and not get the 25%. Gotta love how discounts work. I am happy to have them and am sure I will get a lot of use out of them! Plus I love the color!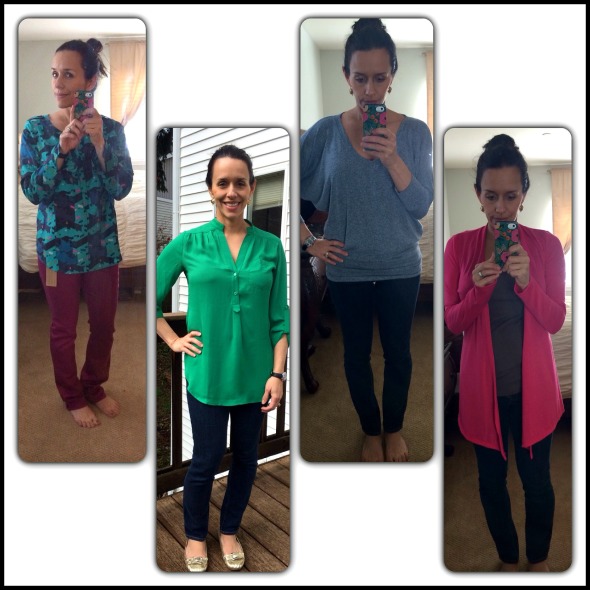 I went ahead and scheduled another fix for next month because I knew there would be a wait time and I didn't want to risk having to wait too long. I probably won't be doing one monthly, but rather every few months until I am happy with my wardrobe. In case my husband is reading this, I should point out that I haven't properly updated my closet in years and I am trying hard to get rid of stuff I haven't worn in forever. Plus for future fixes, I figure if I only keep one item per fix it's definitely doable. Riiiiiight. 
I chose my tops to be in the price range "the cheaper, the better" and all came in $48, with the exception of the printed blouse which $68. For pants and dresses I put my price range in the "$50-100 range". I think everything was reasonably prices especially after I got the 25% off discount.
You know what else I love? They send you a style sheet with options on how to wear the items they sent.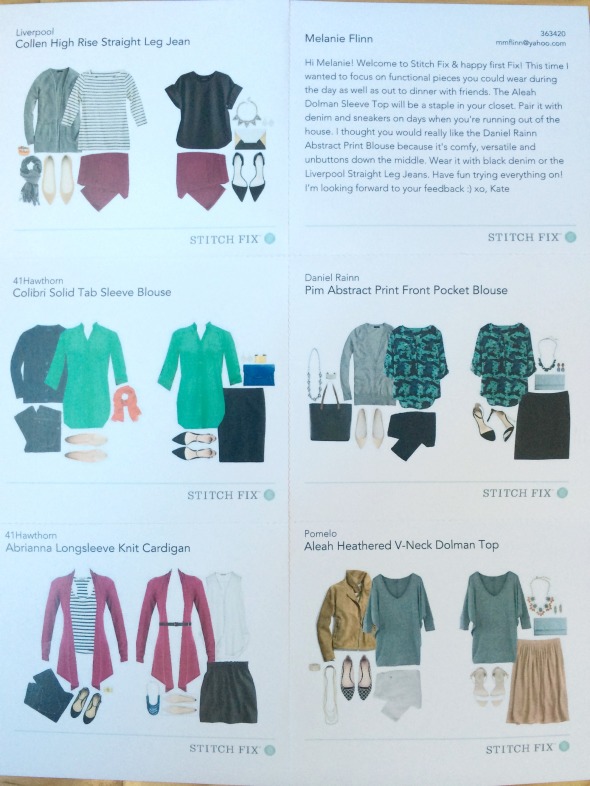 Anyway, I had to share because I love seeing what everyone else is getting in their fixes.
If you are new to Stitch Fix and want to try it out I would love you if you used my referral link. It will give me a little credit to use towards my next fix! If you are interested, I suggest doing it now though because the wait time for your first fix is about a month or more (unless more times have opened up).
Questions: So what do you think? Did I make the right decision on keeping everything? Have you tried Stitch Fix? What is your favorite item that they sent me?
Disclaimer: This is NOT a sponsored post, I simply love this service and the clothes I bought. If you use my referral link I will get a little credit towards my next purchase and will love you forever.