The following post is sponsored by FitFluential LLC on behalf of Stonyfield.
My kids have a Greek yogurt every morning for breakfast. No exaggeration. They are kind of obsessed. It's great because while I am getting my coffee they can go out to our garage fridge where we stock the bulk food and grab their yogurt and start eating. Makes my life a little easier in the morning…at least for about 5 minutes until they are done.
I have been buying Stonyfield organic yogurts since the kids were babies. YoBaby was always stocked in our fridge so when I received this wonderful package from Stonyfield full of their Greek yogurt, included their 2 new flavors, everyone cheered for joy! I have tried several brands of Greek yogurts and this one is definitely a favorite.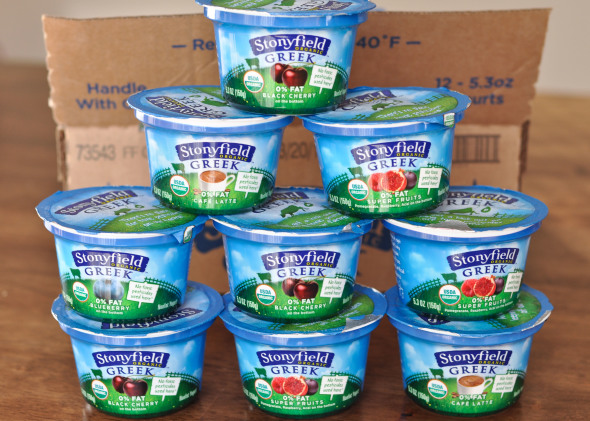 Stonyfield Greek yogurts have a creamier texture and new perfected flavors- the Superfruits is my favorite (a blend of Pomegranate, Raspberry and Acai), followed by the Cafe Latte which is a new flavor. Super yummy! The kids said Black Cherry, also a new flavor and Strawberry were their favorites. However to be fair to the other flavors, they didn't get a chance to try them because I am hogging the rest for myself.
Since my kids love Greek yogurt so much it makes me feel good that Stonyfield uses only the best ingredients and makes it's yogurt without those toxic pesticides, GMOs, artificial hormones or antibiotics.
The nutritional profile: 120 calories, 12 grams of protein, 190 mg of potassium, 17 grams of sugar (close to half of which comes from the natural sugar in fruit and milk) and 15% of your calcium needs in one 5 oz container. So low cal, no fat, high protein, high in potassium, but yes a little high in sugar. Please don't compare it to sugar in candy though because candy is empty calories where as this provides you with nutrition. If you monitor your sugar though out the day it's ok to incorporate a fruited Greek yogurt into your diet or if you are looking to cut back your sugar you can buy their plain yogurt and just add fresh fruit for sweetness.
Aside from eating yogurt every morning, my kids also love eating parfaits and smoothies in which I always add one Greek yogurt. It makes for a perfect smoothie in my opinion.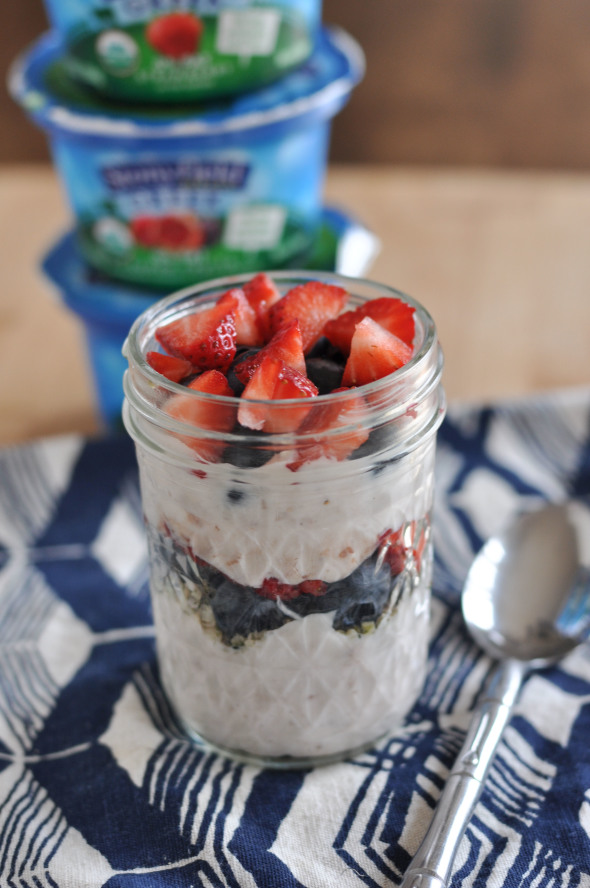 But back to those parfaits, the kids will honestly eat this as a meal, along with some other food because they are piggies. You don't have to layer it but I loved the idea of putting it in the glass jar which could easily be transported to work our school (if you're kids are older and can handle glass).
I layered in some hemp seeds before the fruit for some extra crunch and nutrition.
The granola is optional but not in our family. 😉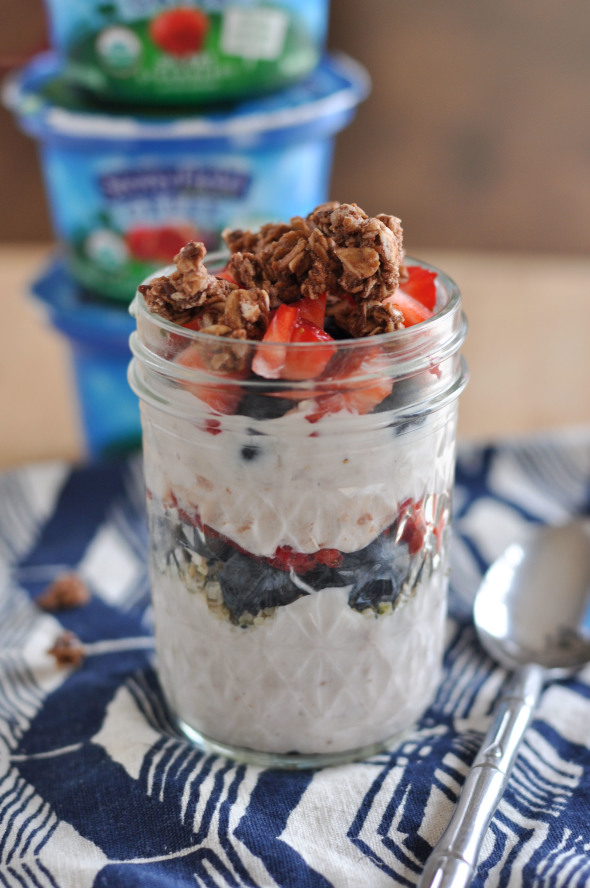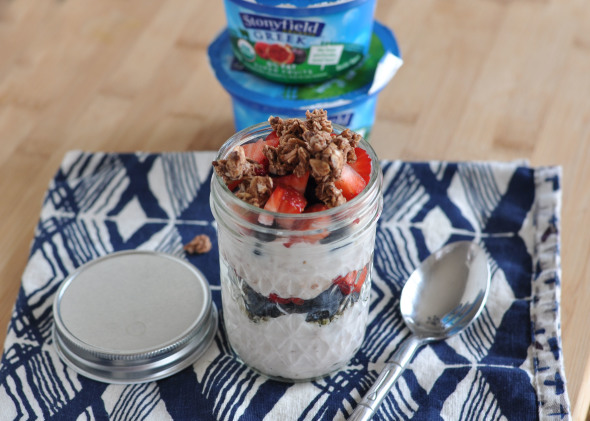 If your kids are too little for glass containers you can just dump a yogurt into a bowl and top it with fruit and granola instead of layering it. Makes no difference at all! I like to stir the Greek yogurts that have the fruit on the bottom, such as these fruit flavors, before making my parfaits.
If you don't have a chance to throw together a parfait, enjoy this yogurt straight out of the container. Their new Cafe Latte flavor is spot on and soooo creamy. As soon as you open it, you get a whiff of coffee. Double coffee breakfast please.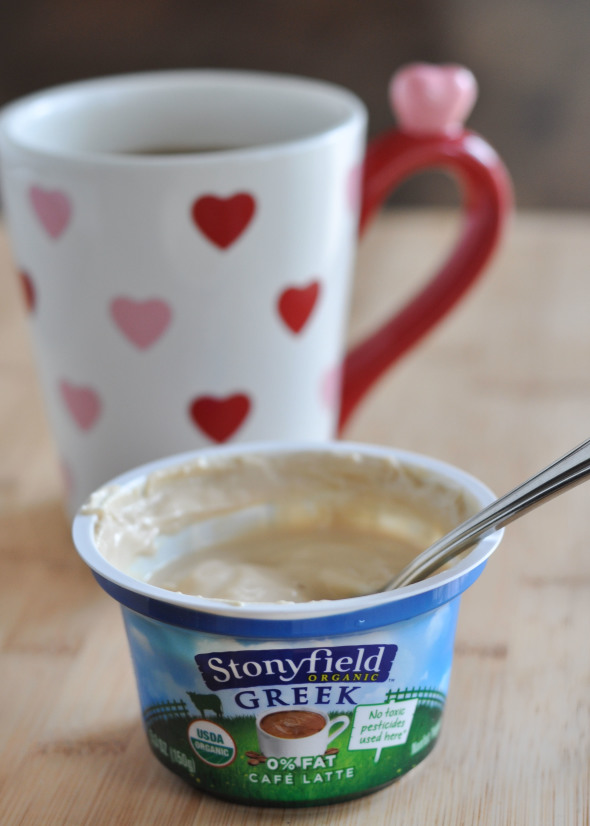 If you want a chance to win free Stonyfield Greek yogurt, they are hosting a "You Gotta Try This" challenge on all their social media channels for ideas you've "gotta try" for a healthier New Year. Fans share their own "gotta try" wishes using the hastag #StonyFieldGreek and you'll be entered to win some of their yummy yogurt. You can follow them on Twitter or Facebook.
If you can't wait to see if you won, you can purchase Stoneyfield Greek yogurt in the dairy aisle of grocers nationwide. Want to learn more about the leaders of organic yogurt making? Visit Stonyfield.com! Now if I could only find them in bulk!
A Perfect Parfait
Ingredients
1 (5 ounce) container Greek yogurt (such as Stonyfield Organic)
~1/4 cup blueberries
~1/4 cup diced strawberries
1 Tablespoon hemp hearts
¼ cup granola
Instructions
Stir Greek yogurt well if using a fruit on the bottom type. In a glass jar or bowl spoon out half of the Greek yogurt, top with ½ Tablespoon hemp hearts, half of the blueberries, half of the strawberries and repeat layers once. Top with granola.
Questions: Are you a fan of Greek yogurt? How do you enjoy it?