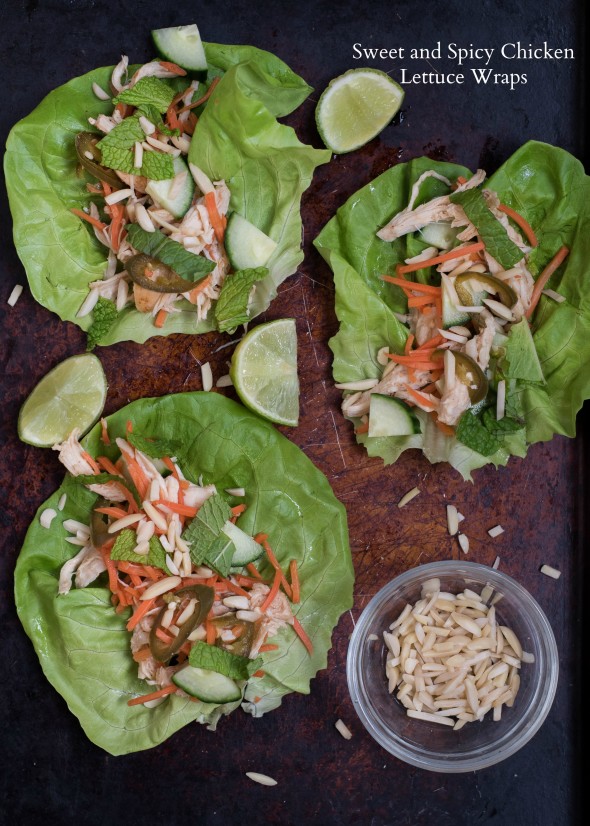 Hi friends! Happy Wednesday. This post was supposed to go up sooner, but alas we ended up in the ER again last week. My 4 year old, the one with the presumed asthma and the one who has made quite a few appearances to the ER, like on this day, had a crazy allergic reaction to his immunizations/flu shot.
He was seen for his 4 year old well-check in which all went well. Then they sent us over to get the shots. Of course he was crying because 3 big needles in the leg isn't fun. He was still a little hysterical after it was over which I thought was a little weird since the pain usually goes away immediately, but within about 1 minute he started coughing. At first I thought it was because he was crying and getting worked up so I had him calm down and drink some water. Within 3 minutes he was coughing and sneezing, as an employee passing by from the respiratory department told me to make sure we waited around. R was still crying off an on which I thought was weird.
That's when I turned and walked back to the immunization clinic and told them he had just started coughing out of no where. As soon as they sat him down he was wheezing, then itching hives all over his belly. He couldn't catch his breath. The Doctor was called in. They listened to him, checked his oxygen levels which were dropping rapidly. The Doctor said "we're going to need to get him to the ER" and immediately gave him a shot with the Epi Pen. It was wild because he had those immunizations before as well as the flu shot multiple times.
All this time all little R could do was itch and try to catch his breath. I felt HORRIBLE. After a second Epi Pen shot, oxygen treatment, the nebulizer, steroids and some allergy meds he was fine. They kept in the ER for about 6 hours total to treat him and monitor him. He went home back to normal like nothing happened! It was scary y'all. I am just so thankful our Doctor's office is right in the hospital so they had everything they needed within minutes. But had we gotten the flu shot from Target or Walgreens, etc. the outcome could've been much worse. This reaction happened within about 5 minutes!
Unfortunately I am not sure if we will ever find out exactly what caused that anaphylactic reaction. Since he had all immunizations before it looks like it was the flu shot, but what exactly in the flu shot we're not sure. They basically said don't ever let him get the flu shot again and gave us a referral to the allergist. I am looking forward to going so that we can possible get some answers on why he's having all of these "asthma" type reactions too. This kid is definitely allergic to stuff.
Anyway, I had planned to make these lil' lettuce wraps for dinner the day of the ER visit so I ended up just making the chicken mixture and saving it for friday night when we enjoyed it with a little sushi.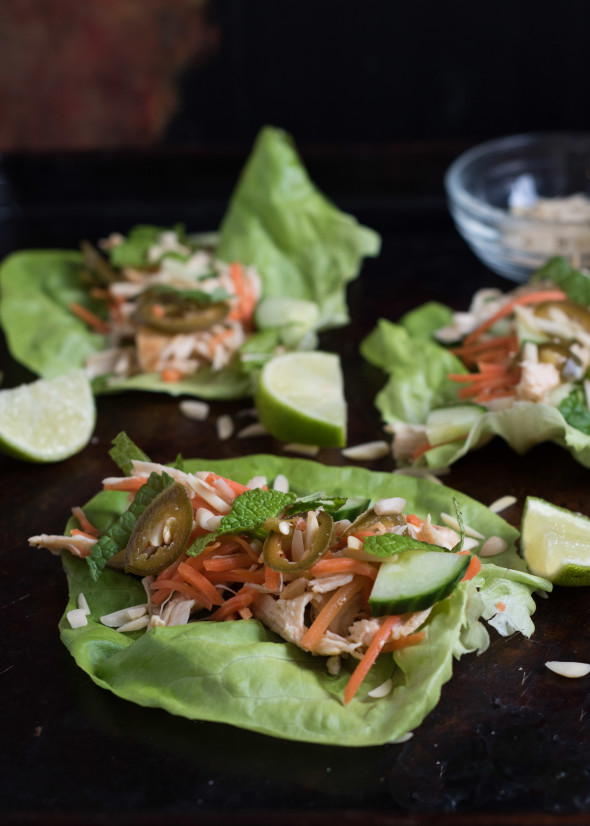 I found this recipe in Cooking Light and it was calling my name because of how simple and fresh it looked. I was totally intrigued by the vinegar soak and whether or not the sugar would come through enough to call these sweet and spicy, but the vinegar, sugar and heat from the Serrano chiles all stand out. If you like pickled things, you will like these and if you aren't a fan of pickled things I wouldn't try this recipe. They tasted exactly how I imagined- light, fresh and little tangy and healthy. It sort of reminded me of a fresh spring roll 🙂
I changed measurements based on what I had, I subbed almonds for the peanuts and added a squeeze of fresh lime juice in the end. If you don't like it spicy just omit the actual serrano peppers when you assemble the wrap, but I would still use them in the vinegar soak. You could even make this mixture, store it in the fridge and use it throughout the week using your lettuce wraps.
Mint is one of the most delicious herbs- it goes perfectly wit the tangy spicy chicken mixture, so don't forget it!
I think PF Changs made the world in love with lettuce wraps. Do you agree?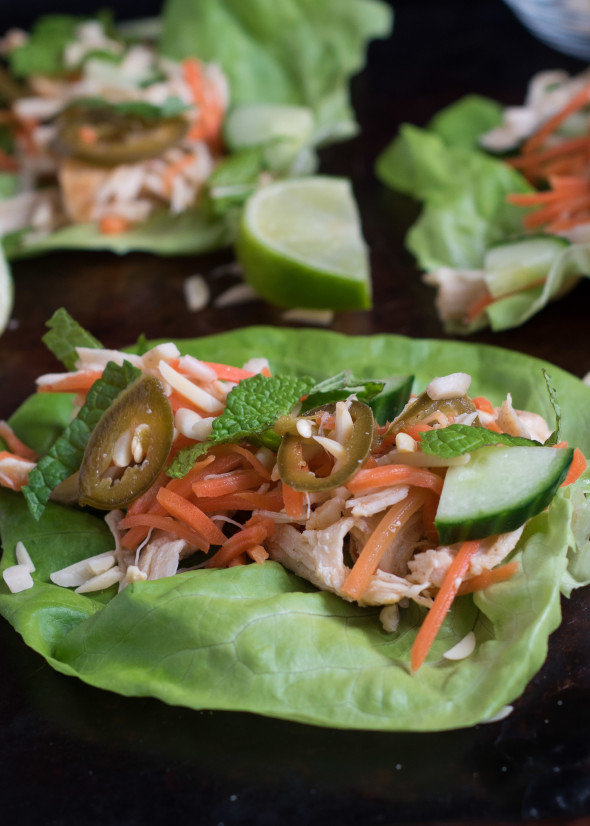 Sweet and Spicy Chicken Lettuce Wraps
Author:
Melanie F. | Nutritious Eats
Ingredients
1½ cup cider vinegar
½ cup water
⅓ cup sugar
1 garlic clove, thinly sliced
½ teaspoon salt
1 Serrano chile pepper, cut into thin slices (less if you don't like it spicy)
1cup matchstick carrots
3 cups shredded chicken
12 Bibb lettuce wraps
12+ cucumber slices, cut into quarters
⅓ cup fresh mint leaves, thinly sliced
6 tablespoons slivered almonds (or sub dry-roasted peanuts chopped)
lime wedges
Instructions
In a medium sauce pan combine the first 6 ingredients. Bring to a boil, then reduce heat and simmer for 20 minutes, until sugar has dissolved. Remove from heat and add matchstick carrots. Let stand 10 minutes. Add chicken and let it sit for about 5 minutes. Drain, discard liquid and transfer chicken mixture to a bowl.
Place ¼ cup chicken on each lettuce wrap, top with 1 Tablespoon diced cucumber, 1-2 teaspoons fresh mint and a 1½ teaspoons of slivered almonds.
Notes
Recipe adapted from Cooking Light, March 2014