The following post is sponsored by ConAgra foods. All opinions are my own.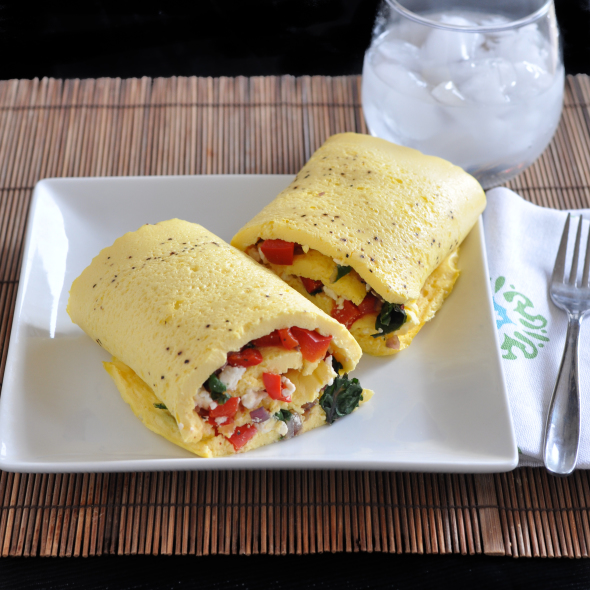 I am sure many of you know that food with more volume and protein can help you feel fuller longer which can be a great and effective weight management strategy. Also, when it comes to weight management, choosing the right breakfast is very important.
Today I wanted to share the results of a recent study that was presented at the Academy of Nutrition and Dietetics 2013 Food & Nutrition Conference & Expo (FNCE®), which I thought was quite interesting: it found that calorie for calorie egg whites are more satiating than whole eggs.
Participants were asked to eat a breakfast containing 140 calories of either egg whites, in the form of Egg Beaters® (1 1/5 cup), or whole eggs (2 whole eggs). Those who had the egg white breakfast were more satiated and consumed fewer calories during lunch, compared to those participants who had the same amount of calories worth of whole eggs.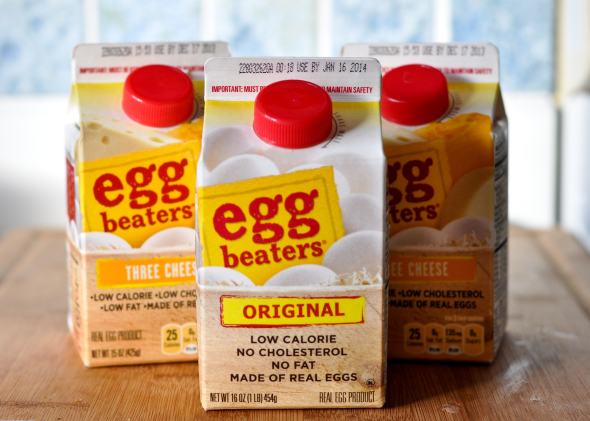 Egg Beaters® is the egg minus the yolk and provides complete, high-quality protein without the fat and cholesterol of whole eggs. One serving of Egg Beaters has 5 grams of protein for only 25 calories. They can also be incorporated into your favorite baking recipes in addition to using as you would regular eggs: omelets, french toast, scrambles, etc.
The results of this study definitely surprised me. How about you? I never would've guessed egg whites would be more filling. I am whole egg eater myself, but for those of you that prefer the egg substitute I thought I'd pass along this info.
Before I go, of course I have to share a recipe! It's for a rolled omelet inspired by a recipe I saw on the Egg Beater website; it's a genius idea I'll have to say! I've always been terrible at making omelets without it turning into a scramble so to make this perfect egg wrap you just use a casserole dish and your trusty oven and it turns into this perfect layer you can use for a rolled omelet. It hit the spot…and definitely kept me full for hours.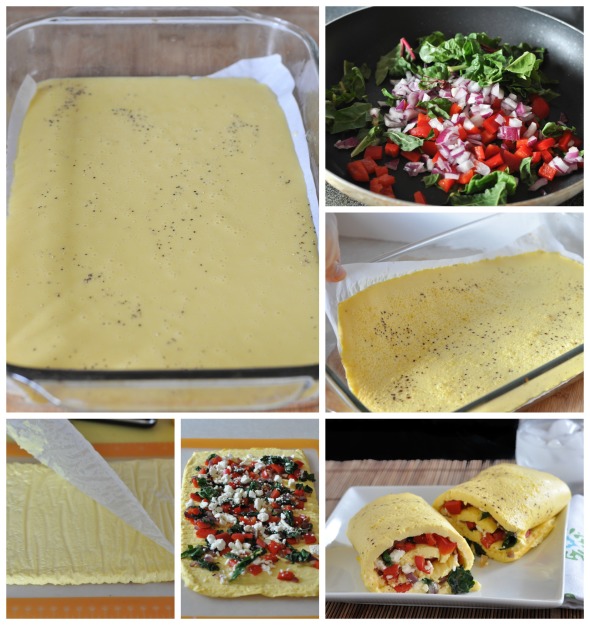 Fill it with whatever you like and enjoy this high protein, highly satisfying breakfast!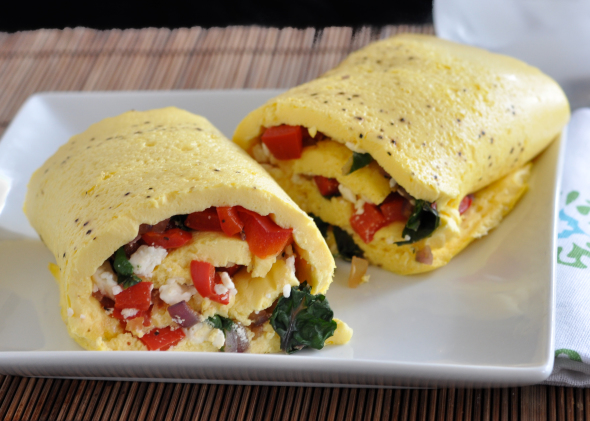 Swiss Chard and Feta Rolled Omelet
Ingredients
Cooking spray or olive oil
3 cups heaping raw chopped vegetables (I used ½ cup diced red bell pepper, ½ cup diced red onion, 2 cups swiss chard)
⅓ cup crumbled feta cheese
16 ounce container original egg beaters or 7-8 eggs whisked with ~1/3 cup milk
salt and pepper to taste
Instructions
Preheat oven to 325°F. Spray 13x9-inch pan with cooking spray. Line with a piece of parchment paper (make sure parchment fits exactly the bottom or comes up high enough on the sides. Otherwise eggs will seep underneath it). Spray paper with additional cooking spray or olive oil mist.
Pour egg beaters or egg mixture into prepared pan, season with salt and pepper. Bake 15 to 20 minutes, or until eggs are set. Remove from oven; cool on wire rack.
Spray medium skillet with cooking spray or a little olive oil. Heat over medium heat. Add chard, bell peppers, onion (or vegetables of choice). Cook and stir until vegetables are crisp tender and chard is wilted, ~4 minutes. Season to taste with salt and pepper.
Loosen egg mixture from sides of pan and carefully invert onto another piece of parchment paper or a flexi cutting board. Carefully remove first piece of parchment paper. Place vegetable mixture evenly over eggs, sprinkle feta on top of vegetables. Starting with a short side, roll up jelly-roll fashion (Egg Beater mixture folds smoother than egg mixture which might form some cracks).
Place omelet roll, seam-side-down, in center of baking pan. Bake 5-10 minutes, or until hot or microwave ~45 seconds on a microwave safe dish.
Question: Do the results of this study surprise you? Do you notice a difference when eating egg whites versus whole eggs?