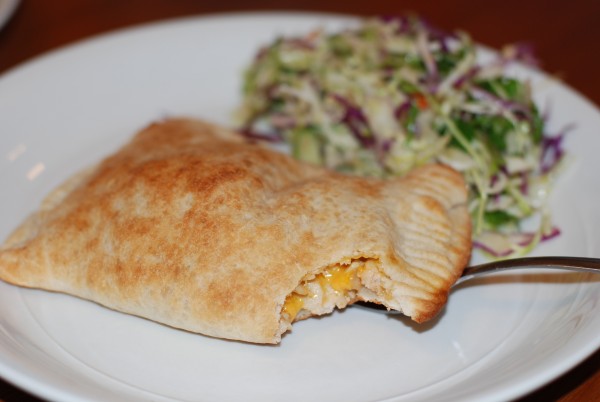 I have been cooking like crazy lately. After finding pile after pile of collected recipes, cooking magazine after magazine stacked by my bedside, I decided it was time to get organized. I spent all weekend sorting through my recipes and decided to set a goal of trying one new recipe a day (or close to it!). I know, it sounds ambitious even to me, but I figured I would count anything from an entree, to a salad dressing, to a new smoothie recipe, as long as it was "new" to me. The way I see it, there are simply too many yummy recipes in this world to be fixing the same thing week after week. Anyway, this goal of mine will definitely give me a lot of subject matter for this blog, but wanted to post a a quick dinner I made last night.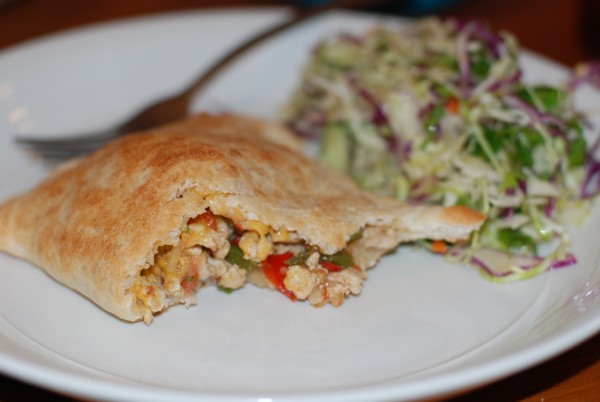 I am always looking for a meal that I can prep early in the day or when my kids are napping. This one was perfect. I made the calzone filling in the morning, popped it in the fridge and then when it came time to assemble the calzones I just warmed it up in the microwave for about a minute and a half. Then I assembled the calzones, put them in the oven and dressed the salad while they baked for 10 minutes. Simple!
I love that the skies the limit with the fillings. You could take a more Italian approach and stuff it with any of the usual pizza toppings or you could try beans, cheese, chicken, cilantro, & tomatoes or sauteed spinach, feta, garlic/onions….that would be good! If you have the time, make some pizza dough from scratch and you get bonus points!
Tex-Mex Calzones
Recipe adapted from Cooking Light
INGREDIENTS:
8 ounces ground turkey breast
1/4 cup chopped onion
1/3 cup chopped red bell pepper
1/3 cup chopped green bell pepper
1/2 teaspoon cumin
3/4 teaspoon chili powder
2 garlic cloves, minced
1/4 cup fire-roasted salsa (or salsa of choice)
1 can refrigerated pizza dough
3/4 cup shredded sharp cheddar cheese
2 teaspoons olive oil
DIRECTIONS:
1. Preheat oven to 425 degrees
2. Heat skillet to medium heat, add olive oil and cook ground turkey for about 3 minutes, stirring to crumble. Add the next 6 ingredients (onion through garlic) to pan. Cook another 3-4 minutes until turkey is cooked through but veggies are still crisp-tender. Stir in salsa of choice and remove from heat. Proceed with next step or refrigerate until ready to assemble (just warm filling in microwave).
3. Unroll crust, cut into 4 equal sized rectangles and lay on a cooking sheet coated with cooking spray. Spoon 1/2 cup of filling onto one side of the rectangle of dough. Top with 3 tablespoons of shredded cheese; fold dough over filling and press edges together with a fork to seal. Repeat with the remaining 3 dough pieces. Bake at 425 for 10-12 minutes or until browned.
Serve with salsa or sour cream.
Do you have an easy weekday meal that you can prepare ahead of time?