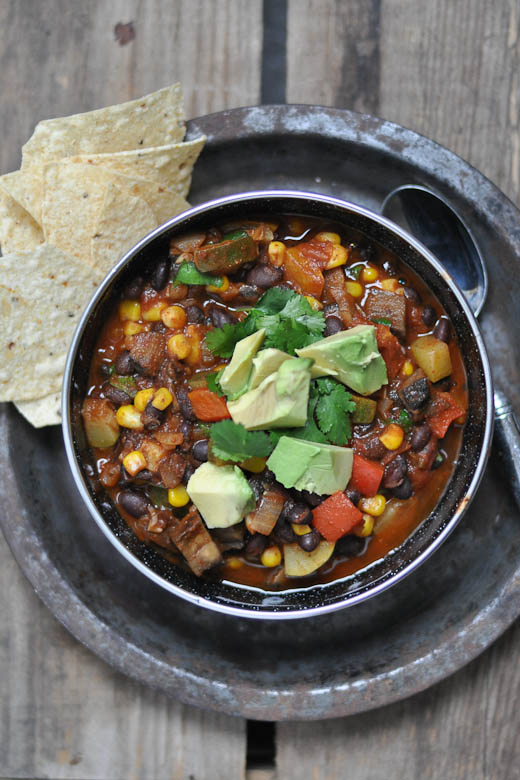 Before I talk about this recipe, I have to share some exciting news! Nutritious Eats is moving to Seattle, Washington!! We will be there in less than 3 months and will hopefully get settled into our new home right away. When it's time for a new job in the military it can often be a crapshoot- it could've been Qater, Egypt, New Jersey, Seattle. See what I mean? You never know what you're going to get! We got pretty darn lucky to move to such a great part of the U.S. I can't tell you how much positive feedback we've gotten on living there so how could we not be excited?!
Ok, so back to the food. I made this awesome chili last month when I was eating vegan. I LOVE it. I made it again for Super Bowl to balance out all the other treats we had. I think the flavor combo is fantastic. It goes great over a little brown rice. I also love scooping it up with tortilla chips. I have also rolled leftovers into a tortilla for a mini burrito. I also think making nachos with it would be awesome. It is a great meal to make-ahead of time because you know chili always gets better with time! You could even make and freeze this one. Did I mention I LOVE it?!
You really won't miss the meat and I'm not just saying that.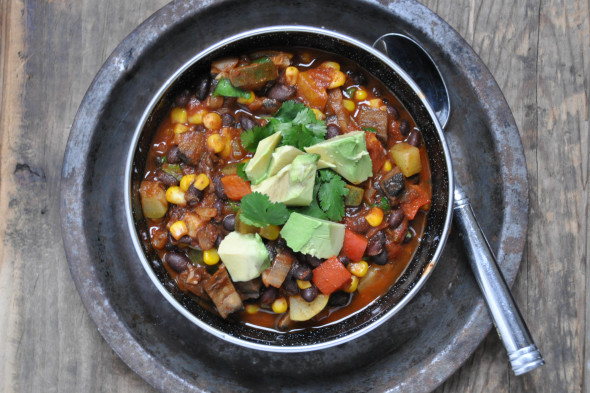 I'll have to admit, it takes some time to chop up all the veggies, but I personally love to chop- zone out and chop away. It makes a good amount so we usually have it for leftovers for another day or two. It really is a great recipe to transform into a different meal on one of the leftover days (as stated above).
I like making my black beans from scratch, but you can use canned too. Just go with the lower sodium one if possible or cut back on the added salt. This is a fantastic dish- I always feel so good about eating a bowl full of veggies. Try it soon!
P.S. Is anyone reading from Seattle?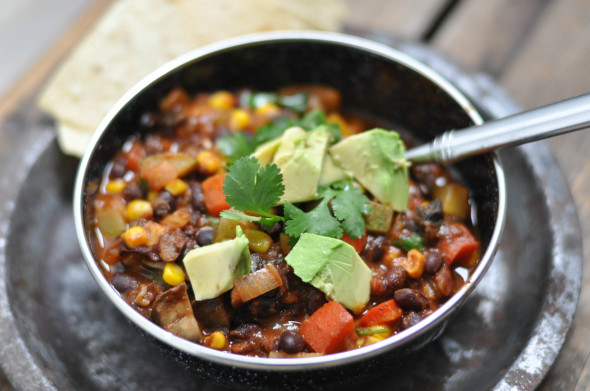 [print_this]
Vegetarian Chili
INGREDIENTS:
2 Tablespoons olive oil
1 medium onion, chopped (~ 1  1/2 cups)
3 cloves garlic, minced
1 serrano pepper, seeded and chopped
1 red bell pepper (~ 1 cup)
1 yellow bell pepper (~1 cup)
1 large zucchini, chopped
6 ounces portobello mushrooms, stemmed, wiped clean and cubed
2 cups corn (fresh or frozen)
2 Tablespoon chili powder
1 Tablespoon ground cumin
1/4 teaspoon cayenne
1/2 teaspoon salt
4 large tomatoes, peeled, seeded and chopped
1 cup vegetable stock
1/3 cup water
1 (15 ounce) can tomato sauce
3 cups cooked black beans or canned black beans (2 cans), rinsed and drained
1/4 cup chopped cilantro
few shakes of oregano
few shakes of onion powder
Toppings: Avocado, Chopped cilantro, shredded cheese (optional), sour cream (optional)
Brown Rice
DIRECTIONS:
1.  Pour olive oil into a dutch oven or large pot and heat to medium-high heat. Add onions, garlic, Serrano pepper and red and yellow bell peppers and and cook for about 3 minutes. Next, add zucchini, mushrooms and corn and cook for another 6 minutes, or until vegetable start to soften and brown slightly around the edges.
2. Add the chili powder, cumin, cayenne and salt and stir for about 30 seconds. Add the tomatoes, vegetable stock, water, tomato sauce and black beans and bring to a boil. Reduce heat to medium-low and simmer for about 20 minutes, stirring occasionally.
3. Stir in chopped cilantro and a few shakes of oregano and onion powder. Ladle into bowls. Top with avocado, additional cilantro and shredded cheese. Serve over brown rice for a heartier meal.
COOK'S NOTES: You might need to adjust the salt (more or less) based on whether you use regular canned beans, no added salt canned beans or cooked beans from scratch.  I used my black beans that I made from scratch and I do add some salt to them when cooking, but still not as much as canned beans.
[/print_this]
Recipe adapted from Emeril's Vegetarian Chili, Food Network

Pin It