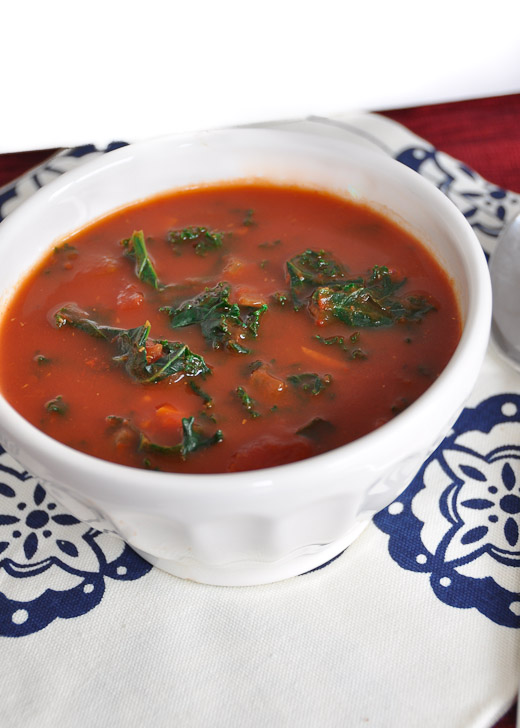 What do you get when you have a big bag of kale to be used, a husband with a cold and a Dietitian wife trying to make him better? Homemade tomato kale soup!
I have been trying hard to work on my own recipes- as in no adaptations, no inspiration or guidance from cookbooks or the internet and ya know what? It's not easy! Sometimes the recipes-in-progress take several tweaks or repeats until I get them right which makes blogging tough. It can be expensive and a long evolution so to all those food bloggers that post all (or mostly) original recipes, kudos to you! This soup however, I dreamed up on the way home from church and with my pre-chopped kale it took me about 20 minutes to from start to finish and it turned out lovely! Win!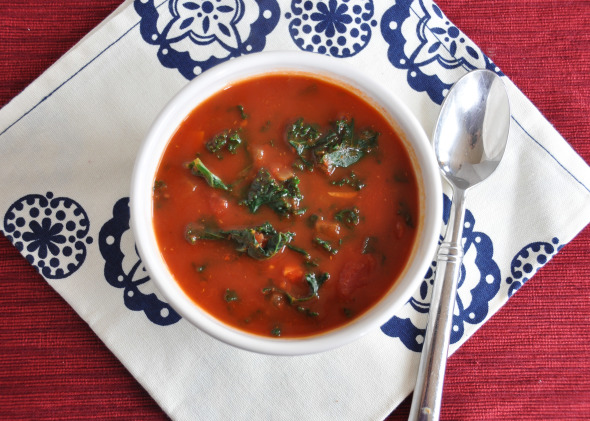 Nothing is better for a little cold like a healthy and spicy soup. The hubs and I both thought it was flavorful and satisfying. Now we will have tomato kale soup leftovers for a few days!
I am already eager to getting back to meal planning after taking a couple weeks off. The kids start soccer this week which means practices Monday and Wednesdays for both kids and since they practice at different times we'll be on post for over 2 hours. On those days I really need to have my act together and have dinner ready because we won't get home until after 6pm. Then my daughter adds to her schedule by starting dance one day in the afternoon so I am losing another afternoon of prep time. I am going to either prepare and cook dinner in the morning or plan for leftovers the night before or utilize the slow cooker.
Here is what I am planning for the week. I am missing one meal so if you have any favorite slow cooker recipes, please share in the comments!
Sunday
Brisket Tacos, Slaw, Borracho Beans
Monday
Tomato Kale Soup (leftovers for kids), Crusty Bread
Tuesday
Turkey Burgers, Homemade fries, Salad
Wednesday
Crock Pot meal (still researching)
Thursday
Appetizers for Dinner- Southwestern Egg rolls, Guacamole, Veggies
Friday
Fettuchini with Tomatoes and Mozzarella, Arugula Salad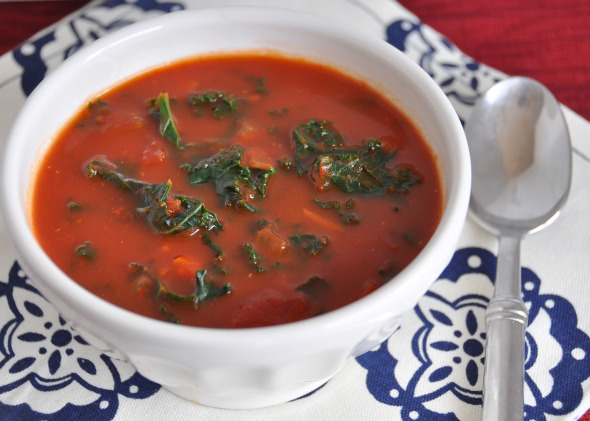 Tomato Kale Soup
Ingredients
1 Tablespoon olive oil
1 cup diced onion (~1/2 an onion)
½ cup diced carrot
3 garlic cloves, minced
½ teaspoon red pepper flakes
4 cups chicken or vegetable broth (for vegan option)
1 (28 ounce) can crushed tomatoes
1 (14.5 ounce) can diced tomatoes with basil, oregano & garlic flavor
10 cups chopped kale
¼ teaspoon dried oregano
¼ teaspoon dried basil
black pepper
salt (optional)
Instructions
In a large pot on medium heat, add 1 tablespoon olive oil, diced carrots and onions. Saute for about 5 minutes.
Add minced garlic and red pepper flakes and cook an additional 1-2 minutes.
Add broth, crushed and diced tomatoes and bring to a boil. Reduce to simmer, add dried oregano and basil, season with black pepper and let simmer for ~5 minutes.
Stir in chopped kale and continue to simmer for a couple minutes. season to taste with salt if needed. Serve.
Notes
To make this soup come together even faster, use pre-chopped kale that comes in a bag. Depending on the amount of sodium in your tomatoes, you may not need any salt.
Question: Do you plan make-ahead meals for when your kids have activities? What's your favorite slow cooker meal? What are you meal planning this week?