As part of a sponsored post for Collective Bias I created a recipe for tuna cakes, a healthy lunch or dinner, using Ocean Naturals Wild tuna.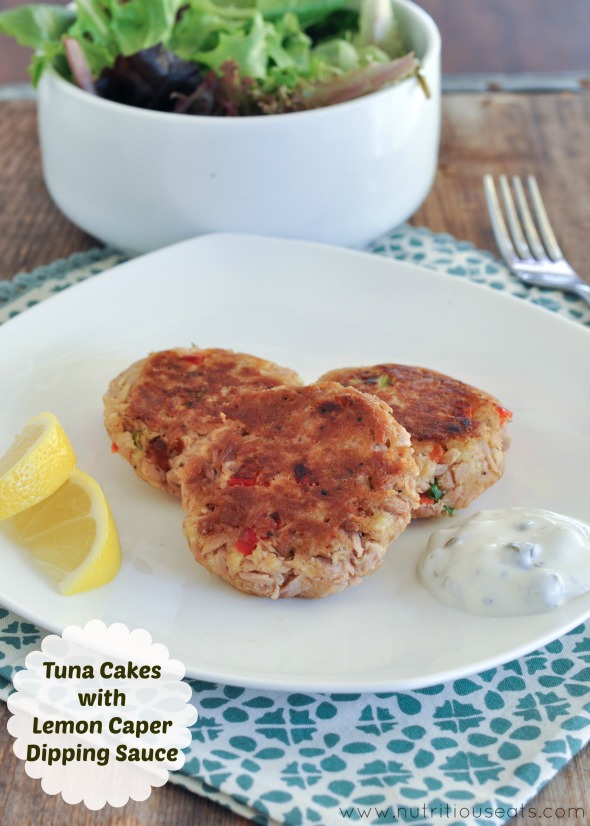 I love a good tuna salad sandwich and I always keep my pantry stocked with tuna, but I'll be honest, I forget about using it! When I got the chance to try this wild skipjack tuna from Oceans Naturals, I immediately craved two things: a tuna salad sandwich and tuna cakes. Since nobody really needs a recipe for tuna salad, I thought I'd create a healthy lunch or dinner recipe for tuna cakes.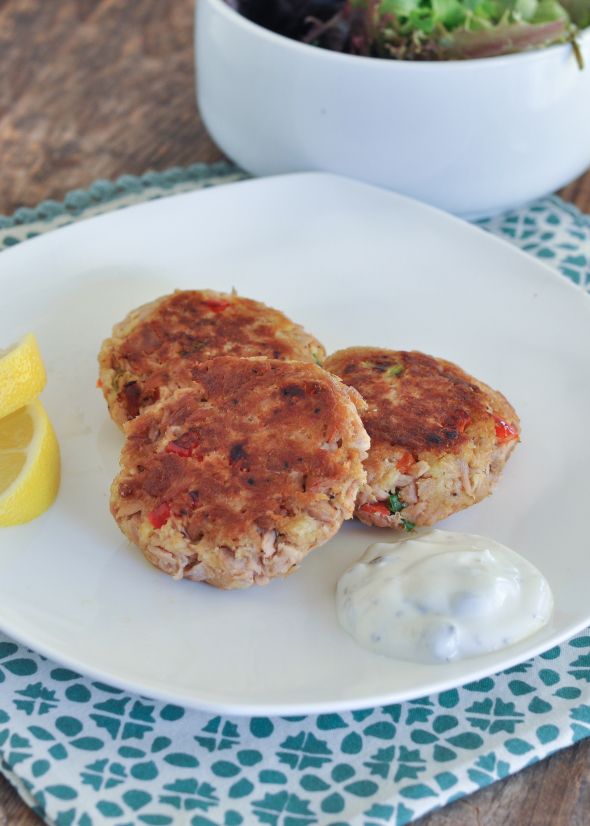 But first things first, let's talk more about the nutrition in tuna before we get to the recipe. Tuna is a high source of protein and omega 3 fatty acids and is naturally low in fat and carbohydrates. Even better, Ocean Naturals clearly lists the species of fish on each package and only uses ingredients you can pronounce. No fillers or additives- just fish packed in water or oil. Another bonus is that Oceans Naturals tuna is sustainably and ethically caught. It had a great flavor, no "canned" fishy taste.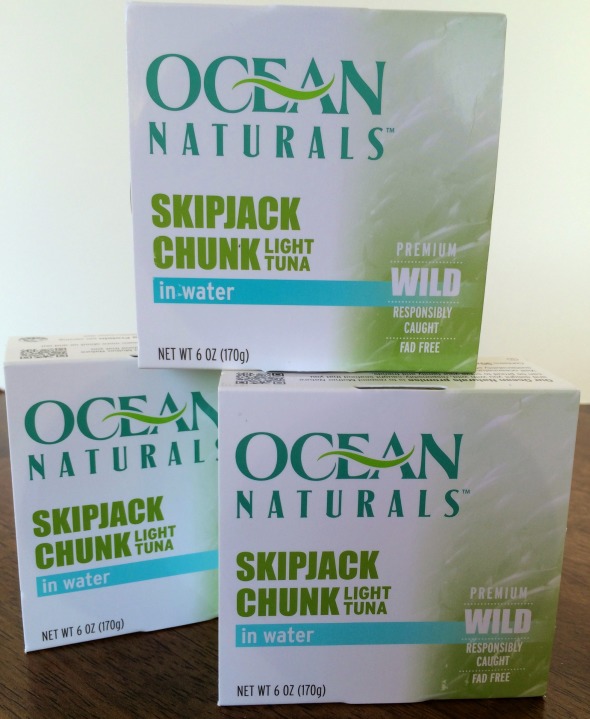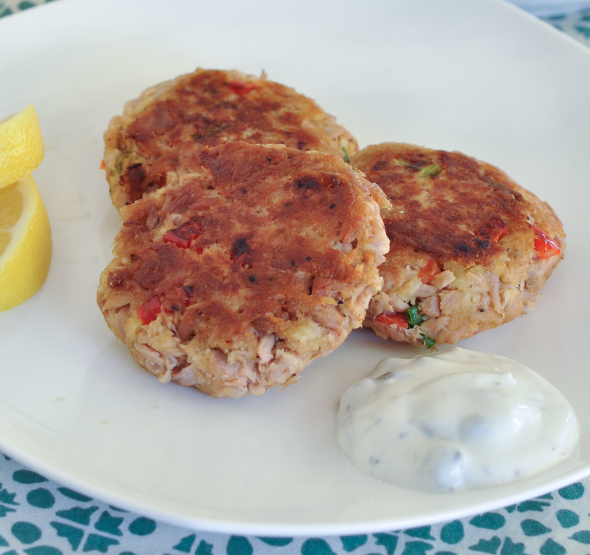 I added some spices, greek yogurt, egg and panko for binding and pan fried them in a little olive oil. I thought they'd be nice over some greens but they needed a dressing or sauce of sorts so I made a lemon caper sauce using mostly Greek yogurt. They were delicious and a great way to enjoy canned tuna- fresh, light and perfect for a healthy meal. The leftovers were great warmed up in the microwave served with that yummy, tangy sauce.
I will be making these again soon.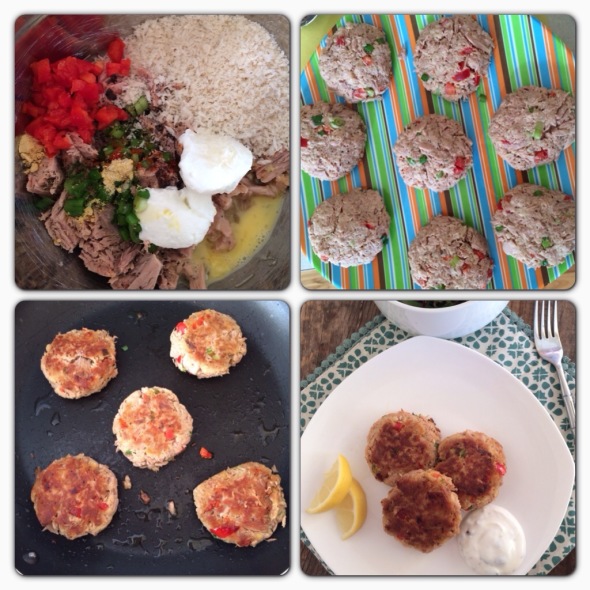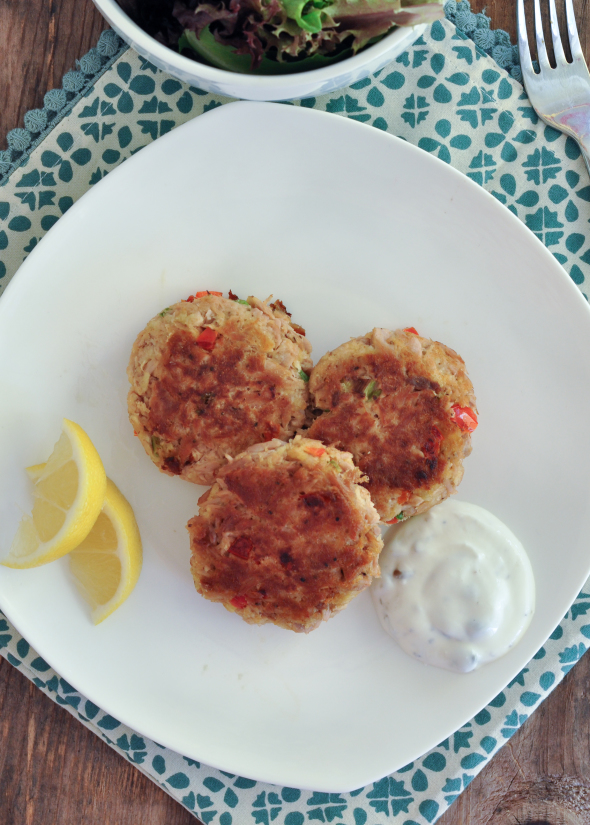 Ocean Naturals Tuna gives away free product every Tuesday so you have a chance to win when you visit their facebook page.
Oh and one last thing that I though was pretty awesome, you can actually learn more about who caught the fish you are eating and where it came from by visiting the Ocean Naturals website and entering the code from your can of tuna.
This is what I found after entering the code from my tuna can….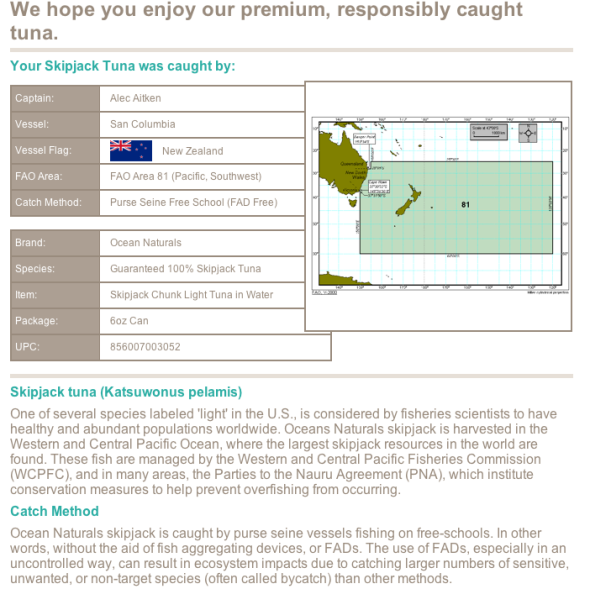 How cool is that? Try some Ocean Naturals next time you pick up canned tuna. It's good, good for you and good for the planet!
Tuna Cakes with Lemon Caper Dipping Sauce
Ingredients
2 6-ounce cans Ocean Naturals skipjack tuna, rinsed and drained
2 Tablespoons sliced scallions (~1 scallion)
¼ cup finely diced red bell pepper
¼ teaspoon dry mustard powder
¼ teaspoon black pepper
⅛ teaspoon celery seed
⅛ teaspoon paprika
pinch or two of salt
3 Tablespoons plain Greek yogurt
½ cup panko
1 egg, lightly beaten
juice from ½ fresh lemon
1-2 Tablespoons olive oil for pan-frying tuna cakes
For the Lemon Caper Dipping Sauce
½ cup plain Greek yogurt
2 Tablespoons mayonaise
1 Tablespoon fresh lemon juice
2 teaspoons drained capers, chopped
1 small garlic clove, minced
pinch of black pepper
Instructions
Drain tuna and add to a medium size bowl. Add all other ingredients through lemon juice to bowl and stir well to combine. Using a measuring cup, scoop out ¼ cup tuna mixture into your hands and gently form into a patty. Place on a plate until all patties are formed.
Loosely cover plate and refrigerate at least 15 minutes.
To cook tuna cakes, add 1 Tablespoon to a large non-stick skillet, cook on one side for ~3 minutes, gently flip and cook on other side for 2 minutes (5 minutes total). Add a little more olive oil and pan fry second batch.
Serve warm with lemon caper dipping sauce or over a bed of mixed greens with sauce as the dressing.
For the Lemon Caper Dipping Sauce:
Mix all ingredients in a small bowl, serve with warm tuna cakes.
Nutrition Information
Serving size:
2 tuna cakes
Questions: do you like canned tuna? How do you prepare it?