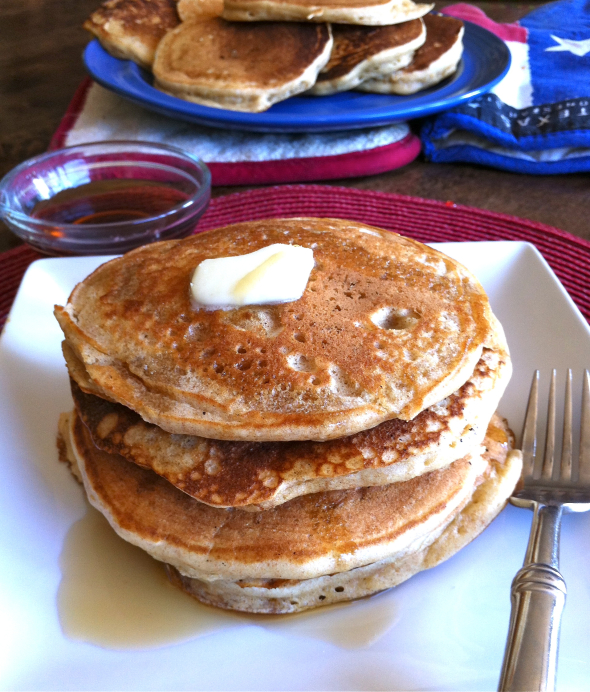 (please excuse the iphone photos for today's post)
Did you all have a nice weekend? We sure did because daddy came home after being gone for 3 weeks! 3 very long, summer weeks, but despite our rocky start (sick kids, ER visit for my youngest) the time apart did get a little easier this time around. I had the kids in VBS (vacation bible school) for the last week and they loved it so much that it was a great event to look forward to.
My oldest had a couple flag football games which was fun too. I am exhausted though! I think I will be hitting the sack at 9:30pm every night this week. The nausea has finally gone away (yahoo!) but the motivation in the kitchen is still low. I think it might also have to do with me being a single parent for 3 weeks and not having any extra time to think about food (at least I am hoping). My newest symptom is congestion which usually hits right at bedtime. It make sleeping very difficult, but you know it's always something! Baby making is tough work!!
Before I share today's recipe I wanted to post this cute picture of my 6 year old taken over the weekend. After breakfast on Saturday he went upstairs, put his exercise clothes on, came down put his tennis shoes on and I said "what are you doing?"….he responded dead serious "I'm just going to the garage to exercise" and then he asked if he could run outside in the front yard instead. Of course I said yes, and then had to sneak out there to snap a photo of him running laps and doing push-ups.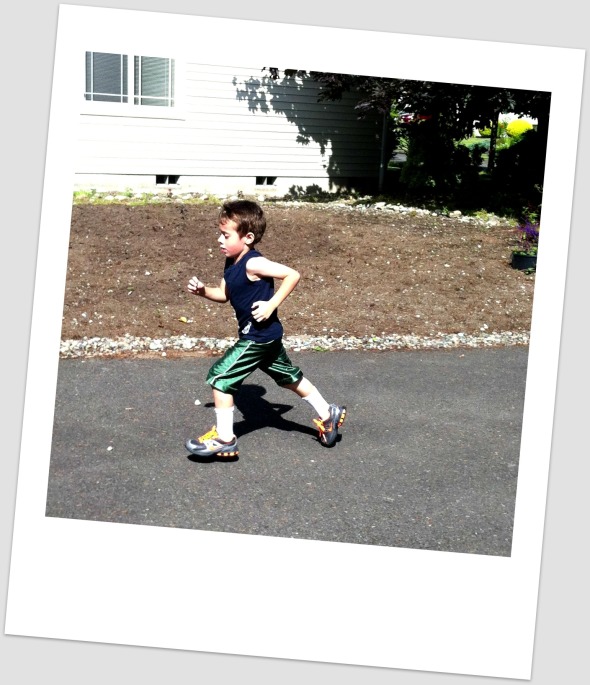 I LOVE this. I love that I have never had to tell my kids to be active and exercise, they just know by watching mom and dad that it's important. It really goes to show you the huge effect we have on our kids and that teaching them to be active and eat healthy now will make their lives so much easier when they are older. Don't forget this!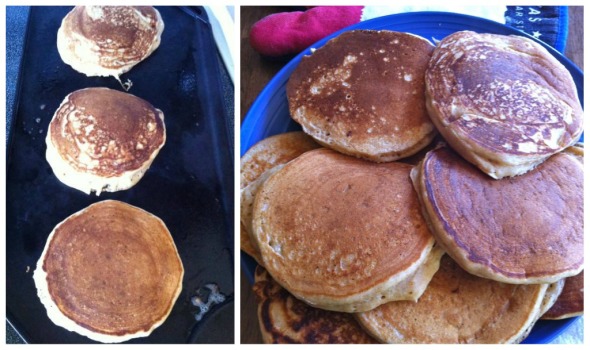 So to the recipe. We love pancakes around here and I have several posted on my blog but this is a great basic whole wheat buttermilk pancake recipe that I made from Cooking Light a couple years ago. I remembered I hadn't made this particular one in awhile so went online to search for the recipe. It's a nice fluffy thick pancake which is perfect for topping with berries (which I was unfortunately out of) and syrup. Just a warning, the batter for this is super thick. I ended up adding a splash of milk but it was still thick and that's what makes these nice and thick and fluffy so don't feel like you need to thin it out a lot.
I was in a hurry to feed the kids so my iphone photo will have to do for today, but just wanted to share this in case you are in need of a good buttermilk pancake recipe.
and look I only burned one! Doesn't everyone burn at least one pancake??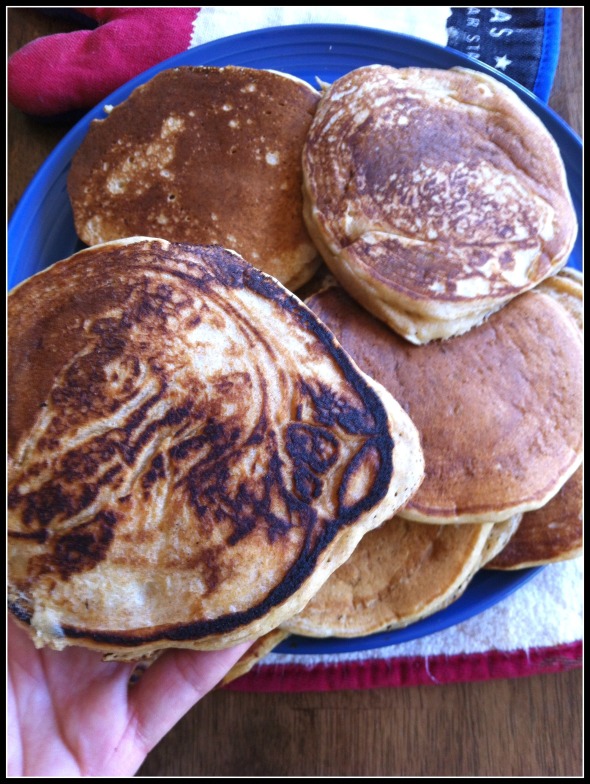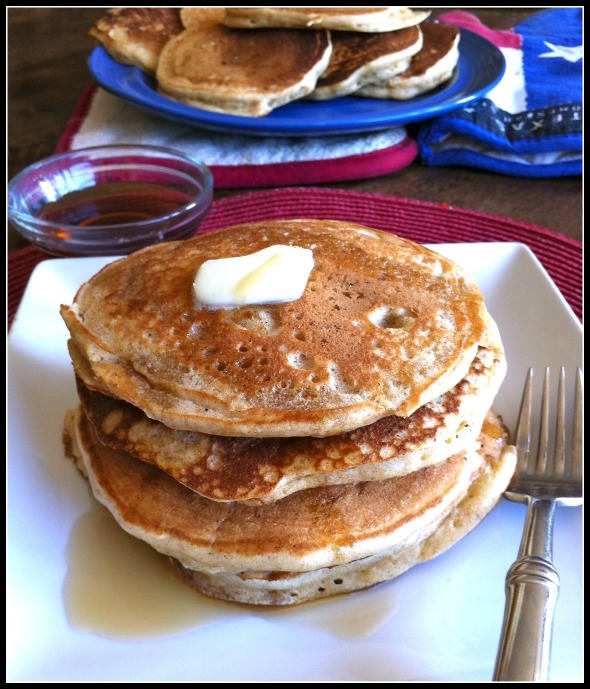 Whole Wheat Buttermilk Pancakes
Ingredients
¾ cup whole wheat flour
¾ cup all-purpose flour
3 Tablespoons sugar
1½ teaspoons baking powder
½ teaspoon baking soda
½ teaspoon salt
1½ cups low-fat buttermilk
1 Tablespoon vegetable oil
2 large eggs
Instructions
Spoon flour into measuring cups, level with a knife. Combine dry ingredients in a large bowl: flour, sugar, baking powder, baking soda and salt and stir with a whisk.
Mix wet ingredients: buttermilk, vegetable oil and eggs and stir with whisk. Add wet ingredietns to dry ingredients, stirring until moist.
Heat a nonstick griddle coating with cooking spray to medium heat. Spoon ~1/4 cup batter per pancake onto griddle. Flip after bubbles start to form and underside is lightly browned. Continue to cook other pancakes while leaving plate of cooked pancakes in the oven on warm setting. Serve with butter and maple syrup.
Notes
This makes a very thick batter. I ended up adding a splash of milk but it will still be very thick. When you pour a portion onto the griddle, just spread the batter around a little bit using the bottom of your measuring. If you are having a hard time working with it, just add a splash of milk.


Recipe slightly adapted from Cooking Light magazine, April 2002
P.S. Meal planning is still on hold until after I return from vacation and get my act together.
Question: What did you do this weekend? Do you have a favorite pancake recipe or do you use several different ones like I do?