This refreshing Wild Blueberry Coconut Smoothie is the perfect way to start your day!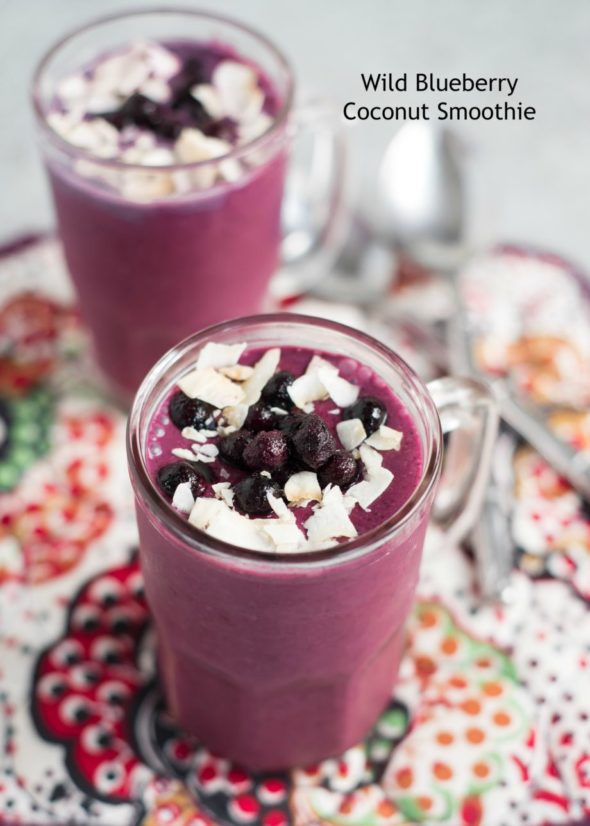 By posting this recipe I am entering a recipe contest sponsored by the Wild Blueberry Association of North America and I am eligible to win prizes associated with the contest. I was not compensated for my time.
In honor of our upcoming trip to Hawaii this summer, just 4 months away (eek!) and because I have summer on the brain, I had to share a smoothie recipe with you. Smoothies are actually great all year round, but they definitely hit the spot on a hot day. I also wanted to enter this awesome contest hosted by the Wild Blueberry Association! They are giving away some great prizes!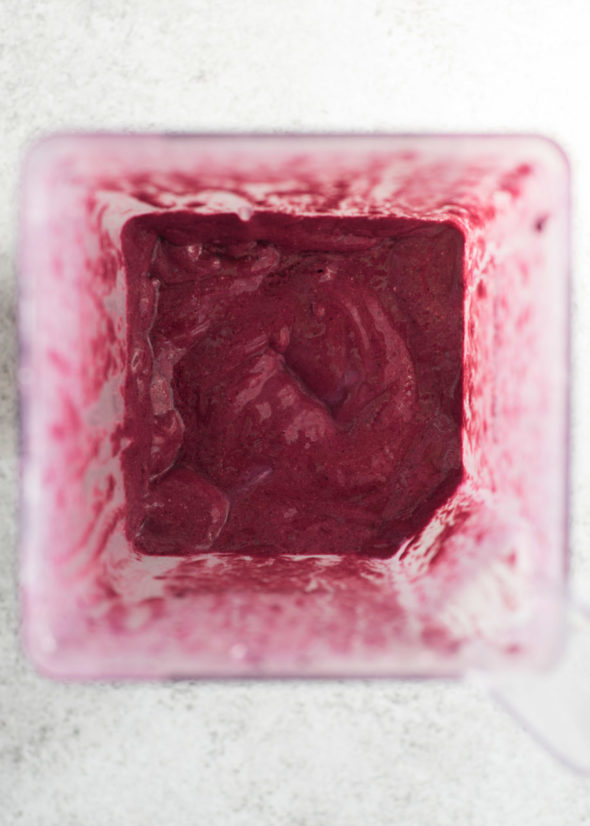 I always keep bags of blueberries in my fridge. The kids love them in their cereal, parfaits or just straight from the freezer. Did you know that there are two different types of blueberries? Wild blueberries, like the one in this recipe, and regular cultivated blueberries.
I prefer the wild blueberries because they have a more intense blueberry flavor, the perfect mix of tart and sweet and they have twice the antioxidant capacity of regular cultivated blueberries. They also have been linked to gut health as well as diabetes, cancer and brain health. They also have twice the fiber as regular blueberries and are an excellency source of manganese, a mineral essential for proper bone health.
I know some people think fresh is always better, but in the case of wild blueberries they are quick frozen at harvest locking in the nutritional value.
The reason they are called wild is because they are not planted, but rather grow naturally in barrens and fields in Maine and Canada.
You can find wild blueberries in the freezer section of your grocery store. I love that you can enjoy them year round!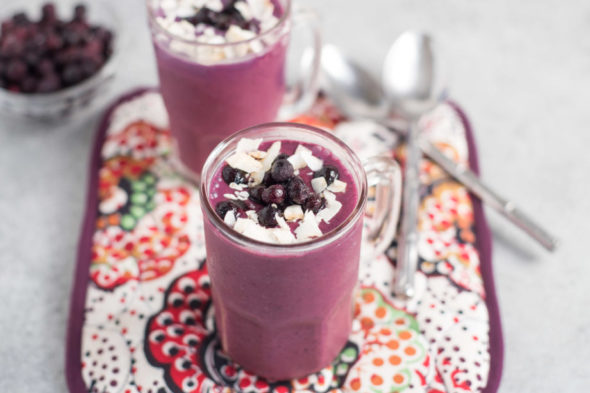 This simple 6 ingredient smoothie is so refreshing and nutritious, like most but not all smoothies. You get a little protein from the Greek yogurt, the health benefits from the coconut and we can't forget the power of those antioxidant rich cherries, blueberries and vitamin rich orange.
I like my smoothies on the thicker side, but feel free to thin this down with additional coconut water if needed. The trick to the smoothest smoothie is to use all frozen fruit in place of ice. Plus you pack in even more nutrition that way. And if you make it on the thick side, it makes a better platform for those toppings and you can dig in with a spoon, my preferred utensil for smoothies.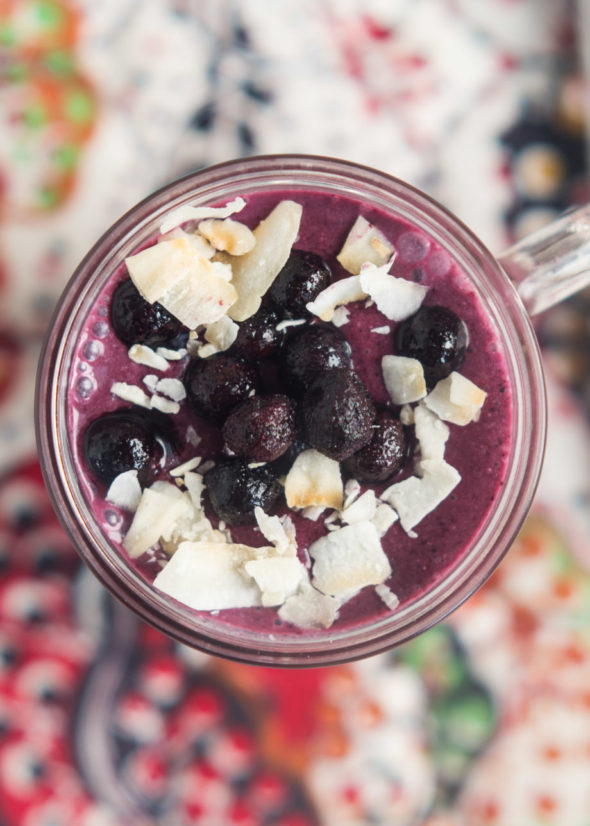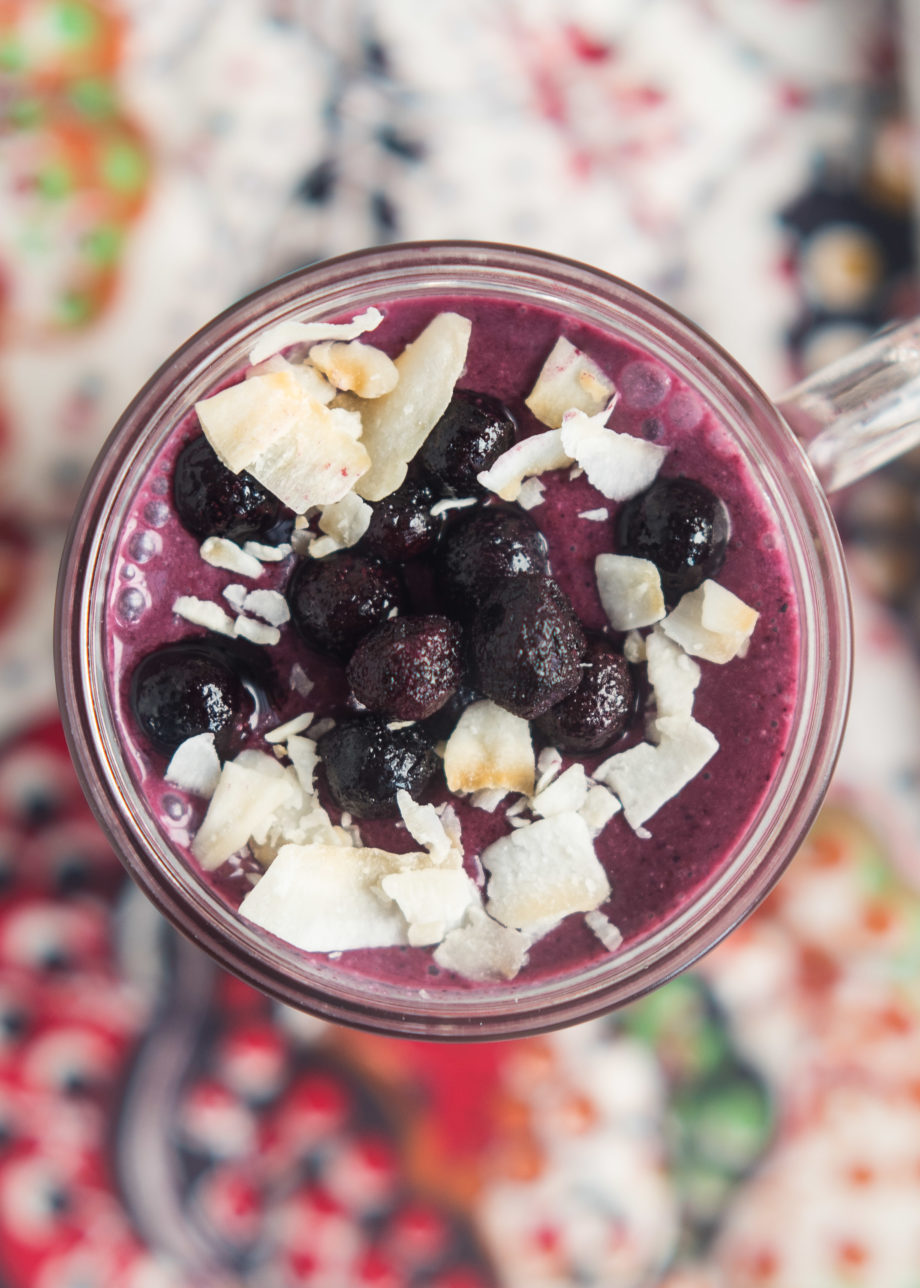 Hope you enjoy this combo as much as I do!
For more fantastic Wild Blueberry Smoothies look for the hashtag #WildYourSmoothie on your favorite social media channel to see what other RD and healthy food bloggers have created. You can follow the Wild Blueberry Association on Twitter, Facebook, Pinterest or Instagram.
Wild Blueberry Coconut Smoothie
a delicious nutritious smoothie perfect to wake up to!
Author:
Melanie F. | Nutritious Eats
Ingredients
1 cup frozen wild blueberries, plus a little extra for topping smoothies
½ cup frozen cherries
1 small orange, peel removed
½ cup coconut water
½ cup plain Greek yogurt (or can substitute a complimentary flavored yogurt)
2-3 Tablespoons unsweetened shredded coconut
Instructions
Add wild blueberries through yogurt in a high speed blender and process until smooth. Top with additional frozen blueberries and shredded coconut and enjoy!
Notes
For a thinner smoothie, add more coconut water and for a thicker smoothie add more frozen fruit.
For an extra coconutty flavor, add 2 tablespoons of shredded coconut to the blender ingredients.
For a vegan smoothie, just sub a non-dairy based yogurt.