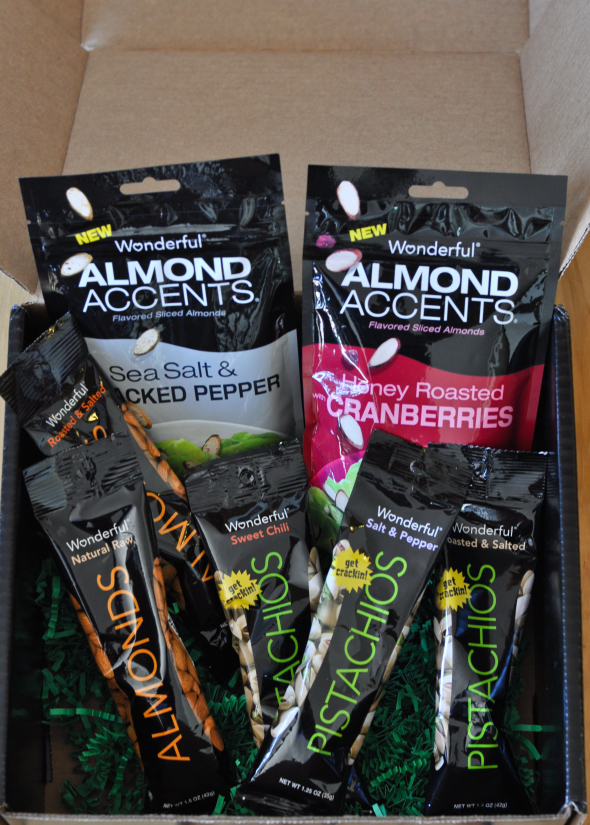 I am big snacker, in fact my whole family is. We rely on healthy snacks like fruit, nuts and whole grains to carry us through between meals. The reason this is so important to me is that it prevents me from overeating at each meal and helps keep my blood sugar stable. I also like that it's a great time to sneak in all those food group servings.
Having 3 young kids means we need a lot of snacks in the house. We are always running around to playdates and extra curricular activities such as sports, swimming, dance, gymnastics so packing snacks with us is a MUST. In fact, I don't leave the house without something in my purse. Nuts are one of my favorites and after my son tried the roasted & salted almonds he was hooked. I questioned why he gobbled these up but not the almonds I usually give him and he said "these are just better".  Just when I thought I got  some snacks all to myself!
Wonderful brands, the fastest-growing brand in America's produce aisles, has become a trusted household name for delicious nuts and fruits- from pistachios to pomegranates.
Wonderful brands makes Wonderful Pistachios, Wonderful Almonds, Wonderful Almond Accents and POM Wonderful. Since Wonderful brands is involved in the entire production process from tree to table, what's really wonderful is the taste! Wonderful Brands products are currently sold in the produce section in grocery stores throughout the U.S. and Canada.
Wonderful Pistachios are a delicious, sensible snack and a nutrient-rich alternative to the popular "junk" snacks. A handful helps to take the edge of hunger. It's a smart snack, acting as a satisfying "bridge" between meals. A serving of Wonderful Pistachios provides a good source of protein and fiber. A serving of thirty pistachios is about 100 calories- perfect for a satisfying snack choice. One of Hungry Girl's TOP ATE reasons to love Wonderful brands includes this fun one: "eating in-shell pistachios may help slow down consumption and curb calorie intake, thanks to the "Pistachio Principle." seeing all those empty shells may trick your brain into thinking you've eaten more than you have!"
Wonderful Almonds are naturally cholesterol-free and a great source of Vitamin E and fiber. A serving size is around 23 almonds and you can chose from 3 Wonderful varieties- Roasted & Salted, Roasted No Salt and Natural Raw.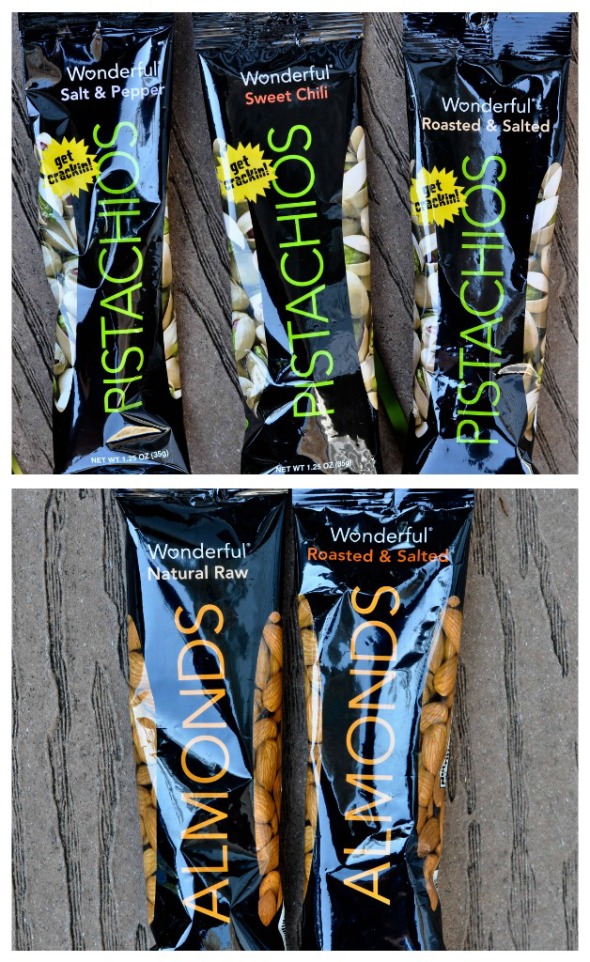 Wonderful Almond Accents add big flavor to salads for around 40 tasty calories per serving, plus they are a better alternative to croutons or other traditional salad toppings. They are dry roasted with no added oil, are naturally free of trans-fat and are low in sodium.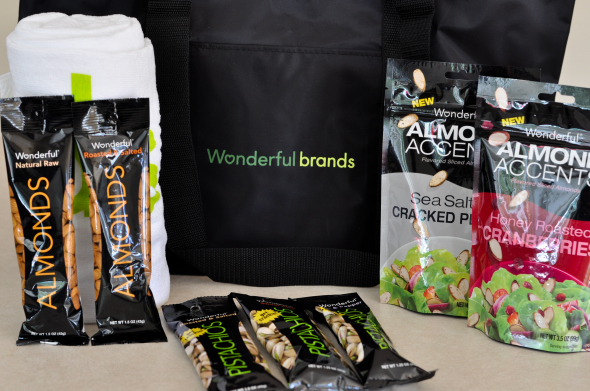 One lucky reader is going to receive this tasty prize package from Wonderful Brands (pictured above) including a beach bag, beach towel and a variety of Wonderful products! You can enter via the Rafflecopter below– once you leave the mandatory comment it will unlock a variety of other ways to enter to give you a better chance of winning! Giveaway will run until Friday August 2nd!
I was selected for this opportunity as a member of Clever Girls Collective and the content and opinions expressed here are all my own.