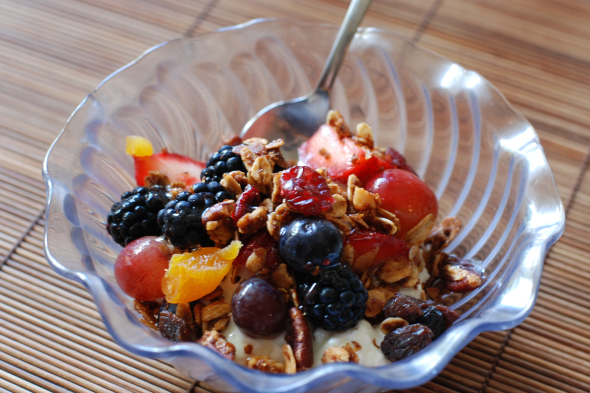 Hawaii has yogurt shops all over the island- some are soft serve, some are smoothie places and they are really big on yogurt bowls. In fact, in my small neighborhood there are 4 smoothie/yogurt places! I am not sure if this is the trend around the mainland, but I feel like I've been eating a lot more of the stuff since we moved here.
This is my take on the yogurt bowl and is now one of my favorite snacks. It's great for breakfast too! I've never been a big fan of yogurt…..until I tried Greek yogurt a couple years ago. The popularity of plain Greek yogurt has been on the rise and I am so glad to see it more readily available. It is so much healthier than the regular sweetened yogurts and even the "light" yogurts. Really, who wants to eat stuff with artificial sweeteners? Not me. I can use an equal in my coffee but I can not get used to the flavor of the sugar substitutes in food. Not that they don't serve a purpose, but if I can avoid using them I will.
A typical 6 ounce sweetened yogurt has about 4 teaspoons of added sugar and unsweetened yogurt has NONE! If you haven't tried Greek yogurt I have to tell you it might take some getting used to. To be repeated: it is unsweetened (as in plain). It is creamy and has a pleasant tartness to it which is why it's a perfect match for naturally sweet fruit. Plain yogurt has more protein, calcium, potassium, zinc and B vitamins because it doesn't have to share the container with that added sugar or "fruit at the bottom".
Here are two brands of Greek yogurt that I can easily find- Stoneyfield Organic and Fage (pronounced fa-yeh). I use the individual ones for my husband's work lunches and I use the big container at home for snacks and cooking (i.e. marinades, tzatziki sauce, smoothies). They sell this Fage brand at Costco which is definitely cheaper than the regular grocery store prices.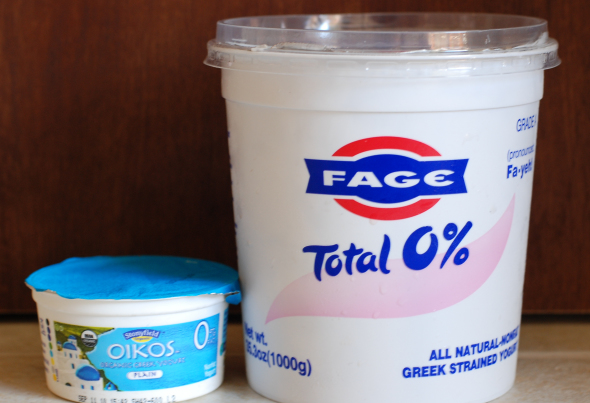 The nutritional profile of the individual 4 oz cup. Nice, right? Check out all that protein!
Calories 70
Total fat 0grams
Cholesterol 0mg
Sodium 45 mg
Total Carbohydrate 5 grams
Protein 12 grams
Sugars 5 grams (note: these are not added sugars but rather the naturally occurring sugar found in milk)
(If you are counting your sugar, please do not worry about the naturally occurring sugar from fruit and dairy).
I love this snack most when I have my homemade granola on hand. If I don't, I just use whatever cereal we have in the pantry- usually some high fiber flakes or grapenuts or something to add a little crunch. This really brings balance to the snack- dairy, fruit and whole grains all in one bowl! You can certainly omit this part and just do the yogurt with fruit and honey.
It should be mentioned that I still do buy some regular yogurt mostly for the kids and our favorite is Activia by Dannon. The Stoneyfield Greek yogurt does come in vanilla flavor now which might appeal to your kids (mine aren't too fond of it yet) but it's also great for smoothies! Keep your eye out for it!
A close up of the granola, full of dried fruit and nuts
When I take the granola out of the oven, I literally have to swat my husband's hands out of the way. He does not care if it's cooled. He does not care if I haven't added the dried fruit yet. He loves this stuff….. .but my husband and his fondness for cereal is another story.
Yogurt Bowl
Recipe from Nutrition Eats
INGREDIENTS:
1/2 cup Greek yogurt
1/2 cup fruit
1/4 cup granola or other whole grain cereal
1 teaspoon honey
DIRECTIONS:
1. Layer in a bowel: yogurt, fruit, granola and drizzle with honey. Enjoy!
Granola
Recipe from Nutritious Eats
INGREDIENTS:
3 cups uncooked regular oats
1 cup wheat germ
1/3 cup pecans pieces
1/3 cup slivered almonds
1/3 cup chopped macadamia nuts (walnuts are great too)
1/2 teaspoon cinnamon
1/4 cup maple syrup
1/4 cup honey
2 Tablespoon brown sugar
2 Tablespoon vegetable oil
1/2 cup craisins
1/2 cup raisins
1/2 cup dried apricots, chopped
DIRECTIONS:
1. Combine oats with the next 4 ingredients (through cinnamon) in a large bowl, stir well.
2. On medium low heat, mix the brown sugar, honey, maple syrup and vegetable oil until brown sugar is dissolved. Stir in oat mixture.
3. Transfer to a 15×10-inch jelly roll pan coating with cooking spray.
3. Bake at 350 degrees for ~20-25 minutes or until golden, stirring every 5 minutes. Transfer mixture to a piece of wax or parchment paper to let cool. Stir in dried fruit. Store in an airtight container in a cool, dry place for up to 3 weeks.
What is your favorite snack?