This is a sponsored post written by me on behalf of Van's Foods. All opinions are entirely my own.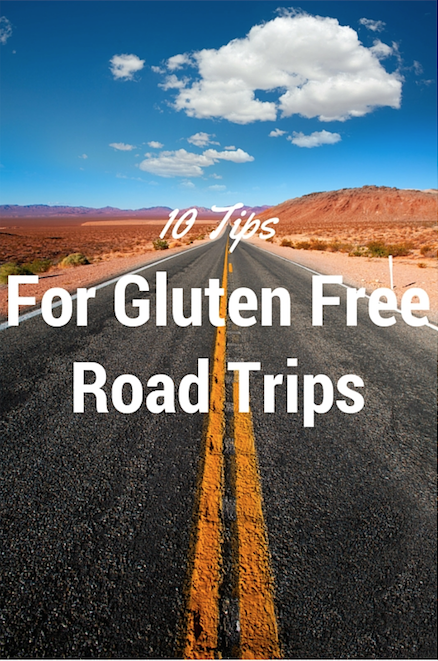 It's Celiac Awareness month and summer is approaching so what better time to talk about the best tips for gluten free road trips.
If you aren't familiar, Celiac disease, is an autoimmune disease that is caused by a reaction to gliadin, the alcohol-soluble component of gluten. When someone with Celiac disease consumes gluten (found in wheat, rye, oat and barely), there is damage to the villi of the small intestines (those fingerlike projections that absorb nutrients from the food you eat) resulting in malabsportion of virtually all nutrients the body needs for optimum health.
If you are eating gluten-free for experimentation purposes, traveling probably isn't going to be as stressful. However, when symptoms can range from devastating and life-threatening malabsorption, chronic gastrointestinal issues, migraines, fatigue, anemia, to name a few, it's imperative that you stick with your diet. People with gluten sensitivity might have some of the same symptoms as one with Celiac disease and the only way to know for sure which condition you might have is through testing.
Here are some tips to make going gluten free on a road trip a little more manageable:
Do Your Planing.
Start with your destination and work your way through the trip from start to finish. What route will you take? Where will you stay- a friends place, a hotel? Will it have a kitchen? Once you have a map of where you are headed you can work with google to figure out what type of restaurants you will pass along the way and or plan which meals you can pack along with you.
Pack Your Own Snacks.
I don't know about you, but I get so bored on road trips! When I am driving, I have a purpose, but as a passenger (aka mom who is in charge of making the kids happy) I really find that I just want to eat or sleep to pass the time. Crackers are a must for me such as these gluten free rice crackers from Van's Foods are so addicting! Other good choices are nuts, popcorn, dry cereal, fresh fruit and pre-chopped veggies.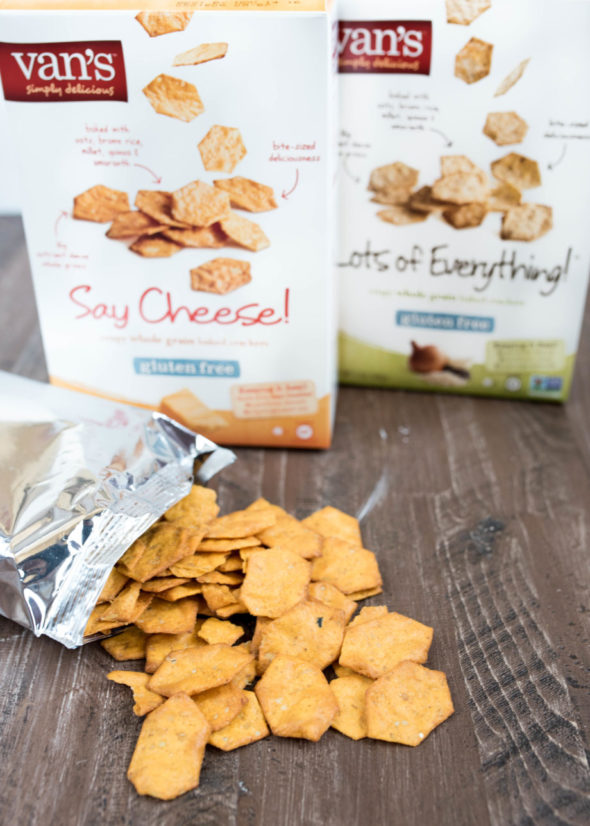 Research Gluten Free Dining Establishments.
Figure out what restaurants you will pass. It is not always as simple as it sounds since flour and cereal products are quite often used in preparing foods and cross-contamination is an issue. You want to eat at establishments that are well-versed in gluten free cooking. Take the time before you go to look at their menus; many offer gluten free options and you can search Yelp or Urban Spoon using the gluten-free directory. Check out the restaurant section of Gluten Free Travel Site for information on 100 chain restaurants that offer gluten free menus.
Pack Some Convenience.
Not every step of the way is going to be easy. You might stumble upon roadblocks, no pun intended, that have you wondering if you are doing the right thing for your diet. By packing something convenient like a gluten free breakfast bar, some fruit and boiled eggs, you will know that at least the first meal of the day will be taken care of. A small cooler should be sufficient depending on the length of your trip and is essential to make this doable. In addition to Van's delicious and nutritious gluten-free waffles, the brand also makes tasty granola snack bars and even pasta sides that are certified gluten-free. Check out their products here. These gluten free Grahamwich bars from Van's can even double as a treat when you are craving something sweet.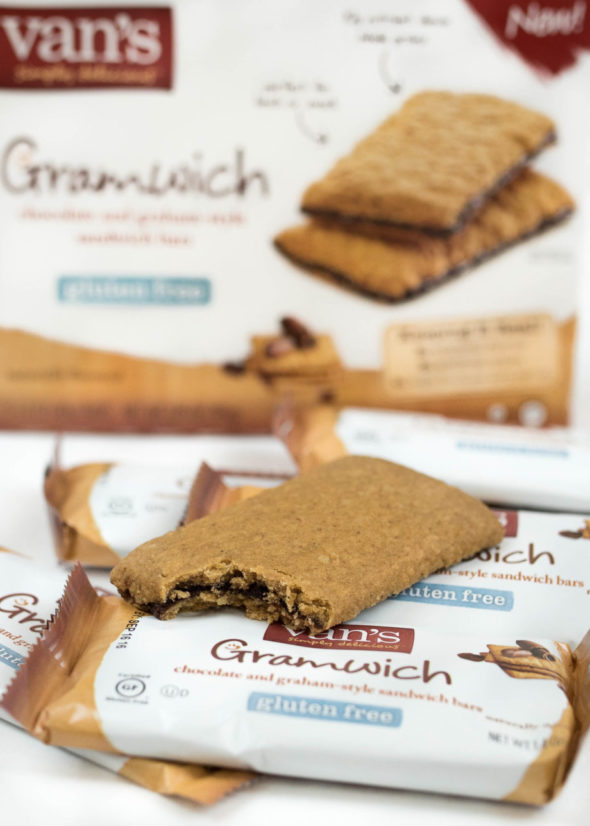 Download Mobile Resources.
I am sure you have heard of the phrase "there is an app for that" because there are literally mobile apps for everything from tracking our runs to being able to order coffee from our phone. The "DINE GLUTEN FREE" App from Gluten Free Travel Site will allow you access to that information from your mobile device. You can search by town or zip code and read menus, reviews and other helpful information.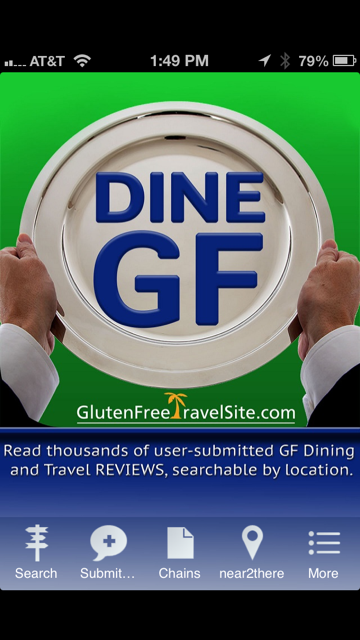 Ship Ahead for Extended Stays.
If you know you will be tight on space and are going to be somewhere long enough, you might benefit from preordering some of your favorite gluten free foods and having them shipped to your destination. This works well if you are flying instead of road tripping.
Pack A Dining Card.
This nifty dining card can be downloaded for free from CeliacTravel.com and printed off before you go. Bring it into the restaurants to help explain the gluten free diet, just for an extra safety precaution.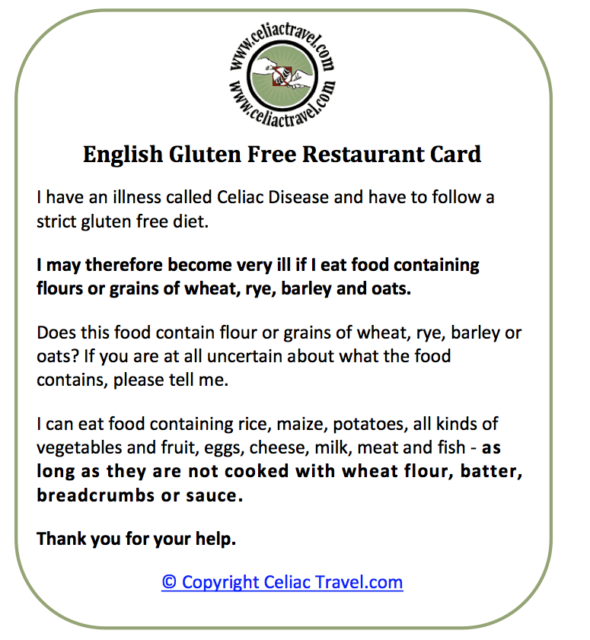 Call Ahead. 
When in doubt, call a few hotels to see if their concierge can help you pin point gluten free establishments before you book. Whether that be restaurants or tourist attractions with food, they should have some information to help you.
Find A Support Group. 
There are Facebook groups for everything and this might be just the perfect way to connect with others in a similar situation. You an simply type in "celiac support group or gluten free support group" to find lots of options.
Be Flexible. 
Hopefully this road trip is vacation so try to relax and be flexible. It is unlikely that everything will go according to plan, but the more prepared you are the better you will be able to handle the challenges thrown your way.
For a chance to win a $100 gift card, $25 in Van's Coupons and a lunch set, enter the Rafflecopter below!