Disclaimer: Thank you to the National Frozen and Refrigerated Foods Association for sponsoring this post. I was compensated for my time. All opinions are my own.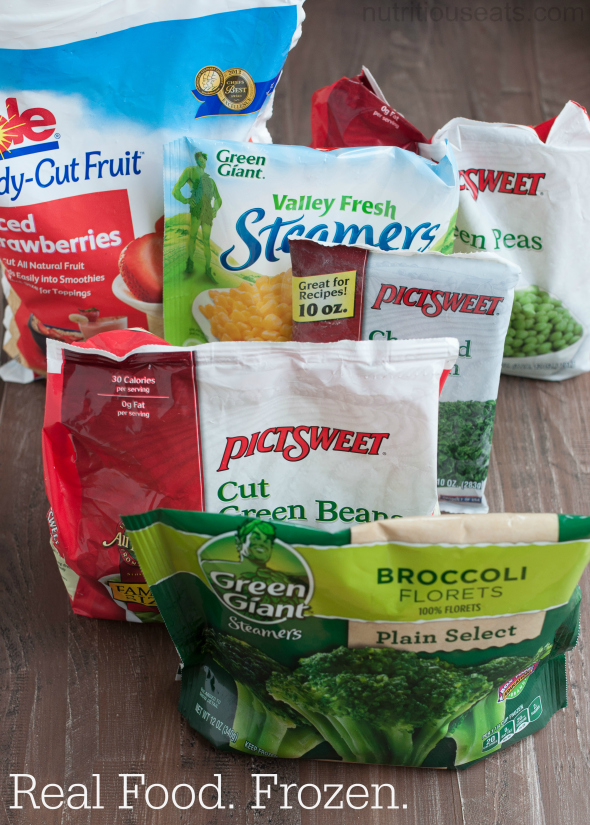 It takes some planning to eat healthy, but once you get the hang of it, it becomes second nature. One thing I do that helps with successful meal planning for my family is keeping my freezer well stocked with healthy choices.
If you are choosing wisely from the freezer section you will find a variety of high-quality, versatile ingredients ready to prepare at your convenience. It's simply real food, frozen. In today's post I will highlight some of the top reasons to buy frozen fruits and vegetables. It is frozen food month by the way!
1. Nutrient preservation
Freezing preserves food and locks in those nutrients as they are picked and harvested at the peak of ripeness. Then they are flash frozen for convenience and easy-access so you can enjoy them year-round!
Think about this…..fresh produce is often picked, boxed and transported long distances and then left to sit in the grocery stores for weeks. The nutritional value of product, as well as the taste, can deteriorate as it's exposed to light and air. So just keep that in mind if the fresh produce at your store isn't looking so fresh.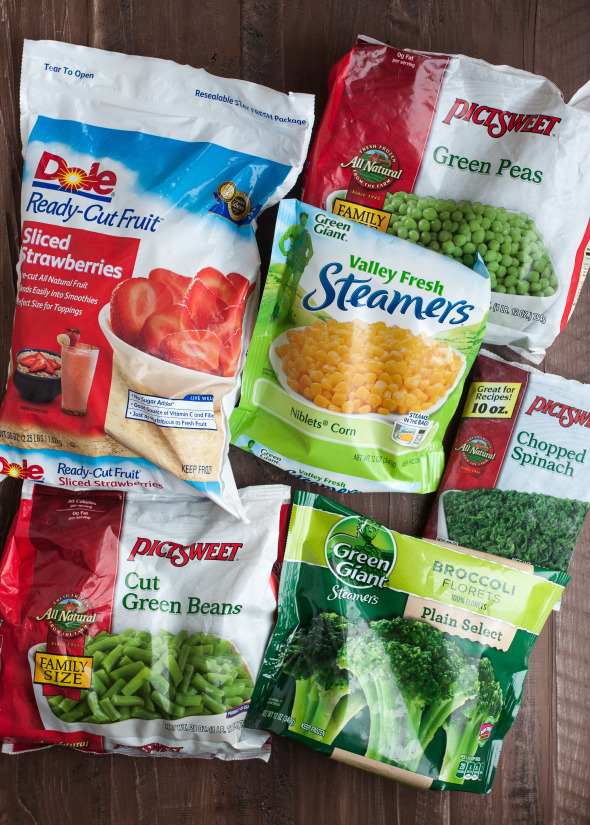 2. Convenience 
Convenience and easy-to-make products is why most people shop in the freezer section (67% according to a consumer survey). They don't require any washing, peeling or cutting! Like any foods, make sure you are choosing things with simple, real ingredients, not those processed high sodium ones. Then when you are ready to meal plan each week you can assess your choices straight from your freezer. Chances are if you've stocked it well you can create several meals just by defrosting a few items.
3. Enjoy "seasonal" fruits and vegetables year-round with no additives. 
In addition, I always keep a well-stocked variety of frozen fruits and vegetables, many of which are not in season. We use berries in our smoothies year-round and the vegetables in a variety of meals- from plain side dishes, to soups and casseroles.
4. Affordable
5. Little to no waste
I like the affordability from the freeze aisle; plus I can pull out what I need so there is little waste.
Here is a sample meal that could be eaten for lunch or dinner, hot or cold, utilizing frozen vegetable and the salmon I had frozen:
Once defrosted, the salmon, which I buy or pre-portion myself into individual pieces, only takes about 15 minutes in the oven. I sprinkle mine with whatever herbs or seasoning I feel like and a little olive oil. While that's cooking I put 2 cups of mixed frozen vegetables (here it was green beans, broccoli and corn) and microwave for a couple minutes. Drain it and toss it with some reheated leftover brown rice/quinoa blend. Then I add more seasoning, garlic powder, lemon pepper, a squeeze of fresh lemon juice and a drizzle of homemade balsamic vinaigrette dressing.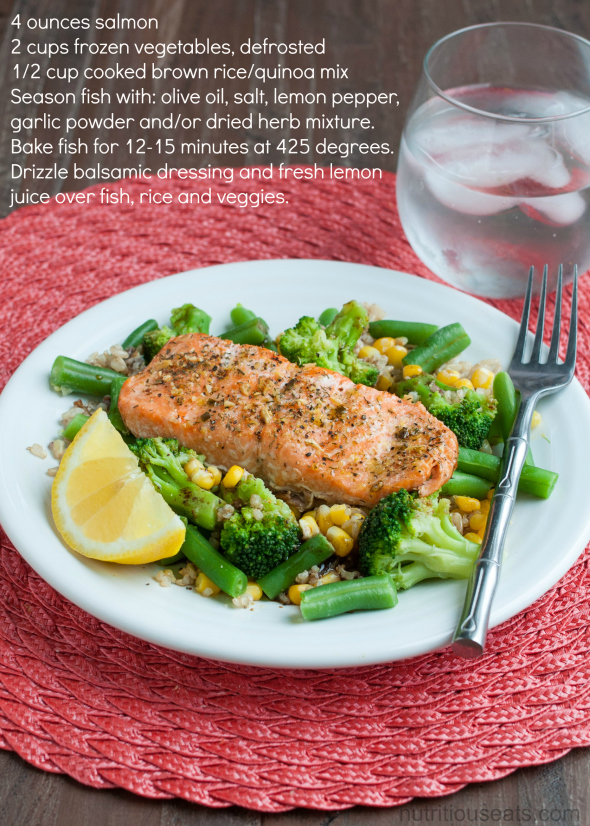 You could easily put all of this in a tupperware container and enjoy of lunch at work, hot or cold like a salad! Top it with your dressing of choice, fresh citrus, hot sauce or Sriracha for other low calorie flavor options!
and if I am at home, which I almost always am, lunch is almost always followed by a smoothie. The kids were loving this simple strawberry banana smoothie with vanilla protein powder. They think it tastes like strawberry ice cream!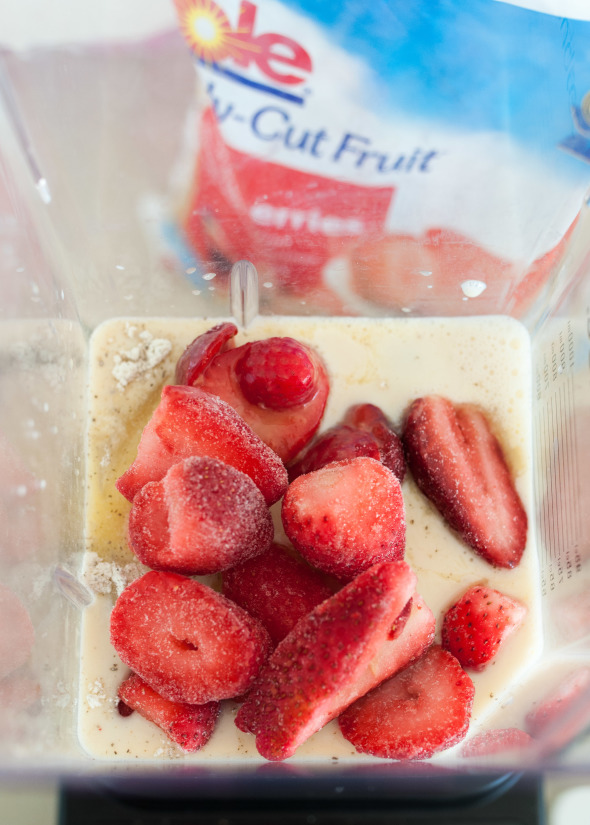 Filling, healthy and super quick to make thanks to the real food, frozen! For recipe ideas and tips on incorporating frozen foods into your meals go here. And follow the National Food and Refrigerated Foods Association on their blog, Pinterest, Facebook and Twitter.
Questions: What are your staple frozen foods? Favorite way to eat them?