My oldest starts kindergarten today! I am so excited and what's even better is that his school doesn't start until 9:05am! Dream!! The only bad thing is that the full day kindergarten filled up so quickly that he is in a half day kindergarden class which is only 3 hours. Boo. I was so excited for him to attend a regular school day but we will have to wait until 1st grade. Luckily the school is just a few minutes walk from our house so I will be able to utilize my time.
We went for open house on Tuesday of this week and the school is beautiful. New, really nice and big. We are all so excited for him to be in school now and with him only gone 3 hours I won't miss him too much. Once a month he will be attending a full day so those are the only days we need to worry about packing a lunch. I thought I'd share another lunch idea and link back to my other posts which include info on healthy kid lunches and ideas of what to pack.
Before I get to the previous posts, here is the newest addition to healthy kid lunches….and my kid's love this simple lunch…a yogurt parfait (ok it's really more of a yogurt bowl)! I would normally assemble this for them at home, but when packed like this, they can dump it into the yogurt bowl themselves. You can sub any cereal (granola is a good one) for the grapenuts. You just have to have something crunchy though. Usually this isn't quite enough for my kids to be full so I'd pack something small in addition to this.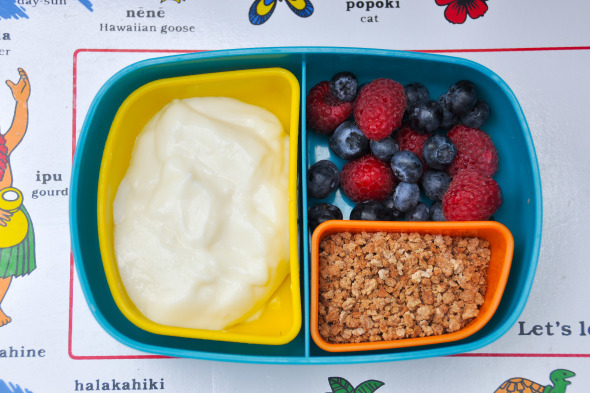 Hope this helps some of you trying to figure out what to pack day after day. Sandwiches can get quite boring after a while. Make sure to scroll down for the info on the giveaway and here are the links to the other posts I have written on healthy kid lunches.
Below are some pics of the lunches featured in those posts, but I'd encourage you to check out those links for more ideas of what to pack and for info on you child's nutrition needs. Lots of good info in those posts!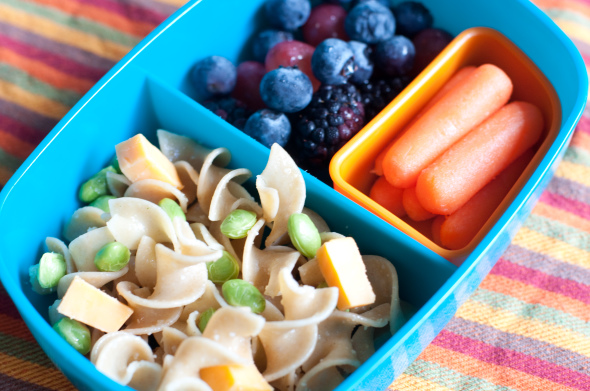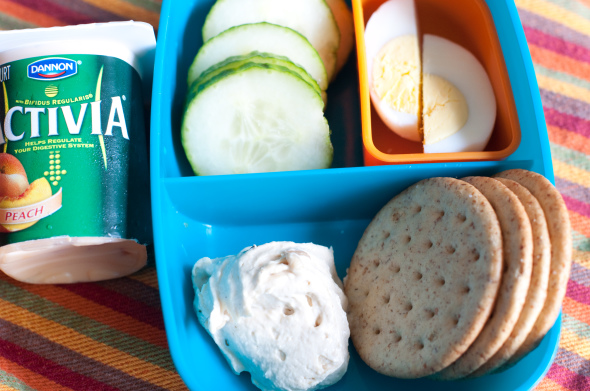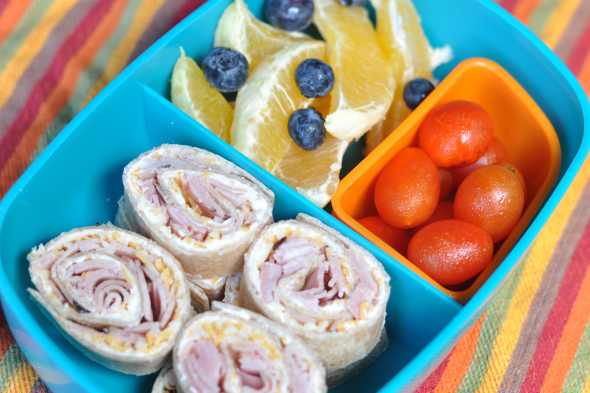 These 3 meals were featured in part 2 of Healthy Kid Lunches.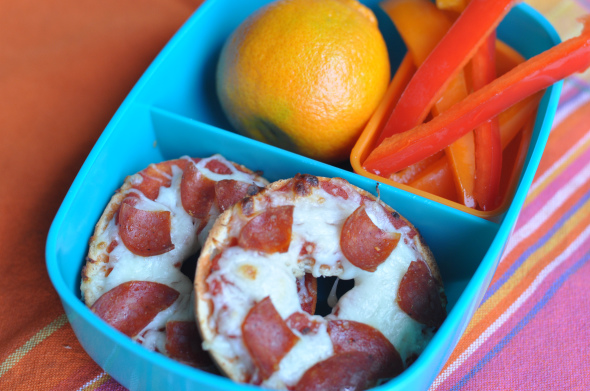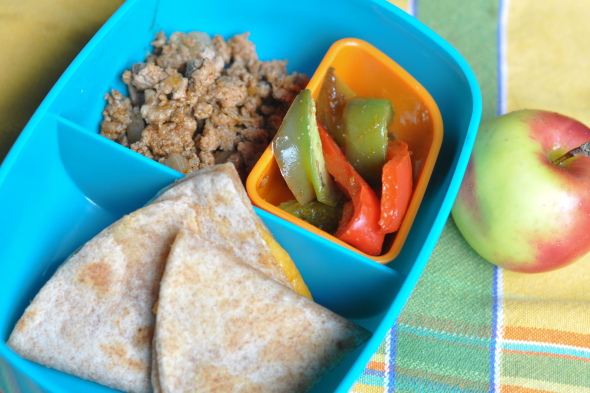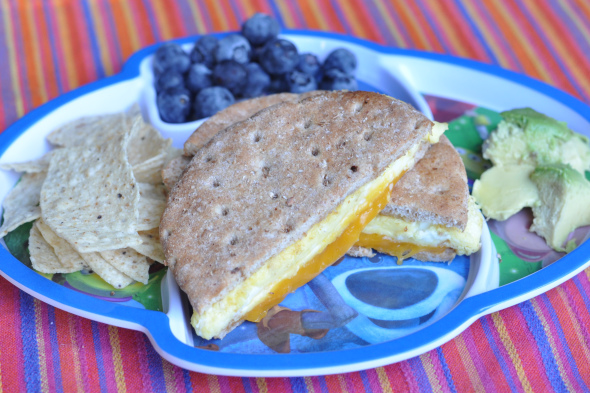 Now about the giveaway! I got so many emails asking about my little lunch container that I am giving away one lunch container to TWO readers. It comes with the everything as seen below and if you win you have the choice of BLUE or PINK! It is on the smaller side- perfect for a pre-schooler or young grade schooler (obviously you can see from the pics above all that fits in it).  What I do like about the smaller size is that it fits nicely in a lunch bag. Then you can still pack stuff on the side or take out the separate tupperware provided and use those as extras.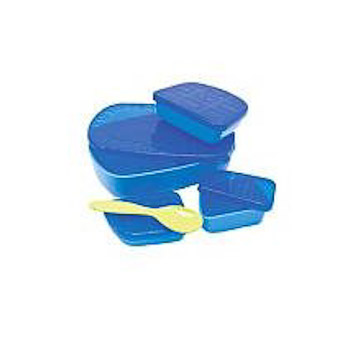 The giveaway will start today Thursday, August 30th and ends Tuesday September 4th at 12:00pm CST
TO ENTER GIVEAWAY 
GIVEAWAY IS NOW CLOSED- THANK YOU FOR ENTERING!!
MANDATORY ENTRY: Leave a comment telling me what color you want- pink or blue!
OPTIONAL ENTRIES: You can earn additional entries by doing one, or all, of the following (leave a separate comment after you complete each item; each comment will count as an entry). If you already follow via any of the ways listed, just leave me a comment telling me so and that will count as an entry.
1. Follow Nutritious Eats on Twitter  AND tweet " Enter to win a back-to-school giveaway lunch kit from @nutritiouseats http://wp.me/p150Ow-1Tc! "
2. Subscribe to Nutritious Eats Email Service (box to the right) OR Follow via RSS ( if you already do just let me know and that counts as an entry!)
3. Follow Nutritious Eats on Instagram 
4. Follow Nutritious Eats on Pinterest
5. Share this post on any social media platform
GIVEAWAY DETAILS:
Giveaway open to US and Canada residents. Two winners will be chosen at random and will be notified by email and have 48 hours to claim prize or another winner will be selected.
GOOD LUCK!
Disclaimer: Items provided in giveaway purchased by Nutritious Eats blog