This seemed to be a popular topic for everyone. If you missed the first post, you can find it here. New ideas are always welcomed for me as well so if you have some favorites please share!
The main lesson for today: don't assume your kids won't like something. Every child is different and will have different tastes, but you won't know until you offer something (usually more than once!). Please do not give up on them. If you offer eggs three times and your child won't eat them, wait a few weeks and give it a go once again.
Here are three more lunch ideas from my kitchen to yours!
Lunch #1: Bagel Bites, cutie orange, crunchy bell pepper strips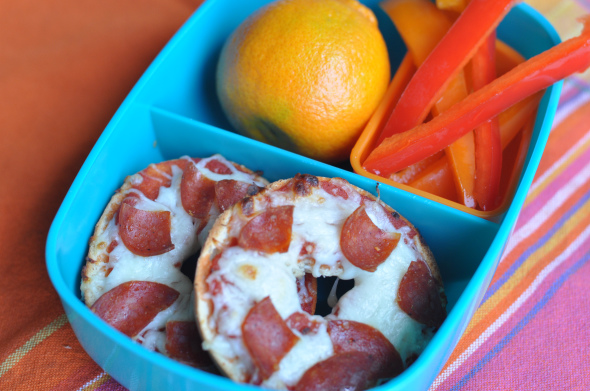 I loved bagel bites as a kid. No need to buy those frozen- they take a minute to make. I use the mini bagels (usually in whole wheat but I can't find them here). Then just top the bagels with tomato sauce, cheese and/or whatever toppings you like. I kept this one simple with some turkey pepperoni that I cut into fourths. Broil for a few minutes until the edges start to brown and the cheese is meted. The cutie oranges are a big hit with my kids. When packing to go, I just peel it and separate the wedges for them.
Lunch #2: Cheese quesadilla on whole wheat tortilla, turkey taco meat, sauteed bell peppers, apple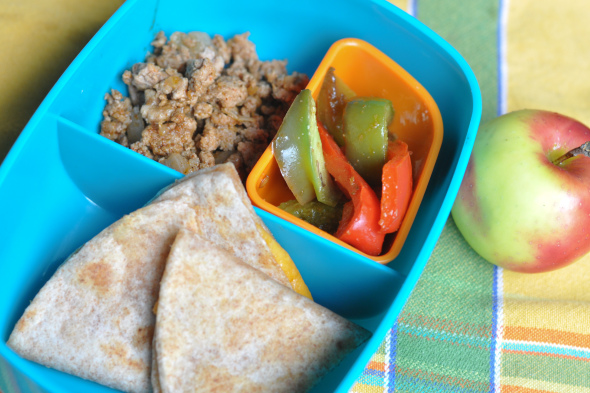 For this lunch I took leftover taco meat from this meal and served it along side a cheese quesadilla. Of course you could just put the meat inside the quesadilla or taco, but my kids really like to eat the "taco meat" on it's own. "More tato meat" my 2 year old daughters says. Sorry for bell peppers again but they taste like a completely different vegetable raw versus cooked, plus I had them left-over. I had a feeling the kids wouldn't touch them cooked like this. I basically made them try one piece and then they politely asked for baby carrots instead. Now you might ask, what's the point? Well, I exposed them to the seasoned, sauteed bell peppers, they tasted it and maybe down the road they will be willing to try more. Worth it to me!  My kids adore fruit salad, but it's fun for them to sink their teeth into a small apple.
By the way, we have a "try one bite" rule. Period. No exceptions. They are allowed to not like whatever it is they're eating and I won't force them to clean their plate, but they must at least try one bite of each item. This rule works really well for us because the kids don't feel pressured and they're more open to trying the food knowing there isn't going to be a fight at the dinner table.
Lunch #3: Egg & Cheese Sandwich, Tortilla chips with avocado chunks, blueberries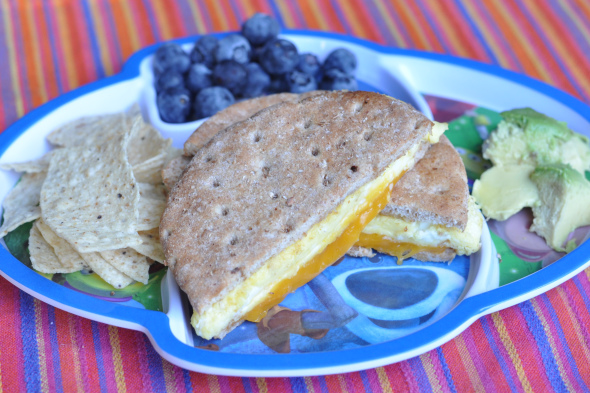 Our bento box was missing so I had to sub our Toy Story plate. This is a spin off the Egg McMuffin. You might think an egg sandwich sounds strange for a kid, but I remember getting egg sandwiches in my lunch back in elementary school and loved them! We've been using a lot of these whole grain "thin" sandwich rounds for lunches. My kids seemed to be getting tired of regular sliced bread and I noticed once I switched to these, they both started eating more of their sandwich. Plus, they're great for anyone looking to cut back on some carbs. Note: if you are brand new to the kitchen I will explain how to make this at the end of the post.
Don't forget, these meals can be for you too! In fact I ate the same egg sandwich with spinach and avocado on mine. These hold up well so can be made the night before if you are packing your lunch for work.
So to sum up, expose your kiddos to different foods early on. If the first time you pack an egg sandwich for example is when they're 10, yes, they might think it's a little strange. If they're exposed to new foods at a young age, they will likely eat a more balanced, healthy diet in the future. Also keep in mind, they might not like your creations or want to try a new food, but just seeing and hearing about those foods at the dinner table will help them in the long run.
How to make the egg sandwich:
1) Start by turning on a skillet to medium heat. Spread the bread very lightly with butter or butter "spread" and place face down in pan until it warms up and gets a little brown. After a minute or two, remove bread and top with cheese slice (no need to melt it, the hot egg will take care of that!).
2) Wipe the crumbs out of the skillet. Beat an egg in a bowl with a tiny splash of milk, pour it into the skillet coated with cooking spray ( still on medium heat). I let the egg spread out into the skillet, then use my spatula to work the sides up, give it a flip and fold it in half. Optional: season with salt and pepper (I usually omit the s&p for the kids).
3) Place egg patty on top of cheese and it will melt that cheese. You can be creative here and add in what ever else you want- ham, sausage, spinach, tomato, veggie patty, etc.
Question: What are your kid's favorite lunches?