As a parent, I am always looking for healthy lunches to pack my kids and although my 4 year old would be happy eating a peanut butter and jelly sandwich everyday, I want to make sure he's getting a variety in his diet. My daughter isn't quite pre-school age, but she obviously still has to eat lunch! I wanted to share a few of the lunches I make for the kids. I plan to do a few more posts on this topic to give you some more ideas for healthy, well-balanced kid lunches. Their favorites differ from month to month so I try to change it up.
Lunch #1: Whole Wheat Pasta with beans & cheese
Whole wheat pasta, dressed in a little olive oil, garlic powder, a pinch of salt and parmesan cheese. Tossed with edamame (soy beans) and cheese cubes. Always a side of fruit and/or veggies.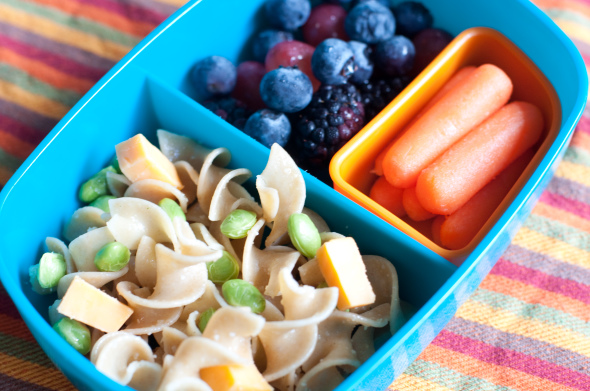 It's important to offer a few different food groups at each meal. This meal actually includes something from each group: 1) fruits (the fruit salad) 2) vegetables (the carrots) 3) milk (cheese cubes and glass of milk not pictured) 4) grains (the pasta) 5) meats and beans (edamame) 6) oil (um, that's obvious- olive oil!). Obviously the few soybeans they will eat won't count as a full serving of protein, but it still contributes to that food group and is a very well-balanced meal!
Lunch #2: Snack Box
Crackers with hummus, cucumber slices, hard-boiled egg and a side of yogurt. For this meal you can substitute pieces of rotisserie chicken for the egg if your kids prefer. The "snack-like" appeal of this lunch always has my kids cleaning their plates. Sometimes I do chicken salad and the hummus and they can scoop it up with their crackers. Crackers are just more fun that bread and you can find some great whole grain ones (kashi, triscuits, ak-mak).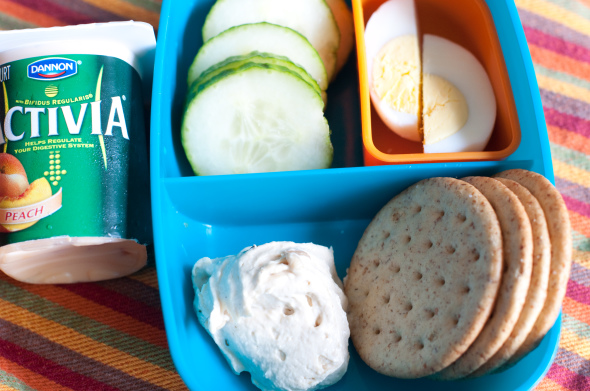 Lunch #3: Pinwheels
Ham & cheese pinwheels on whole wheat tortilla. Side of cherry tomatoes and orange slices with blueberries.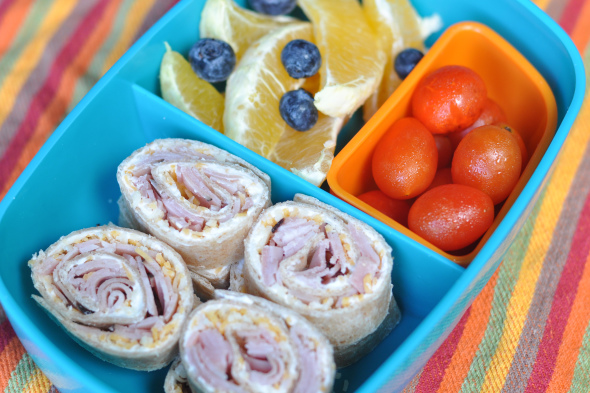 For this one just spread some low fat cream cheese on a tortilla, sprinkle with shredded cheddar and press in with your hands so that it sticks. Dice up a slice or two of ham (or turkey) and layer that on top. Starting at one end, tightly roll up into a "log", then cut into slices. You can include any veggies you want into the roll-up, but my kids do better with their veggies on the side. Also, if you have a child with a dairy allergy, you could substitute mashed avocado for the cheese.
Ok, let's review the 6 food groups:
1) Grains
2) Fruits
3) Vegetables
4) Milk
5) Meat & Beans
6) Oil
If you're not sure which group a particular food falls under, check out  MyPyramid.gov for a detailed list.
Remember, offer at least 3 food groups at each meal and try to vary their snacks to achieve a well-balanced diet. I never think about calories with my kids, I just make sure they are eating a variety of foods. If you are interested to know the calorie level for your child here is the info for preschoolers. If your child is older, you can go to MyPyramid to find the information. Just click on "MyPyramid Plan" on the left hand side, then enter in your child's age and activity level to find out his/her calorie needs as well as food group requirements.
This is part one in my series of healthy kid lunches. Just remember if you're trying new foods, it can take a while before your child is willing to eat those foods. Be patient and persistent. If you expose them to the particular food over and over they will eventually come around.
Please let me know if you have any questions. I love comments and encourage you to share your thoughts, struggles and questions with me. Happy New Year everyone!