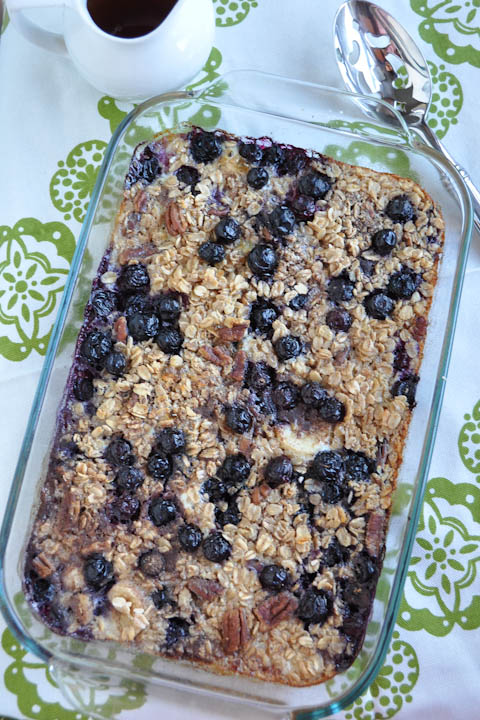 I love breakfast. I really do. With a newborn in the house, and nursing around the clock, I wake up starving. Most of the time I eat something quick and easy like whole grain cereal, eggs and/or fruit, but I love the weekends when I have more time to experiment. I've been wanting to try this baked oatmeal for some time. I always have oatmeal well-stocked in my pantry- from meatloaf, to pancakes, to peanut butter balls and of course just a simple hot breakfast, there are so many uses for oatmeal, not to mention it is such a nutritious food. Blueberries are running low over here so I think next time I will have to make this with blackberries or raspberries. I loved the flavor of cooked bananas too- it really adds a lot of depth to this casserole, but feel free to sub another fruit if you don't like bananas (who ever you crazy people are).
😉
I found it plenty sweet on it's own but you could also drizzle a little maple syrup over your bowl after it's cooked. This is a perfect, healthy dish to have around for the Holidays, to make for company or to just eat by yourself (well you shouldn't eat it ALL by yourself at one time….that wouldn't be practicing moderation, but it will hold up just fine in the fridge and would be great for leftovers). Please note: it looks like a lot, but our family (of four eaters) finished this in one setting. Plan to double if needed.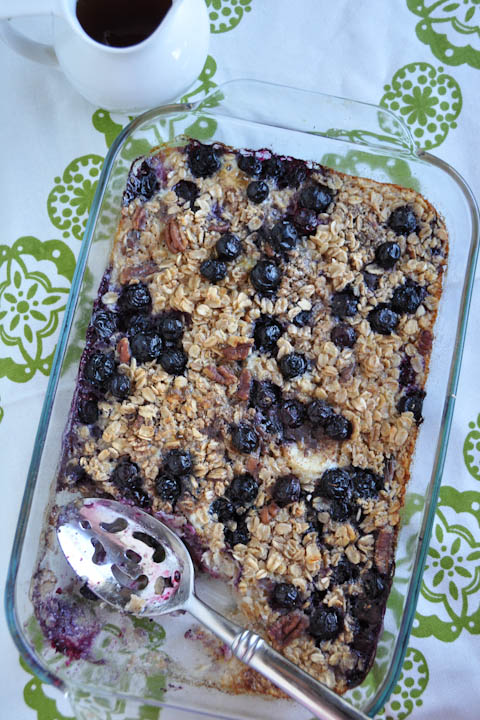 Banana & Blueberry Baked Oatmeal
a great make-ahead breakfast casserole that everyone will love. Easy to customize with different fruit and nuts.
Author:
Melanie F. | Nutritious Eats adapted from Adapted from Super Natural Every Day by Heidi Swanson
Ingredients
1 cup rolled oats (use gluten free if needed)
¼ cup pecans, chopped and lightly toasted
½ teaspoon baking powder
¾ teaspoon ground cinnamon
Pinch of salt
¼ cup maple syrup, plus more for serving
1 cup non-dairy or low-fat milk
1 large egg
2 tablespoons unsalted butter or coconut oil, melted and cooled slightly
1 teaspoon vanilla extract
2 ripe bananas, sliced into ½-inch thick pieces
¾ cup fresh blueberries
Instructions
Preheat oven to 375 degrees. Grease a 11x7 or 1 and ½-quart casserole dish with cooking spray.
In a medium bowl, toss together the oats, half of the pecans, the baking powder, cinnamon, and salt.
In a separate small bowl, whisk together the maple syrup, milk, egg, melted butter, and the vanilla.
Place the sliced banana pieces in a single layer in the bottom of the prepared casserole dish. Sprinkle about two-thirds of the fresh blueberries over the top of the bananas, then cover the blueberries with the oat mixture. Drizzle the milk mixture over the oats, making sure to distribute the milk as evenly as possible. Sprinkle the remaining blueberries and pecans over the top of the oats.
Bake the oatmeal for 35-45 minutes, until the top is golden brown and the oats have set. Remove the oatmeal from the oven and drizzle with maple syrup if desired.