Just a quick note to mention the website I've been writing for, tree.com has officially launched! This is the project that I was referring to a while back and it involves providing them with 1-2 posts a week for their website. I am so happy to be doing it! I am a Featured Contributor for the Health & Wellness Blog as well as the Food & Dining Blog and below is the link to the past posts I've written as the website was being constructed. There are a lot of great sections to look through- such as entertainment, home & garden, money & finance, etc. Something for everyone!
If you click here you will see all the blog posts I've written on tree.com (including both the Health & Wellness ones as well as the Food & Dining ones). I've also listed them individually at the end of this post.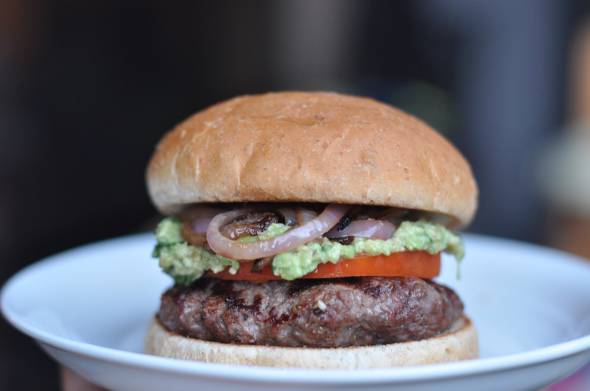 Ok moving on to today's post…we're talking Bison. Let me tell you something you might have gathered. I don't eat a lot of red meat (you might be able to tell from my lack of red meat recipes). It's more from this a little food poisoning episode that occurred back in my college years rather than health reasons. Here's the short story= I went through a Burger King drive through, ate a burger, got horribly sick, missed Mardi Gras, then gave up beef (especially ground) for a very, very long time. I have slowly gotten over it. Since I went so long not eating it, like over 10 years, when I would try a bite of steak or beef, I just felt like I wasn't missing out on anything. So I kept up avoiding it. Eventually there were a few things beef related that I'd try such as hot dogs, brisket (which I do love), bites of the kid's burgers, chili, etc. and I've come around to the point where even though I'll probably never order it at a restaurant, I won't necessarily avoid it if someone were to cook it for me. A few random preferences for me, I like my burgers really, really thin so kid's burgers taste perfect to me…not a whole lot of meat, but tasty. I did try some really good steak when my husband's family was visiting us in Hawaii and that I would've eaten more of. Then there is gyro meat which is a mix of lamb and beef which I LOVE. Then I tried some off my mom's plate at a restaurant also in Hawaii and it just didn't appeal to me. Like I said, I am coming around and I guess the bottom line is, if it tastes good to me, I'll eat it!
Enter buffalo meat. I had tried it before when my husband would order burgers from Fuddruckers, but it wasn't until a  friend re-introduced me to it that I realized how much I like it. Buffalo meat, other wise known as Bison has become increasingly popular. A few of the benefits of bison meat are that it's lower in saturated fat, calories and cholesterol than cow's meat and higher in iron. If you are looking to try it, I'd recommend grass fed which is high in omega 3 fatty acids and is better for the environment as well as your health.
The only downside I see is that grass fed buffalo is higher in price than non-grass fed do to the extra work keeping those conditions up to par. For what little red meat my family eats, I personally prefer to pay extra for the more sustainable, healthier meat. The taste of bison is a little different- some would describe it very similar to beef but slightly sweeter.
This Bison burger with the grilled onions and guacamole is pretty perfect in my eyes. You can add cheese of course, but I don't think it needs it here. It's not much of a recipe but I wrote it out anyway. By the way, ground bison and bison steaks can be found at most supermarkets.
All I do is mix my bison meat with a few shakes of worcestershire sauce, and a little steak seasoning on top or just salt & pepper, form the patties and grill 'em up.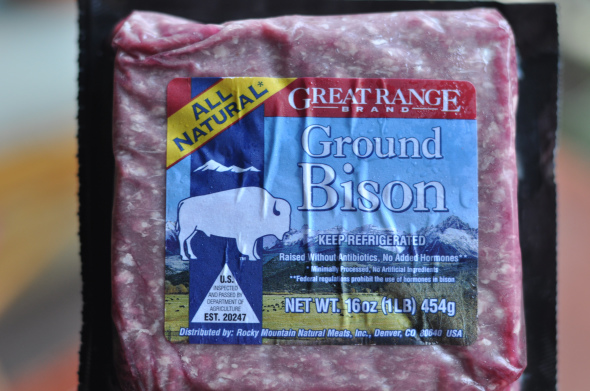 Please excuse the different sized patties- we always make smaller ones for the kids. FYI- if you stick your thumb in the middle and form that little indention it will help prevent the burgers from curling up as they cook.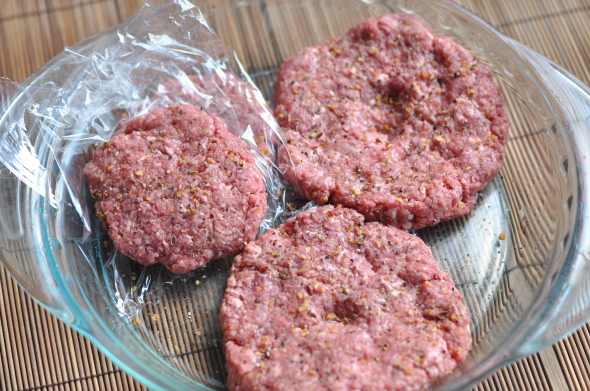 Then I make my guac and set it aside. I make a simplified version of guacamole when it's going on burgers or sandwiches, which involves shaking a bunch of spices into the bowl, adding some cilantro and lime. When I make my guacamole for chips I take a little more time and add fresh garlic, chopped tomato and sometimes red onion. Just so ya know. 😉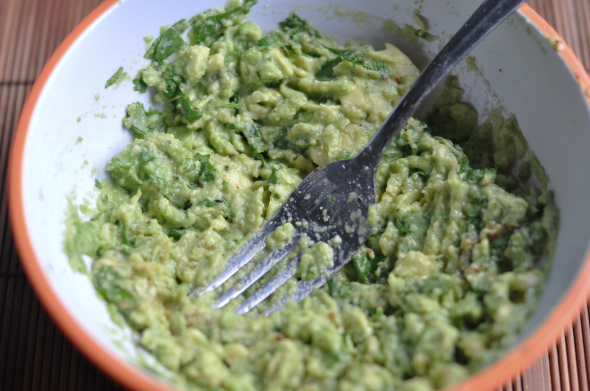 Saute some onions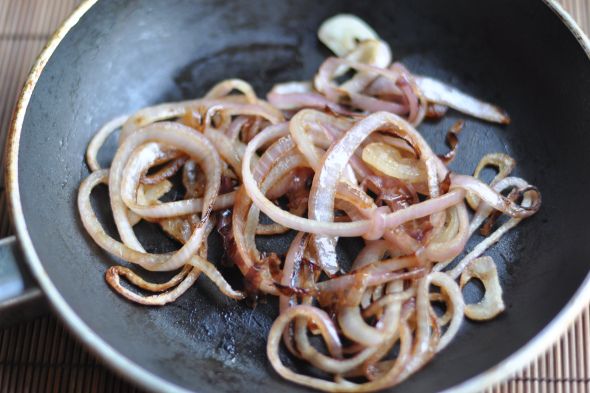 Then assemble that baby. Yum.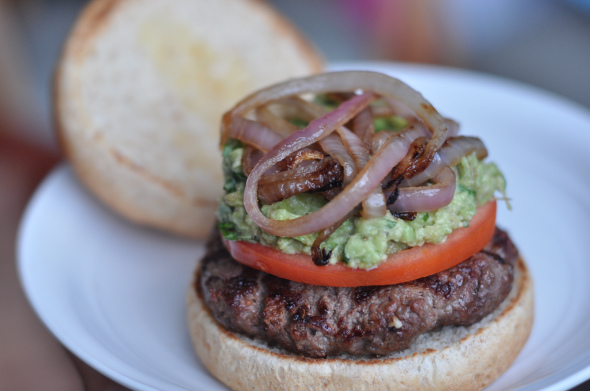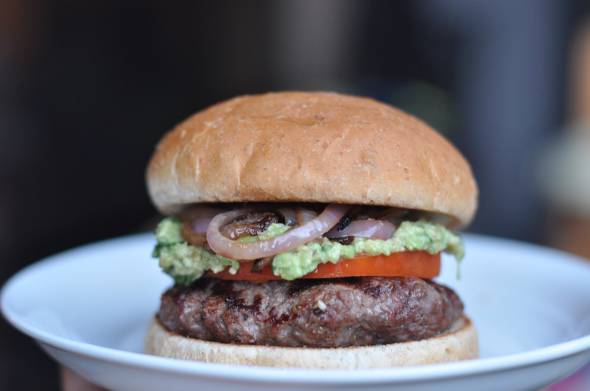 Really, this is tasty meat and that's coming from a picky red-meat eater. Hope you can find some in your area!
[print_this]
Guacamole Bison Burger with Grilled Onions
INGREDIENTS:
1 pound ground Bison
1/2 to 1 onion (sweet yellow or red), sliced (depending on how many burgers are going to have onions)
1 avocado
1/4 cup cilantro, chopped
spices- garlic powder, cumin, coriander, ground red pepper, lime juice
salt
pepper
2 tomatoes, sliced
4 whole wheat burger buns
DIRECTIONS:
1. Put your bison meat in a bow, add a couple shakes of worcestershire sauce. Form into 4 patties. Sprinkle with a little salt & pepper or steak seasoning (it doesn't need much!). Give to your husband to put on the grill. Note: Cook to desired degree of doneness, but do not overcook as the meat is lean and can dry up.
2. While the grill is heating, put a medium sized non-stick skillet on medium high heat.  Add a drizzle of olive oil. Saute onions for 6 to 8 minutes until soft and lightly browned. Turn heat off and set aside.
3. In another small bowl, mash one avocado with a few shakes of what ever spices you are using. Add the juice of 1 wedge of lime, chopped cilantro, touch of salt & pepper, stir well.
4. Once burgers are cooked, assemble burger, tomato slice, guacamole and grilled onions.
[/print_this]
And here are those individual posts I wrote over at tree.com!
Are you Eating the Colors of the Rainbow?
10 Easy Steps to Shedding the Winter Weight
Dietary Fiber: An Essential Part of a Healthy Diet
Tips & Tricks for Healthy Cooking
Super Healthy Stuffed Cabbage Rolls
Master an Old Favorite: Shepherd's Pie
Guilt-free Comfort Food: Vegetable Pot Pie with Cornbread Crust
10 Ways to Eat your Easter Eggs
5 Great Ways to Use a Rotisserie Chicken
Heart-Heatlhy Lunch: Easy Salmon Sandwich