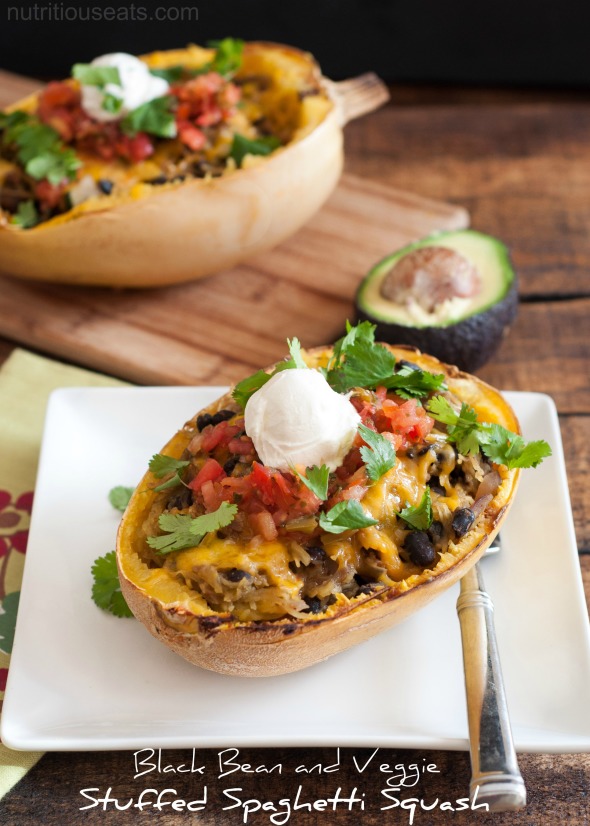 Potty training. That basically sums up our weekend. This is my third kiddo going through potty training and I'll have to say it is going really well! We talked about it with him for several weeks before and told him when he turned 3, we wouldn't be using diapers anymore. I think all that preparation paid off, because he was very comfortable with the whole process. I am curious to see how this week at pre-shool goes, but I have high hopes!
We also finished off last season of Parenthood which is just about my favorite show ever (in addition to LOST). We just found the most recent season on Hulu so we are super excited. This whole no cable thing is working out great!
So let's talk food. You know what I love about squash? They last forever. Well maybe not forever but usually 2-3 months. Here is a good guide to what to look for when a spaghetti squash goes bad.
Remember when I told you I brought a few home from this trip? I sort of forgot about a couple of them that I left in the garage and when I was looking for something to make for dinner and lo and behold I spotted the squash.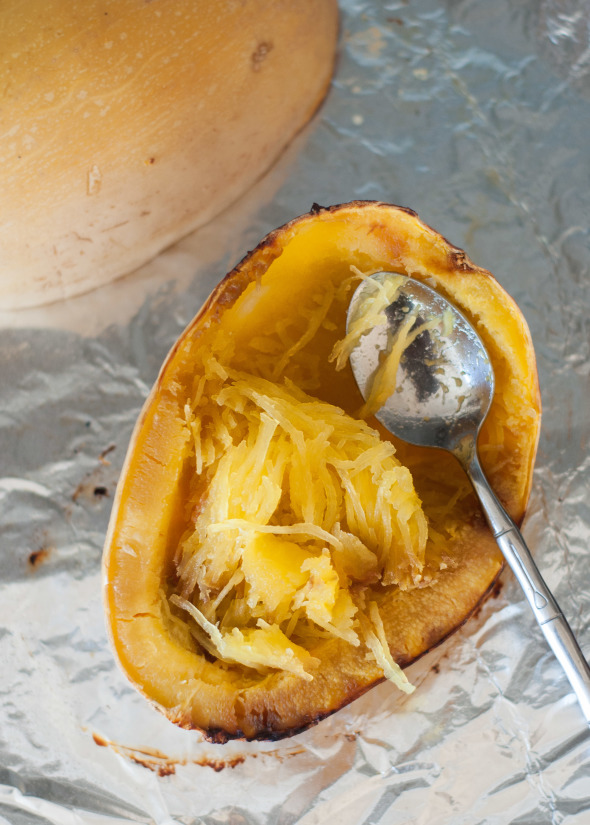 There are so many great ways to stuff a spaghetti squash, including this Mexican version with beans, veggies, spices, cheese and salsa. Those are things I always have on hand so it made sense. I basically try to "Mexicanize" any and everything possible. What can I say, I miss my Mexican food.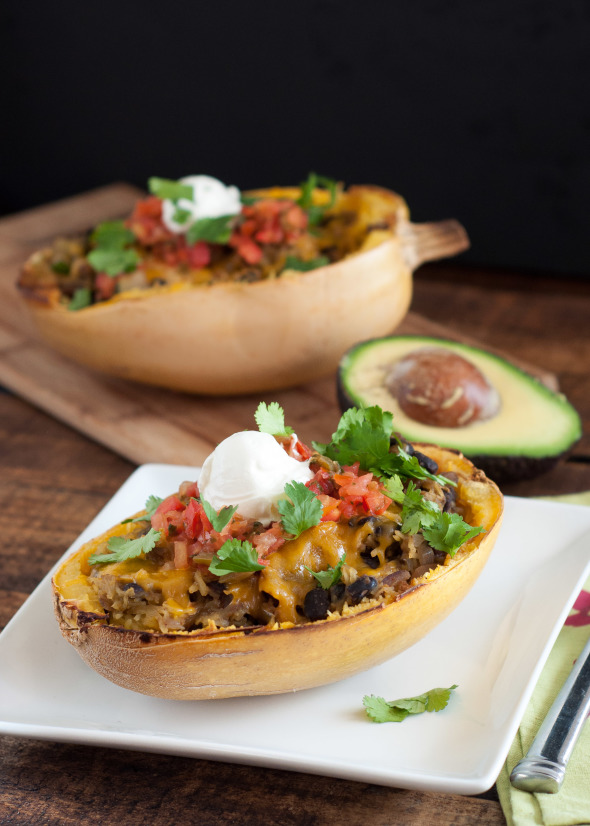 So yummy guys! Oh and you can totally make these ahead of time and reheat the whole thing when you are ready to eat. Just hold off on adding the sour cream until you're ready to serve.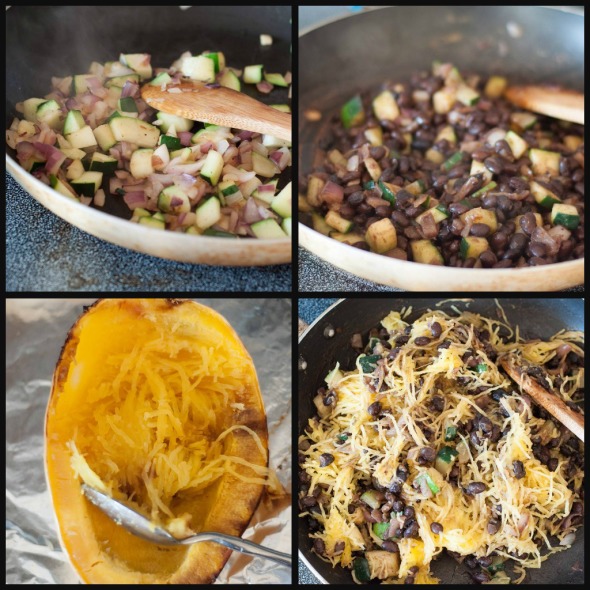 Black Bean & Veggie Stuffed Spaghetti Squash
This loaded spaghetti squash is perfect for a meatless meal- full of beans and veggies, topped with all the fixings, high in fiber and good for you!
Recipe type:
Main entree or Side
Ingredients
1 medium spaghetti squash, cut in half lengthwise, seeds and pulp removed
2 teaspoons olive oil
1 cup chopped zucchini
1 small red onion, diced (~3/4 cup)
1½ cups or 1 can black beans, rinsed and drained
¾ teaspoon cumin
¾ teaspoon chili powder
¼ teaspoon garlic powder
salt and pepper
½ cup shredded sharp cheddar cheese
⅓ cup chopped cilantro
½ cup fresh pico de gallo or salsa
sour cream (or sub plain Greek yogurt)
avocado or guacamole
Instructions
Preheat oven to 375 degrees. Line a cookie sheet with foil sprayed with cooking spray. Place spaghetti squash halves cut side down on cookie sheet. Bake for ~30-35 minutes until tender. Let cool (this step can be done in advance).
In a large non stick skillet, heat 2 teaspoons of olive oil on medium heat. Add onions, then zucchini and sauté for ~6 minutes. Season with salt and pepper. Add black beans, cumin, chili powder and garlic powder. Stir to combine.
Using a spoon scoop out the strands of spaghetti squash and add to the bean mixture. Stir well to combine. Taste for additional seasoning if needed.
Divide mixture back into the 2 spaghetti squash shells. Top each with ~1/4 cup shredded cheddar cheese. Turn on broiler, place spaghetti squash bake on cookie sheet and broil for ~2 minutes or until cheese is melted. Top with fresh salsa, sour cream, chopped cilantro and avocado or guacamole.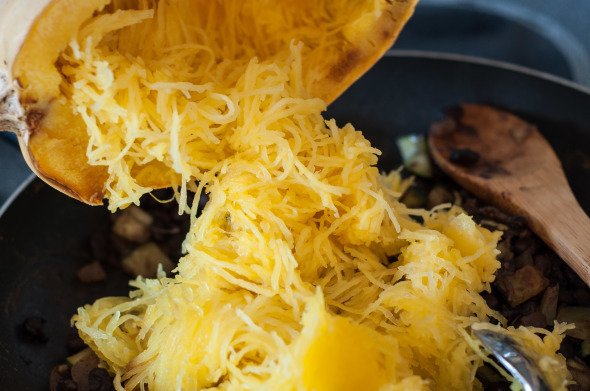 Questions: What do you like to stuff your spaghetti squash with? What is your favorite squash?