Hope you all had a great weekend! I just entered my first recipe contest with my 7 layer hummus dip and I am begging asking you to please help me win by going to my recipe and posting a reply. The 3 recipes with the most replies will have a chance to win a nice gift certificate to Whole Foods, the nutritionist from Everyday Health will be choosing the winner. Since I am writing this blog out of the kindness of my heart, it would be great to have a little $$$ to spend on all these blogging groceries. 😉 Just click on this link here and after my recipe you will see a place to "reply". You do have to register in order to leave a comment but it is a great website! Please and thank you so much! The contest ends on Wednesday so go "reply" for me!
And without further ado, here is a tasty black bean dip that will also be great for Super Bowl Sunday.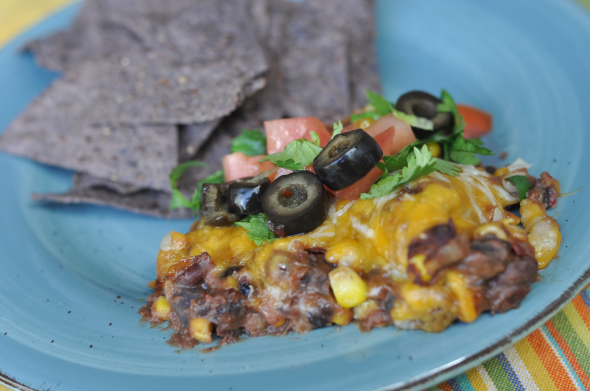 I have been wanting to make something like this since the Holidays and never got around to it. One of my favorite easy dinners when we have no food in the house is a bean & cheese taco- low fat refried beans with shredded cheddar in a whole wheat tortilla with guacamole, cilantro and salsa. I decided to throw it all in baking dish with a little heat from some chipotle peppers, top it with tomatoes, cilantro, olives- yum! This a great dish for everyone- vegetarians, non-vegetarians, gluten-free eaters, etc. and I think you just have to have a "chips and dip" type of snack for a Super Bowl party. Even if you don't make it this weekend, bookmark this for your next party. You will love it!!
In case you're not familiar with chipotle peppers, you should know they are pretty spicy so make sure to scrape out the seeds in order keep the heat to a manageable level.
Coming out of the oven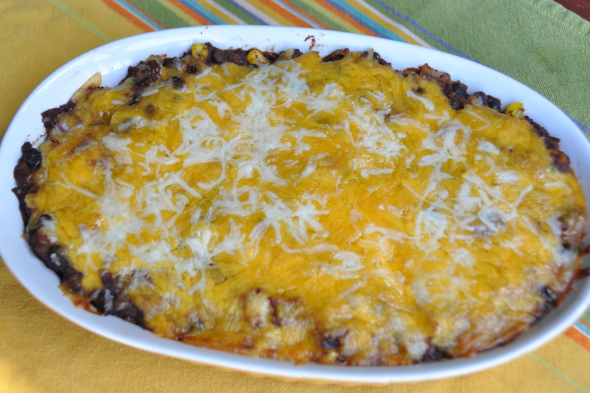 and then because I am part rabbit and always crave lettuce, I decided to top it with shredded iceburg. I love the extra crunch it provides but it is totally optional. The dip is awesome without out.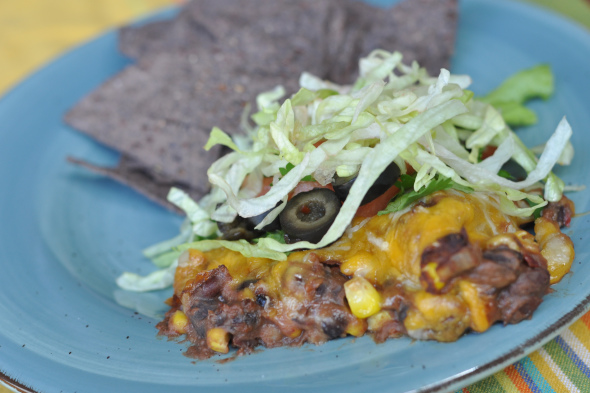 Black Bean, Corn & Chipotle Dip
Recipe from Nutritious Eats
INGREDIENTS:
1/3 cup diced onion
1 large garlic clove, minced
1 (15 ounce) can black beans, drained and rinsed
1 (16 ounce) can refried black beans
2 chipotles in adobo sauce (from a 7 ounce can), diced, seeds removed
3/4 cup frozen corn
1/2 teaspoon cumin
1/2 teaspoon chili powder
1 cup shredded cheddar or colby jack cheese or a combination
1/2 cup diced tomatoes
1/2 cup chopped cilantro
1 (2.25) ounce can sliced black olives
1 cup shredded lettuce (optional)
DIRECTIONS:
1. Pre-heat oven to 375 degrees. Heat a large saute pan on medium heat. Drizzle with 1 teaspoon of olive oil. Add onion and cook for 3-4 minutes until softened. Add garlic and cook an additional minute.
2. Add one can drained black beans and can of refried black beans. Add in chopped chipotle peppers, corn, cumin & chili powder; combine with a wooden spoon.
3. Turn heat down to medium-low and cook for additional 5 minutes, until corn defrosts and mixture is warm. Transfer mixture to a small to medium sized baking dish (a 9 inch pyrex pie dish would be great). Top with cheddar cheese.
4. Bake on a foil lined baking sheet (in case of spills) at 375 degrees for 12-15 minutes or until cheese is bubbly. Let cool for a few minutes, top with tomatoes, cilantro, black olives and lettuce (optional) .
Serve with tortilla chips. Yields: 8-10 servings.
NOTES: You could make this ahead of time (without the veggie toppings) then just pull it out of the fridge about 10 minutes before baking, bake it an extra 10 minutes or so and proceed with recipe. You could also leave off the cheese or leave half of the dish without cheese for your dairy-free, vegan, allergic friends. They would appreciate that. I bought the pre-shredded iceburg lettuce which is found along with the salad bags at the grocery store. One less thing to chop!
Nutritious Eats: protein, fiber, calcium, iron
Happy Super Bowl Sunday!! Oh and don't forget to vote (reply) for my hummus recipe! The contest ends Wednesday.