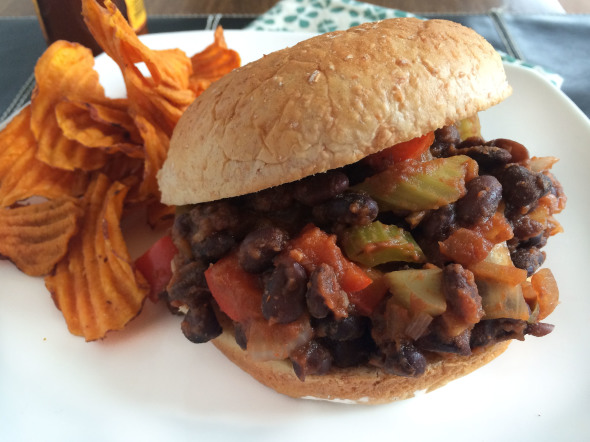 Hi friends, stopping in for a quick visit, a quick recipe along with some iphone pics.
I'll I have to say is having 4 young children in the house is HARD, to say the least. My goodness, even with my mother helping we are barely getting a chance to shower at the end of the day. Only 1 of the 4 kiddos is in school full time so it's all about juggling drop off & pick up schedules, feedings, naps, extra curricular activities, etc. It is loud,crazy and wonderful.
I am enjoying all my sweet cuddle time with my new baby girl. She is already 3 weeks old and I will have an update for you soon on my first month postpartum!
As I suspected I haven't been cooking much , but I have managed a to try out a few recipes. I am hoping before my mom leaves I will get a few more meals in the freezer so I will have some dinner options.
I saw this recipe for black bean sloppy joes and thought it looked like a great meatless meal. It's basically lots of veggies, black beans, some tomato product and hot sauce. Easy and simple. I am freezing half of this for future use. This is the base of the mix….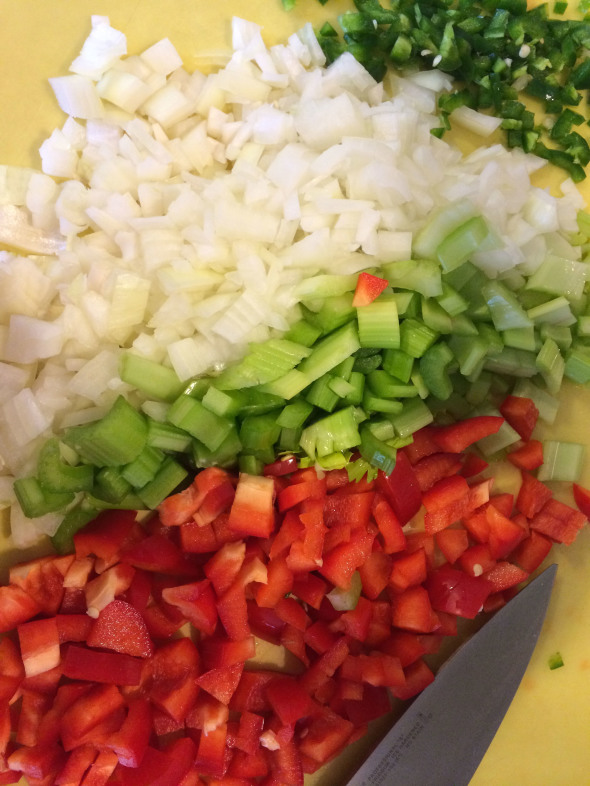 Plus a pound of cooked black beans which you can do ahead of time. The original recipe called for some heavy cream at the end which I omitted to keep these vegan.
I actually love the bean mixture by itself and am thinking I'd almost prefer it without the bun. It's great eaten as is, over some rice or in a taco. It could be added to a salad or nachos. The mixture would also be great transformed into chili too just by adding a little more liquid (tomato sauce, diced tomatoes in their juices, water, broth, etc). However you chose to eat it, it's all about the filling- healthy and high fiber.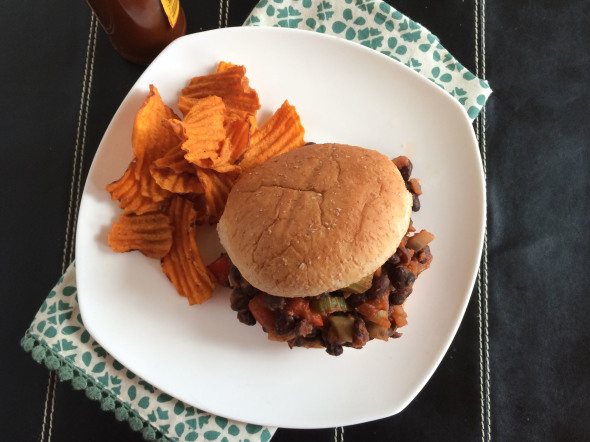 The chipotle hot sauce is a must. You shouldn't have a problem finding it in the hot sauce section (not to be confused with your salsa section) of your grocery store.
If you can't find it you could substitute chipotle powder and add a little more regular hot sauce and/or jalapenos for some extra heat. The spice level will just depend on the hot sauce you use; mine were pretty mild in terms of heat but full of flavor.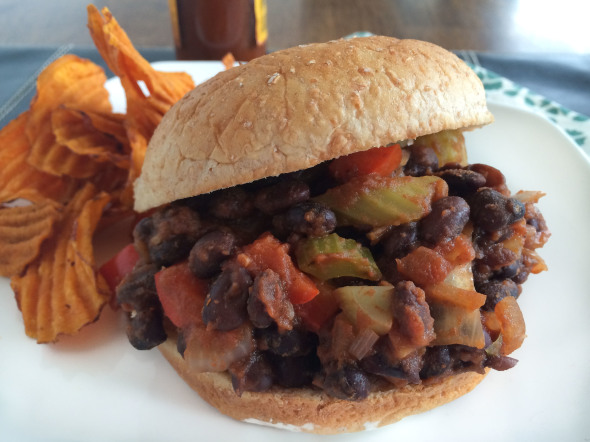 Hoping to retake photos of these babies when I feel up to it, but I will definitely make them again!
Black Bean Sloppy Joes (Vegan)
Ingredients
2 Tablespoons olive oil
1 large onion, diced
4 celery stalks, diced
1 red bell pepper, diced
1 jalapeno pepper, diced
6 cloves garlic, minced
1 lb black beans, soaked and cooked
1 cup tomato sauce
3 Tablespoons tomato paste
½ cup ketchup
2 teaspoons Worcestershire sauce
4 teaspoons chipotle hot sauce
1 teaspoon hot sauce, such as Tabasco or Texas Pete's
salt and black pepper to taste
whole wheat or gluten free hamburger buns
Instructions
Heat olive oil in a large pot or saute pan. Add onions, celery, bell pepper, jalapeno and garlic and saute 6-8 minutes or until tender.
Add beans, tomato sauce, tomato paste, ketchup, Worcestershire sauce, chipotle hot sauce, regular hot sauce and stir well.
Simmer for 15-20 minutes. Season to taste with salt and pepper. Place heaping portion in your bun of choice.
Notes
Mixture will be thick, perfect for a sloppy joe filling. If you want to enjoy it as a chili you could add a little water, broth, diced tomatoes or additional tomato sauce.


Recipe source: adapted from Texas Pete's hot sauce
Questions: Do you enjoy meatless meals? How is everyone doing? I miss hearing from y'all! Leave me a comment and tell me something- anything. I need contact with the outside world!