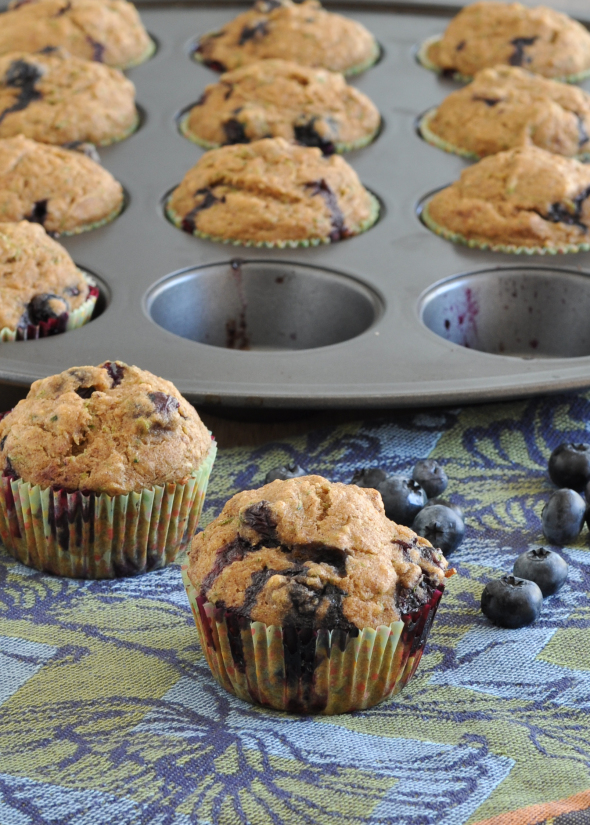 Back-to-school baking! I love having muffins on hand for quick breakfasts, snacks or to pack in lunches. My kids request these and often help me make them. I love quick breads that incorporate vegetables too. It's a good lesson to my kids that vegetables aren't evil. They tend to freak out at veggies they don't like, but since they helped me make these muffins, they sure have been talking a lot about zucchini. Now if I can get them to try it in other dishes!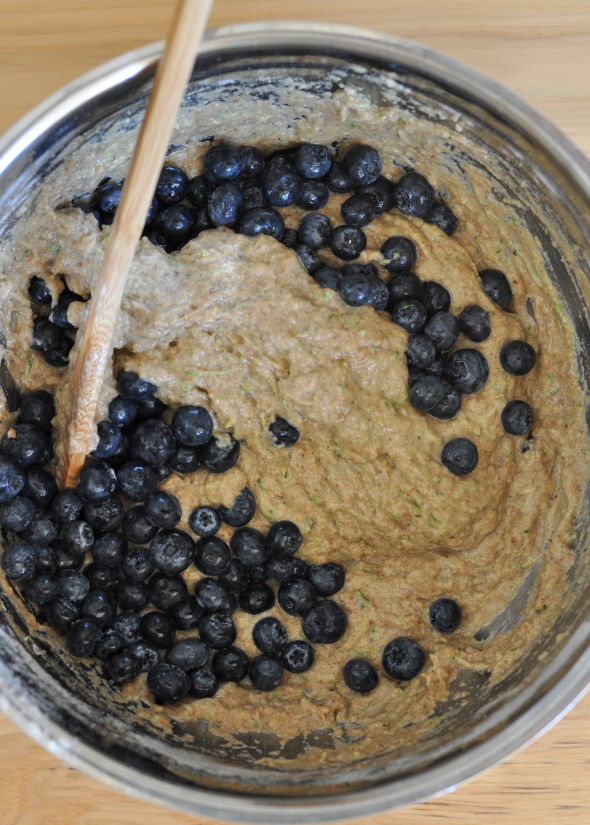 I have played with this recipe over the years and most recently wanted to experiment by cutting the sugar. The original recipe I found on Allrecipes called for 2 1/4 cups of sugar which seemed like a lot even though they didn't taste overly sweet and now I have decreased it by 1 cup (I have also tried making them with even less sugar but the blueberries were just too tart). Next time I will try adding a little stevia in place of some of the sugar. I prefer my muffins not overly sweet but that's just personal preference and if you want more sweetness you can increase the sugar or try adding some stevia in addition.
When they say baking is an exact science, I don't believe that applies to muffins and quick breads. You can change the type of flour (I used white whole wheat), you can change the amount of fat and type of oil used. I used half vegetable oil and half applesauce.  You can play with the eggs and use all eggs or all flax eggs made with milled flax seed, if you are vegan or have an allergy. You can alter the amount of fruit or vegetables in the recipe. I like a lot of blueberries in my muffins so I use a little more than normal. So my point is it's true you need the basics in proper measurements (like baking powder, flour, etc) but it won't ruin your muffins if you adjust some of these things that I talked about.

What are you or your kids enjoying in your lunches? Now if I could find the time today I'll be making some granola bars too.
Oh and I said I'd be getting back to meal planning right? Ok, might need a few more weeks for that. Things are tad bit crazy over here. I do have a fridge full of fruits and vegetables so I'm thinking of stir fries and leftovers. Speaking of stir-fry, I've got a great recipe coming later this week for one.
Have a great week!

Blueberry Zucchini Muffins
Ingredients
3 cups white whole wheat flour
½ teaspoon salt
1 teaspoon baking powder
½ teaspoon baking soda
1 Tablespoon cinnamon
3 eggs, beaten (I use 2 eggs, 1 flax egg (1 T milled flax seed mixed with 3 T water))
¾ cup sugar
½ cup brown sugar
½ cup vegetable oil
½ cup applesauce
3 teaspoons vanilla extract
2 cups finely shredded zucchini
2¼ cups fresh blueberries, rinsed, stems removed
Instructions
Preheat oven to 350 degrees. Prepare muffin pan with cooking spray or line with paper liners.
Mix flour, salt, baking powder, baking soda and cinnamon in a medium bowl.
In a large bowl, mix together on low: eggs (flax egg if using), white sugar, brown sugar, oil, applesauce, vanilla extract. Stir in zucchini.
Add flour mixture to wet ingredients. Mix on low speed until combined. Fold in blueberries.
Divide mixture evenly among 20 muffin cups. Bake 20 minutes or until toothpick comes out clean.
Notes
If your berries are particularly tart you might want to increase the amount of sugar used or add some stevia for extra sweetness without the guilt.