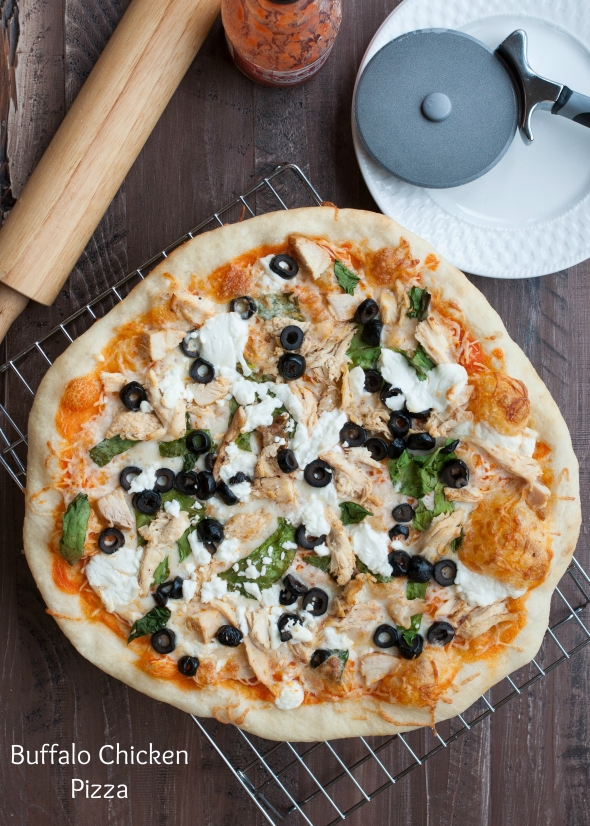 You guys, I am back! We finally got internet set up this week! Woo hoo. I feel like a new woman. It's been over a week since I've been on the computer and even when I was on my parent's computer when we were visiting them before the move, I wasn't on too often. I have a bajillon links saved that I want to go back and read because I can't do much reading on my iPhone. Perhaps it's time to upgrade to the 6+, yes?
So here we are in small town Louisiana. I knew I was moving to a small town but really had no clue it would be this small. So there is some good to all of this. Of course more family time, less "running errands", maybe less spending money as a result (we'll see. I can still use Amazon). I have committed to stepping up my blogging game which I think will be fun use of time.
It's hot here. I haven't even checked the weather app to see what the temps are but it's dreadfully hot and humid. Ok I am going to stop and check right now….97 feels like 102. Yup, it feels like 102. Coming from the Pacific Northwest this has been a hard adjustment.
After a full week of non-stop unpacking, we are about 75% 60% settled in. Of course there is still decorating, organizing, cleaning to do. Do you know how dirty a house gets after you unbox 600+ boxes/items? Oh man, it's going to need a full clean after we get all done. My kitchen is unpacked, although the counters are still full of crap, which is kind of stressing me out. But I can cook again so that's great! Now just to find the extra time. 🙂 The kids don't seem to be on board with the "let's get unpacked and organized" bandwagon. Boo.
Our street- amazing! It is full of kids the same age as ours. Crazy lucky. And our next door neighbors just moved in a few weeks before us and have a girl the same age as ours and they've already been having daily playdates. There are six 8 year old boys on the street so L is busy riding bikes and playing nurf guns with them.  Keep in mind the kids have only been here a little over a week so this is truly a huge blessing.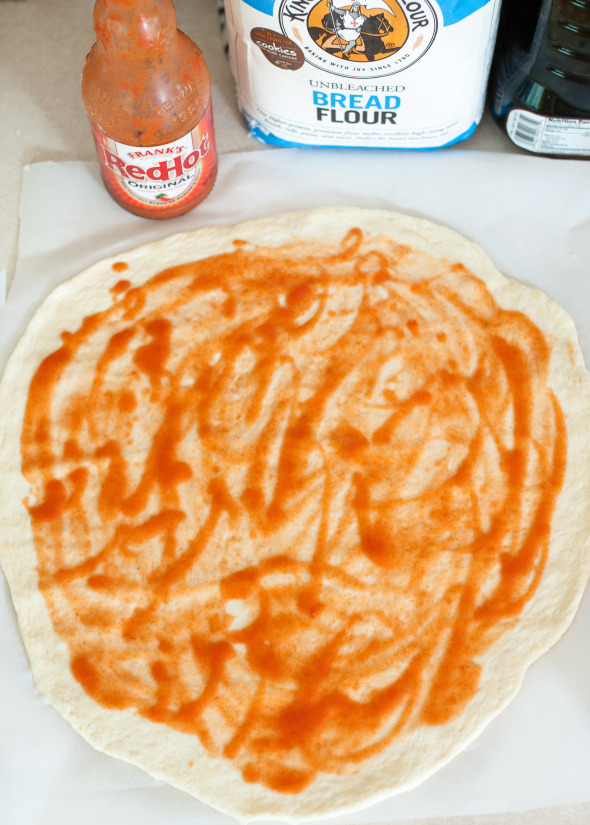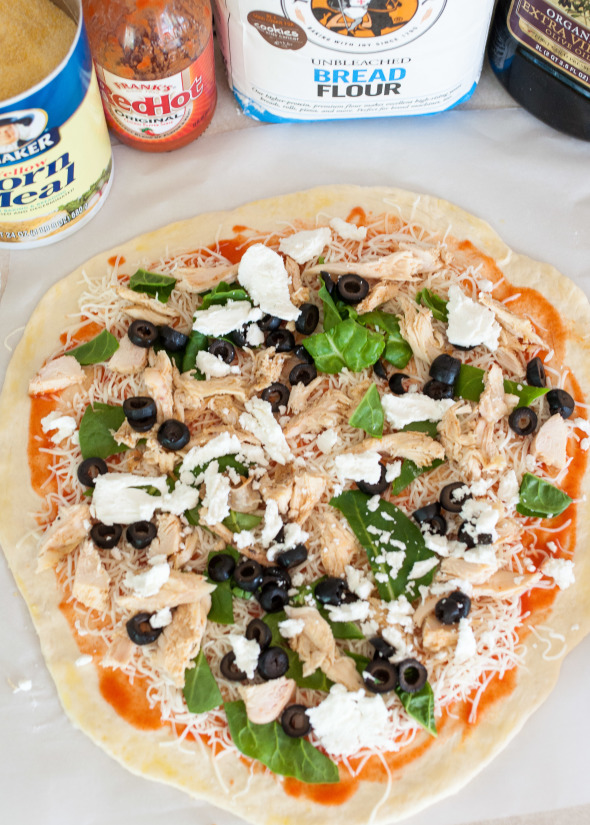 So that is life in a nutshell. I am so ready to get back to my old schedule. Maybe I can share some pictures as soon as I clean up the place.
So this pizza. I made this guy before I left Washington.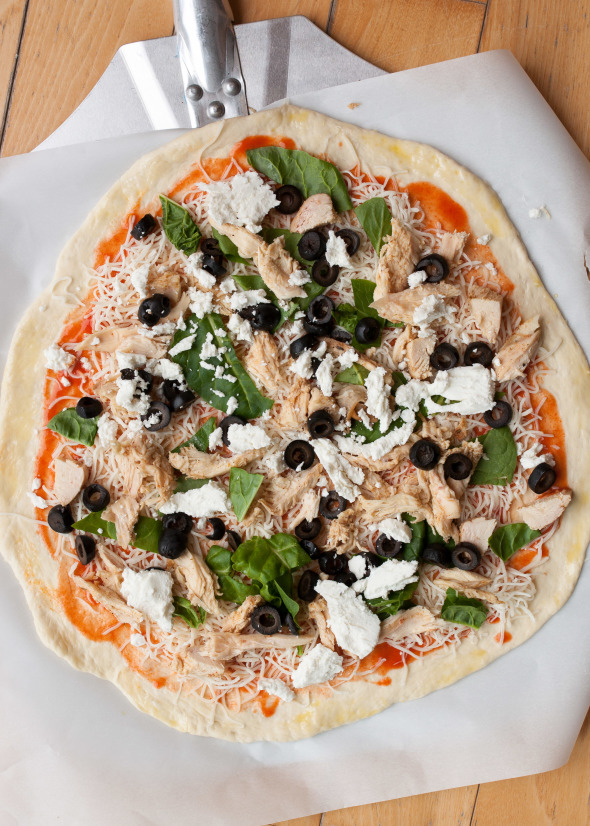 I used to be a tomato sauce only girl. I didn't get the substitutes like pesto sauce, white sauce….if I was eating pizza I needed it to have red sauce. Then over the years I started branching out and trying these other said sauces. And guess what? They are pretty amazing too!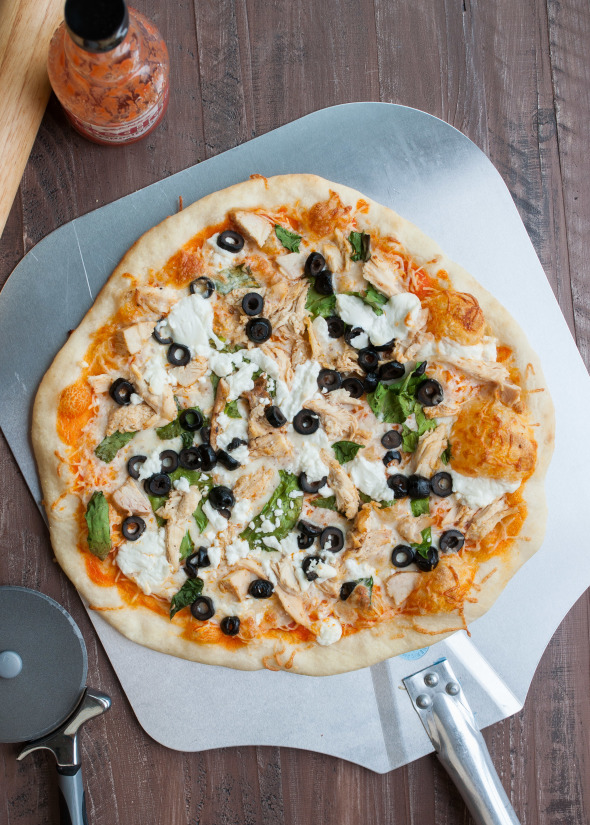 That is why when we had a pizza making night at a friends house I wasn't appalled at the thought of using buffalo sauce instead of tomato sauce. And it was such a great combo that I knew I had to make it again. Now this is topped with smoked chicken which gives it amazing flavor, but I realize that not everyone is going to have smoked chicken on hand so just use regular. My hubby has gotten into smoking meats over the past couple years so it's more common for us to have leftover smoked protein to use (chicken, shredded pork, brisket).
And if you aren't big on goat cheese, please try again with it melted because it's like the most heavenly thing ever.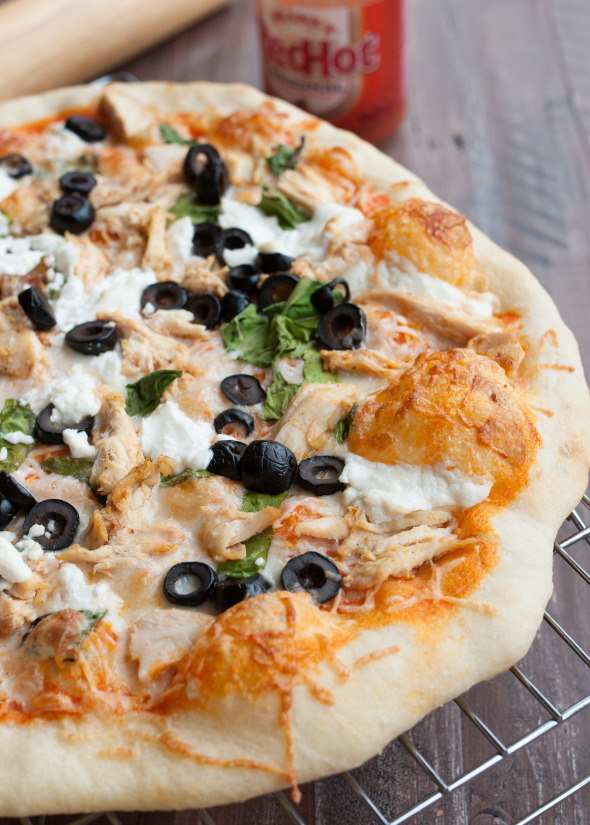 Now that I have AC I am excited about making homemade pizza again. In Washington I would only do this in non-summer months. See, there are benefits to the move (yes I am talking to myself). What have you all been up to? Please tell!
XO
Buffalo Chicken Pizza with Goat Cheese
Author:
Melanie F. | Nutritious Eats
Ingredients
Desired amounts of the following:
Extra Virgin Olive Oil
Frank's Red Hot Sauce
Smoked Chicken
Black Olives
Spinach leaves
Shredded Mozzarella cheese
Goat Cheese
For pizza dough (can sub store-bought dough)
1 1 /2 cup water
1 packet active yeast (2¼ teaspoon)
3 to 3½ cups bread flour
1 teaspoon sugar
1 teaspoon salt
2 Tablespoons olive oil
Instructions
For pizza dough: Add water and yeast to a mixing bowl. Let it sit for 5 minutes or so to activate the yeast. Add the sugar, oil, salt and flour (starting with 2½ cups). Mix until dough comes together, slowly adding the remaining ½ cup of flour as needed. Remove dough ball from the mixer onto a clean countertop dusted with flour. Knead for ~5 minutes. Add additional flour if too sticky. Place in a bowl coating with olive oil. Cover with a clean kitchen towel and let it sit in a warm spot until doubled in size, a couple hours. Divide in half and let it rest for 5-10 minutes before rolling it out.
For the pizza: Preheat a pizza stone in the oven at 500 degrees for ~20 minutes before you are ready to put pizza in (not a necessity but it makes a better crust to let it get nice and hot). Meanwhile, roll out your pizza dough on parchment paper to ~14. Using your fingers or a pastry brush, brush olive oil around the edges of the dough. Top it with buffalo sauce, shredded mozzarella, smoked chicken, spinach leaves, black olives and goat cheese. Using a pizza peel, carefully slide pizza (including parchment paper) into the hot oven. Bake for ~7-8 minutes or until cheese is melted and underside of pizza is slightly crisp.
Notes
If you prefer your goat cheese less brown (which I do), add it halfway through the cooking time. Although the oven will be very hot and you will need to carefully drop pieces onto the pizza.