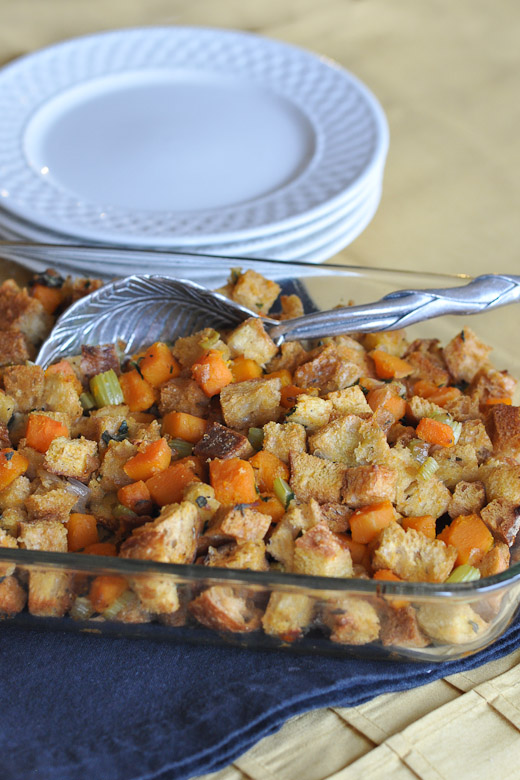 Yesterday I kicked my kids out of the house (with their Dad of course) so that I could watch Thanksgiving Live on the Food Network. I absolutely loved it last year and learned some great tips! It totally got me in the mood to cook and now I can't wait to eat Thanksgiving dinner! I'am making all the traditional dishes: a delicious brined turkey, stuffing, creamy mashed potatoes, roasted brussels, a green bean dish and my favorite cranberry sauce (see below). I am also making a pumpkin cheesecake, my favorite bourbon pecan pie and probably a regular pumpkin pie. I CAN NOT WAIT!
I know everyone has a busy week and I have a lot to do in order to get the house ready for company so I will try to make this a short post. To me stuffing is the most interesting thing about the Thanksgiving meal. There are SO many variations- some with cornbread, some sourdough, some heavy on the veggies and some heavy on the meat, some are super moist and some dryer. Stuffing is very personal!
Since I have started making Thanksgiving dinners myself I have tried several different stuffing recipes but have yet to find the one I will make year after year. I always loved the one I grew up which was an enhanced version of the boxed mix. It was heavy on the veggies, no meat, moist but always yummy. I have been trying to replicate it using fresh bread but haven't got it just right yet. My husband LOVES the one his mother makes which is heavier on the meats and he requested I make it this year. I sure hope I don't mess it up!
My husband is not a fan of the ones that have chunky bread pieces so I decided to try a recipe last week that I knew he wouldn't like as much. I used a leftover loaf of rosemary olive oil bread that I bought at Costco. I added sauteed butternut squash, shallots, celery and garlic, tossed in some sage, parsley and thyme at the end. Yum! This particular bread was very dense so if you use this type make sure to add enough broth to make it moist. After I took the pic, it was still hot and I realized it wasn't mushy enough for my liking so I took fork to break up some of the bread. That was a good trick I'll have to say!

Butternut Squash Stuffing
Ingredients
6 cups rosemary bread, cut into ½ inch cubes
1 tablespoon butter
½ tablespoon olive oil
2 sticks celery, chopped
2 shallots (~3 ounces), chopped
1 lb (~3 cups) butter nut squash, cut into ½ inch dice
¼ teaspoon salt
⅛ teaspoon pepper
2-3 cups chicken stock
1 egg, beaten (optional)
Instructions
Drizzle bread cubes with a little olive oil and toast on a cookie sheet in a preheated 325 degrees oven bread cubes for 20-25 minutes or until lightly browned, stirring occasionally. Let bread cool before making stuffing.
Meanwhile, in a nonstick skillet add butter and olive oil and saute butternut squash, shallots and celery on medium-high for ~10-12 minutes or vegetables are tender. Add chopped sage, parsley and thyme, salt and pepper, stir and remove from heat.
Place bread crumbs in bowl, slowly stir in 2 cups of chicken broth, then add in vegetables and toss gently. Stir in beaten egg and a little more broth if you prefer a moister stuffing.
Place stuffing in a 11x7 inch baking dish coated with cooking spray. Cover with foil and bake at 325 degrees for 20 minutes. Remove foil, stir. If mixture looks too dry, add additional splash of broth. You can also take a fork to it and break up some of the bread pieces if you prefer it less chunky. Bake additional 20 minutes until lightly browned.
Notes
Optional: saute ½ pound of sausage or ¼ lb of bacon before sauteing vegetables. Remove to bowl before sauteing vegetables. To make vegan: use vegetable stock instead of chicken broth. Omit egg and replace butter with olive oil.
This recipe is easy to double for a larger group and can be baked in a 13x9 inch dish.


Recipe source: inspired from Good Housekeeping magazine
And please excuse the pictures as they were all from 1 or 2 years ago and I clearly didn't know much about my camera. Here are a few more Thanksgiving recipes.
If you have never made fresh cranberry sauce, I must tell you that I make this one every year and it is the BEST. Here is the recipe to my cranberry-apple sauce….you must try it!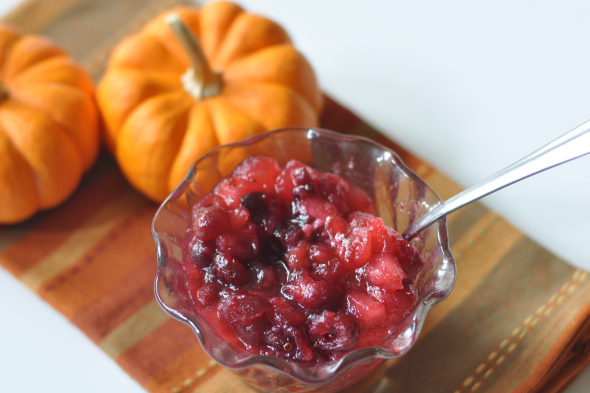 Also these stuffed mushrooms also make a lovely appetizer if you aren't already in charge of a ton of dishes.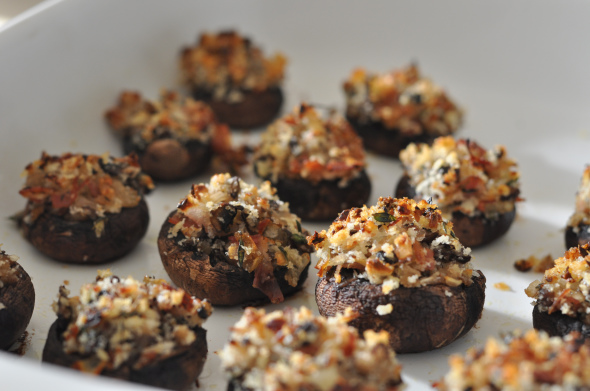 The best bourbon pecan pie with cinnamon whipped cream! SO amazing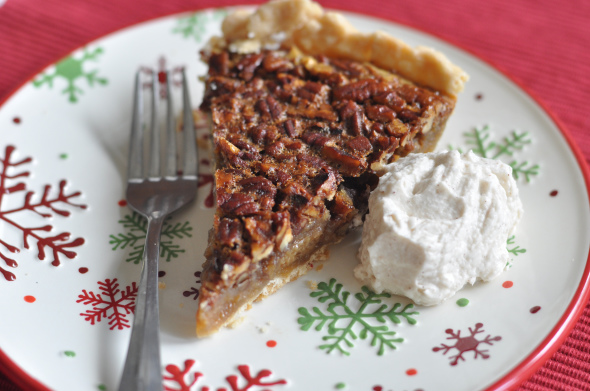 That's all I got friends. I am taking off this week from blogging so I will be back Sunday with meal planning and I also have another great giveaway coming up. l'll also announce the winner of the giveaway going on now! You still have a couple days to enter!
I hope you all have a wonderful Thanksgiving. To those that commented that they will be alone this Thanksgiving, I am sending you a virtual hug and plate of food. XOXO
Question: What is your favorite stuffing? Do you prefer it moist or chunkier and what do you like in it?