Refreshing Caprese Salad served over grilled eggplant, with a drizzle of balsamic vinaigrette.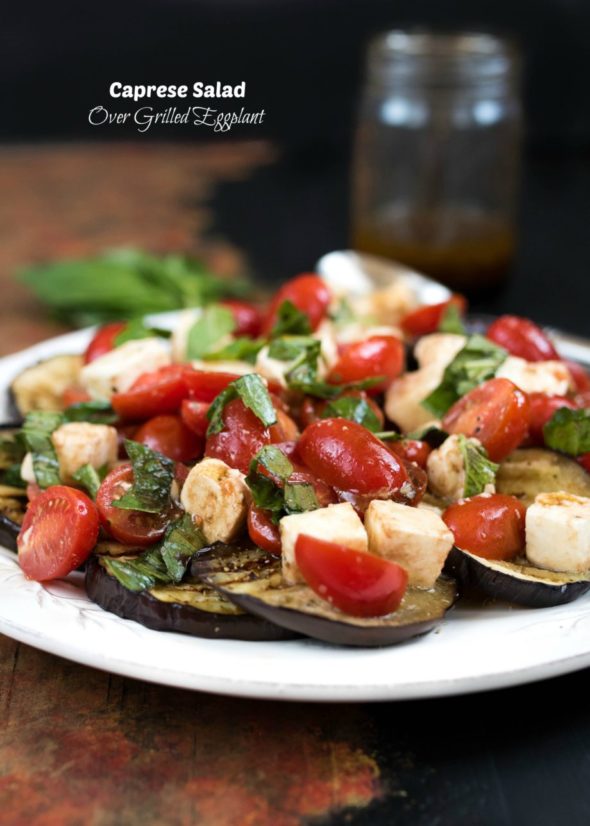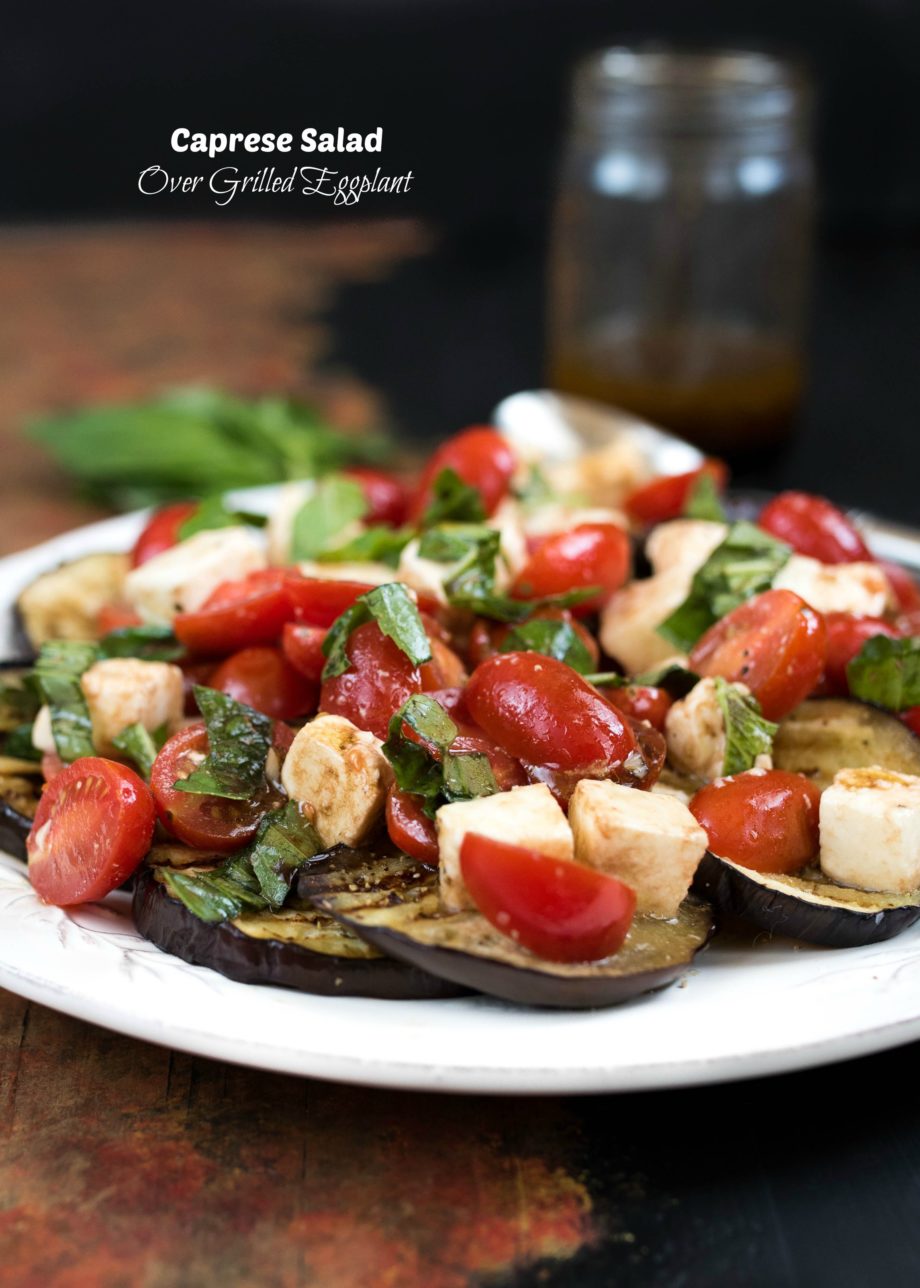 Summer salads continue over here (even though it's not officially summer). If I feel like I am getting off track with healthy eating, I always turn to salad. I find them very satisfying and I am not talking about a basic garden salad. I typically have one with dinner every night, but might bump it up to two a day, different types of course.
As I showed you in this post, you will never get tired of making the same salad if you just branch out a try new recipes.
I was craving a Caprese salad, one of my all-time favorites, but I thought I'd bulk it up a little by serving it over grilled eggplant.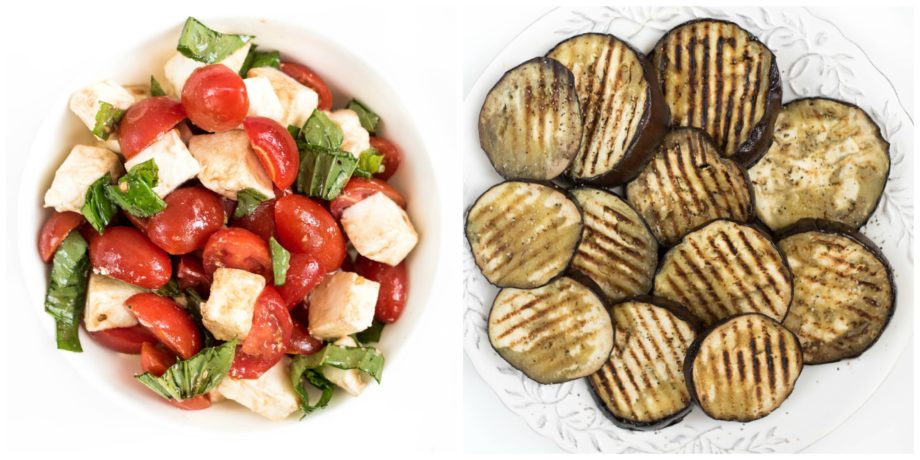 This is my kind of food, simple yet delicious flavors.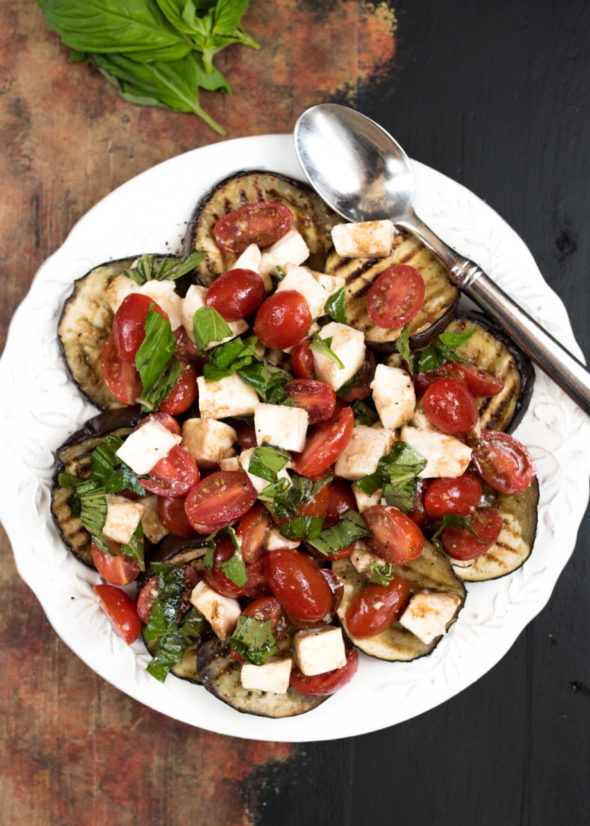 I do not make eggplant enough and I really do enjoy it. This is the perfect recipe for me because you don't have to do anything to the eggplant other than slice it up, drizzle it with some olive oil and grill it. I make this balsamic vinaigrette at least once a week so used that to dress it.
Eggplant is high in fiber and Vitamins such as B1, Copper and manganese and it contains important phytonutrients (phytonutrients: a bioactive plant-derived compound associated with positive health effects). The skin contains a potent antioxidant called nasunin which helps protect cells membranes from damage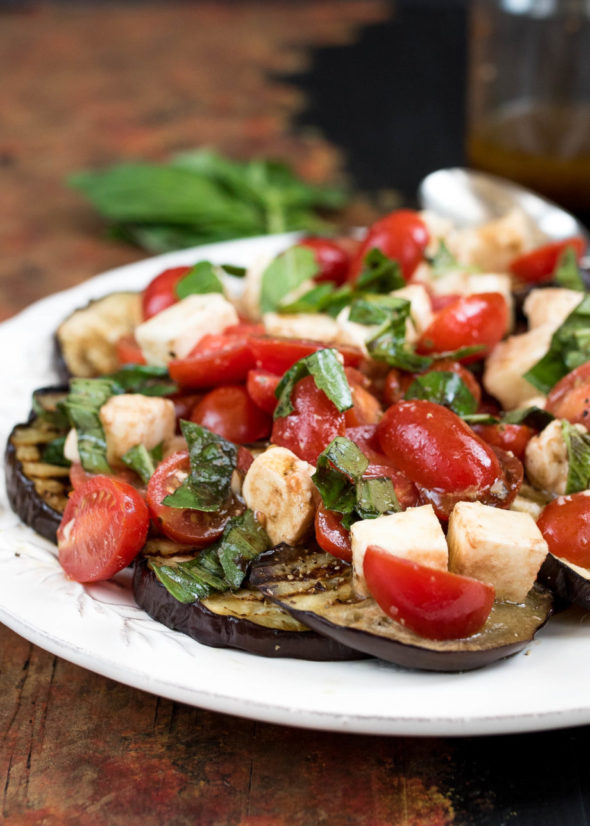 This is the perfect thing to make if you are grilling out this summer and want a second vegetable dish, apart from a green salad. The hubby and I devoured this in two days. I am definitely making it again soon!

Caprese Eggplant
traditional Caprese served over grilled eggplant instead of toasted crostini.
Author:
Melanie F. | Nutritious Eats
Ingredients
1 medium eggplant, sliced into ½ inch rounds (I got 12 slices out of mine)
2 tablespoons olive oil
1½ cups of cherry tomatoes, sliced lengthwise
6 ounces fresh mozzarella cheese, cut into bite size pieces
¼ cup packed fresh basil leaves, chopped
salt and pepper
3 tablespoon balsamic vinaigrette (recipe to follow)
For the dressing:
¼ cup balsamic vinegar
1 teaspoon honey
1 garlic clove, minced
¼ teaspoon salt
¼ teaspoon pepper
½ cup extra virgin olive oil
Instructions
For the dressing: in a jar combine balsamic vinegar, honey, garlic, salt and pepper. Slow pour in olive oil while whisking constantly with a fork or small whisk. Place a lid on it and shake well. Adjust seasoning as needed.
Grill eggplant, on indoor or outdoor grill, approximately 4-5 minutes per side or until eggplant has started to soften and has grill marks. Remove from grill, season with salt and pepper.
Meanwhile in a small bowl, combine tomatoes, cheese and fresh basil. Toss with 1 tablespoon of dressing. Pour tomato mixture over eggplant. Drizzle with 2 tablespoons of dressing (make sure to get some of that garlic on there). Use leftover dressing as needed or if you have a larger portion of salad, dress it with another tablespoon of dressing.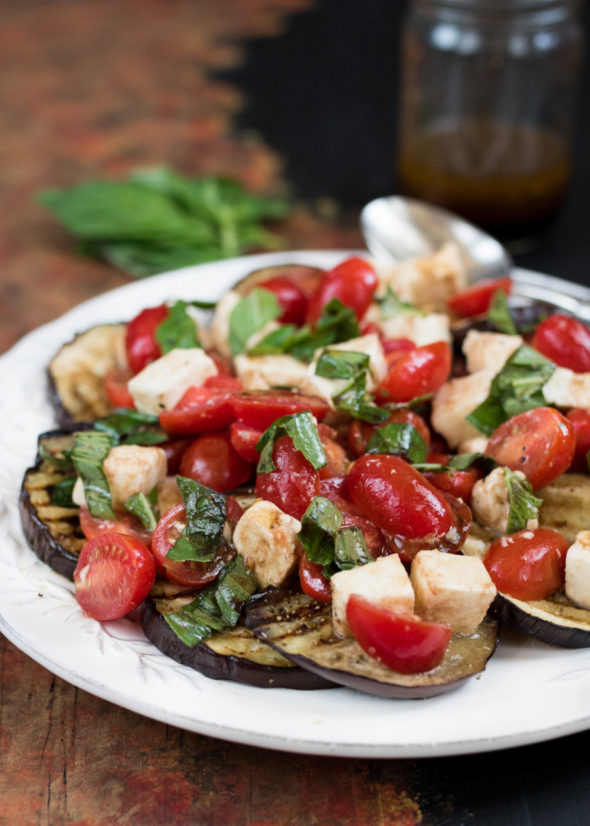 Merriam-Webster dictionary