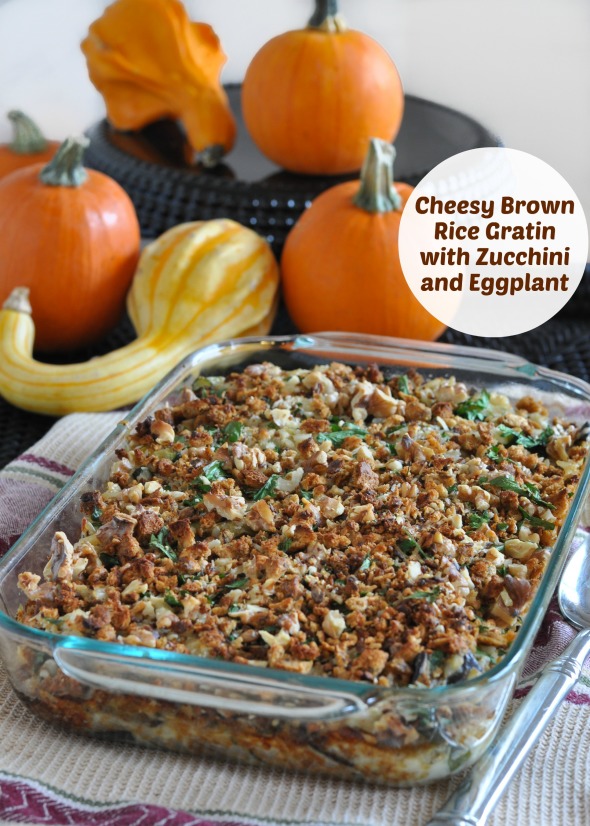 I wouldn't say rice is my favorite grain; I do love it with Asian food but it doesn't make a very regular appearance in my weekly menus. A couple years ago my kids tried the traditional cheesy broccoli rice casserole during the Holidays and loved it.
When I saw this dish, Cheesy Brown Rice Gratin with Zucchini and Eggplant, in Cooking Light I thought it looked like a tasty, healthier variation. It calls for brown rice instead of white, no processed cheese sauce, just a little good quality parmesan cheese for flavor and 2 pounds of eggplant and zucchini.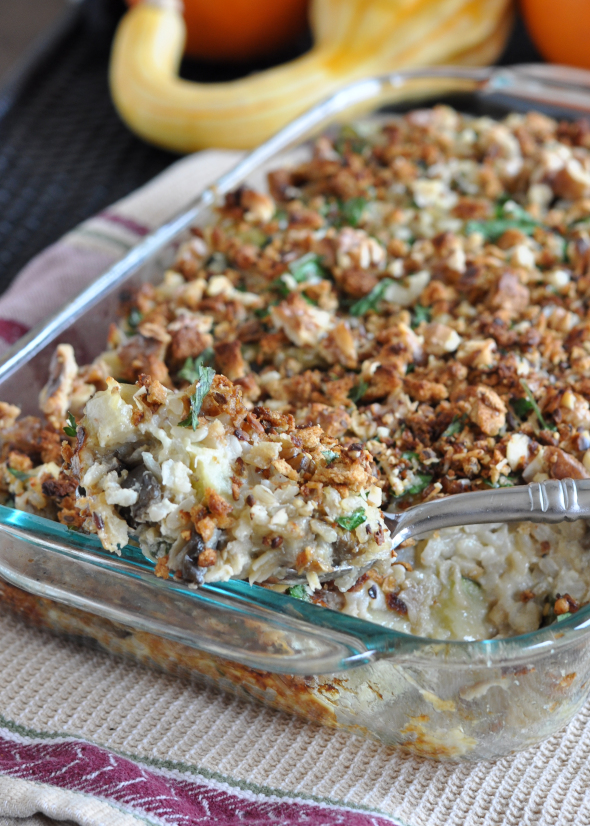 When I first saw the bread crumb topping I though it might not be necessary, bread on rice seemed strange but then again I guess it wouldn't be called a rice gratin and rather just a rice casserole. I decided to stick to the recipe and give it a try. I used a couple slices of seedy gluten free bread and proceeded with the directions. The topping does add some texture but I thought the rice was pretty yummy just after mixing it with the roasted veggies, cheese and touch of cream. You would never know this is brown rice (which is good for those that aren't a fan, but would like to get more whole grains in their diet).
I think this casserole would be a nice addition to any Holiday meal, especially if you are entertaining gluten free guests. For an even simpler dish, I'd leave off the topping and just serve it as the rice casserole part.
The great thing about having a casserole on the menu for a big Holiday meal is that you can make it ahead of time, bring to room temperature and pop in the oven to warm up. For this particular recipe I wouldn't do the topping ahead of time, but the rice casserole could sit in the fridge overnight and the next morning you could make the breadcrumb topping or just top it with a little parmesan cheese to make things simple.
I can't even handle that we will be in November soon and approaching the best eating Holiday, Thanksgiving!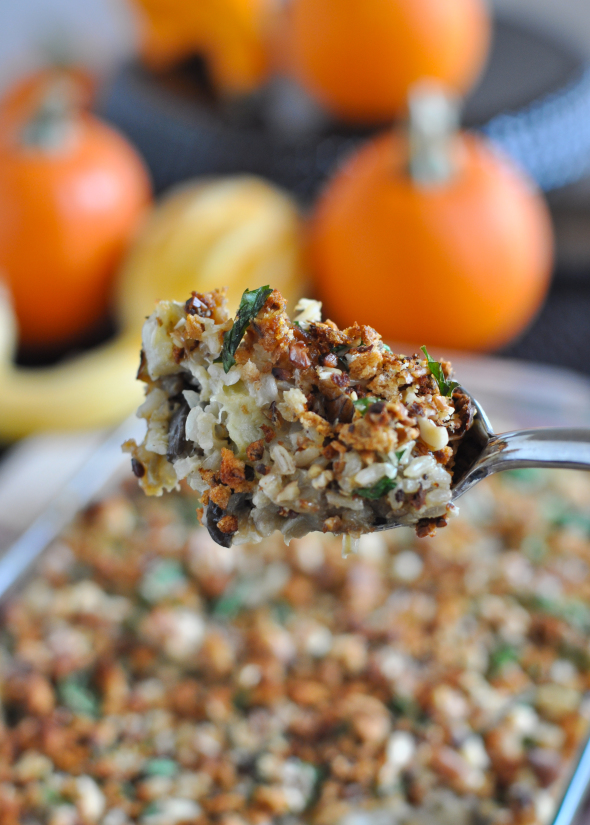 Hope everyone has a great week!
Cheesy Brown Rice Gratin with Eggplant and Zucchini
Ingredients
¾ cup uncooked long-grain brown rice
1 pound eggplant, cut into ½-inch cubes
1 pound zucchini, halved lengthwise and cut into ½-inch pieces
¾ teaspoon salt, divided
2 tablespoons extra-virgin olive oil, divided
Cooking spray
1 cup chopped onion
3 garlic cloves, minced
4 ounces Parmigiano-Reggiano cheese, grated and divided (1 cup)
¼ cup half-and-half
¼ teaspoon freshly ground black pepper
2 large eggs, lightly beaten
2 ounces gluten free multigrain bread, torn into pieces (or French Bread if not making gluten free)
½ cup chopped walnuts
2 tablespoons chopped fresh parsley
Instructions
Cook rice according to package directions, omitting salt and fat. Preheat oven to 400°.
Combine eggplant, zucchini, ¼ teaspoon salt, and 1 tablespoon olive oil on a large baking sheet; toss to combine. Bake at 400° for 15 minutes. Place vegetables in a large bowl.
Reduce oven temperature to 375°. Heat a large nonstick skillet over medium heat. Add 2 teaspoons olive oil to pan, and swirl to coat. Add onion and garlic; cook for 12 minutes or until tender. Add onion mixture to eggplant mixture. Add cooked rice, remaining ½ teaspoon salt, ¾ cup cheese, and the next 3 ingredients (through eggs), and stir well to combine. Spoon rice mixture into an 11 x 7 inch glass or ceramic baking dish coated with cooking spray. Cover with foil, and bake at 375° for 15 minutes.
Place bread in a food processor; pulse until coarse crumbs measure 1 cup. Heat a large skillet over medium-high heat. Add the remaining 1 teaspoon oil to pan, and swirl to coat. Add breadcrumbs, and cook for 3 minutes or until toasted, stirring frequently. Remove pan from heat; stir in remaining ¼ cup cheese, walnuts, and parsley.
Remove foil from rice mixture. Top evenly with breadcrumb mixture. Bake, uncovered, at 375° for 15 minutes or until vegetables are tender and topping is browned.
Notes
Recipe barely modified and reprinted with permission from Cooking Light, March 2012_
Question: Do you have any favorite rice casseroles? What are you favorite ways to enjoy rice?