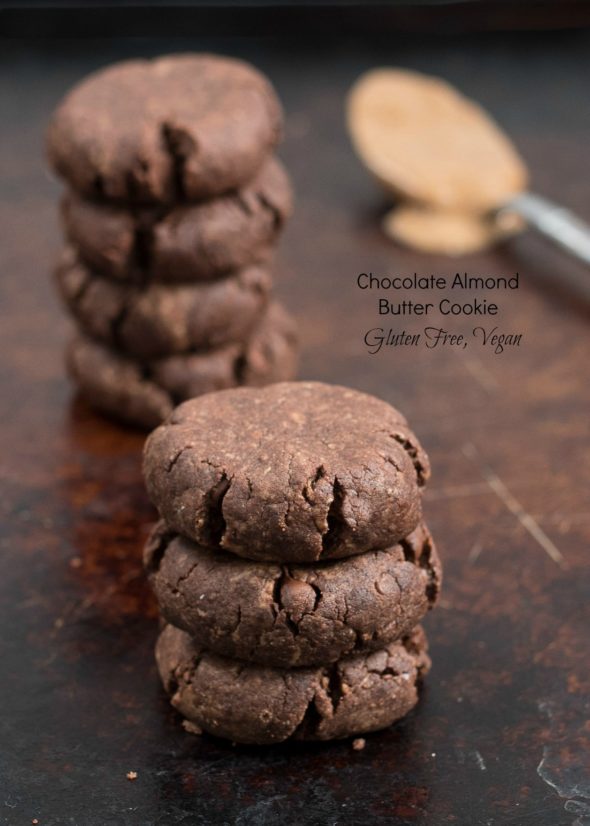 Hello friends, I am wrapping up a nonexistent week of blogging due to some family sickness. It seems to come once a year for us right around this time, but I am looking forward to everyone feeling 100% again.
I have basically been fasting all week because my stomach has been "off" and after having two kids with the stomach virus you kind of lose your appetite! However, I just wanted to share this simple healthy treat that I've been making lately.
I call them cookies, but they are really healthy little treats that have been a life saver when I just need some calories, like this week. They are gluten free, vegan (when using vegan chocolate chips) with 6 simple ingredients and deliver a little sweetness at 4 grams of sugar a cookie. No extra oil or fat needed apart from the fat you're getting from the almond butter.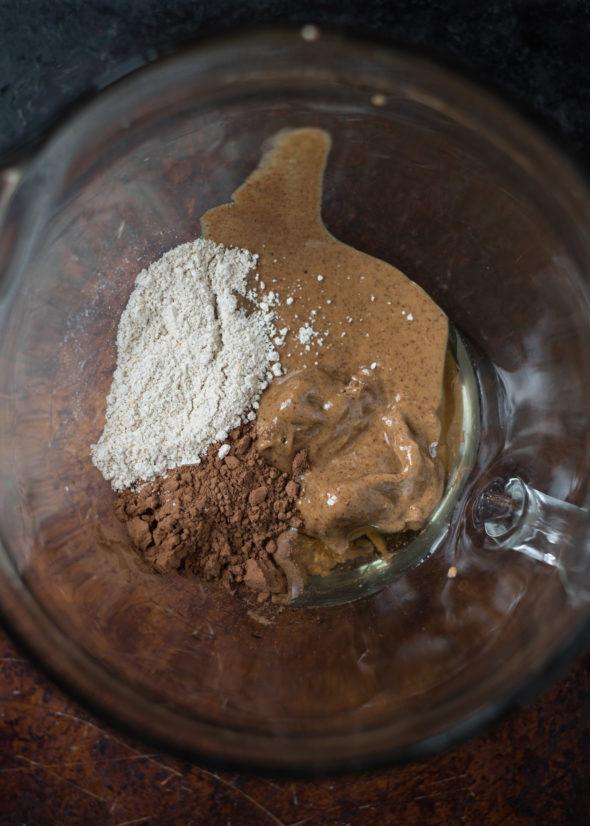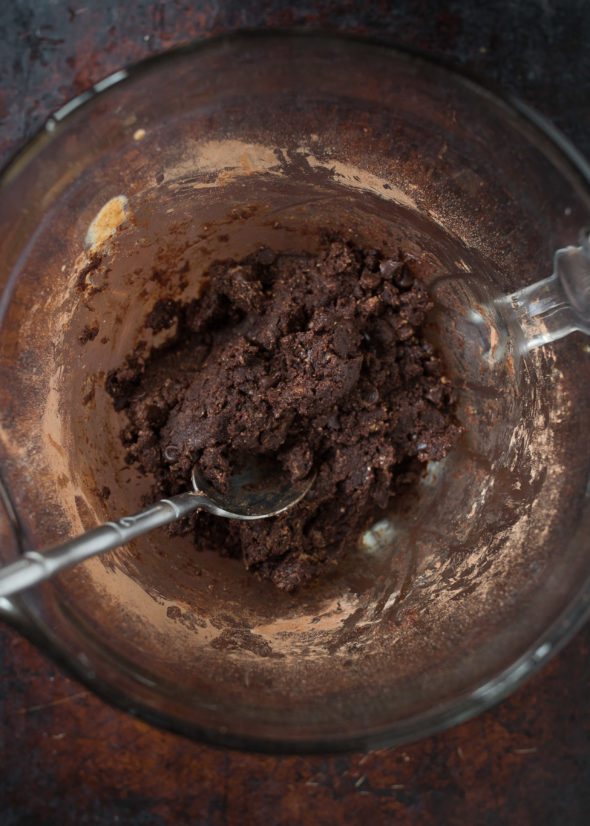 Almond butter, like all nut butters, is quite caloric but offers quality nutrition. Each cookie has ~130 calories which is mostly from the almond butter. The little bit of oat flour and cocoa flour allows them to come together and there is only 1 tablespoon of unrefined sugar in the whole recipe. Just 2 tablespoons of mini chocolate chips gives a little decadence and more of that chocolatey flavor.
You can actually eat them raw like energy bites, since there is no egg in them, but I wanted to try them baked and that is the way I prefer them. They almost taste like a healthy brownie bite. In a good way.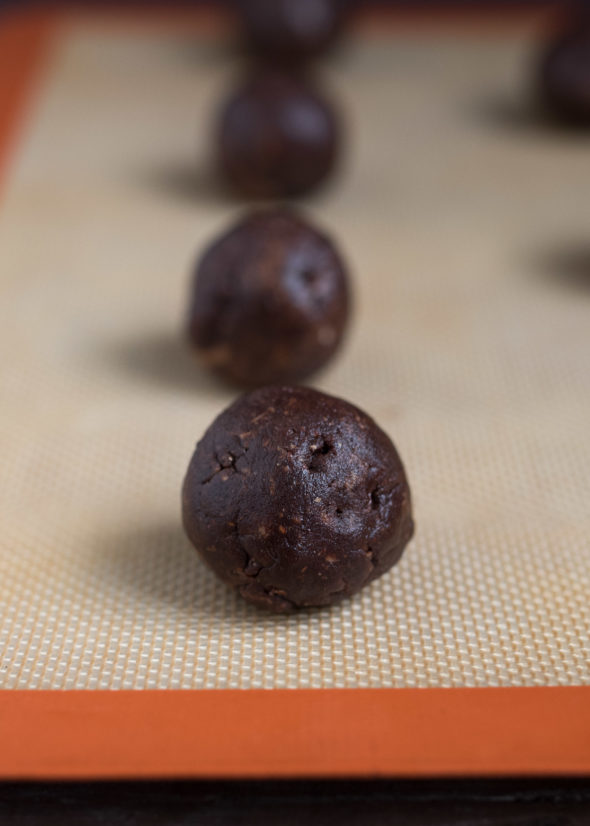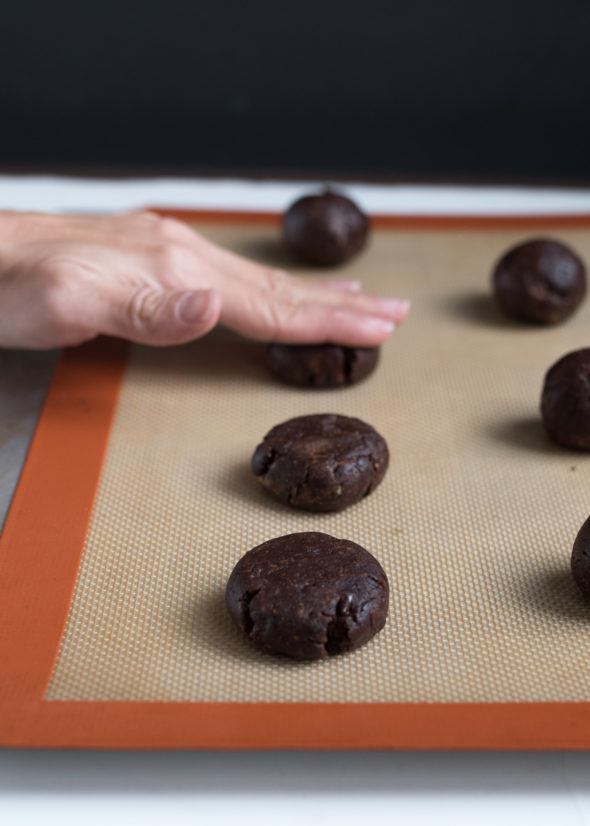 Another bonus, is my kids don't like them! The almond butter is not their favorite and it does come through in this healthy cookie. I am always excited when there is actually something I can eat in peace without the 4 of them begging for it so it works for me!
I microwave one in the morning for about 10 seconds for something to go with my coffee. That melts those mini chips and makes a satisfying bite. I have to have treats like this in the house otherwise I am looking for junk.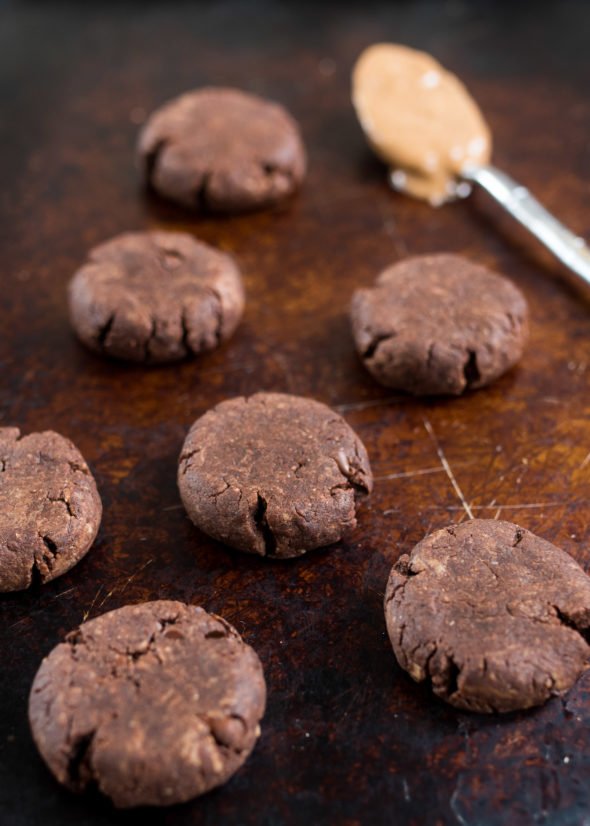 The texture is different because there is no AP flour or leavening agents, just a almond butter and a little oat and cocoa flour so if you are expecting decadent, traditional chocolate cookies this isn't the recipe for you.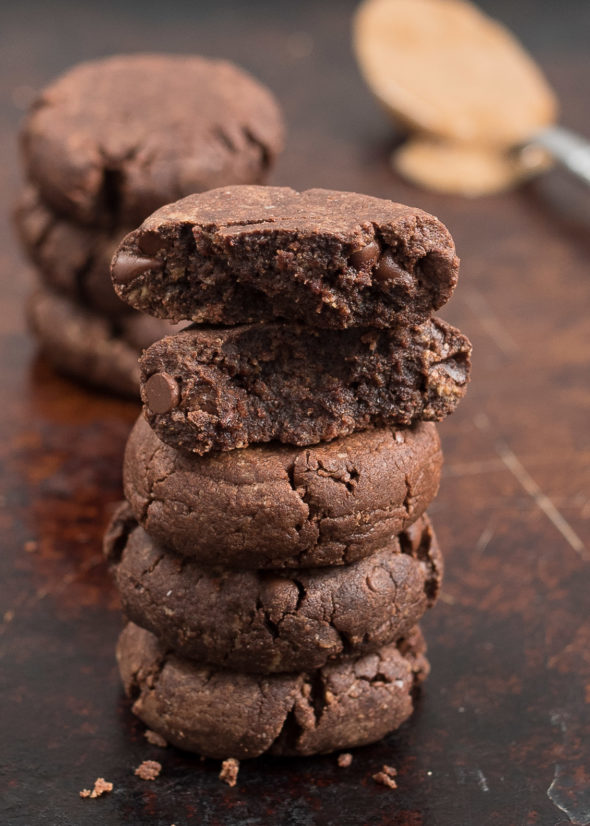 I have been making these about once a week, since this recipe only makes 7 cookies, which is perfect to get me through the week while keeping them fresh.
Hope you all have a fabulous weekend- Valentine's Day and President's Day- woo hoo! Enjoy the long weekend if you have one.

Almond Chocolate Cookies
These are not your traditional cookies, with no AP flour or leavening agents, they are more like a chocolate energy bite in cookie shape. Warm one up for breakfast or snack for an on the go treat.
Author:
Melanie F. | Nutritious Eats
Ingredients
½ cup almond butter
3 tablespoons cocoa powder
3 tablespoons oat flour
1 tablespoon agave
1 to 1½ tablespoon leftover coffee (depending on how runny your almond butter is)
2 tablespoons mini chocolate chips (vegan if needed)
Instructions
In a medium bowl, mix all ingredients together. Scoop out a tablespoon full and roll into a ball. Place ~ 2 inches apart. Press down lightly with your finger tips to flatten into a cookie shape. Bake at 350 for ~8 minutes. Store in an air-tight container. Reheat for 10 seconds for maximum deliciousness.