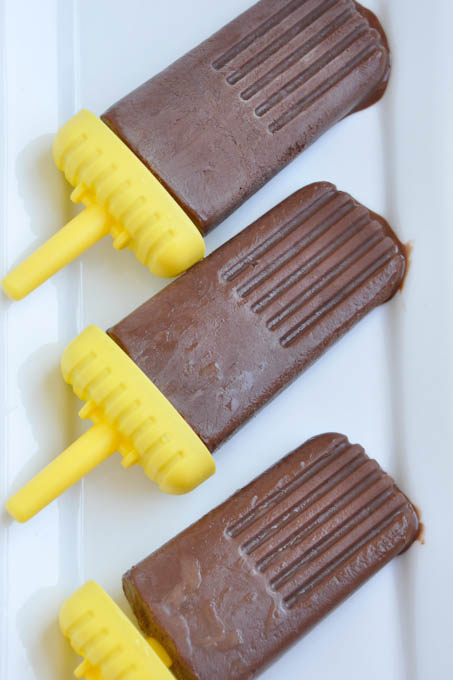 Popsicles. Who doesn't have fond memories eating them as a kid? Push Ups, Rocket Pops, Orange Creme, basic Grape, Cherry and Lime, Fudgsicles….the list goes on. For some reason, I've had a strong desire to let me kids try some of my old time favorite popsicles- especially the chocolate pudding pop (aka fudge pop). When I went to the store, I was shocked and so disappointed that all the popsicles were filled with junk. I couldn't find one.single.popsicle with natural ingredients. Not just the fudge pops, but the basic fruit ones were pathetic. I searched every label just to find ones with 100% fruit juice, but they all had corn syrup, dyes and other stuff.
I couldn't succumb to the purchase of my favorite fudgsicles so vowed to make them at home. Months later, I still had no popsicle mold, summer whizzing before my eyes. I was determined to make these. Then about 3 recipes surfaced for them so I knew it was meant to be. I ordered this great popsicle mold from Amazon and got it in the mail last week and pretty soon I had these babies in the freezer.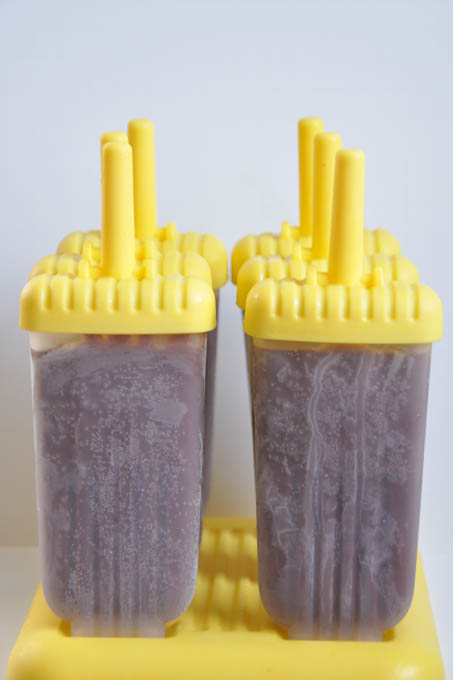 I compared several of the recipes I had for these chocolate pudding pops and settled on the one I liked best. I love that these call for simple, natural ingredients and contain no preservatives like the store-bought ones. The only change I made was using 1% milk instead of 2% which the recipe called for. You could use whatever milk you have in the house and they will be delicious. These shocked me at being super creamy and chocolatey. If you don't like chocolate, these probably aren't your pop. Good news- I plan on making some other yummy fruit ones with my mold so hopefully will have more to share. Don't have a popsicle mold? No problem, just use small paper cups, cover with foil and stick a popsicle stick in before freezing.
If you're thinking summer is almost over, you're right, but you still have time. Summer may be coming to an end soon, but I think it's safe to say most of us will have these hot temps for a while longer. I plan on using this mold a lot over the next couple months and will share any other tasty treats I discover.
Enjoy the trip down memory lane!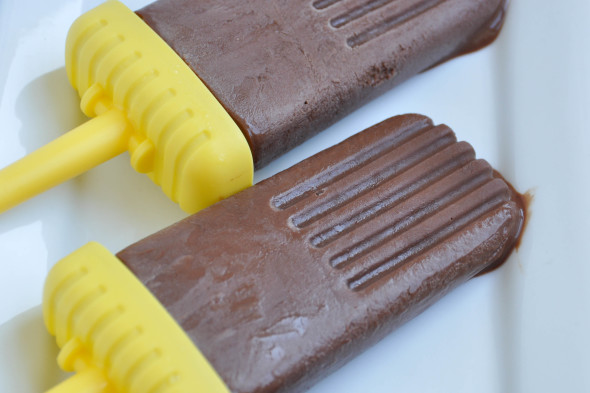 [print_this]
Chocolate Pudding Pops (aka Fudge Pops)
INGREDIENTS:
2 1/2 cups choice of milk (preferably low-fat)
1/2 cup sugar
1/2 cup unsweetened cocoa
1 Tablespoon cornstarch
Dash of salt
1 large egg yolk
1 teaspoon vanilla extract
2 ounces bittersweet chocolate chips
DIRECTIONS:
1. Combine milk, sugar, cocoa, cornstarch, salt and egg yolk in a medium saucepan over medium-high heat, stirring well with a whisk. Cook until thick and bubbly, about 8 minutes, stirring constantly.
2. Remove pan from heat, stir in vanilla extract and bittersweet chocolate. Once the chips are all melted and  mixture is smooth, transfer mixture to a bowl. Place bowl in a larger ice-filled bowl and cover with plastic wrap. Let cool.
3. Once cool, spoon mixture into 6 (4-ounce) popsicle molds. If no mold, fill small paper cups, cover with foil and insert popsicle stick. Freeze at least 4 hour or until frozen. Yield: 6 popsicles.
www.nutritiouseats.com
[/print_this]