Cinnamon Baked Apples with Yogurt satisfies that apple pie sweet tooth while being a healthier option with fewer calories.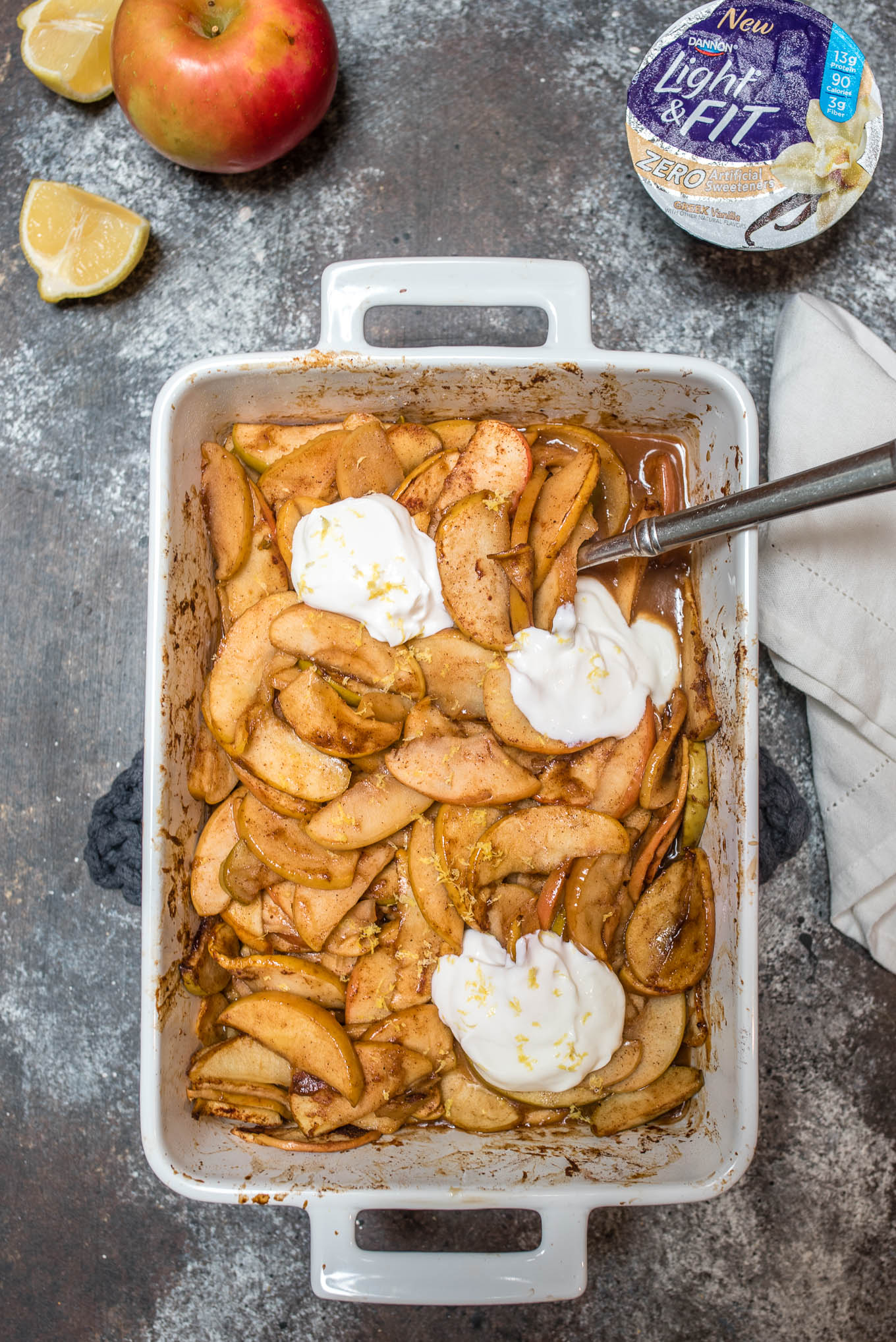 I have partnered with Dannon to help promote Light & Fit. I have been compensated for my time commitment. However, my opinions are entirely my own and I have no been paid to publish positive comments.  
Apple pie with ice cream is such a delicious and classic flavor combo- the warm spiced apples with cool vanilla ice cream. It's one of my favorites, especially during the Holidays.
However, I wanted to reimagine yogurt so I made some yummy baked apples with vanilla Greek yogurt topped with a little lemon zest. Seriously, you are not going to miss the crust here or the ice cream for that matter! It's fewer calories, with all the flavor.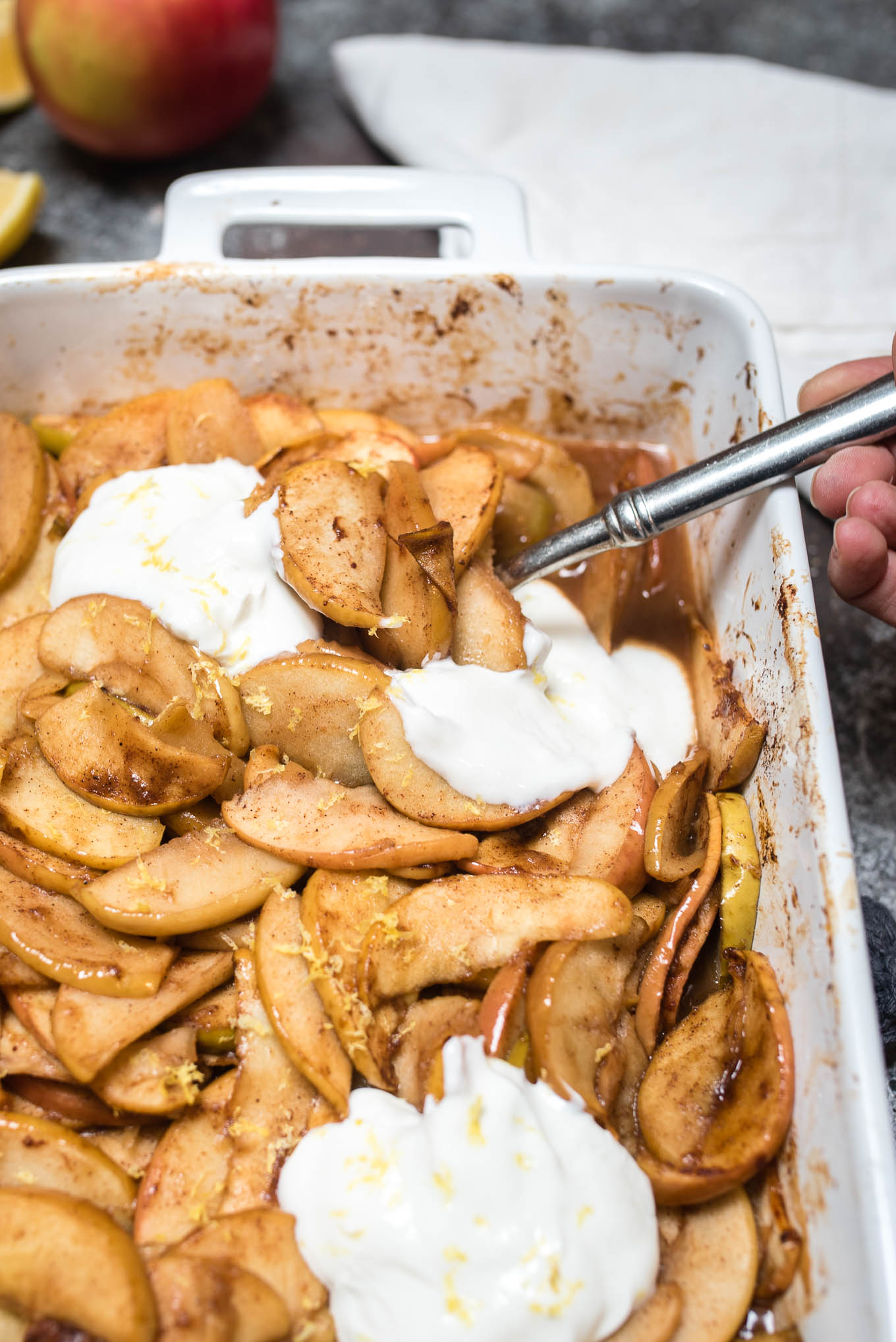 My kids named it "the insides of an apple pie", which it basically is, and they just loved it. This yogurt is a lower saturated fat alternative to regular ice cream and you won't have to worry about dessert melting as it sits out.
Light & Fit Greek Nonfat Yogurt with Zero Artificial Sweeteners contains 90 calories, 13 grams of protein and 3 grams of fiber per 5.3 ounce and paired with delicious spiced fall apples, proves that healthy choices don't have to be boring.
Eating one yogurt everyday is an important first step toward creating a more balanced diet and a healthier lifestyle. Yogurt can be part of a healthy eating pattern such as a smart snack, convenient breakfast, delicious cooking ingredient or a great choice for dessert.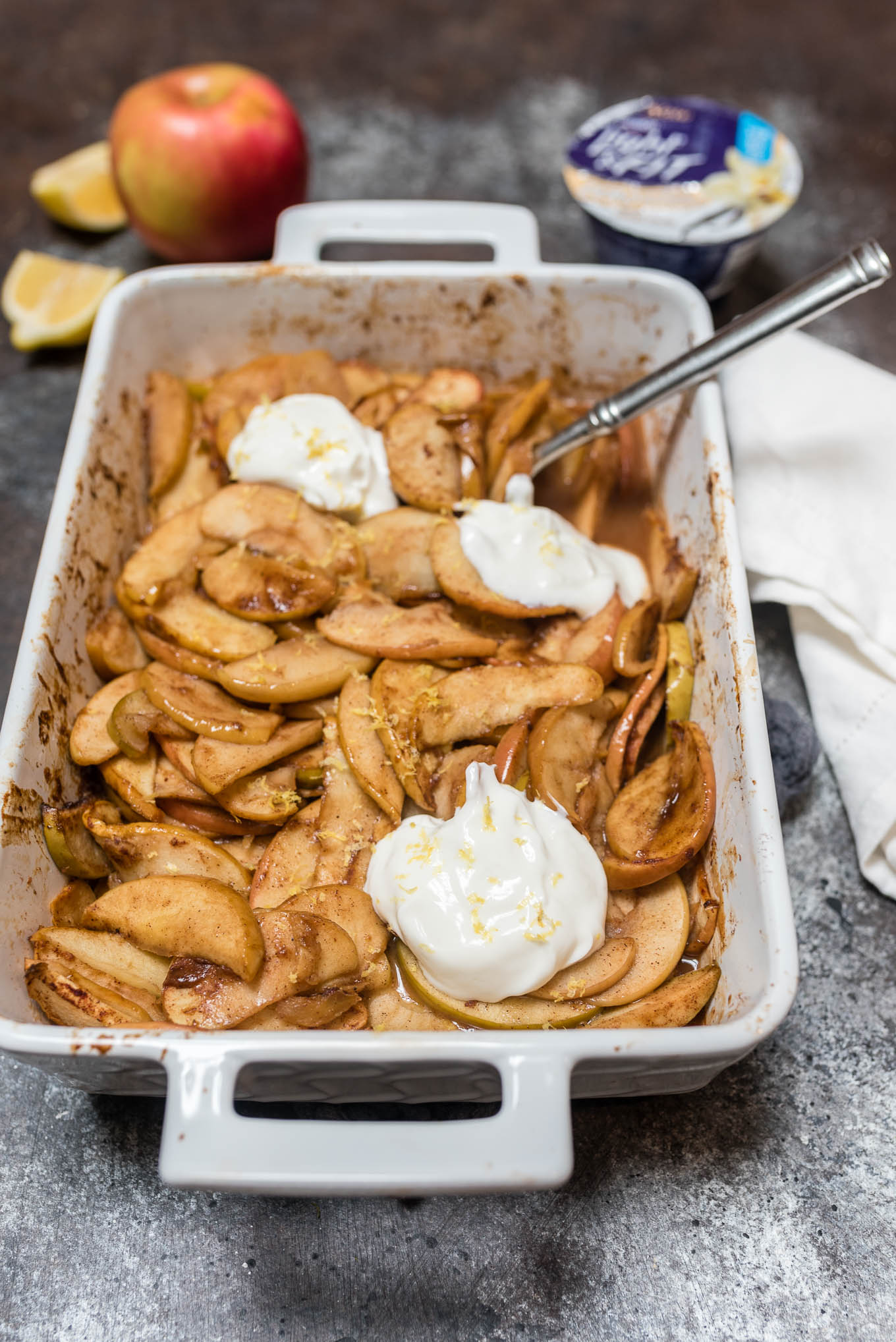 These cinnamon baked apples topped with yogurt provide fiber, calcium, protein and more. This dish makes a great potluck option as it can be served hot, warm or even cold. I can attest that cold leftover apples and yogurt are almost more delicious than when they are straight out of the oven!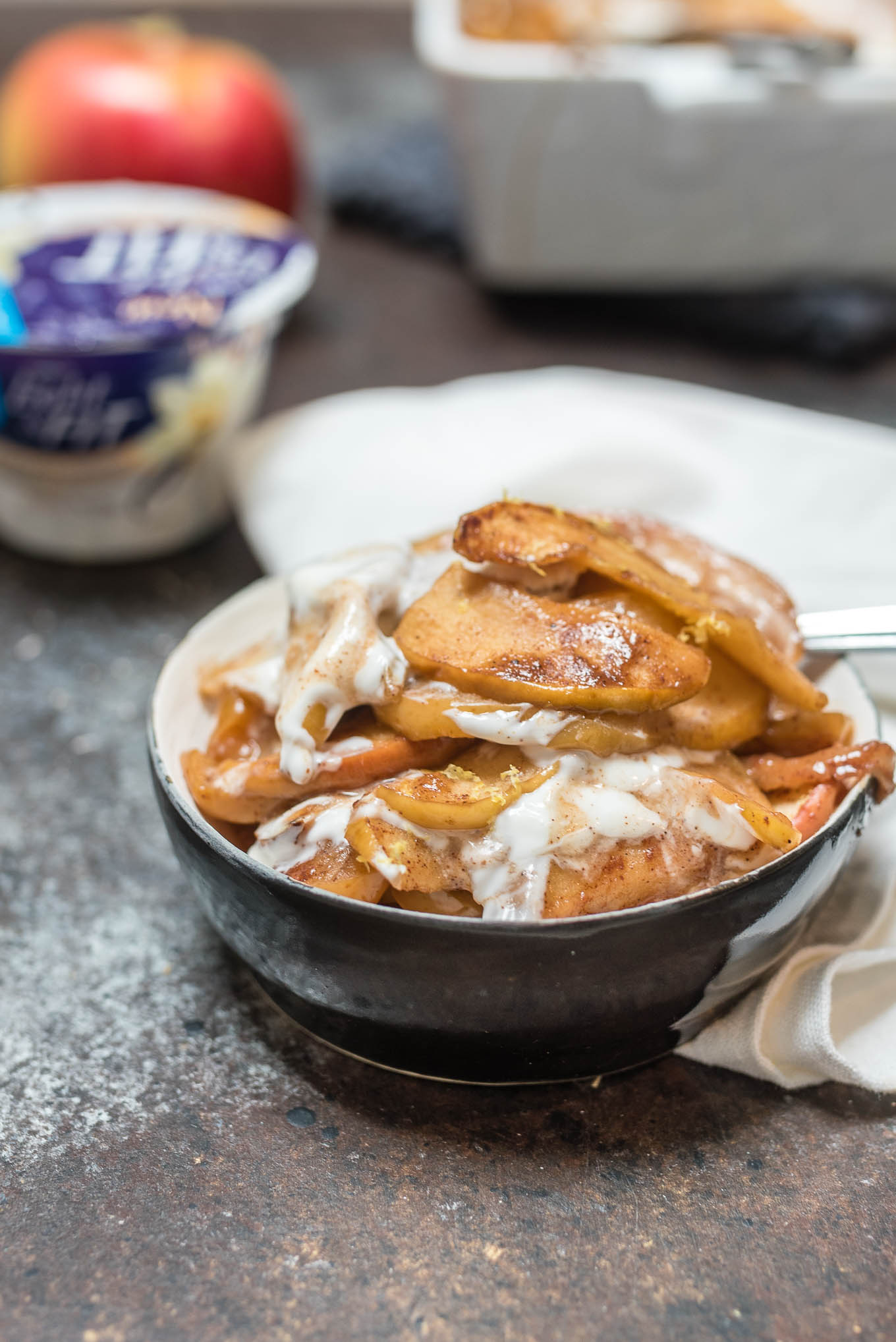 If you are looking for an EASY no-fuss dessert or afternoon snack (think of a small bowl to go along with some afternoon coffee), then try these!
Follow Light & Fit on Instagram and check out their site www.lightandfit.com for more product info and yummy recipes.

Baked Apples with Cinnamon Vanilla Yogurt
Author:
Melanie F. | Nutritious Eats
Ingredients
5 large apples (mix of Gala, Fuji and Granny Smith)
¼ cup maple syrup
2 tablespoon coconut sugar for top
2 teaspoons vanilla
1 teaspoon cinnamon
½ teaspoon ginger
½ teaspoon nutmeg
1 tablespoon lemon juice
1 tablespoon flour or cornstarch (sub gluten free all-purpose flour if needing GF)
3 tablespoon salted butter, melted
1-2 5-ounce containers Light & Fit Nonfat Greek Vanilla Yogurt
zest from one lemon
Instructions
Preheat oven to 350 degrees. Place sliced apples in a baking dish. Top with the remaining ingredients. Stir gently to combine. Bake for 45-50 minutes or until tender, stirring twice during the baking time.
Let apples cool for a few minutes. Place dollops of vanilla yogurt on top and zest some fresh lemon zest over the yogurt.