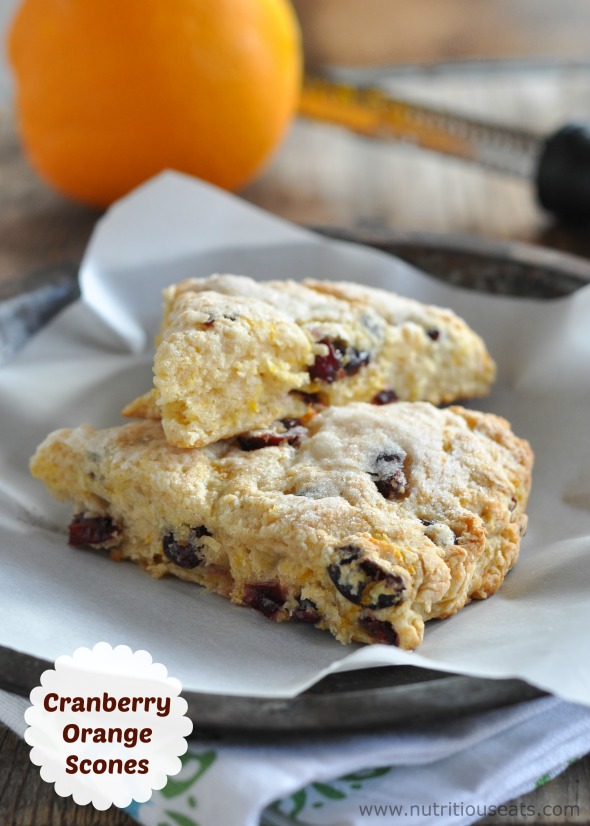 If you haven't had a chance to read my last post about the benefits of juicing check it out HERE. Plus you still have until Thursday to enter to win a 3-day cleanse from Suja Juice. Whether you chose to do the cleanse or just enjoy them as a nutritional supplement or snack, the winner will receive 18 bottles of Organic, Cold-pressed delicious juices (in a cooler straight to their door). If you haven't tried Suja you will become addicted.
Today I wanted to share an easy scone recipe from a new cookbook my friends at Cooking Light sent me, Lighten Up, America! I haven't gotten very far into the book yet so hopefully I can give you a better review soon, but late Friday night I was flipping through it and saw this recipe for Cranberry Orange Scones. I just love the combo of cranberries and orange.
We love a more leisurely breakfast on weekends when we having nothing going on and scones are generally super easy and quick to make.
It was time bedtime when I found the recipe, but to make it go even faster in the morning I decided to mix all the dry ingredients which I left in a covered bowl out on the counter (this took me all of 5 minutes but was worth the little prep. Three young kids can be kind of demanding when they're hungry in the morning). After I poured my cup of coffee in the morning, all I had to do mix in some butter, buttermilk, the cranberries and orange zest and I was done!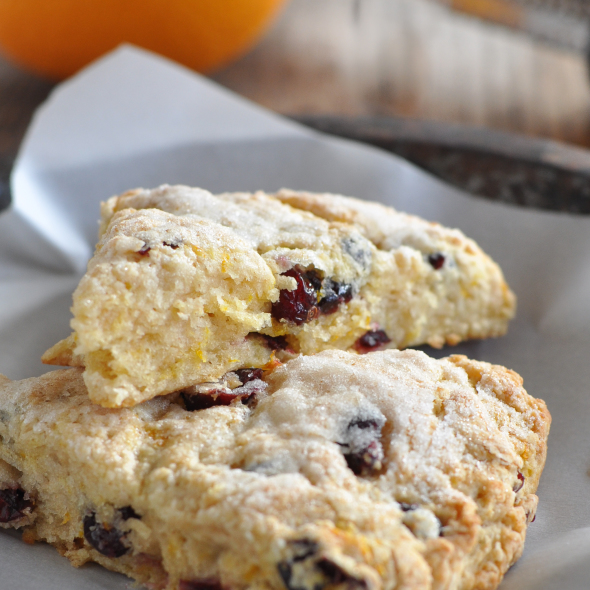 Although scones can be made with a lot of butter and/or cream, the reason I love them is that generally they aren't overly sweet, especially this recipe. There is only 2 Tablespoons in the whole batch. Because they aren't very sweet I thought my kids might like like them, but I was wrong! They were a big hit paired with a little fruit and yogurt.
I make one and only one scone recipe all the time so it was nice to branch out. I made minor substitutions to this recipe mainly in the method and baking time to match the recipe I always use. The Cooking Light recipe calls for separating the scones before baking but I like leaving them cut in the circle for I find I prefer the moist inside with the crusty outside versus crust all the way around the scone. I also ran out of buttermilk at the end so instead of brushing with it (per the original recipe), I melted a little butter and used that.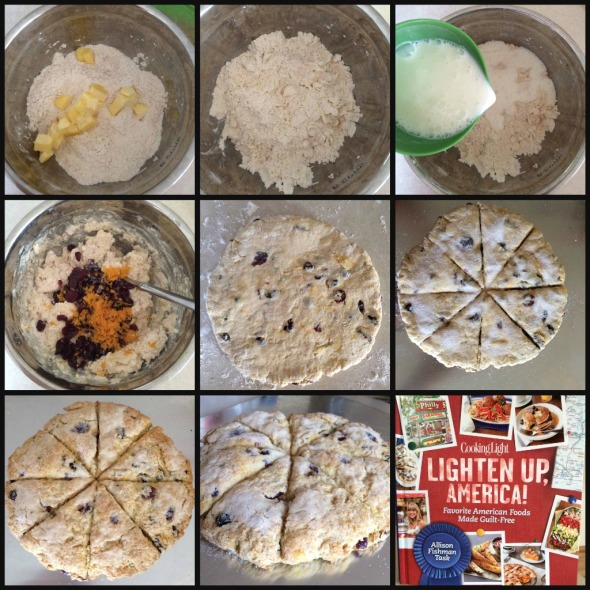 I also followed the recipe exactly which called for 1 teaspoon sugar in the dough and I found I wanted them to be a touch sweeter so I increased the sugar in the recipe below to 1 Tablespoon (my other recipe uses 1/4 cup which still isn't much).
Super easy and something different for a weekend breakfast (for my family at least). I am excited to work my way through the rest of the cookbook!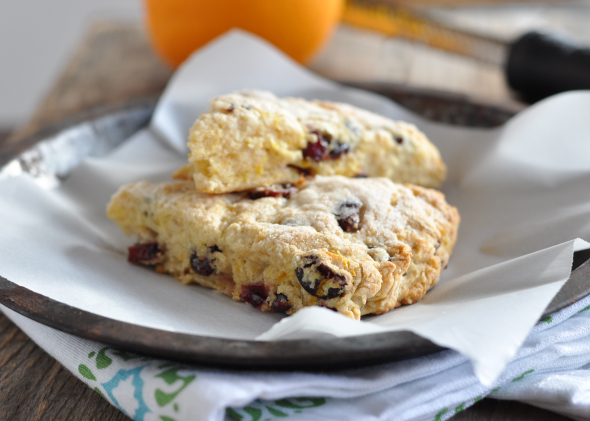 Before I go, I want to wish all the Veterans including my sweet husband a happy Veterans day. We honor you today!
Cranberry Orange Scones
Ingredients
1¾ cup all-purpose flour (or 7.9 ounces)
2 teaspoons baking powder
½ teaspoon baking soda
½ teaspoon salt
1 Tablespoon sugar
5 Tablespoons unsalted butter, cut into little pieces
¾ cup low fat buttermilk
½ cup dried cranberries
1 Tablespoon orange zest
For topping:
1 Tablespoon sugar
1 Tablespoon better, melted
Instructions
Preheat oven to 425 degrees.
Weigh or lightly spoon flour into dry measuring cups; In a bowl combine flour and next four ingredients (through sugar). Add cold cut butter; using your hands work it into flour mixture until it is well distributed but some butter the size of peas remains. Stir in buttermilk, cranberries and orange zest gently until combined.
Gently work the dough in the bowl a few times just until dough comes together (do not overwork or scones will be tough). Turn out onto a floured surface, knead another 2-3 times and pat out to a 8 inch circle. Place dough on a non-stick baking sheet. Cut into 8 wedges. Brush with melted butter (or buttermilk) and sprinkle with sugar. Bake at 425 degrees for 15 minutes.
Notes
Recipe slightly adapted from Cooking Light, Lighten Up America Cookbook
Questions: Do you make anything different for breakfast on the weekends? Are you a fan of scones?