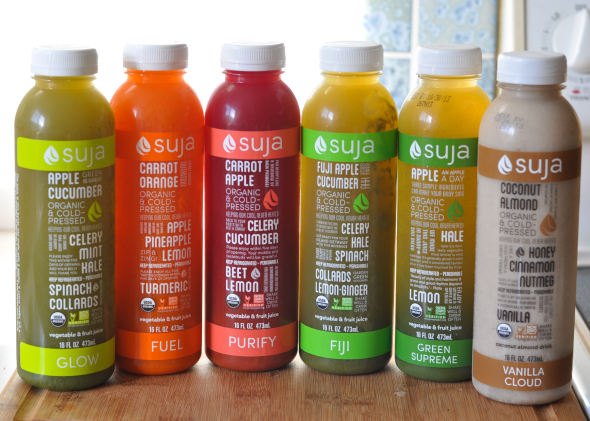 Have you ever done a juice cleanse? Recently I have seen quite the increase in people juicing and doing cleanses and it never really interested me until the IFBC conference back in September where I was introduced to a brand called Suja who sells cold-presses juices and will deliver straight to your door (everywhere in the US). You can buy their juices individually at certain retailers, but they are best known for their cleanses; you can purchase a 1, 3 or 5 day cleanse but of course you don't have to do a cleanse you can just enjoy their delicious juices. As a disclaimer, I received a complimentary 3 day juice cleanse from Suja to redeem after the conference but I was not obligated to write this post. All opinions are completely by own and I wanted to share not only my experience with Suja as well as the benefits of juicing.
The main reason I never wanted to go out and buy a juicer was because I love eating fresh whole fruits and vegetables too much. Plus it takes a good amount of produce to make juice. For example, the average Suja drink contains more than 2 pounds of fruits and vegetables! I already buy crazy amounts of produce weekly for our family of 5 so I figured it wouldn't be in our budget to buy "x" amount more for juicing. There isn't a week where we have leftover fruits and vegetables. It all gets eaten!
However, there are many nutritional benefits of juicing: juicing allows your body to effectively absorb the nutrients, it can help remove toxins from the body, aids in digestion and can boost your immune system. However just because you are juicing doesn't mean you shouldn't be eating whole fruits and vegetables; including both is great. It's important to eat the whole fruits and vegetables to get the benefits of the fiber plus juicing can be high in sugar, even though it's natural sugar.
A juicing cleanse floods your system with powerful nutrients and antioxidants. It can also jump start a weight-loss regimen, although any weight loss during the cleanse will likely be gained back if you go back to eating the way you used to. Juicing cleanses can be beneficial for people with high cholesterol, high blood pressure and those suffering from auto-immune diseases. Before starting any cleanse you should consult with your physician, especially if you have a medical condition.

A little about Suja Juice:
100% Certified Organic & Non-GMO
Cold-pressed to avoid nutrient damage from oxygen and heat
Uses High Pressure Processing which preserves the shelf like and freshness
Can be used as a cleanse program or on occasion for everyday nutrition
Can be found online, at Whole Foods or other natural food stores
All juices are vegan, dairy-free, soy-free and gluten-free
Why chose Suja over juicing at home?
Convenience- lightweight pre-portioned, recyclable bottles are ready for on the go travel, work, gym days, etc.
No mess- no washing, peeling, chopping or cleaning!
Delicious- the blends are all bursting with flavor!
So what was my experience trying Suja juice? Since a one day cleanse of six juices has about 1200 calories, I supplemented when needed with snacks like nuts or 1/2 a sweet potato. I don't recommend cleansing while you are pregnant but since I am a professional I knew I would be able to monitor myself. After day 2, I was done. I need more substance, but I loved the flavor of the juices (well maybe not the very first time trying them, but by the end I REALLY craved them). So after day 2, I decided to take day 3's worth of juice and just use them whenever I felt I needed a healthy snack or meal substitute.
I was seriously SAD when I finished my last juice. After the Holidays (since money is always tight right now) I am going to buy a 3 day cleanse and just enjoy the juices throughout the month. I probably won't be able to do a proper cleanse until well after baby is here and I am done nursing.
Here are the flavors in the 3 day cleanse:
Glow:

 apple, celery, cucumber, spinach, collard greens, kale, mint

Fuel:

carrots, orange, apple, pineapple, lemon, turmeric

Purify:

carrots, apple, celery, cucumber, beets, lemon

Fiji:

apples, celery, cucumber, spinach, collard greens, kale, lemon, ginger

Green Supreme:

apples, kale, lemon

Vanilla Cloud:

coconut meat, honey, almonds, cinnamon, vanilla, nutmeg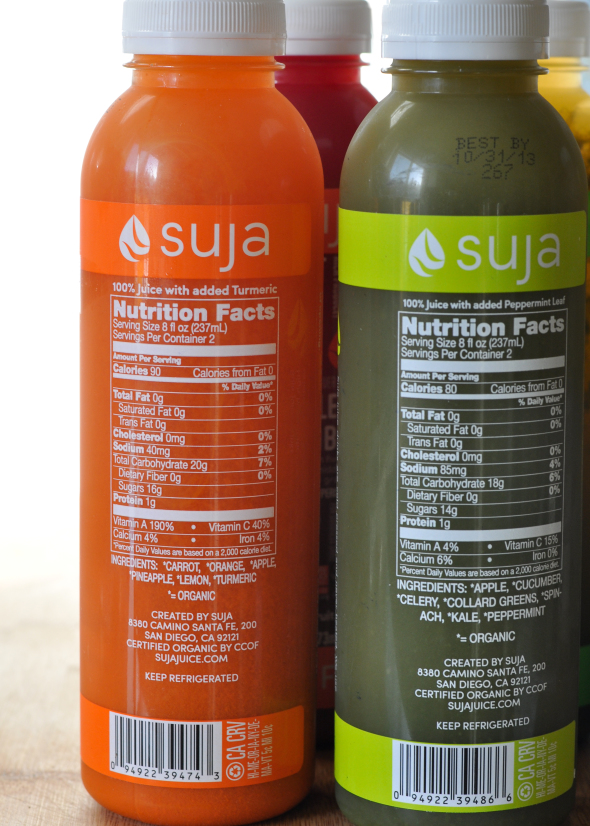 What was my favorite flavor? Hard one! I preferred the green ones over the orange (carrot-based ones). Glow was also one of my favorites and a great way to start the day! I also loved Green Supreme, a simple and sweet combo of kale, apple and lemon.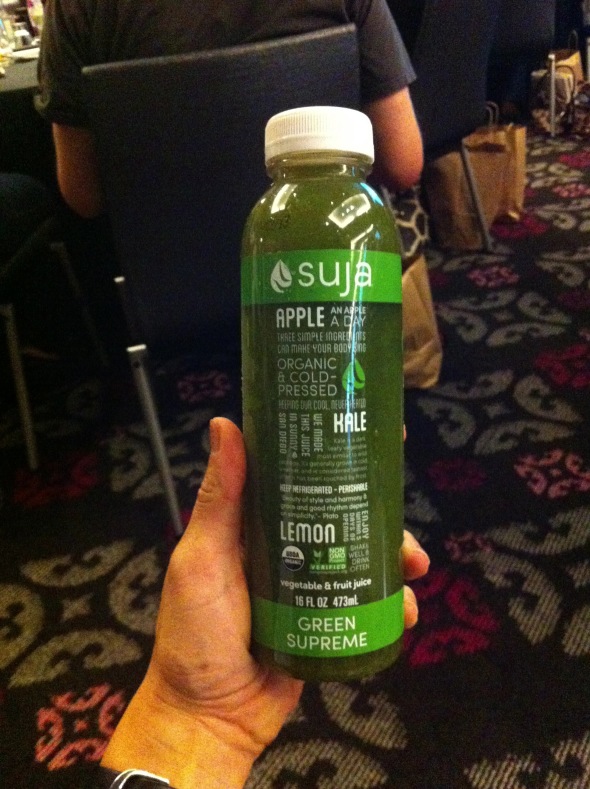 How did I know what to do for the cleanse? If you order these juices for a cleanse, they will tell you how to prep for the cleanse as well as which order to drink the juices: one for breakfast, mid-morning snack, afternoon, mid-afternoon snack, dinner and dessert. Dessert is the Vanilla Cloud drink and really hits the spot after a day of cleansing- coconut, honey, almonds, cinnamon, vanilla, nutmeg and purified water. SO good.
I really can't say enough about how convenient, healthy and delicious Suja juices taste. Like I said, I was not obligated to blog about them or do this giveaway, but after I finished drinking all my juices I realized how much a Nutritious Eats reader would love this too…..so Suja has offered to giveaway a 3-day cleanse to one of you! Yay!
If you have no interest in trying these, PLEASE enter the giveaway anyway and if YOU win you can give the juices to ME. Seriously! It is a $160 value worth of fresh organic juice. Just enter via the Rafflecopter widget below- good luck!!
To learn more about Suja Juice you can follow them on:
GIVEAWAY DETAILS: 
Win a 3-day juice cleanse from Suja Juice (18 bottles of their delicious fresh organic, cold- pressed juice; valued at over $160)
Giveaway open from Friday November 8th until Thursday November 14th at midnight EST. Winner will have 48 hours to contact me or another winner will be chosen! 
Enter via Rafflecopter below! Email me with any questions!