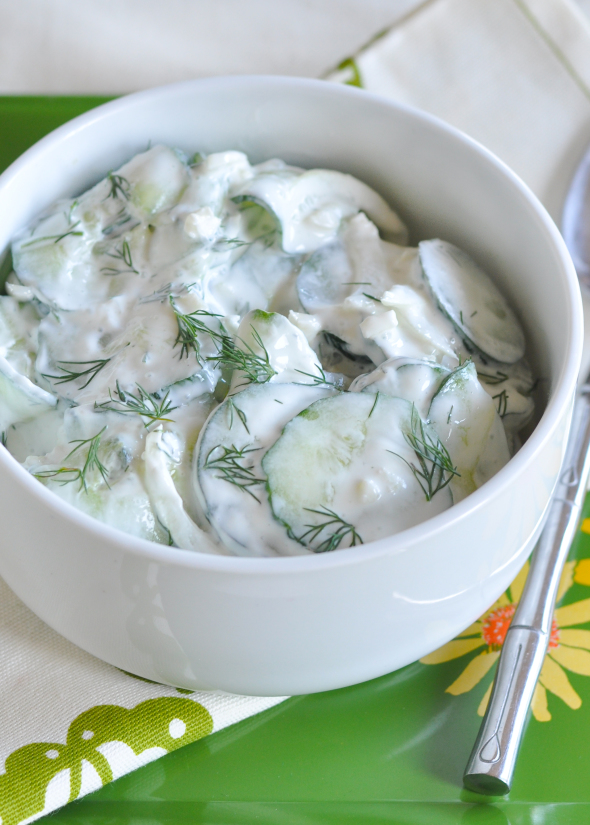 Have I ever mentioned I am a magazine junkie? Well it's true. Over the last couple years I was good and cut back to two cooking magazines. Then I don't know what happened- actually I do. This crazy discount magazine site sent me emails about all the sales they were having I picked up a couple of subscriptions for $3.99 (for a whole year!). I could pass up those deals. Another discount site offered  5 magazine subscriptions for the year for only $19.95. Seriously? I couldn't even buy those magazines at the full retail price one time for that value! I take stuff to our local consignment shop on post so I figured I could always sell them there instead of wasting them.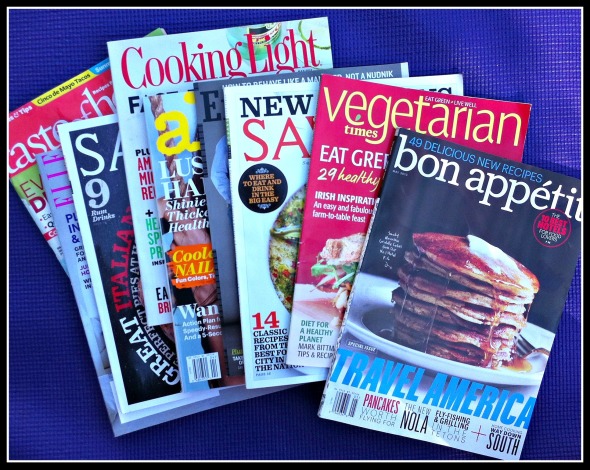 So my point, I am up to my ears in magazines, I will probably never get through them all, but now my mission is to try at least one recipe per week from my cooking magazines. I saw this cucumber salad recipe from Taste of Home and let me just say this isn't really something that wouldn't normally appeal to me. Although I like dill, it's not my favorite herb and I typically don't make a lot of creamy based salads. So I don't know what it was about this salad- it just looked refreshing. Plus cucumber salad just screams Spring.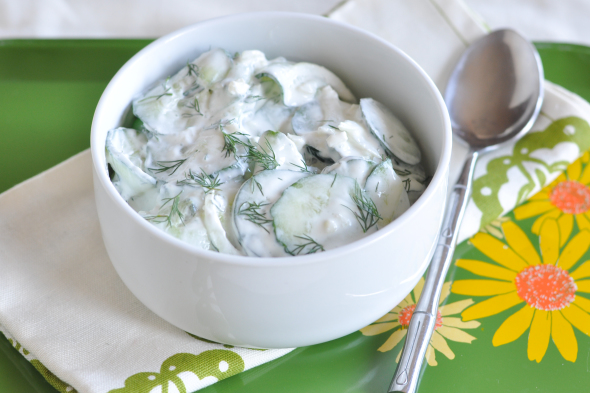 I really like the fresh garlic and dill in there- kind of reminds you of tzatziki sauce. When a recipe calls for sour cream, I usually sub at least half plain Greek yogurt, but I just happened to be out of it and had a new container of sour cream (although I did use less than the original recipe called for). Not complaining though- it was good! I had to sub yellow onion for the red onion because I didn't have any, but I do think I'd prefer it with red onion for a little color and it's sweeter, milder flavor. After the cucumbers have time to sit and let their flavors marry with the other ingredients, they continue to lose some of their water content and the dressing becomes a little thiner.
I am so glad I made it! Not only was it easy, but it would go great with a variety of dishes. I served it with our grilled salmon which was a great combo (you could even put it directly on top of the fish like a sauce), I also piled it on a leftover falafel burger (from my freezer)- yum, yum!
Now before you go giving the cucumber a hard time because of it's nutritional profile, know that like all other fruits and vegetables, it does have health benefits:
low in calories
good for digestion
acts as a cleansing agent for the body
high water content
high in a compound called sterols which keep cholesterol low (highest concentration found in the skin)
So you see there, it does offer nutritional benefits and combined with some onion and garlic you are getting some antioxidants from those components. Not bad for less than a hundred calories per serving.
I will definitely make this again. It's always good to try something new!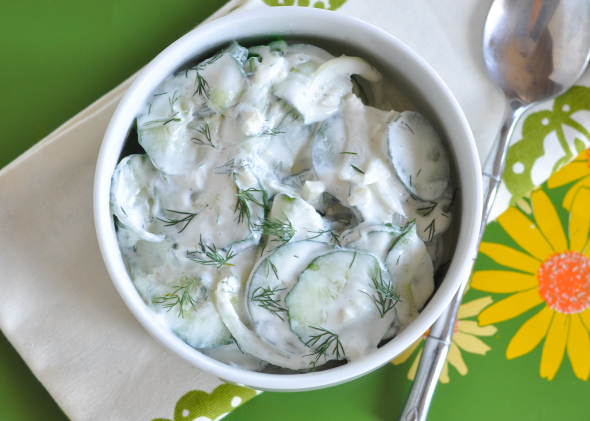 Creamy Dill Cucumber Salad
Ingredients
2 English cucumbers, thinly sliced
¾ teaspoon salt
1 cup sour cream
2 Tablespoons apple cider vinegar
¼ cup thinly sliced red onion
2 cloves garlic, minced
¼ cup fresh dill, chopped
Freshly grated black pepper
Instructions
Place cucumber slices in a colander over a bowl and sprinkle with salt and toss, let sit for ~20 minutes or until they lose some of their water. Remove cucumbers, squeeze and blot dry with paper towels.
In a large bowl, mix sour cream and vinegar until combined. Stir in red onion, garlic and dill. Add cucumbers and stir to combine. Season with black pepper to taste (optional). Refrigerate, covered, at least 1 hour before serving.
Notes
Recipe adapted from Taste of Home, March 2013
Questions: Do you collect magazines too? What's your favorite herb? Are you having spring weather? Are you ready for lots of salad recipes? I've got another coming up!