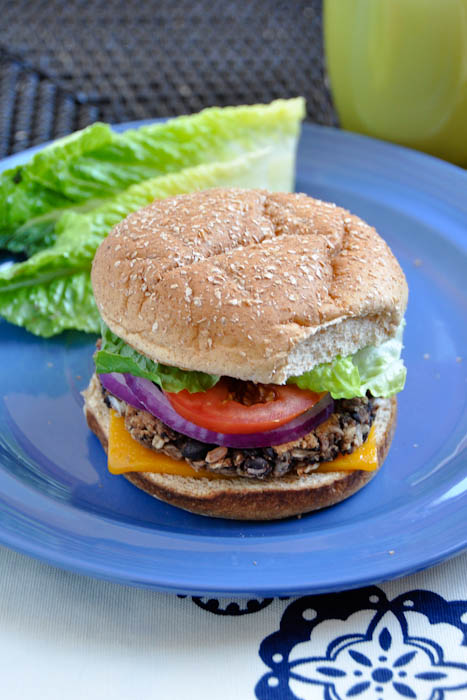 "Beans, beans, they're good for your heart…"
Sorry, I can't not think of that song when talking about beans.
I don't eat a ton of veggie burgers, but I do really like them. Like I've said time and time again, I am always trying to make stuff from scratch to cut down on unnecessary preservatives, but this was a first for me. I found a recipe for black bean burgers in a new vegetarian cookbook I bought and thought I'd give it a try. Wow- they were surprisingly simple and very tasty. With high fiber beans, veggies and oats, you can feel very good about eating these. The best part is I had everything on hand in my pantry/fridge except for the fresh mushrooms. Love when that happens!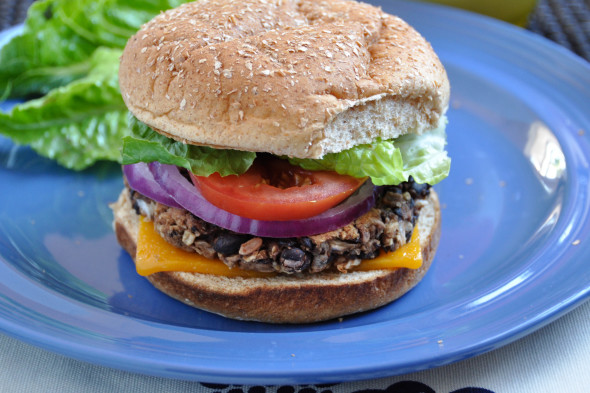 The only change I made to the recipe was using wheat germ instead of nutritional yeast. And since these are made without eggs, they are a great vegan meal (just have to buy the vegan Worcestershire sauce since the regular is made with anchovies).
I tried two cooking methods- baking the patties in the oven and pan "frying" them in cooking spray. I even tried one in the skillet with a touch of olive oil and it didn't taste any different so it's your call how you want to cook these. I preferred the baking method because 1) I didn't have to babysit the stove top. 2) They were just a little firmer in the middle of the patty when cooked in the oven. The benefit to the stove top method is the burgers cook in half the time. However, since my kids are usually hanging on my legs around dinner time, I prefer to avoid standing near the stove for 12-14 minutes.
Next time I will try using dried beans (cooked first with the crock pot). I wanted to make sure the canned version wasn't going to fall apart and they didn't! Held together perfectly! My kids were less than thrilled with these, but with all the cumin I get that they are a new flavor. I am trying to get away from offering "special" items for the kids so they forced down a few bites and everybody lived! Shocking I know. In fact, I think my son secretly liked them.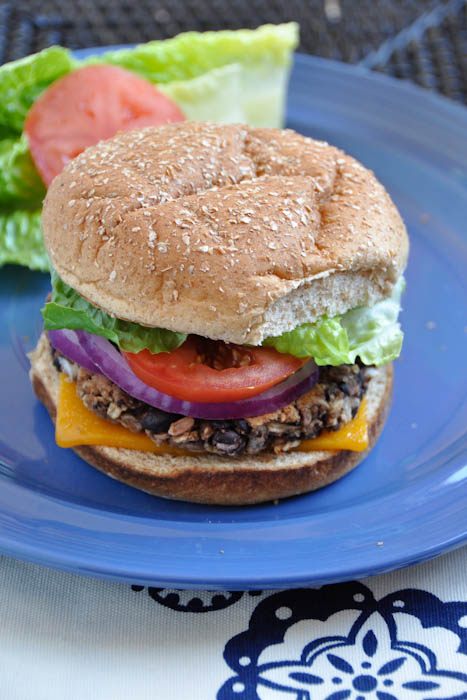 Here is the recipe. Enjoy!
[print_this]
Black Bean Burgers
1 (14 ounce can) black beans, washed & drained
1/2 cup old-fashioned oats
1/2 cup chopped fresh mushrooms
1/3 cup finely diced onions
2 teaspoons reduced-sodium soy sauce
2 teaspoons Worcestershire
1/2 teaspoon salt
2 teaspoons cumin
1 1/2 teaspoons lemon juice
1 1/2 teaspoons garlic, minced
1 Tablespoon tahini
1 Tablespoon wheat germ
DIRECTIONS:
1. Place drained, rinsed beans in a medium sized bowl. Mash with a fork until chunky consistency.
2. Place oats in a blender of mini food processor and blend to a coarse powder. Add to bowl of black beans.
3. Add remaining ingredients (mushrooms through wheat germ) into bean/oat mixture and stir until well to combine. Pat down mixture with spoon and refrigerate at least 30 minutes to let chill and allow flavors to meld together.
4. Preheat oven to 350 OR preheat a large skillet depending on how you want to cook them. Using your hands divide black bean mix into 4 sections. Form burger and place on cookie sheet to bake 15 minutes per side at 350 degrees. As an alternative you can pan fry in cooking spray or olive oil 6-7 minutes per side on medium-high heat (turn down to medium-low for second side if getting too brown). Serve on whole wheat buns with all the fixins. Yield: 4 burgers.
COOK'S NOTES: I made my bean mixture at lunch and refrigerated for 5 hours until dinner time; point being you can make this ahead.
Recipe slightly adapted from Peas and Thank You Cookbook
[/print_this]