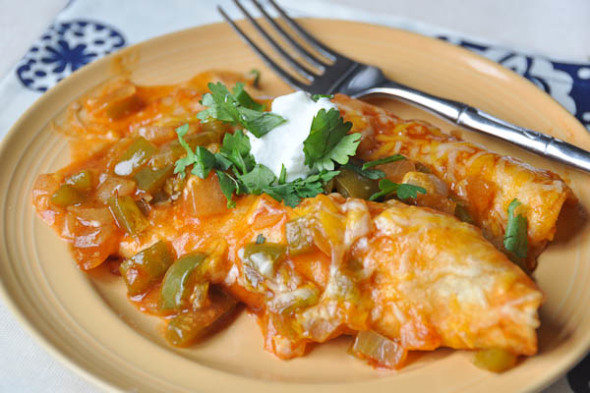 I made these enchiladas in 10 minutes the other day….and then they baked while I cleaned up. Cooking something like enchiladas isn't my norm for a typical weekday lunch, but I was sooo tired of sandwiches and salads that I've been eating so much of since we moved from Missouri. I had unpacked several boxes in my kitchen and was so compelled to cook….something…anything. I wanted hot food and I wanted to blog about it.
I looked around and saw what I had to work with and whipped these up in no time.  Whenever I buy a rotisserie chicken I shred it within the first day or two so that I have it ready for whatever recipe I use it in- great time-saving tip! The funny thing is they were way better than some enchiladas I've spent much longer on. Maybe it really was what I was craving, but either way, I think this recipe is a keeper.
The "medium" spiced can of enchilada sauce combined with the chipotle chili powder offers a nice heat without being too spicy. However, I knew because of the spice my kids wouldn't like them…heck my kids don't like enchiladas period. That's why I made a small portion for me and the hubs and I made them the way I like them, with a little kick. You might want to try "mild" sauce if your little ones are going to eat these.
Sometimes it's nice just making a dish all to yourself. Enjoy this small portion of easy enchiladas! I am making them again this week in vegetarian version so stay tuned on whether or not those are a hit too.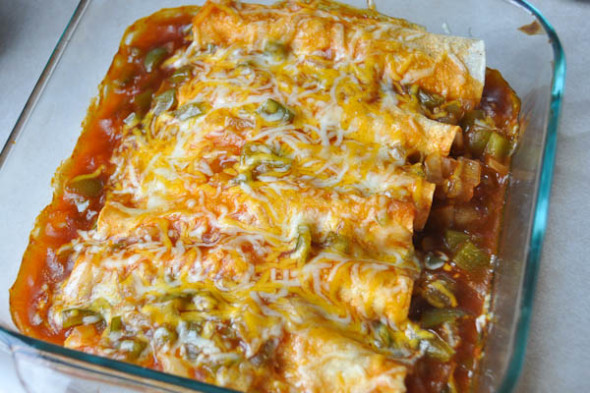 These are the spices you'll need. I had to laugh when I saw the miniscule amount of coriander…I mean I really needed to pack that to travel 2,500 miles right?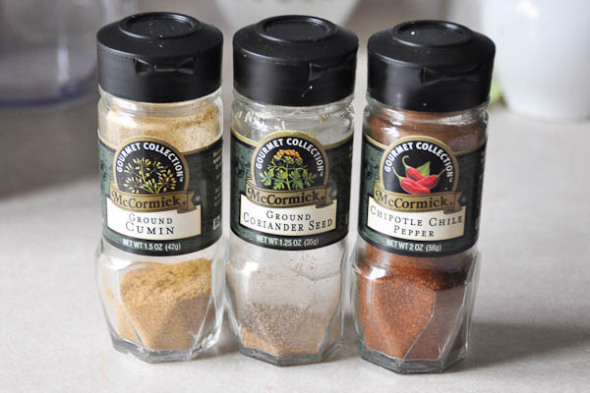 I am excited to have these again soon!
I really enjoyed having the hubby home for a couple extra days of this long holiday weekend. Hope you enjoyed your Memorial Day weekend. It's a special day that means much more than just a day off to drink beer and eat hot dogs. God bless the families who lost loved ones defending our great nation. I am proud to be married to a brave man serving our country and honor those we've lost.
Here is my meal plan for the week:
Sunday
Tortilla Pizzas, Salad
Monday
Vegetarian Enchiladas (vegetarian)
Tuesday
Mini Meatballs with Pasta Bake (both of these recipes incorporate veggies), Berry, Walnut & Avocado Salad
Wednesday
Leftovers
Thursday
Tofu Scramble Tacos with Avocado & Salsa (Vegan)
Friday
Southwestern Egg Rolls (got bumped from last week), Other appetizers- cheese, hummus, crackers and veggies (vegetarian)
Saturday
Grilled Chicken Bruschetta, Veggie Shish-kebobs
Join me in planning. I love to hear from you!!
Easy Chicken Enchiladas for Two
Ingredients
1 teaspoon olive oil
¾ cup chopped green bell pepper (1 medium)
¾ cup chopped onion (~1/2 onion)
1 (10 oz) can red enchilada sauce- medium spice, such as Old El Paso
1½ cup shredded cooked chicken (such as a rotisserie)
¾ cup shredded cheese such as colby & monterrey blend (or cheddar)
½ teaspoon ground cumin
¼ teaspoon coriander
¼ teaspoon chipotle chili powder
6 corn torillas
Chopped cilantro
Reduced fat sour cream
Instructions
Preheat oven to 375 degrees. Coat 8x8 glass dish with cooking spray and set aside.
In a large nonstick skillet, heat one teaspoon olive oil on medium-high heat. Add chopped bell peppers and onions and saute for ~5 minutes or until softened. Add can of enchilada sauce, bring to a boil and turn down to simmer while you assemble enchiladas.
Mix shredded chicken, ½ cup of shredded cheese and spices in small bowl. Soften corn tortillas in microwave a few at a time for about 10-15 seconds. Spoon ¼ cup chicken mixture down the middle of tortilla, tightly roll up and place seam side down in prepared dish. Pour sauce evenly over enchiladas and top with remaining ¼ cup of cheese. Bake for 15 minutes until bubbly is cheese is melted. Serve with sour cream and chopped cilantro.