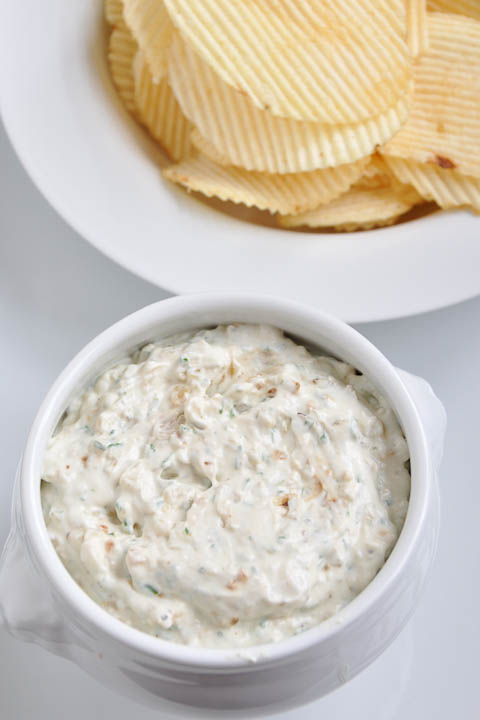 Some of my favorite foods to have around the house during the Holidays are Ruffles and onion dip- in the past it was store-bought onion dip or even just plain light sour cream. It's weird, but for some reason I associate it with this time of year. It's not exactly what I'd serve guests but I love pulling out the leftover ham and making a sandwich along with my chips & dip. When I saw this recipe posted on someones pinterest account I knew I'd love it.
Just in time for the Holidays this super easy dip is definitely guest-worthy…a big step up from the sour cream mixed with Lipton soup mix. It's also super easy to make. Not too many ingredients involved and it can be made a day or two ahead.
You can't beat using fresh ingredients like onion and chives instead of the pre-packed dips which use dehydrated, salty mixtures of vegetables and spices. You're using a good amount of onion so you can feel better about making this homemade dip. Using the light sour cream reduces the overall fat (and saturated fat) content. Have you ever tried the reduced fat Ruffles? They are my favorite….not that they are super low in fat, but I just like them better because they are just less greasy than the full-fat variety. This would also be nice paired with some raw veggies for dipping.
To make it, all you do is caramelized some onions with garlic. Then mix in the food processor with fresh chives, sour cream and goat cheese. Delicious! If you're looking for a simple dip to go along with your Holiday appetizer spread, I'd totally recommend this one. Enjoy!
(P.S. a white dip doesn't exactly photograph beautifully but trust me it's good)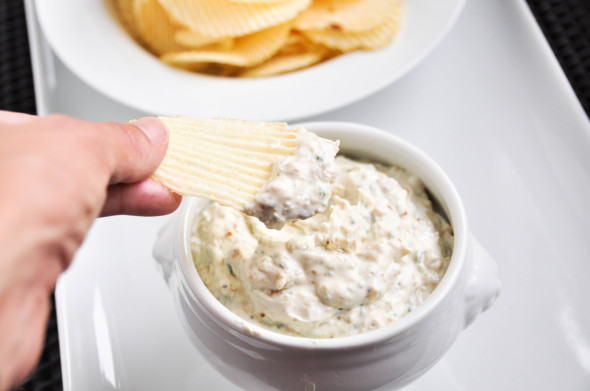 [print_this]
Homemade Onion Dip
INGREDIENTS:
1 Tablespoon olive oil
1 medium onion, diced (about 2 cups)
1 garlic clove, minced
1 cup reduced-fat sour cream
4 ounces plain goat cheese
1/4 cup chopped fresh chives
salt
pepper
DIRECTIONS:
1. Set your skillet on medium-low heat. Add 1 Tablespoon olive oil, diced onions and garlic. Season with salt & pepper. Saute until brown and caramelized, about 20 minutes. Remove from heat and set aside to cool a bit.
2. In a food processor add your chopped chives, sour cream and goat cheese. Pulse about 10 times. Taste and season with salt & pepper to your liking. Pulse again to combine seasoning. Store in air-tight container for up to 2 days before serving. Serve with crudites or potato chips.
COOK'S NOTES: If you don't like the taste of goat cheese, substitute 1/2 cup of reduced fat cream cheese in it's place.
Recipe from Kate Ramos via Chow
[/print_this]