The weekend is here! I am super excited because my hubby has been out of town all week and it's always extra exhausting taking care of 3 young children solo. I feel for you single parents out there. I will be handing off the kids first thing Saturday morning when I plan on getting a good long run in and go for a haircut! Thrilled for both actually!
As I've mentioned before, it's hard to make it to a gym when you've got several young children so I love to share at-home workouts or ones that you can do on a lunch break if you work. When I worked a few years ago, I never took a real lunch break but instead changed into my workout clothes and either went for a run or found a spot to exercise (luckily several of my previous jobs had small hotel size gyms on location). I would usually eat on a quick break either before or after my actual "lunch break". This worked fabulously for me.
I always felt way more energized when I returned to work that it was so worth the effort.
If you are one that sweats a lot, just pack a towel for your sponge bath and bring along some body spray or perfume. It's really not that big of deal. Believe me I've heard that excuse one too many times! Unless you are giving a very important presentation you will be just fine! Sweat dries! 😉
So here is another no-equipment needed workout. My favorite kind! I suggest you start a pin board so when you are working or have some free time at home you will have some to choose from!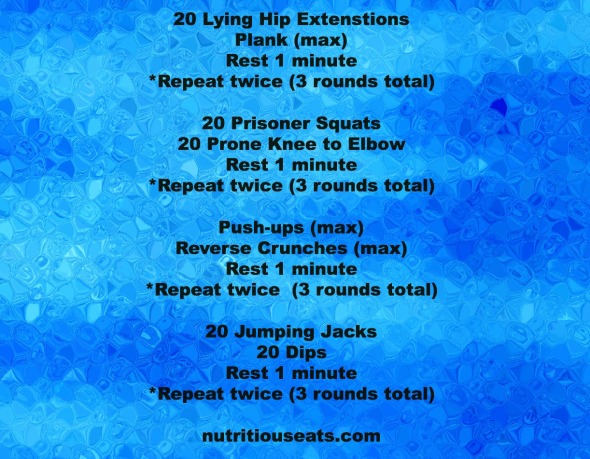 I am also sharing some additional no-equipment needed workouts from some fellow health bloggers. Go check out their lovely sites and PIN or bookmark those workouts. You will thank me later!
Hotel Workout from Love, Life, Surf– if you can do it in your hotel room, you can do it anywhere! Go check out how she balances work, life, fitness and family!
BW20 (as in body weight) from The Lean Green Bean– a soon-to-be RD and fitness enthusiast like me who posts some fabulous workouts!
Park-Play Workout from Aspire Fitness– this is fabulous for you moms who need to balance exercise with kids. I love multi-tasking (play with your kids and exercise!) and your kids will enjoy it too!
No-equipment Workout from Eat Spin Run Repeat– check out this blog every Friday in November for a new no-equipment needed workout! Love this!
CrossFit Modified from Run Run Mom– she takes a CrossFit workout and modifies it to do at home. Perfect, wouldn't you agree?
So there you have it- SIX new no-equipment needed workouts. I know I am pinning all these!
P.S. I suggest you google any exercise you are not familiar with and watch an instructional YouTube video first.
More to come on this on my next installment of Fitness Fridays! Have a fabulous weekend everyone!