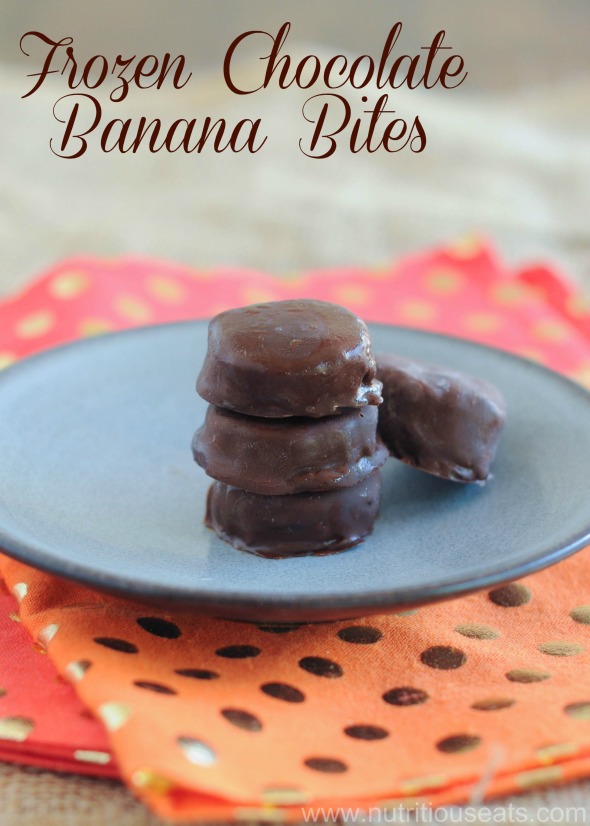 People love to talk about the weather. It's just part of human DNA. We also like to complain about the weather. You know we all do it.
I was running today with baby E in the stroller and I checked the weather channel and it said it was 85 degrees at the time. I ran and boy was it hot.
Then I recalled the days I lived in Texas and ran in much hotter temps, but I am simply not used to them now. On the other hand I hate running when it's too cold. If it's under 60 degrees I want no part of it. It seems like when it's summer I am longing for the fall and when it's winter I am eager for summer.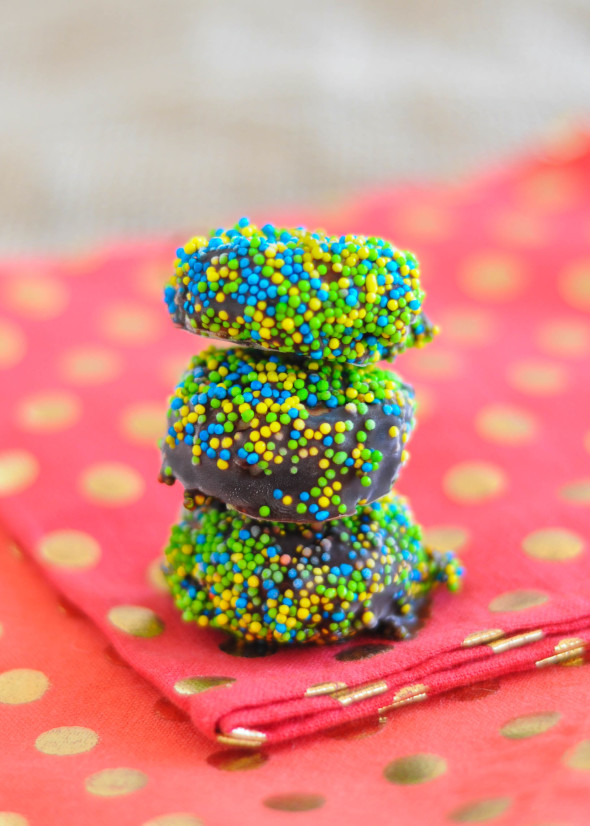 Whatever the case, the fact is the high was 95 degrees yesterday and for the most part of us here in Washington state, we are not used to those hot temps. Most of the homes don't have A/Cs and we only have ONE ceiling fan in the whole house. How ridiculous is that?
I thought these simple frozen banana bites would be the perfect thing to cool us off. Of course I had to throw in some chocolate to make them even better.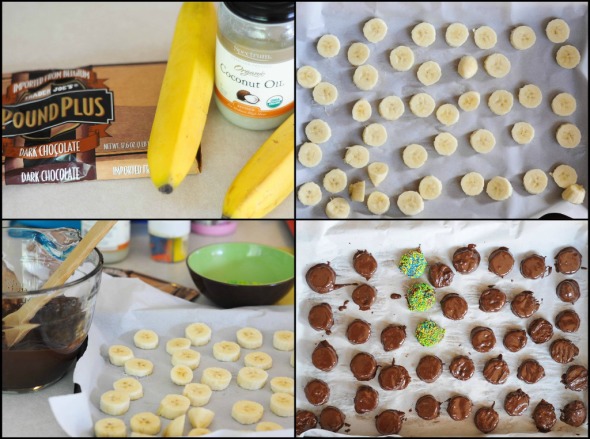 These couldn't be easier to make- melt chocolate (preferably use a good quality chocolate like this super rich dark chocolate from Trader Joe's..yum!) with a little coconut oil in the microwave until melted. Dip banana slices into the chocolate until covered. Place on a cookie sheet and freeze until solid. Keep them stored in the freezer for a quick treat when you need one!
As you can see I wanted to test out the sprinkles but didn't have the extra time to commit to doing more. I think they woul be perfect for a party and you could customize the color of your sprinkles depending on your theme. You could also roll them in any other topping you want like crushed nuts or coconut. Me, I like to keep it simple and leave them plain.
And don't worry if you're not a banana fan, you could try a variety of other fruits- strawberries, kiwi slices, mango, etc.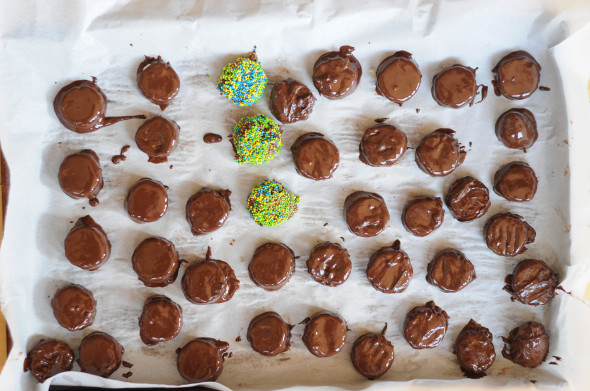 If it's hot where you are, you might want to stock your freezer with these!
Frozen Chocolate Banana Bites
Ingredients
3 large bananas
8 ounces dark chocolate
2 Tablespoons coconut oil (I use refined because it's more neutral tasting or any neutral tasting oil)
sprinkles, nuts, shredded coconut (optional for toppings)
Instructions
Slice banana into bite pieces.
Put chocolate and coconut oil in microwave safe bowl. Cook for about ~1½ minutes, stirring halfway. Remove from microwave and continue stirring until chocolate is smooth.
Drop bite size banana pieces, a few at a time, into melted chocolate. Using two forks gently roll in chocolate, lifting up banana bite when covered, letting excess chocolate drip off. Transfer to a parchment lined baking sheet.
Continue until all banana bites are coated. Place cookie sheet into the freezer until set and then transfer to an airtight container and keep in the freezer. Enjoy!
Questions: Do you snack on frozen fruit? Chocolate- yay or nay? What's your "go to" healthy treat?