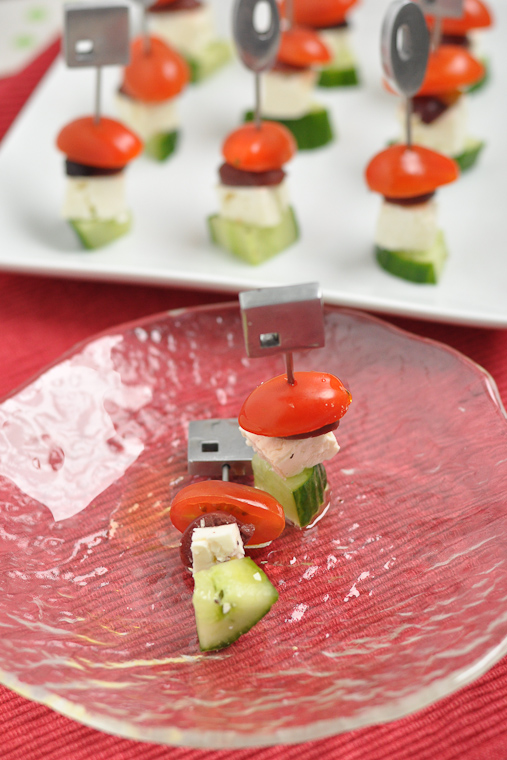 One of the things I will miss most about moving is our monthly Bunco group. It's such fun girls night out and so convenient because most of us live on post so we aren't driving more than a few miles. We each bring a dish to share, booze and a $10 gift to exchange after we are done playing. Hopefully I will find a new group in Seattle because I love it!
Anyway, I was stumped for our last potluck until I realized I had so many things to use from the pantry- I went with my ultra-rich, fudge brownies and decided to balance it out with something a little healthier. I had tomatoes, an english cucumber, feta and olives (which are all staples in my house except for the cucumber). I thought a fun appetizer would be perfect so I cut everything up and skewered it onto toothpicks. Then drizzled the salad bites with a little olive oil, lemon juice and black pepper. Easy and yummy.
These little Greek salad appetizers are perfect for a party, game day, potluck, etc. They can be made several hours ahead. I just waited until the hour before to dress them with the oil and lemon juice. No skill required here- just cut and skewer!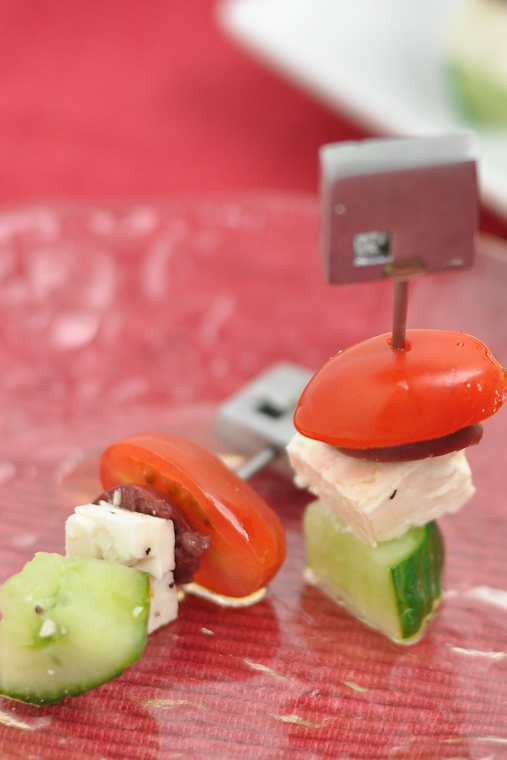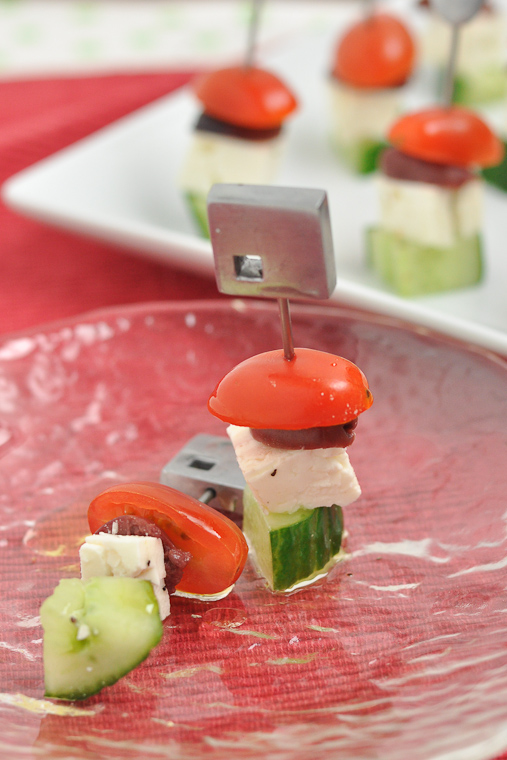 Don't have fancy party toothpicks? Regular ones work just great…see!? This is the part you can do ahead of time, just assemble and store in the refrigerator covered with plastic wrap. Then just "dress" them before serving.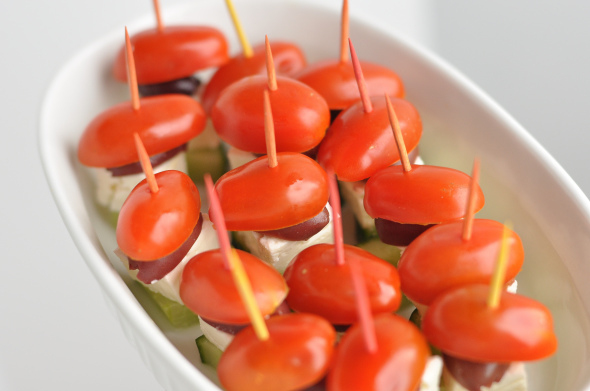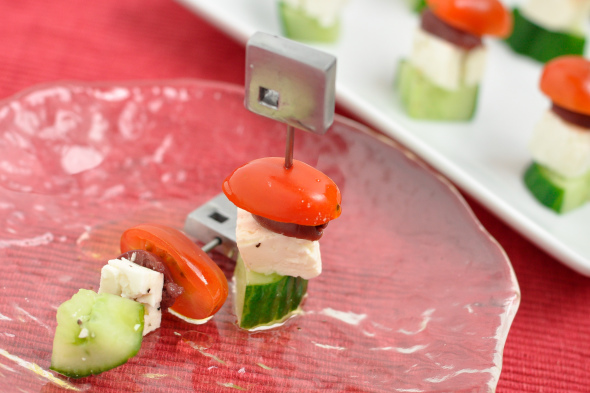 Greek Salad Bites
Serves:
12-16 salad bites (2-3 bites per person)
Ingredients
½ English cucumber, washed, cut (see directions)
8 ounce block feta cheese, cut into slices, then ½ inch cubes
1 pint cherry tomatoes, halved
~20 pitted kalamata olives, halved
1 lemon wedge (1/4 of a small lemon)
1-2 Tablespoons extra virgin olive oilBlack pepper
Instructions
Cut your cucumber into thick round slices. Then cut each slice into quarters. Use wooden or party toothpicks, skewer one half tomato, one half olive, one square feta cheese and one piece cucumber.
When ready to serve, season with a little black pepper, a drizzle of olive oil and lemon juice. Yield: 35 to 40 bites.
Notes
You will probably end up with a little leftover cheese and tomatoes. You can keep making them until all ingredients are gone.
Question: What is your favorite (EASY) potluck dish?