It's Recipe Redux time! This is my second month participating and I love the theme for this month:
Grab a Book & Cook
It's the end of the year and we'll taking a moment to reflect: ReDux has been around for 42 months! (Can you believe some of you have ReDux-ed 42 recipes?) To celebrate, we're playing a little party game this month: Grab your nearest cookbook and ReDux the recipe on page 42 or 142. We can't wait to see the books you're cooking from these days – and how you make that recipe healthier.

My house is full of little piles of cookbooks and cooking magazines spread throughout- in the office, by my bedside, in the kitchen, in the pantry. It's kind of a problem, but I think I just like to be surrounded by them. I don't know how I used to have time to look at them, but lately they've just been collecting dust. So I picked up one of them that I have never used before, For The Love of Salad by Jeanelle Mitchell!
I bought it a couple years ago at Anthropologie because I am a sucker for cookbooks and being such a huge salad lover I just though the book was wonderful. I am so glad this challenged forced me to make something from it.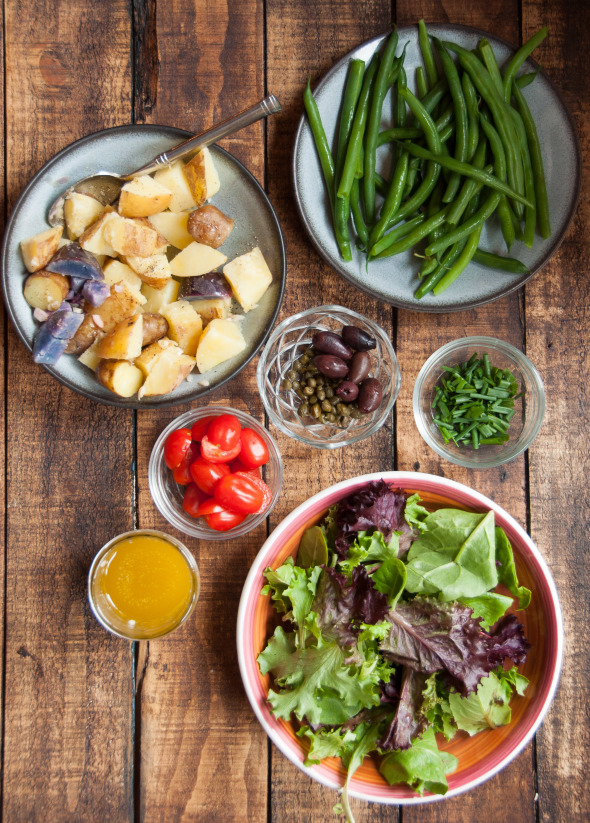 So on page 142 is Grilled Tuna Nicoise. The hubby and I love to eat sushi over the weekend so I thought this was a perfect substitute. It's been ages since I've bought fresh tuna. The stuff isn't cheap so you could definitely use canned tuna if you needed to.
Healthy omega-3 fat and protein from the tuna and egg, and lots of fiber in all those veggies and potatoes. This is soooooo my kind of salad.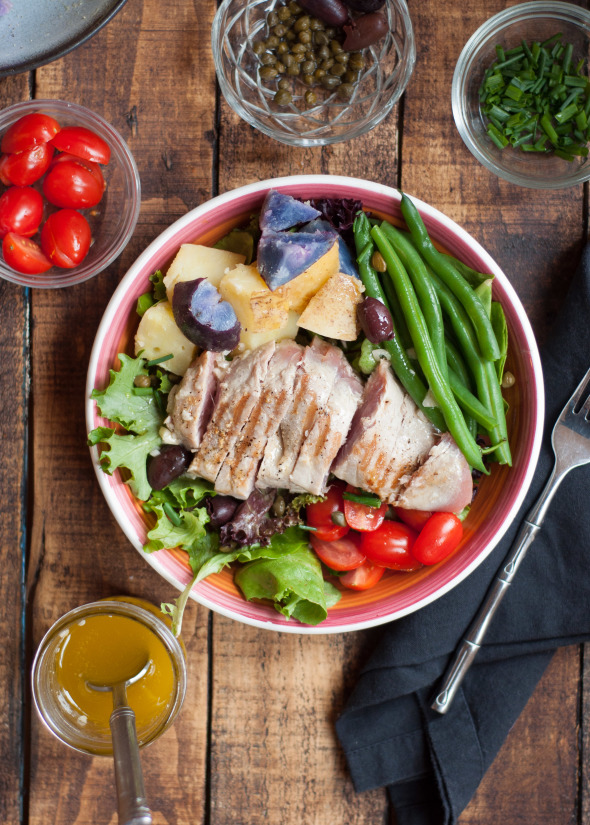 The salad dressing in this recipe is almost exactly how I make mine. Tart Dijon, oil and vinegar, shallots and garlic. So simple and good!
One thing that is missing from these pictures is the hard boiled egg…. because I am a mess and remembered exactly one second after I had started to put away the photo set and the dark clouds started to roll in. I immediately added it to my salad and ate it. It's such a great addition.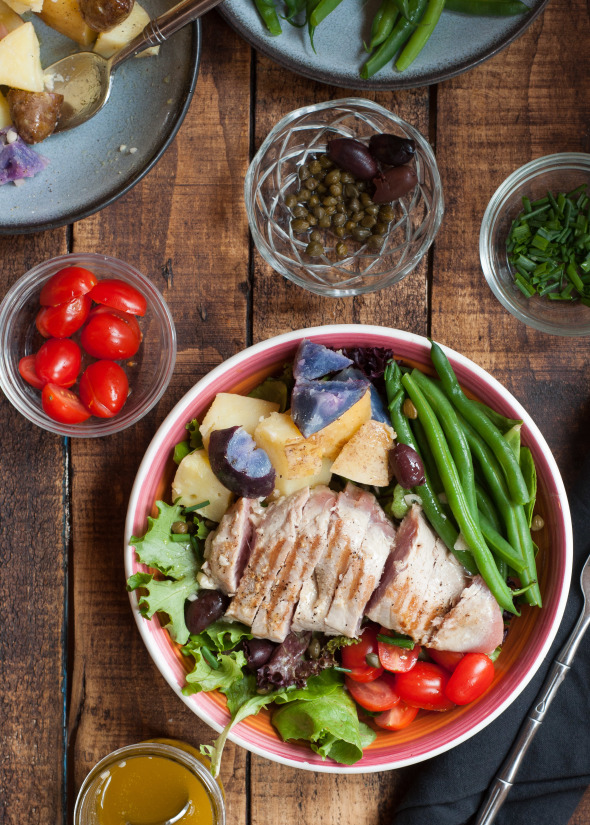 And as I am writing this I am realizing the the point of recipe redux is to make over recipes into healthier options, but this was already a healthy recipe. Oops.
The original recipe calls for red potatoes, asparagus instead of green beans and uses some fresh tarragon in the dressing (which would be a great addition, but not an herb I usually have on hand). I also changed all the vegetable measurements so that we were getting double the amount of vegetables than what it called for…..so I guess I did make it healthier. 😉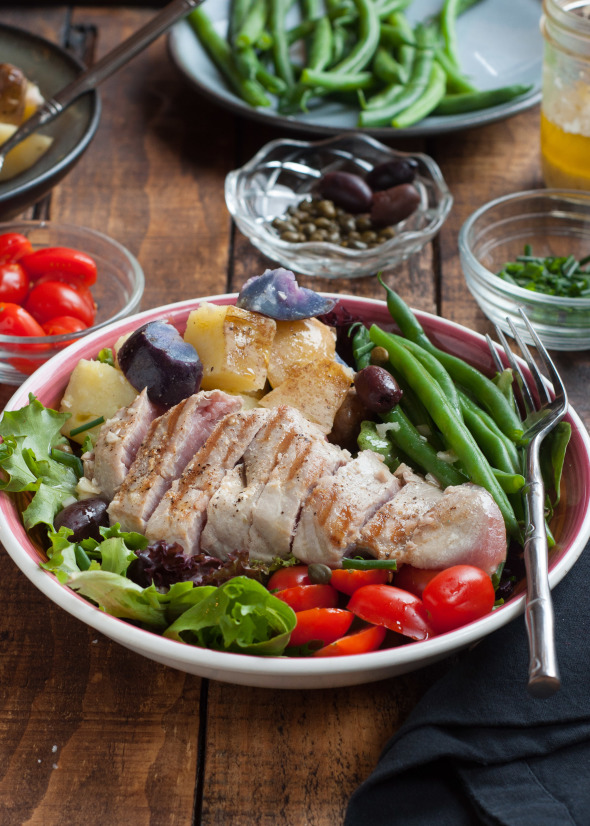 This is such a fun salad to make for friends too, you can make a lot of it ahead of time- the green beans, the potatoes and have everything ready to set out on the table. Then just sear the tuna which just takes a few minutes and let everyone assemble their own.
But don't forget the eggs!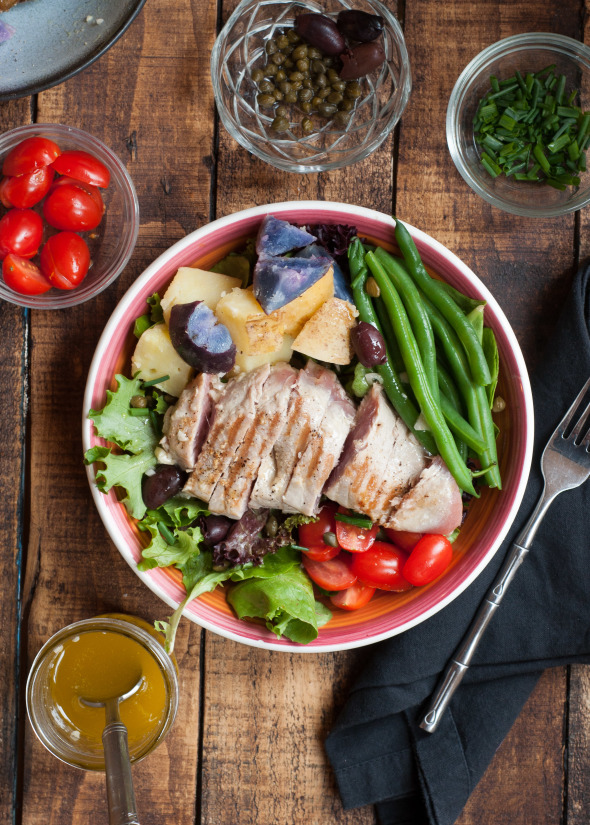 Grilled Tuna Nicoise
simple and delicious, the classic French Tuna Nicoise is easy to make and fun to eat!
Author:
Melanie F. | Nutritious Eats
Ingredients
1 lb fresh green beans, trimmed
8 small potatoes (~3/4 pound), halved (purple, white or red)
1 lb Ahi tuna steak
4-5 cups mixed baby greens
2 hard-boiled eggs, peeled and chopped
½ cup halved cherry or grape tomatoes
2 Tablespoons chives, chopped
1 Tablespoons capers, drained
8 oil-cured black olives, such as Kalamata
salt and freshly ground cracked black pepper
For the dressing
1 teaspoon Dijon mustard
2 garlic cloves, minced
2 tablespoons finely chopped shallots
3 Tablespoons fresh lemon juice
⅓ cup olive oil
Salt, pepper
Pinch of sugar
Instructions
To make dressing, combine dijon, garlic, shallots, lemon juice in a bowl. Whisk together. Slowly add olive oil and continue whisking until emulsified. Add a pinch of sugar, salt and pepper.
Cook green beans in a pot of boiling salted water for three minutes or until tender but firm. Drain green beans and place in a bowl ice water. Drain again and set aside.
Place potatoes in a large saucepan. Add enough water to cover by 1 inch. Bring to a boil and cook until potatoes are tender, 8 to 10 minutes. Drain. Let cool for a few minutes then add 1-2 tablespoons of the dressing while the potatoes are still warm toss to coat season with salt and pepper to taste.
Grease a indoor grill pan or outside barbecue grill with a little olive oil and pre-heat to medium high heat. Season tuna with salt and lots of freshly ground black pepper and grill approximately two minutes per side or until done to your preference; cut into thick slices.
To serve, divide mixed greens on 2 plates and arrange green beans, potatoes, eggs, tomatoes, chives, capers and olives decoratively on top. Place tuna slices in the center of each salad and drizzle with dressing and more cracked black pepper.
Notes
Make sure to season each component of the salad with salt and black pepper. The tuna is especially good with a lot of freshly ground cracked black pepper. You might end up with a little leftover potatoes, green beans and/or dressing.



Recipe adapted from For the Love of Salads: Jeanelle Mitchell
Guys, I can't believe it's almost Christmas. If I don't get a post up mid-week I want to wish you all a very Merry Christmas! XO