A hearty vegetable sandwich goes down as one of my top favorite sandwiches ever. There is so much you can do with the flavors in terms of seasoning, fresh herbs, dressing, etc.
This one has grilled eggplant, zucchini, bell pepper and red onion and fresh tomato, basil and arugula. Then the amazing yogurt dressing paired with the pesto. Oh goodness, this is a keeper.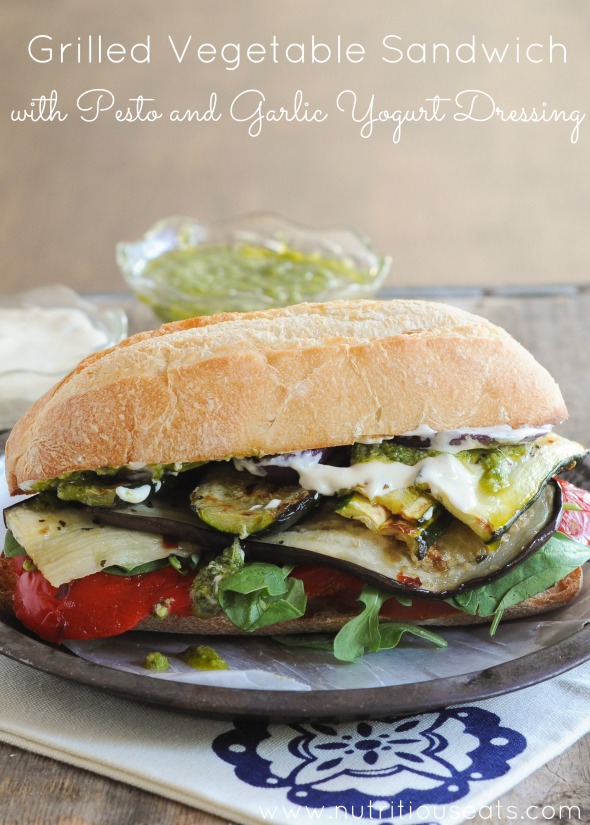 Remember when I shared my Hawaii photos? I told you about this amazing veggie sandwich that I had at a little cafe there.  Well mine is different but equally delicious.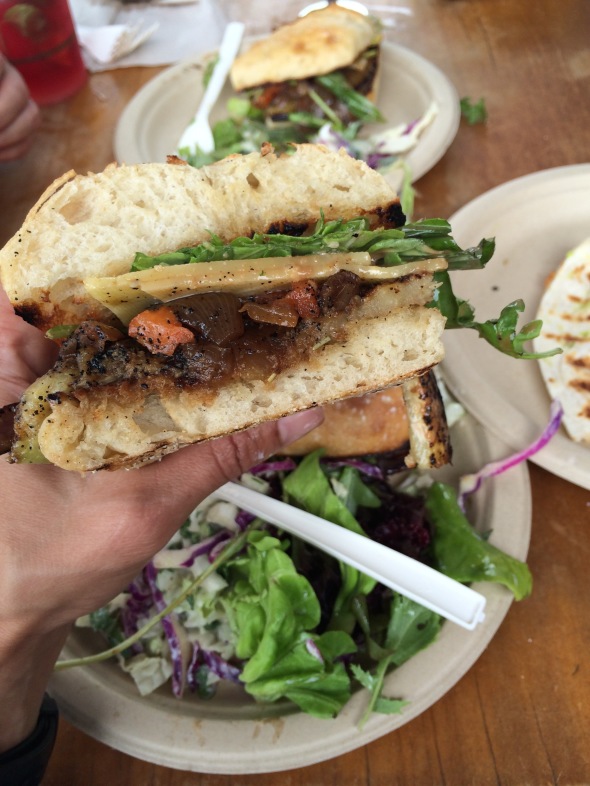 As soon as I saw what was in my CSA box, I knew it was time to make my grilled vegetable sandwich. I used the broiler, but this would be great and easy on the outdoor grill too.
It takes a little time to prep all the ingredients for this sandwich but it's so worth it. Plus it makes a lot of veggies so it makes a wonderful leftover meal.
Although I rarely eat a big ol' baguette, I just had to get some for this sandwich. There is so much filling that I am not sure if sliced bread could hold it (but it would be worth the try).
Here is a peak inside the sandwich before adding the pesto and dressing.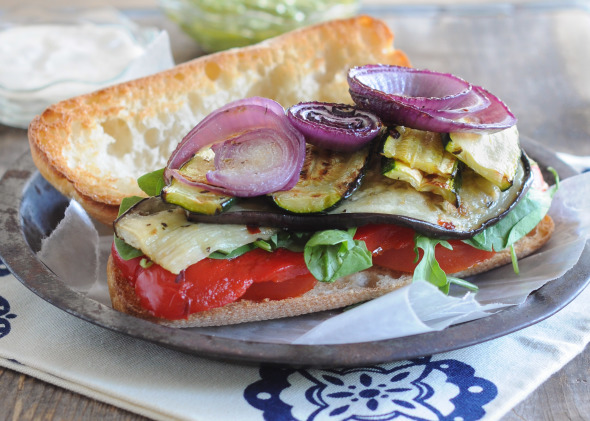 Then the hubs came home early as I was finishing up my photo shoot and he had to mark his approval.
This is a messy, stuff dripping down your fingers type of sandwich. Soooooo good. The yogurt sauce has garlic and shallots and a little Dijon. And since I can't get enough of the pesto from Coscto (Kirkland brand) I had to slater that on, but any pesto would do. Or you could just use the yogurt sauce.
It would still be great!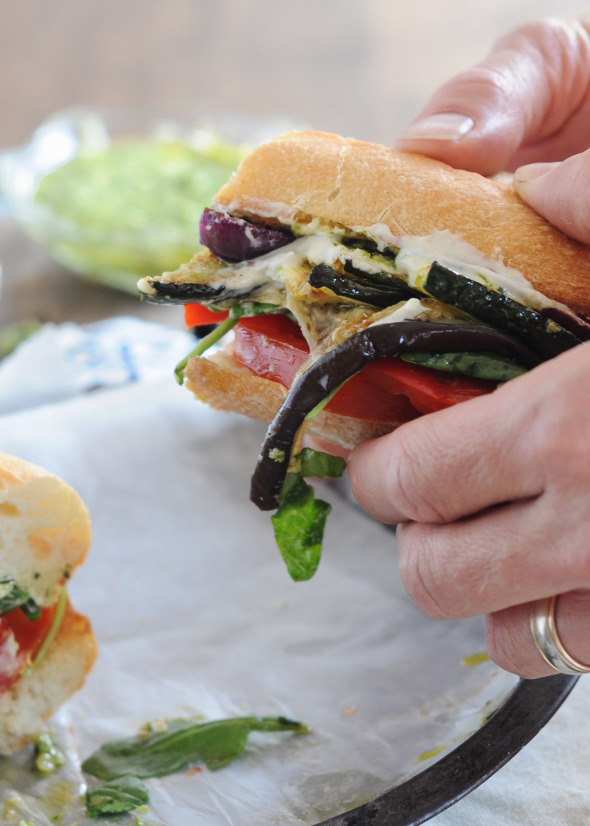 If you are on a gluten free diet, you could use a gluten free hoagie roll or for another option, try it stacked between romaine lettuce leaves instead of bread. It was quite tasty this way too!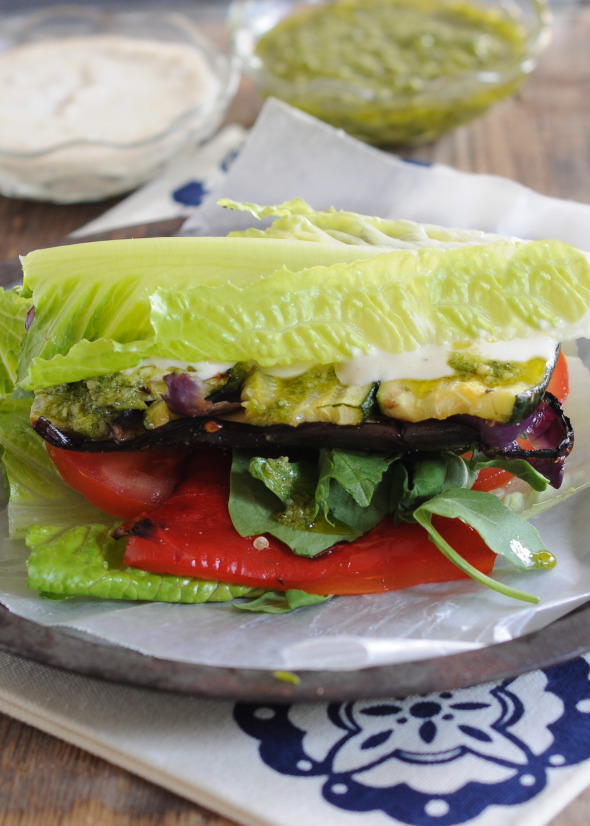 Lots of pesto and the garlic yogurt sauce give it tons of flavor. To make this vegan friendly, easy, just swap plain soy yogurt for the Greek yogurt and use a cheese-free pesto or other sandwich spread like sun-dried tomato.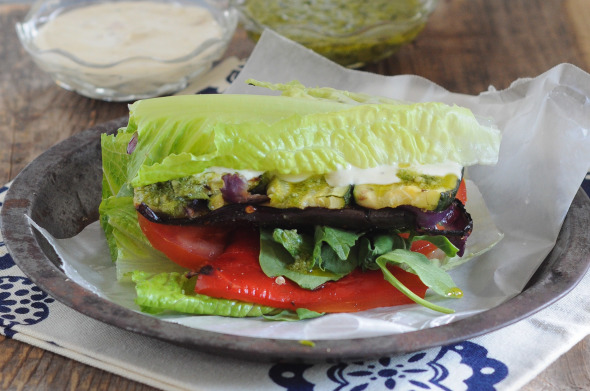 I was going to meal plan but the hubs will be traveling a bit and I will just be eating some leftovers and making simple meals for the kids. Going to get back to my meal planning next week!
Grilled Vegetable Sandwich with Pesto and Garlic Yogurt Dressing
Ingredients
1-2 Tablespoons olive oil
3 teaspoons Italian seasoning (or a combination of dried basil, oregano, garlic powder)
red pepper flakes (optional)
1 small eggplant, sliced lengthwise into ¼-inch slices
2 small zucchini, sliced lengthwise into ¼-inch slices
1 red onion, cut into ¼-inch slices
2 red bell peppers, cut in half lengthwise, stem and seeds removed
~3-4 cups Arugula/spinach mix
1 large tomato, cut into slices
Fresh basil, ~3-4 leaves per sandwich
Prepared pesto (I love the Kirkland brand prepared pesto)
Yogurt sauce
4-6 Baguettes
For the Yogurt Dressing
1 cup plain Greek yogurt
2 Tablespoons Dijon mustard
1½ teaspoons lemon juice
1 clove garlic, minced
2 Tablespoons minced shallots
A couple shakes of Tabasco
Freshly ground black pepper to taste
Instructions
For the yogurt dressing:
Combine yogurt through pepper in a small bowl. Whisk together until combined.
For the roasted bell peppers:
Place cut side down on broiler pan coated with cooking spray. Broil for 5-8 minutes or until skin blisters. Transfer peppers to a plastic bag, seal tightly. Let sit for 15 minutes and once cooled, the charred skin should be easy to remove by rubbing. Then cut peppers into thick stripes.
For the vegetables:
Place sliced vegetables in a large bowl or on large tray, Drizzle with olive oil and coat veggies using your hands. Sprinkle with Italian seasoning and red pepper flakes (to taste). Broil 5 minutes per side. Will likely need to do this in two batches.
To assemble sandwich:
Layer slices of tomato, arugula/spinach, a few basil leaves, roasted bell peppers, eggplant, zucchini, and onion slices. Top with some pesto. Spread a thick layer of the yogurt dressing on the top bun and place it on top of the sandwich. Cut in half and enjoy.
Notes
This recipe can easily be cut in half or if you don't need that many sandwiches just use the leftover veggies for leftovers.
Questions: What is your favorite sandwich? Are you a fan of grilled veggies? What are you making this week?