You guys still checking in? Good, because I am so much closer to being unpacked and back to regular blogging and I have a treat for you today! I am thrilled to have one of my cyber friends guest-posting for me- Flavia from Flavia's Flavors is here to share a delicious Italian recipe (her specialty) with you!  Although I've never met Flavia in person, I just know we'd be good friends. She is so sweet, helpful and constantly offers words of praise and encouragement to other bloggers. Plus she lives in Texas so I feel connected to her! Please enjoy her post and send her some love by checking out her blog, Flavia's Flavors! Take it away Flavia!!!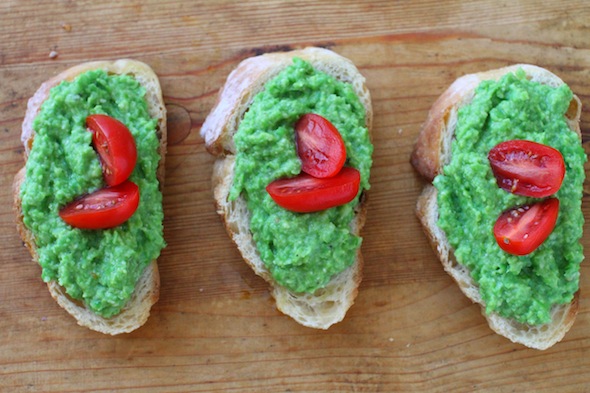 Ciao! My name is Flavia and I blog over at Flavia's Flavors. I am so excited to be guest posting here on Nutritious Eats. When Melanie tweeted about needing a guest post a few weeks ago, I knew I wanted to help out a fellow food blogger. Melanie and I have become friendly though our respective blogs and on Twitter over the past year and it has been a joy getting to know her. She and I share the same food and lifestyle philosophy, so writing a guest post for her seemed like a natural match.
I come from an Italian family and grew up around people who used food and cooking as a way to keep their traditions alive, celebrate their Italian culture, express their love for their family, and nourish the people they cooked for with the freshest and best quality ingredients. I grew up eating really well.
My food and cooking philosophy is based on my passion for using the freshest and best-quality ingredients and cooking and baking from scratch to allow the inherent flavors and textures of ingredients to shine without using complicated techniques.  Recently, I made the decision to focus the majority of my blog's content on Italian food and I am excited to begin sharing recipes of the dishes I grew up eating both at home in Maryland and in Italy in the homes of my paternal grandparents and relatives.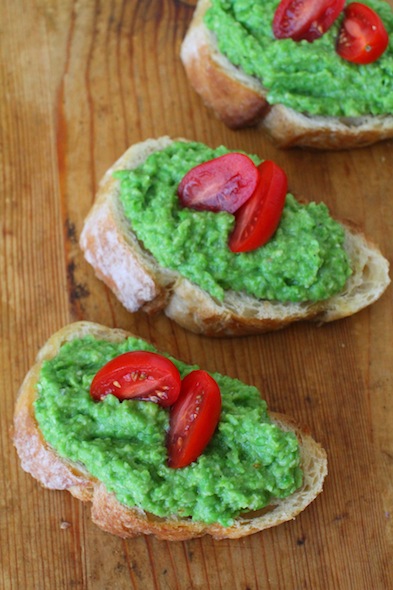 Crostini are an elegant yet simple appetizer that I grew up eating often. They are perfect for both a formal dinner party and a casual get-together. Crostini are my favorite appetizer because they are easy to make and lend themselves to endless variety. They make the perfect starter to nibble on before dinner without filling you up, and the ones I make are often vegetable-based, like these pea pesto crostini. They are a perfect example of taking basic Italian pantry staples and combining them to create a flavorful and beautiful appetizer.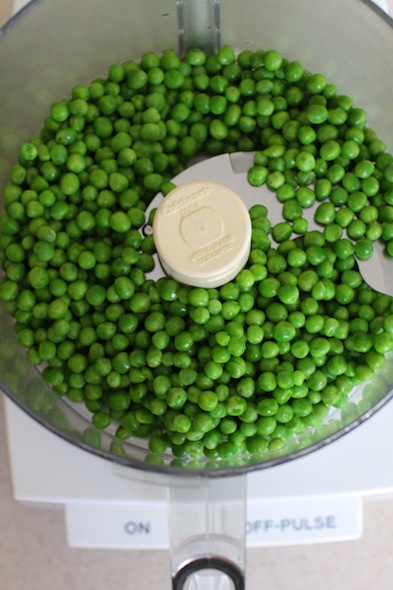 Both the crostini and the pea pesto can be made a day in advance and assembled right before serving. Plated on a simple white platter, these crostini are stunning with the bright green pesto, the golden slices of baguette and the bright red cherry tomatoes. Between the beautiful colors and the bright, fresh flavors, these crostini are sure to become a part of your entertaining menu. Buon appetito!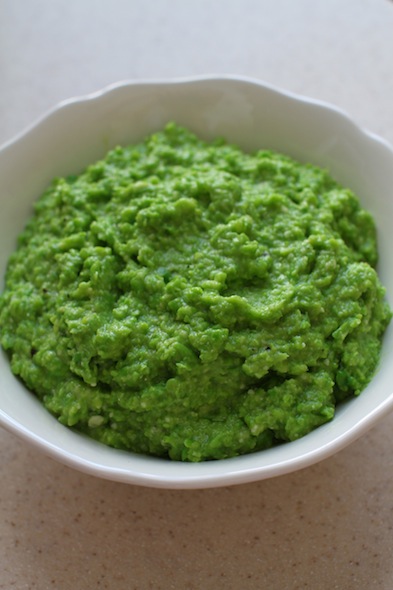 Thanks for sharing this yummy recipe with us Flavia! I know I am craving this now!  If you haven't already, go check out her delicious blog (and see you back here soon). Have a great weekend everyone!
[print_this]
Pea Pesto Crostini
Adapted from Giada at Home by Giada de Laurentiis
I listed the garlic clove as optional for those of you (like me) who don't care for the pungent taste of raw garlic. I also reduced the amount of salt to ½ teaspoon since Parmigiano-Reggiano is already salty. You can adjust the salt to your taste after the pesto is made and add more if you want.
1 baguette or ciabatta, cut into ½-inch thick slices
2/3 cup extra-virgin olive oil
1 10-ounce package frozen peas, thawed (or fresh shelled peas if in season)
1 garlic clove (optional)
½ cup freshly grated Parmigiano-Reggiano
½ teaspoon salt
¼ teaspoon black pepper
Cherry tomatoes, halved
For the crostini:
Preheat the oven to 350 degrees.
Place the sliced bread on a rimmed baking sheet in a single layer. Brush both sides of each of the bread slices with 1/3 cup of the olive oil and bake until golden, about 15 minutes. Check the bread slices often to make sure they do not burn. Once the bread is toasted, remove the baking sheet from the oven and allow the crostini to cool completely.
If you are making the crostini the day before, store them in an airtight container at room temperature.
For the Pea Pesto:
In the bowl of a food processor fitted with the steel blade, pulse together the peas, garlic (if using), Parmigiano-Reggiano, salt and pepper. With the machine running, pour the remaining 1/3 cup of the olive oil through the feed tube and mix until all the ingredients are combined. Scrape down the sides of the bowl if necessary and pulse a few more times to incorporate any ingredients that haven't been combined. Taste and adjust for salt and pepper if necessary.
If you are making the pesto the day before, transfer it into a container, cover tightly and refrigerate until ready to use. Let the pesto come to room temperature before serving.
To assemble the crostini:
Dollop some of the pesto on each bread slice and top each crostini with two cherry tomato halves.
[/print_this]