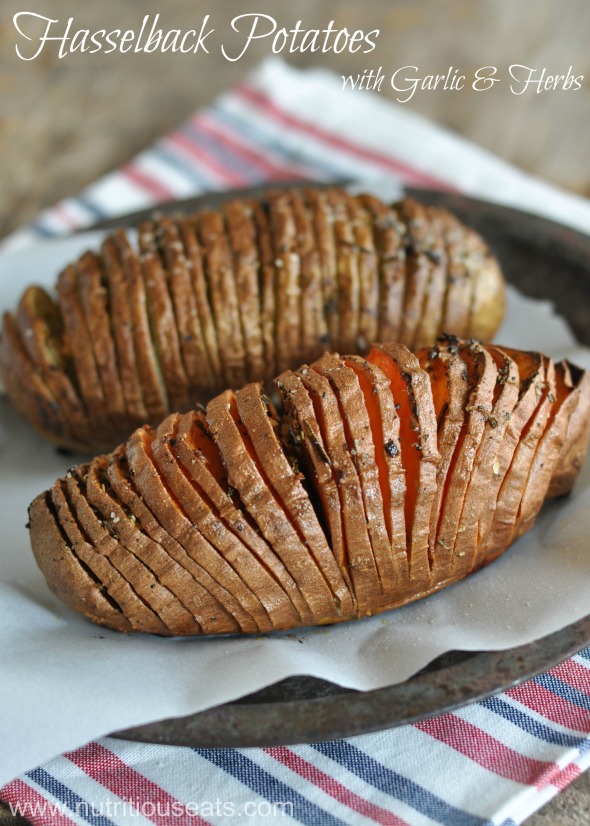 Hi friends! I ended up with a short blogging week last week because my mother-in-law was visiting. You would think I would get more done with family in town but I prefer to take the time off rather than hide out in my office trying to catch up. It was great having her, but now I am back to business!
Hassleback potatoes, did you know that is what they're called? These accordion-like spuds were named after the Stockholm restaurant that first served them, Restaurant Hasslebacken. I have been wanting to try these for ages, I'm sure you've seen them all over the blogosphere. I have seen them in many of my cooking magazines as well, but when I saw a video from Cooking Light which demonstrated how to make them, I realized just how easy it was (keep reading for link to video)! I figured if I haven't tried them than maybe some of you haven't so here we go…..
All you do is cut thin slices into your potato, about 3/4 of the way through, season it with some salt, pepper, olive oil, herbs and garlic and bake it like a regular potato. To make sure you don't cut all the way through the potato, just place a wooden spoon (or chop sticks per the video) at the base of your potato.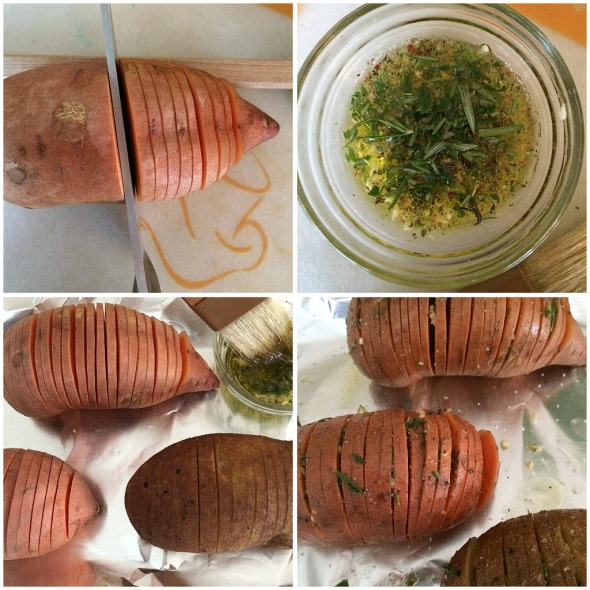 You get crispy edges and a tender middle all the way through. Delicious! I tried both sweet potatoes and regular baking potatoes and both were great. This is such a lovely side dish to serve when company is over.
Potatoes, especially white ones, often have a bad rap, but they are very nutritious- naturally low in fat, high in vitamins such as Vitamin C (regular baking potatoes) & Vitamin A (for the sweet potato), potassium, magnesium and fiber (in both). They are also naturally gluten free so can accommodate your gluten free guests. A simple side straight from mother nature.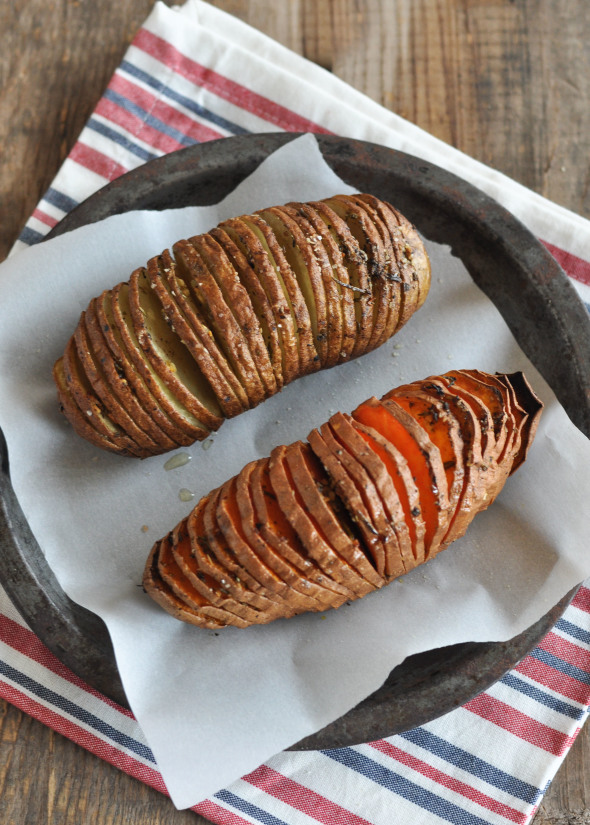 You can just eyeball your ingredients as it is hard to mess these up! Just make sure to get some of the oil, garlic and herbs down through the cuts to flavor the potato throughout.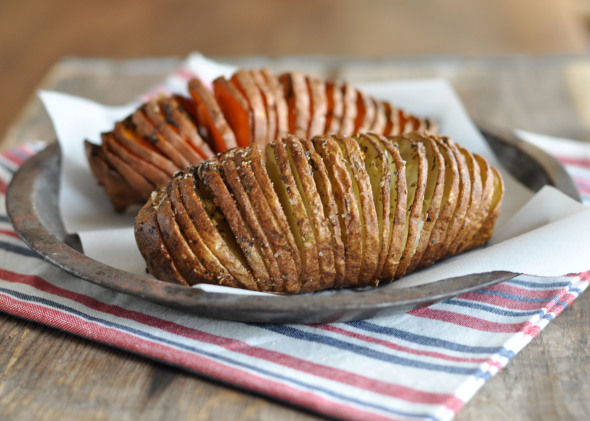 Here is the quick video that will make it much easier: How to Make Hasselback Potatoes.
The only change I made was to decrease the oven temperature since I believe my oven runs a little high. I loaded mine with garlic and did not want it to burn. They were still done in 50 minutes.
Try it out soon!
Ok, gotta get back to watching the Oscars on my DVR! Even though I haven't seen any of the nominated movies, I still enjoy watching. Have a great week!
Hasselback Potatoes with Garlic and Herbs
Ingredients
4 potatoes, scrubbed clean, Russet or Sweet Potatoes
3-4 Tablespoons olive oil
2 teaspoons fresh chopped rosemary
1 teaspoon dried herbs- thyme, oregano, parsley, etc.
1-2 garlic cloves minced
salt and pepper
Instructions
Preheat oven to 425 degrees. Line a baking sheet with foil and set aside.
Place a wooden spoon next to the base of potato and make cuts about ¾ way through the potato and ⅛ inch apart.
In a small bowl mix the olive oil, garlic and herbs.
Using a pastry brush or your fingers, brush oil mixture all over the top of potato and inside the cuts. Season liberally with salt and pepper, making sure to get some in between the slices as well.
Bake uncovered on prepared cookie sheet for 50-60 minutes or until tender. As potatoes bake, the slices will start to pull apart so after they are done you can finish it with an extra sprinkling of herbs and/or salt and pepper.
Questions: Have you made Hasselback potatoes? How was your weekend? What is your favorite side dish to serve for company? Did you watch the Oscars?