Ok, I am going to do my best to get some Holiday recipes posted in the next couple weeks. Starting now. If you are just stopping by for the first time (first off, thank you!) please know that this month will be heavy on the recipes and light on the nutrition articles. We have a lot of cooking to do!
Forgive me for not cooking a whole turkey for you. It just didn't fit into my schedule this week. 🙂
What's funny is that as much as I love to cook, I am not usually in charge of the Holiday dinner. I still count on the mother and mother-in-law to provide us with the important parts of the meal. Enter living alone (well not alone, but with my husband and kids and no family nearby). I had to cook a turkey all by myself for the first time last year and every single side dish. Looks like it will be a repeat this year.
Here is last year's bird. It turned out lovely, although I have no idea what I did to it. I'll take better notes this year.
I am still planning my menu but have a few ideas for you. I was thinking, since not everyone will be spending the Holidays with their extended families (like us), it might be helpful to share a recipe that can be scaled down to just a party of 2 or 4 . I tried a simple preparation on some cornish game hens and it turned out great. You could definitely apply this same recipe to a turkey or roasting chicken just increase the measurements depending on the size of your bird.
These cornish game hens are so easy to make. They are seasoned with rosemary, lemon, garlic, thyme and butter. Simple. Bake for about an hour and they're done.
The look kind of big in the picture but there really isn't a ton of meat on them so you'll want to average one per person (we shared with the kids so 2 worked for our family).
Then just unwrap, wash and pat dry and proceed with the recipe. I served mine with corn pudding and garlic spinach.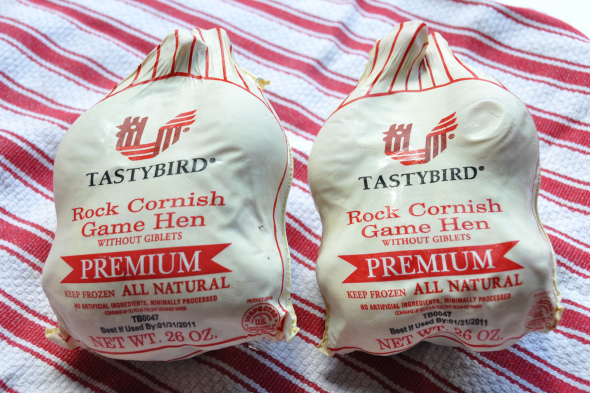 This is a close-up so it appears to be much larger than it really is. Trust me- one per person.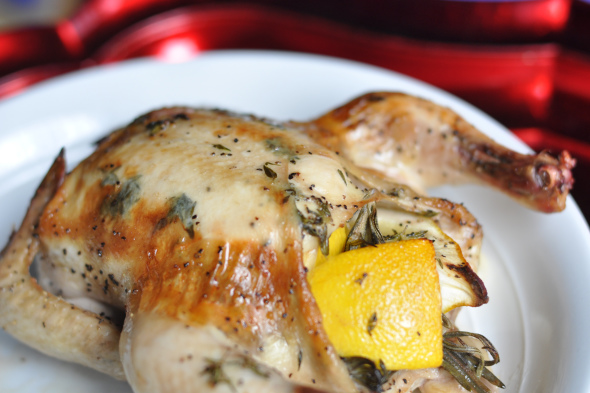 The great thing about this recipe is that you are rubbing seasoning (butter and thyme) under the skin so that when you eat the chicken without the skin it will still have flavor! Remember the skin has a lot of fat so it's best to take it off anyway. Keeping it on while baking allows the meat to stay moist. I covered this one too soon so it didn't get as brown as I wanted, but it was SO good.
The lemon and garlic get soft and delicious as they cook so make sure to dig in with each bite of chicken. Yum. The pan sauce is heavenly. Dip some crusty bread in it or reduce it on the stove top for about 5 minutes to make a thicker sauce.
Herb and Lemon Scented Cornish Game Hens
Recipe from Nutritious Eats
2 (1 to 1 1/2 lb each) cornish game hens, giblets removed
1 lemon, chopped into quarters
4 rosemary springs
1/2 cup wine
1 cup chicken broth
generous salt and pepper
10-12 garlic peeled, whole
2 T butter, softened
2-3 teaspoons thyme, chopped
DIRECTIONS:
1. Wash and pat dry hen, place in a roasting pan. Cut off any excess skin.
2. Season generously with salt and pepper and lightly season inside the cavity as well. Stuff cavity with 2 lemon quarters, 2 rosemary sprigs. Pour wine and chicken broth into the bottom of the roasting pan. Toss in the peeled garlic.
3. Mix softened butter and thyme in a small bowl. With two fingers, loosen skin on the breast of the bird. Rub butter mixture under skin and on top.
4. Bake uncovered at 450 for 25 minutes, lower temp to 350 degrees and bake additional 25 minutes, basting every 10 minutes. Cover the last 10 minutes if bird is getting too brown. Cook until golden brown and juices run clear. Let sit 10 minutes.
NOTES: You can cut the hens in half lengthwise and transfer to a serving plate, or serve whole. Pan juices with garlic can be poured into a skillet on medium-high heat and reduced (about 5 minutes) if a thicker sauce is desired. Make sure to serve with the cooked garlic.
Nutritious Eats Benefits: Protein, phosphorus, B vitamins (niacin, Riboflavin, B6), zinc, vitamin C.