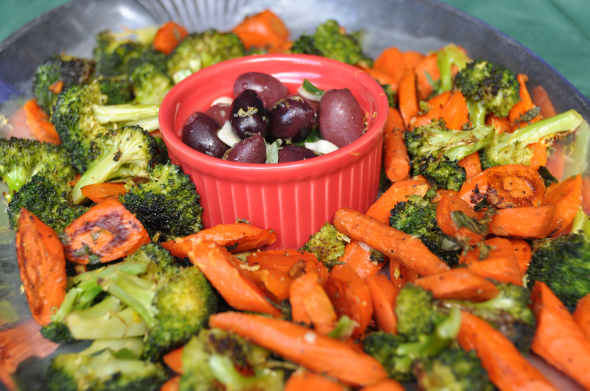 You know what is great? Roasted vegetables. I love vegetables of any kind, but roasting really takes the flavors to the next level. I think this is a great appetizer in addition to the heavier ones you might find at a party including meat, cheese or starches. Let's upgrade from the boring raw veggies to something that has some flavor, shall we?!
The dish is really simple- you mix the carrots and broccoli on a cookie sheet with some garlic, olive oil, salt and pepper and roast away . Once done, toss with some herbs and lemon zest. SO flavorful! You could definitely try other veggies, I just like the simplicity of these two, plus they are both affordable. I considered buying some asparagus, but noticed it was selling for $6.00 for a small bunch! The roasted veggies without the olives make a great side dish too.
The marinated olives are divine. By pairing the high fiber, low calorie veggies with the salty olives (a few is all you really need) you will feel satisfied until the main course. There are similar flavors in both the veggies and olives which make them a nice match for one another.
You're going to slice the carrots on a diagonal, cut up the broccoli into crowns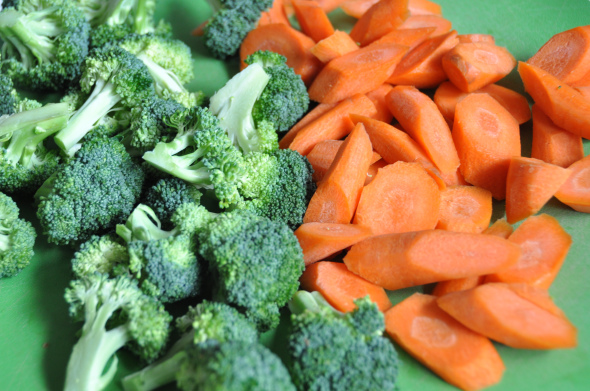 and these are the rest of the ingredients you'll need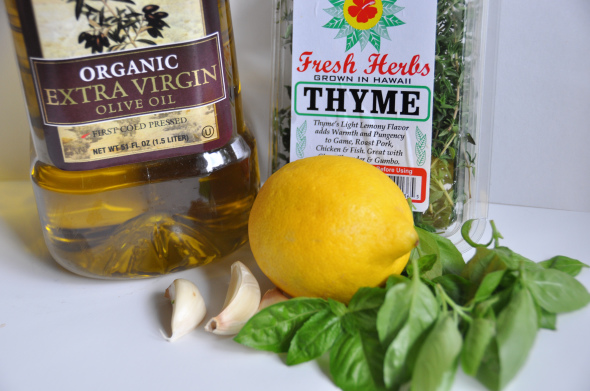 Toss the veggies with the sliced garlic, olive oil and bake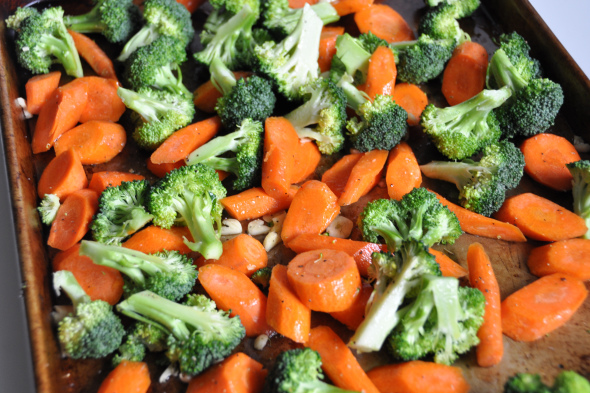 once they come out of the oven, you'll toss with the basil, thyme, lemon zest and with a squirt of lemon juice and you're done.
This really makes me want to eat my veggies.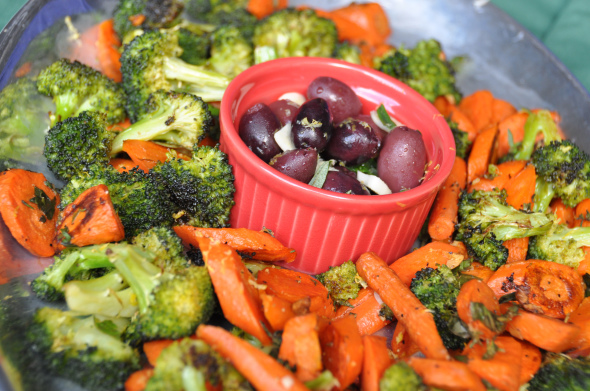 Roasted Broccoli & Carrots and Herb Marinated Olives
Ingredients
2 big bunches of broccoli- ~1 to 1½ lb
1 lb carrots, peeled and sliced on the diagonal ¼ inch thick
3 garlic cloves, thinly sliced
2-3 Tablespoons olive oil
¼ cup basil leaves packed, julienned
½ teaspoons fresh thyme leaves, chopped
½ teaspoon salt
¼ teaspoon pepper
zest of one lemon
juice of one lemon wedge
For the Herb Marinated Olives
1 cup brine-packed olives (green, black or a mix). I used Kalamata olives (can buy with or without pits)
2 garlic clove, sliced
a couple springs of herbs- fresh thyme, rosemary
zest of one lemon
~1 Tablespoon olive oil
Instructions
Preheat oven to 400 degrees. Cut your carrots and broccoli (should be about 8 cups raw veggies). Place on cookie sheet and toss with olive oil, salt, pepper.
Roast for 18 to 20 minutes. Half way through the cooking time add the garlic.
Remove from oven, add herbs, lemon zest, juice of the wedge of lemon. Transfer to a serving bowl.
For the Olives:
Drain the olives. Mix all ingredients in a bowl. Let olives marinate for a couple hours or overnight before serving.
Merry Christmas everyone!