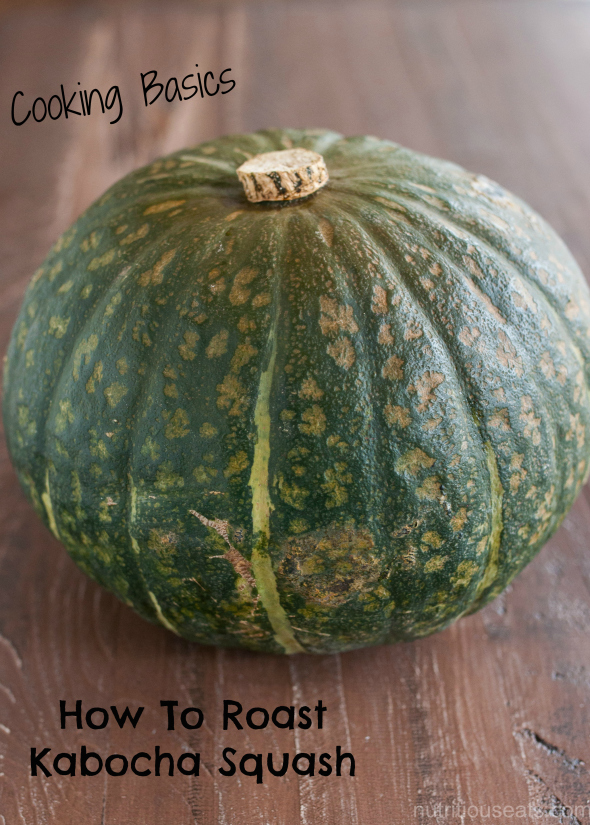 Hi friends! When I started this blog I intended on doing a "cooking basics" series where I show you a more general cooking technique or tip. I have to remind myself that not everyone reading this blog is a food blogger or expert in the kitchen. So it's time to get the series started!
Today I thought I'd chat about how to handle Kabocha squash (a Japanese pumpkin). If you are new to Kabocha it's similar to pumpkin or  acorn squash, but even better because it's even sweeter and has the perfect fluffy interior. You guys, there is just something about it. You've got to get your hand on one! I was lucky enough to receive one in my CSA box so this organic beauty just showed up at my door.
This anti-inflammatory food is bursting with nutrition. It's full of beta carotene, iron, vitamins A, C, fiber and some B vitamins. And it's got 40 calories per cup AND less than half the carbs of most other squash (about 7 grams per cup).
So this basic cooking technique can be applied to any large squash really. Here we go.
One of the trickiest parts about large squash is cutting them. Honestly I am in fear at times that I am going to take that large knife and jam it straight into my body because most squash is hard to cut! Like really hard! I had to get pretty forceful with this one and that is why I typically roast mine in larger wedges versus trying to cut it into thin stripes. I mean, I'd really like to keep all my fingers!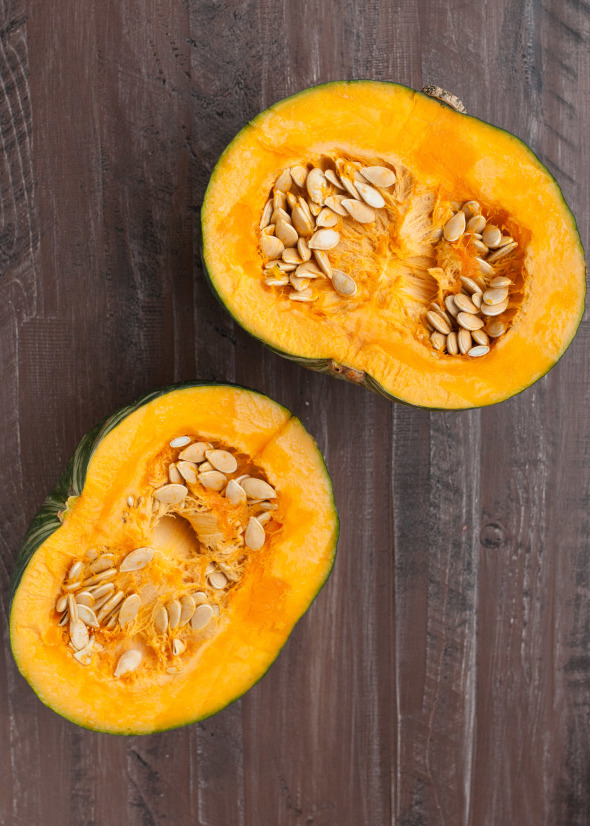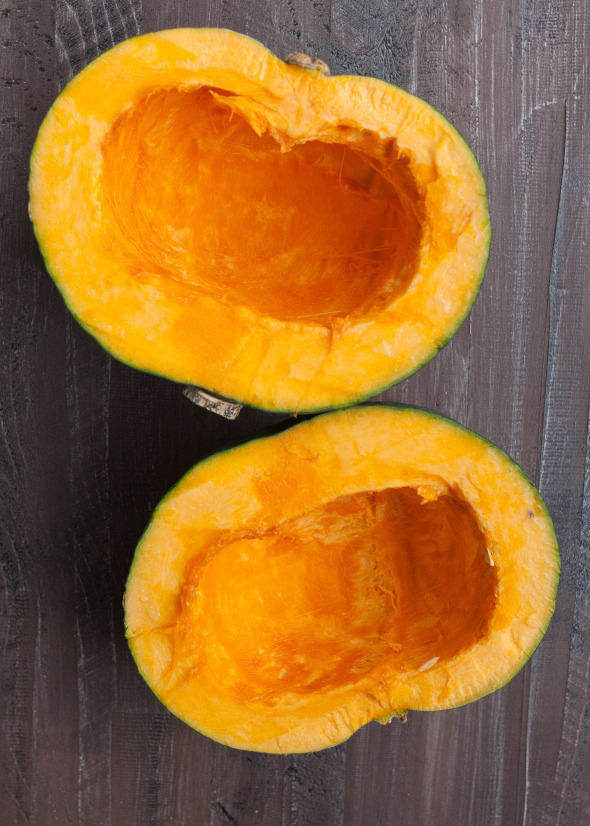 I have read that you can bake the squash for a few minutes and it will become a little softer to cut into so there is that option if you just can't get your knife through it (or a quick few minutes in the microwave would probably help too).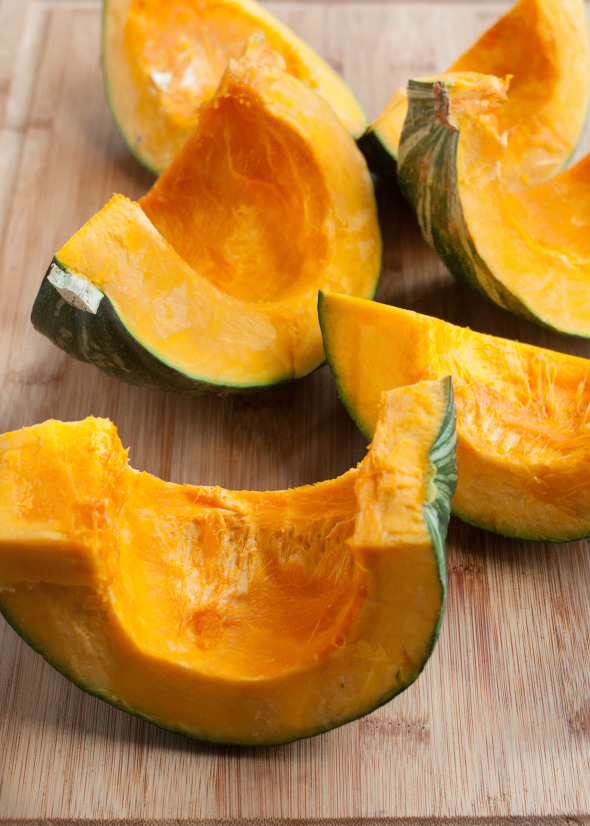 Once I have it all cut, I just toss it in some oil, such as coconut oil because I love the flavor it brings and then I either do a simple salt and pepper or my favorite, a little salt and Saigon Roasted Cinnamon (which is just more flavorful than regular cinnamon).
Did you know cinnamon is good for digestion? However on the negative side, the Saigon variety also has a compound in it called coumarin that can damage your liver if eaten in excess so no spoon-feeding yourself cups of cinnamon, ok?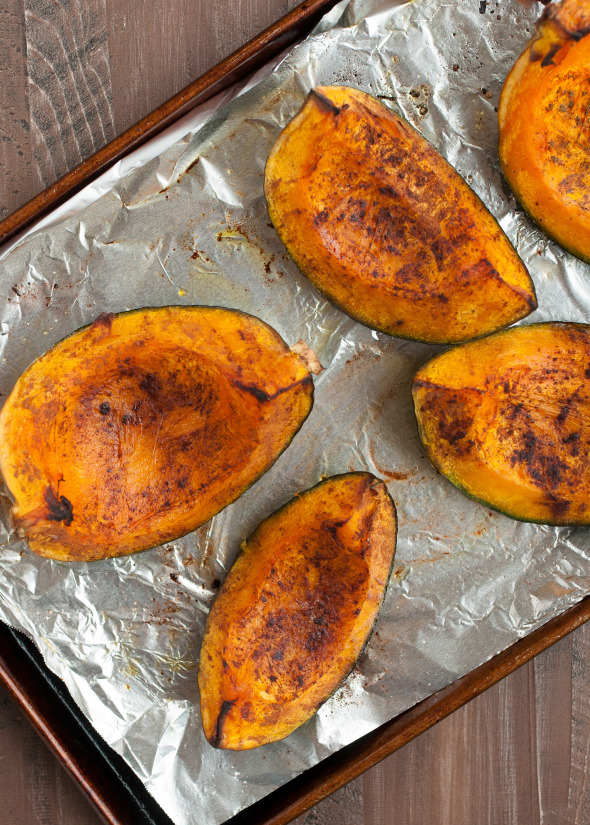 Another great thing about kabocha is the skin is thin so when it's actually edible when cooked! It's full of fiber so you might want to start off with just a little so your tummy doesn't throw a fit.
Just like any other squash you can add chopped kabocha to stews or puree into soups, baked goods or breakfast items like pancakes! I love it just like this though!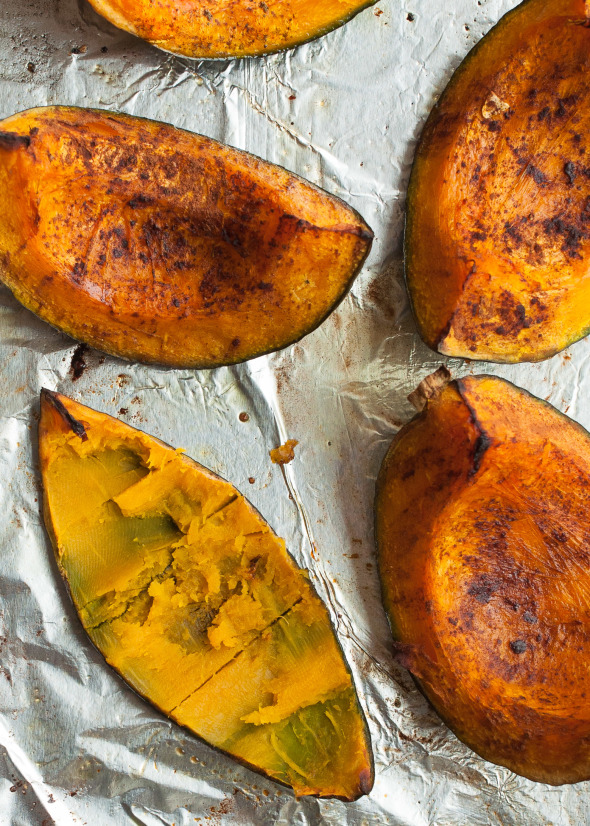 Roasted Kabocha Squash with Cinnamon
simple and delicious (not to mention nutritious) roasted Kabocha squash with cinnamon and coconut oil.
Author:
Melanie F. | Nutritious Eats
Recipe type:
Side Dish- Vegetarian/Vegan
Ingredients
1 kabocha squash, cut in half lengthwise, seeds removed, then each half into 3 pieces lengthwise
2 Tablespoons virgin unrefined coconut oil
salt
Siagon roasted cinnamon (can substitute regular cinnamon)
Instructions
Preheat oven to 400 degrees. Line a baking sheet in foil. Start with the tip of your knifes in the center of the squash and cut in half lengthwise, using a rocking motion on the knife to get it through (don't try to yank out the knife though). If it won't go through, gently remove knife, rotate half and cut through the other side the same way. Push the halves apart with your hands. Using a spoon, scoop out the seeds and stringy flesh and discard. Cut each half into 3 wedges (lengthwise).
Melt coconut oil in microwave, toss with squash wedges. Season lightly with salt, then sprinkle generously with cinnamon. Bake for 30-35 minutes or until fork tender and browned in places.
Notes
Store Kabocha in a cool, dry, dark place. They can last up to several months.
You can use any spices you want to season this squash with, or just basic salt and pepper. It's also good with a drizzle of maple syrup.